When the coronavirus pandemic was first getting started, the CDC said that it wasn't really necessary to wear face masks in public. Now that we have a little more experience behind us, they have changed their tune and everyone should be wearing a face mask when they are in a public area. Some people are going up against the system, but they aren't having much success at getting a large following.
Stefanie Hook saw the need to get creative, and she came up with something interesting. The Colorado-based artist designed a facemask themed after Harry Potter. As you breathe on the mask, it gradually reveals the Marauder's Map. "It's like a[n] instant surprise to everyone and anyone," according to a TikTok video posted by Hook. Since it was posted on May 12, it has generated more than 2 million views!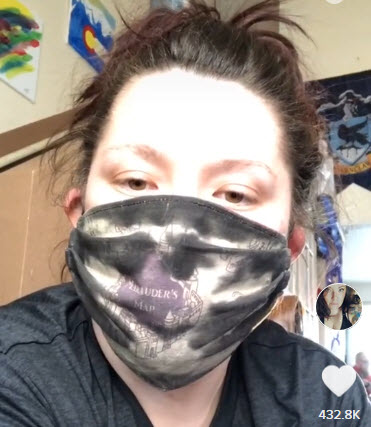 You will first find the Marauder's Map in the third book of J.K. Rowling's Harry Potter series, Harry Potter and the Prisoner of Azkaban. The map shows everything there is to find at the Hogwarts School of Witchcraft and Wizardry, including some secret passages. It looks like a blank piece of paper but when you tap on it with a wand and say, "I solemnly swear that I am up to no good," the map appears.
"I try to bring imagination to life in the creation of my products, ensuring that they are not one-dimensional items," Hook recently told Insider. "I like to give the average person the ability to own items that are unique, and bring magic into the real world in hopes to further inspire others to create and be creative."
Hook uses masks that are not medical grade, made out of licensed cotton fabric, elastic, and color-changing pigment.
"From start to finish, between cutting fabric, treating the fabric, waiting for the fabric to set, and sewing a single mask together, it can take 17 hours," Hook said. "The majority of the time is waiting for the treatment to set into the fabric. I've learned to make multiple at a time, production-line style, to maximize my efficiency."
The masks sold out quickly once the TikTok video went viral. She is hoping to have more back in stock on May 29.
"I feel like the world can be magical and that we are not limited by the boundaries of our reality," she said. "I will continue to push those boundaries in hopes of inspiring others and brightening people's days."
SKM: below-content placeholder
Whizzco for 12T