Tender pork simmered in a comforting and creamy pumpkin sauce.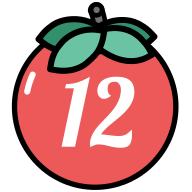 Sedrak Mamulyan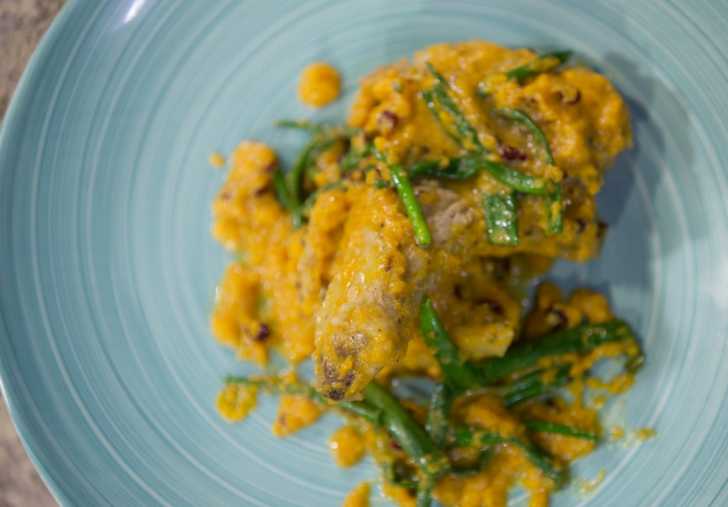 Hagani of Ddmashen is an Armenian dish where pork is simmered in a fragrant and delicious pumpkin sauce until it's succulent and tender. Like many Armenian dishes, it makes good (and liberal) use of fresh herbs and spices so the final flavor profile is bright and layered. Simple to make, this is the type of comforting dish that translates well no matter how far you happen to live from Armenia.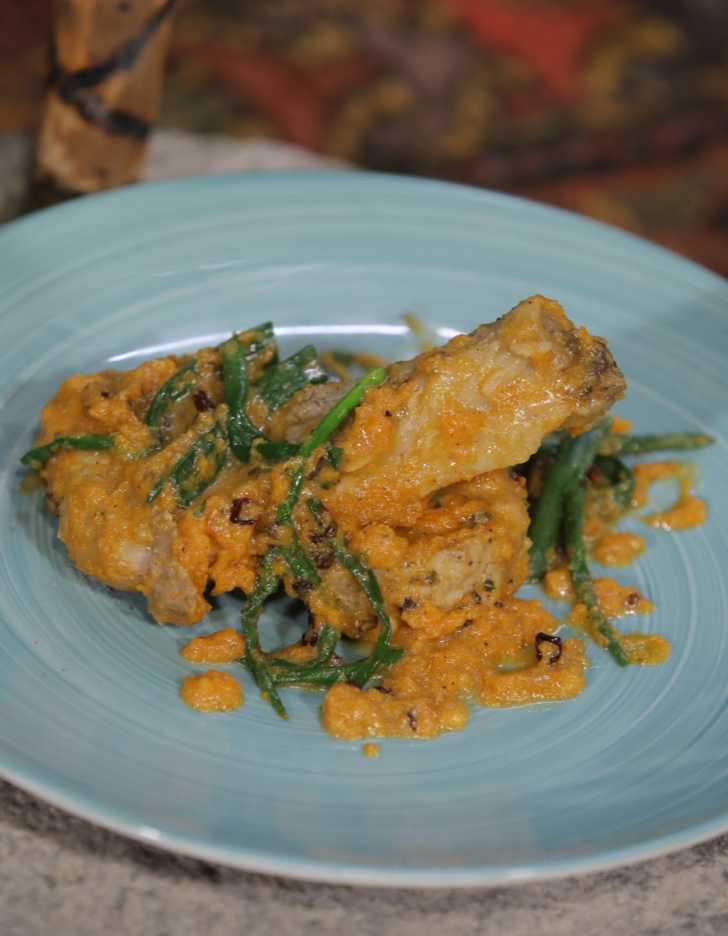 Most of these ingredients probably look familiar to you, but one or two might stand out as something you haven't tried before, like the dried cornelian cherries. They aren't really a cherry at all – rather, they're a sweet and tart fruit from a certain species of dogwood tree and while they're not terribly common in North America, they've been enjoyed for thousands of years in other parts of the world like Eastern Europe, Greece, Turkey, and of course, Armenia. They can be a little hard to find in the United States but you can usually find them online if you'd like to include them in this dish. (If you can't find them, a combination of dried cranberries and cherries would be a good substitute.)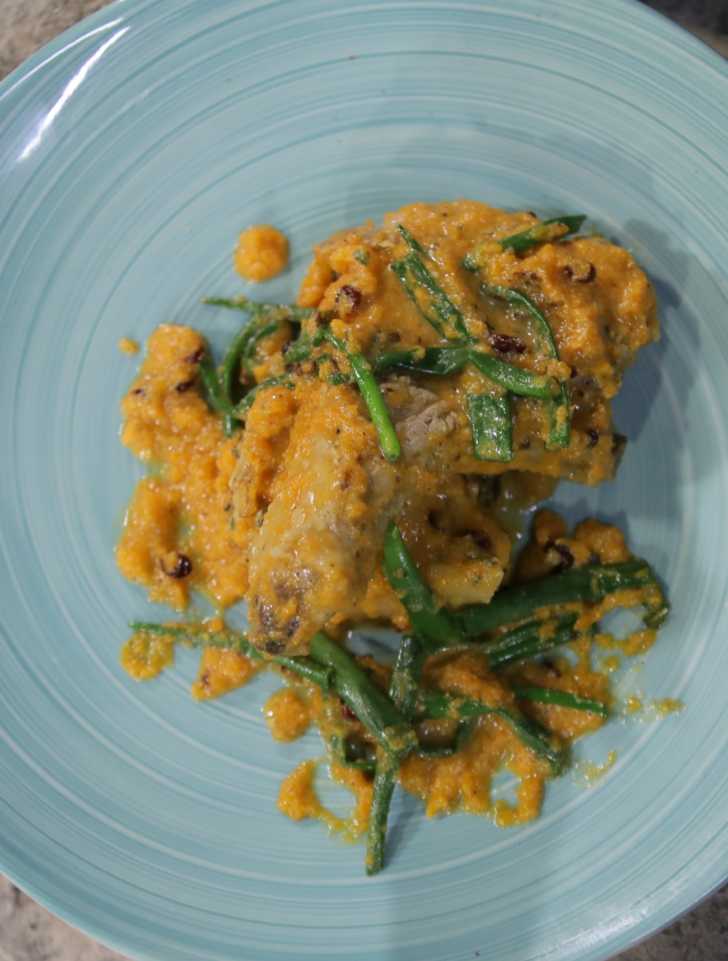 After baking and pureeing the pumpkin, you'll add Greek yogurt, and a combination of garlic, green onion, thyme, and allspice as the base to braise the pork. That warming and creamy mixture makes for some very moist and tender pork and the tartness in the carnelian cherries is just the thing to go with the sweet pumpkin.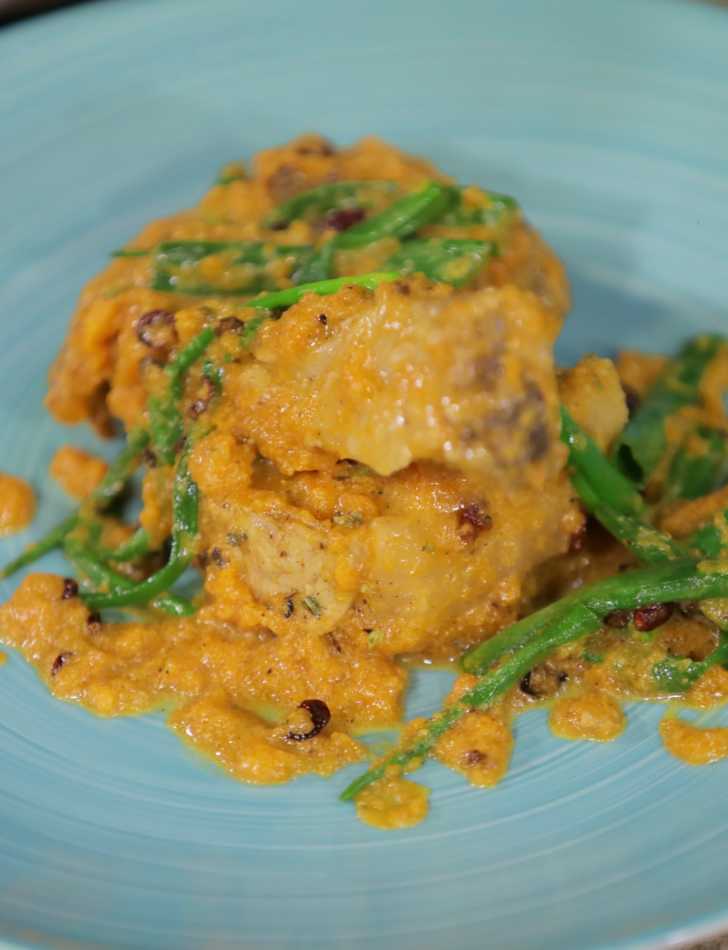 Hagani of Ddmashen
Ingredients
2 lbs bone-in pork
2 lbs pumpkin
1/3 cup dried cornelian cherries
1 tablespoon Kosher salt
4-5 cloves garlic
1/2 cup Greek yogurt
1/2 teaspoon black pepper
2 teaspoons dried thyme
1/4 cup green onion, sliced
1 tablespoon whole allspice
Preparation
Peel the pumpkin and cut into wedges. Season with salt and cook in a 350°F oven for 20 minutes.
Meanwhile, cut fat from pork, place in a skillet and fry until golden.
Add pork meat, cover, and let fry for 12 minutes.
Season meat with salt, black pepper, and stir to combine.
Add garlic, dried cornelian cherry, cover once more and continue cooking.
To a mortar, add allspice and salt and use a pestle to grind up the mixture.
Remove pumpkin from oven, cut off any remaining skin, and blend flesh in a food processor or blender until smooth.
Add Greek yogurt and continue blending until smooth.
Add pumpkin mixture to pork in skillet, and season with salt and pepper once more. Stir to combine. Cover, reduce heat to low, and continue cooking for 12 minutes.
Remove from heat, and add dried thyme, green onion, and the allspice mixture. Cover for 2-3 minutes before serving.
SKM: below-content placeholder
Whizzco for 12T