An amazing Thai dish focussed on delightful cellophane noodles and sweet-salty stir fry sauce!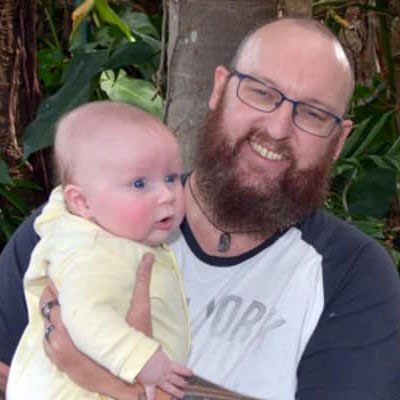 Jono Elderton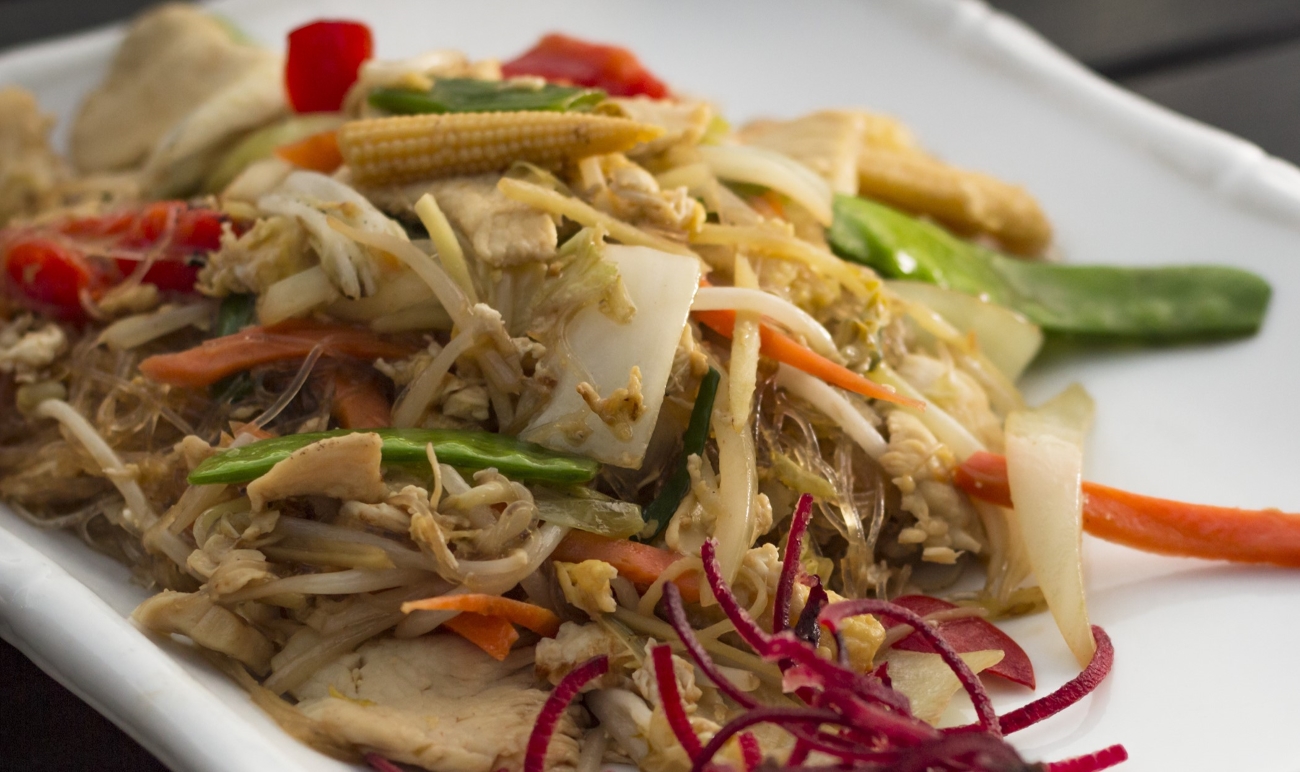 The delicious Glass Noodle Chicken dish (In Thai, Pad Woon Sen) veers from Thai traditions by using translucent noodles to soak up the rich balance of sweet-salty flavors in its vibrant sauce. It's a brilliant meal to create when time is short, as you can have it on the table in around 20 minutes from start to finish.
The glass noodle chicken recipe below is brilliant for when you don't want to have rice or heavier Asian noodles, but want to maximize the impact of a tasty from-scratch stir fry sauce and fresh ingredients. It's the type of healthy but tasty meal you'll return to again for the depth and quality of flavor and visual appeal – which can be just as important as the quick cooking time!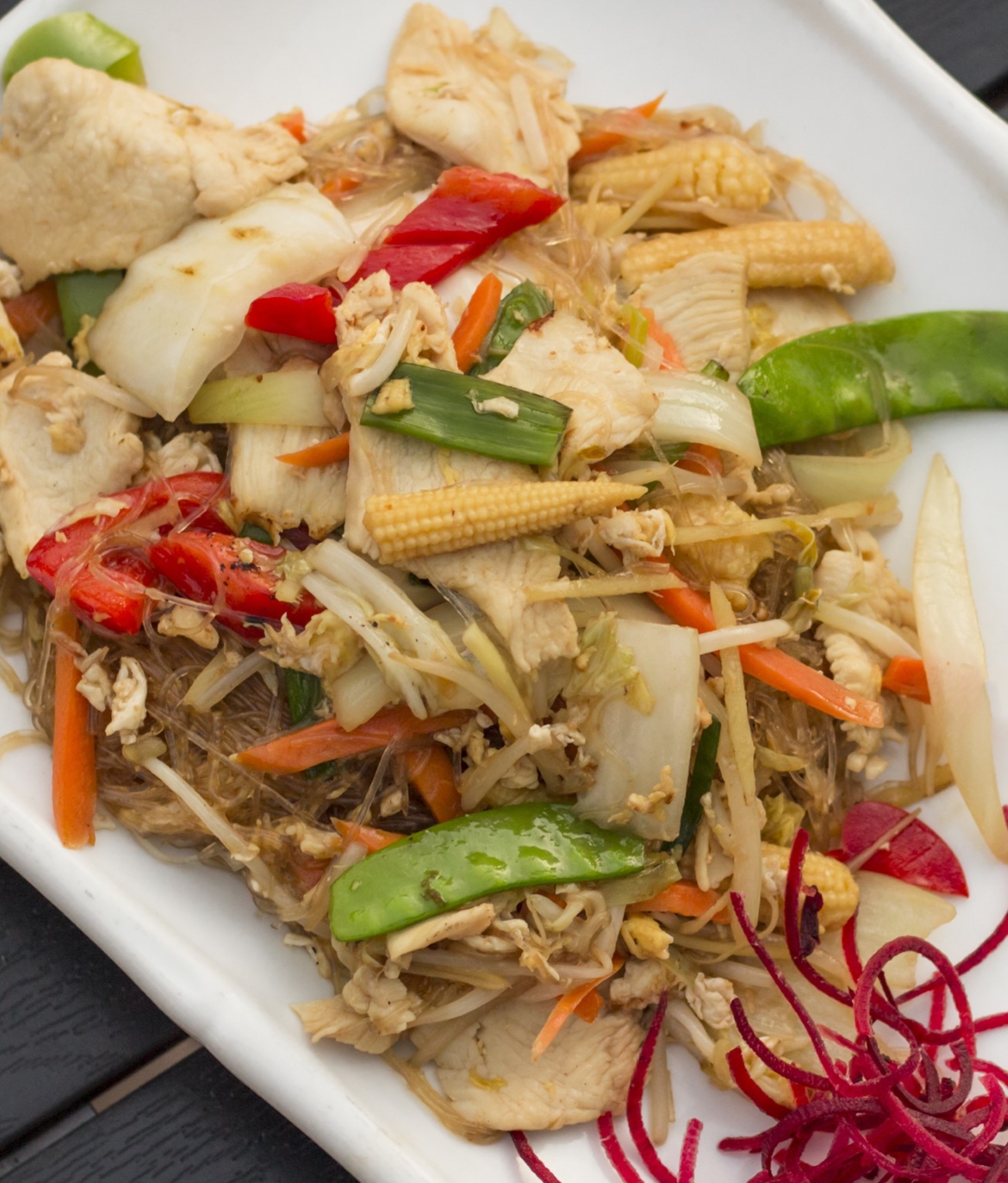 If the idea of preparing glass (cellophane) noodles seems daunting at first blush, they are truly quite easy and delicious. All you need to do when cooking a quick meal such as Pad Woon Sen is break them in half and pour boiling water over the noodles, then let them sit in a heatproof bowl for 10-15 minutes. You can go about the rest of the cooking and preparation while they are soaking. Just make sure that you drain them properly before adding the noodles to your stir fry, where they'll soak up the delicious flavors of the sauce as they heat. I also recommend chopping the noodles in half, as they can sometimes be somewhat long and unwieldy to work with!
Thai dishes so often have a beautiful contrast in sweet and salty flavors, from fish sauce, soy and oyster sauce, to garlic and sugar. If you want to add the element of heat, it's as simple as adding chili flakes or birdseye chilis if you really want to pack a punch.
Now that glass noodle chicken is on my quick meal shortlist, I don't think it will ever leave! I love it for midweek meals all year round, and it's perfect for when you have friends swing by for a catch up over dinner. Good food made with simple ingredients that are colorful, full of flavor, and quick to make are always going to be on my short list of favorites.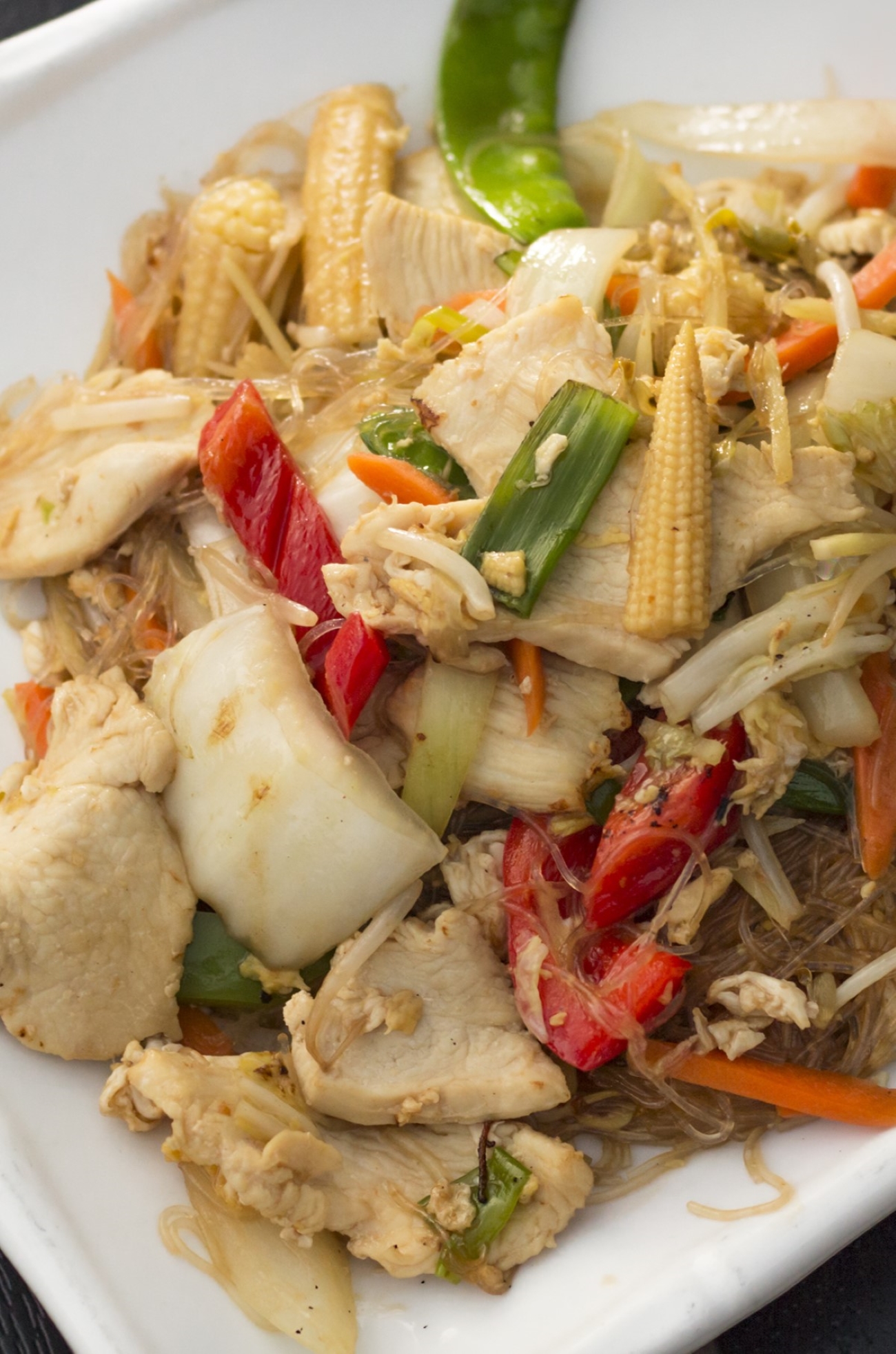 Glass Noodle Chicken (Pad Woon Sen)
Serves 4
10m prep time
10m cook time
For the Noodles:
3.5 oz glass (cellophane) noodles
2-3 tablespoons vegetable oil, for frying
2 teaspoons minced garlic
1/2 yellow onion, sliced thinly
8 oz. chicken breast, sliced thinly
2 eggs, whisked
1 medium carrot, cut into matchsticks
1/2 cup snow peas
1/2 red bell pepper, sliced thinly
1/2 cup bean sprouts
For the Stir Fry Sauce
2 tablespoons light soy sauce
2 teaspoons Ketsip Manis
2 tablespoons oyster sauce
1 tablespoon fish sauce
1 teaspoon sesame oil
1 tablespoon raw sugar
Kosher salt and black pepper, to taste
Preparation
Break the glass noodles in half, then soak in boiling water for 10-12 minutes. Drain and rinse with cold water. Return noodles to the bowl and set aside.
While the cellophane noodles soak, mix the stir fry sauce ingredients together. Coat the chicken with 3 teaspoons of the stir fry sauce mixture.
Heat 1 tablespoon of oil in a wok at medium-high heat. Whisk, then pour in the eggs, briefly let them set before scrambling them into small pieces. Remove the eggs from the wok and set aside.
Add more oil to the wok, 1 tablespoon. Toss the garlic and onion into the wok and sauté until fragrant. Add the chicken and cook for 3-5 minutes. Mix in the remaining vegetables, stirring well to combine.
Add the glass noodles and the sauce, gently toss to combine. Continue cooking until the noodles have absorbed all of the sauce.
Remove the wok from the heat, then add the scrambled egg and spring onions. Stir all the ingredients together thoroughly, sprinkle with salt and pepper, then serve immediately.
Recipe adapted from Khin's Kitchen
SKM: below-content placeholder
Whizzco for 12T