A lion in need of medical treatment caused quite a stir when it was sent to a South African hospital.
The 570-pound patient — called Chaos — received radiation for skin cancer lesions on his nose at Muelmed Mediclinic, located in Pretoria, South Africa.
The giant cat was knocked out and strapped down when he arrived, to ensure the safety of everyone who was going to be in contact with him. He was also taken in through a back door so that other patients wouldn't be frightened.
Chaos, now 16 years old, has been living as Lory Park Animal and Owl Sanctuary since he was a few days old.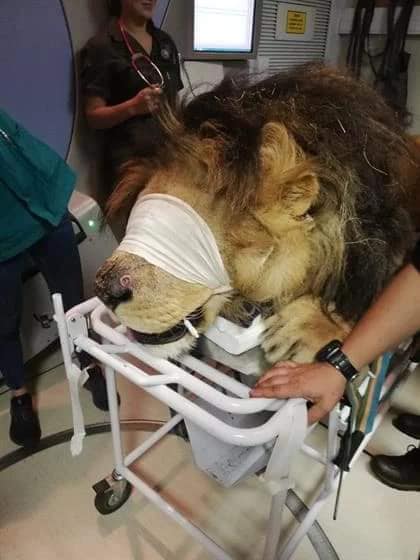 There are no facilities in South Africa that are able to administer radiation therapy to animals, which is why Chaos was brought to the hospital.
He was treated by an oncologist as well as five different radiotherapists.
"There were no other human patients around while he was treated and he came into the hospital through a back door," Hanri Reynolds, a radiation specialist, told News 24,
Chaos' caretaker, Kara Heynis, said that the lion's treatment was pricey, but, that he was "absolutely worth it."
"He is like our child so we will do anything we need for him," she said.
"We're a registered zoological facility so he was accompanied at all times and had all the necessary permits," Heynis added. "We started the whole process of transporting him to the hospital at 10:30 and returned back home at 13:15."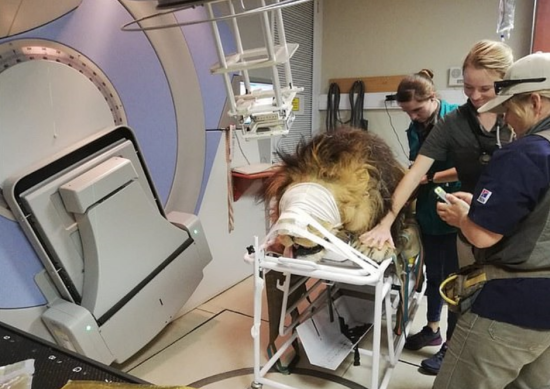 Back at the sanctuary, Chaos will spend time out of the sun. He is being kept in a shaded area of his enclosure, and has a female lion companion for company.
He has three more radiation treatments ahead of him, and is expected to finish treatment altogether in about a month.
It's not terribly common for a lion to develop skin cancer. Typically animals without hair or fur are the ones who get skin cancer, like hippos, warthogs, and elephants.
Lions in the wild have an average life expectancy of about 14 years; in captivity, like the facility where Chaos is cared for, life expectancy can climb up to 22 years.
However, the life expectancy for farmed lions — an appalling practice — is much different.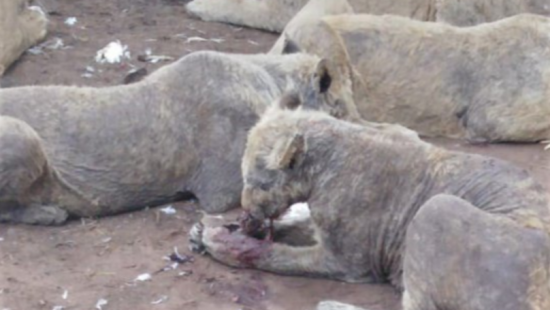 According to a report released by HSI, up to 12,000 animals a year are bred on these horrific "farms" — about 200 farms in all. Their purpose is to breed lions to sell off to tourist attractions, an industry that's been called a "snuggle scam."
They're sent to petting centers where tourists can get close to them. Then they can be transported to safaris or "walking with lions" tours. Tourists are often unaware that the lions they're seeing have gone through hell to get there.
Pictures like the one above have emerged of one such farm, located in South Africa. The conditions they live in are appalling and cramped.
The lions are nearly bald from mange, a skin disease caused by parasitic mites. The lions experience severe itchiness and hair loss, and if the condition is left untreated for too long, they can develop scabs and lesions.
We're so grateful to sanctuaries like Lory Park that helps animals in need like Chaos. But farms like the ones we just mentioned are never okay, as they prosper off the exploitation of suffering animals.
Please do your research before you head out on vacation with a lion tour on the docket — they likely have been bred for just that purpose.
This story originally appeared at Goodfullness.
SKM: below-content placeholder
Whizzco for 12T