When animals of different species bond, there is something to pure and heartwarming about it. They don't let their differences or "strangeness" get in the way of loving one another.
The cat and rhino in this story are one such example of a loving, interspecies friendship. The cat decided this endangered black rhino was the perfect cuddle buddy, despite having had an unpleasant run-in with another rhino before.
The elements of forgiveness and bravery in this story make it even more special.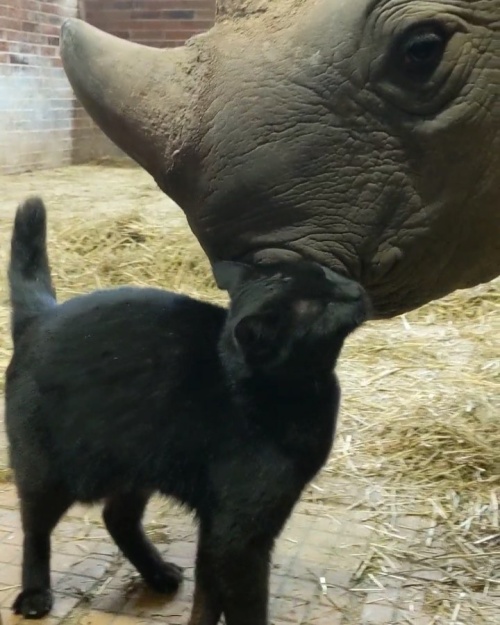 This beautiful friendship between species began at Safari Park Dvůr Králové, a zoo in the Czech Republic. Zookeeper Jan Žďárek is responsible for placing the cats and rhinos together, and is obviously a brilliant zookeeper for doing so.
Žďárek actually came up with the idea a long time ago, and has never looked back.
The cats on the property enrich the lives of the rhinos and also take care of any rats and mice who also try to take up residence at the zoo.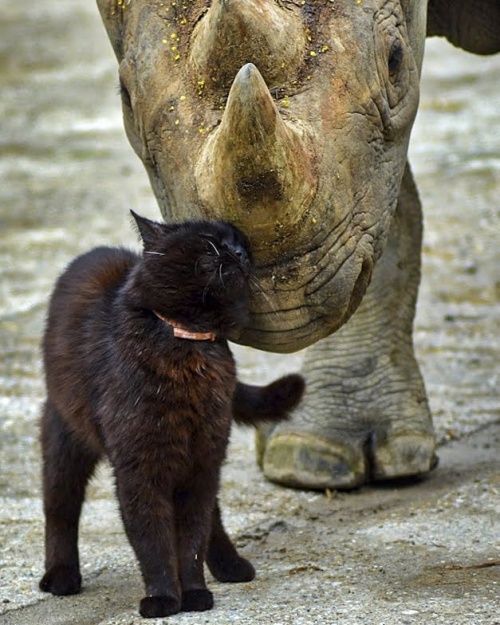 The very first rescue cat to make a home in the rhino enclosure is called Kočka. Kočka was scared at first, but who wouldn't be? A rhino is such much bigger than a cat.
Soon enough, the black rescue cat warmed right up to the rhino though.
There are three new cats in the enclosure now: Tily, Mia and Džinks. They all get along with the rhinos really well.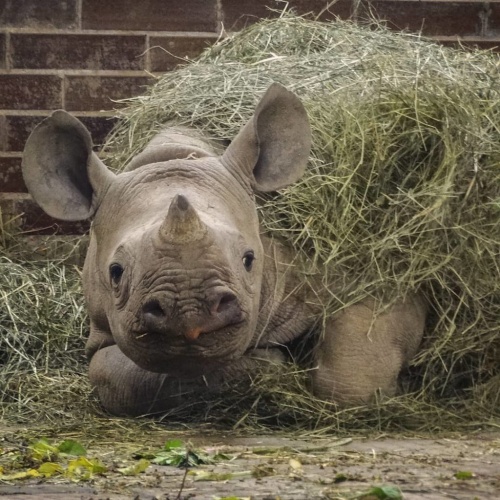 The bravest of the kitties has to be Mia, though. The little darling had the tip of her tail bitten off by a different rhino when she was just a little thing.
Mia easily could have decided she never wanted to be near a rhino again. But she is still a cuddly little sweetie with the rhinos in the enclosure. It's like she understands them.
She is particularly close to a rhino named Emilka. She cannot wait to see him every day.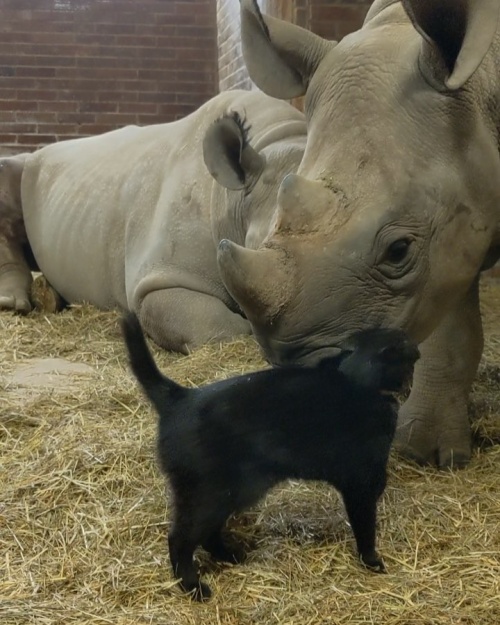 Video of the two unusual pals went viral after being posted on social media — and we can see why! They're so, so sweet together, and we're so in awe of Mia for being the brave and loving cat she is! Even though she went through a traumatic experience with a rhino, she still is able to love other rhinos.
There are a couple videos showing how close they are. Check out this first one that went viral.
Check out this second video of the two pals.
And if you are swooning as much as we are, share this sweet story with the animal lovers in your life.
This story originally appeared at Goodfullness.
SKM: below-content placeholder
Whizzco for 12T