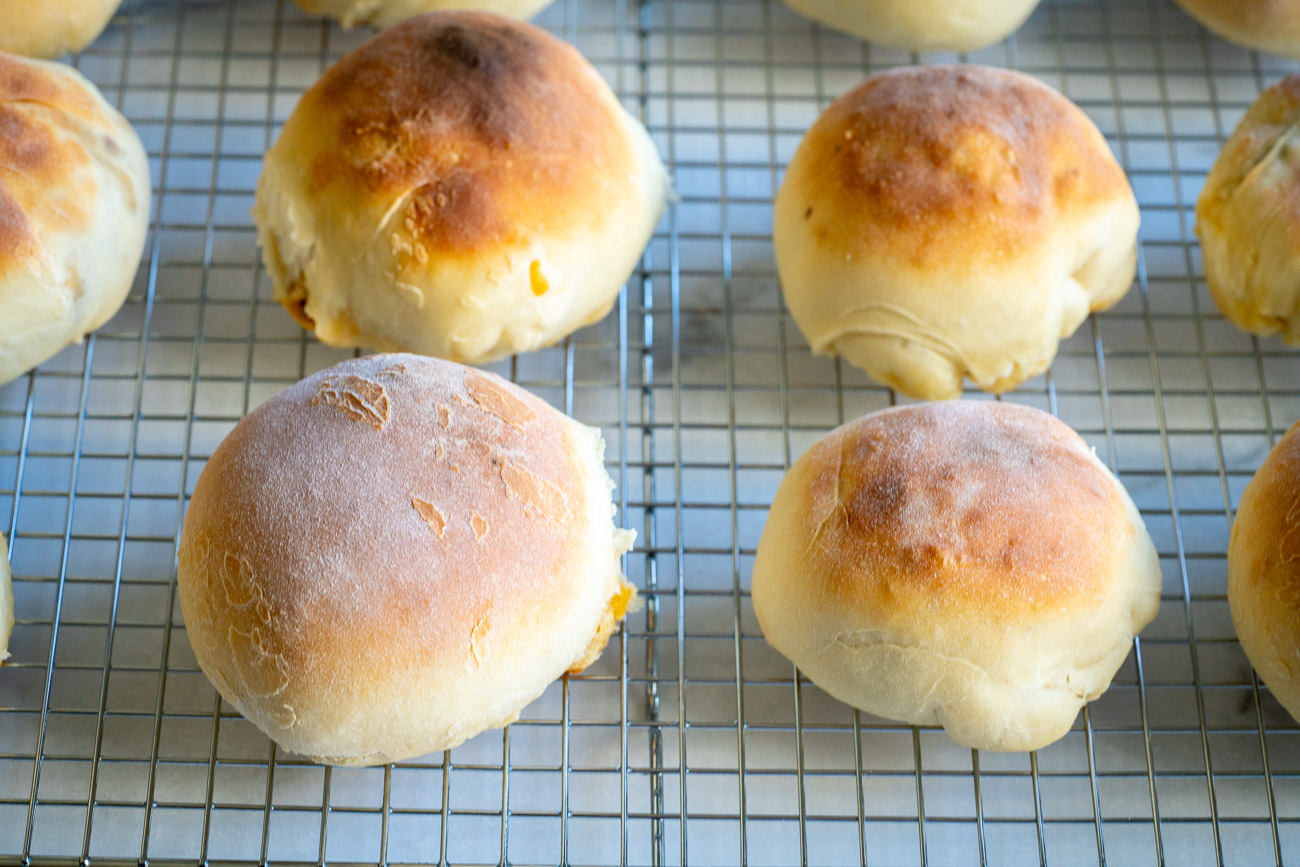 Hamburgers have become one of the most popular sandwiches in the world thanks to fast food chains and backyard barbecues alike. The famed sammie is often said to have originated in Germany. And we've previously posted another German recipe which is very like a hamburger, the humble frikadellen. But, now we've got yet another spin on the meat + bread formula: the krautburger.
These hearty rolls are filled to brimming with sauerkraut, fresh cabbage, beef, and cheese. It sounds deceptively simple, but these buns are both delicious and comforting at the same time. Sort of like a German take on piroshky or calzone, these savory buns are best served with some mustard or ketchup to dip them into.
Krautburgers are thought to have been brought to the US around the turn of the 20th century by the Volga Germans who lived in and around Southeastern Russia. These hand pies are known as runza, bierock, and by other regional names as well.
To make this recipe you'll need to start with the dough, which needs time to rise. Warm (not hot) milk is mixed with one packet of instant yeast and some sugar. This mixture needs to sit for 5 minutes so that the yeast can become activated.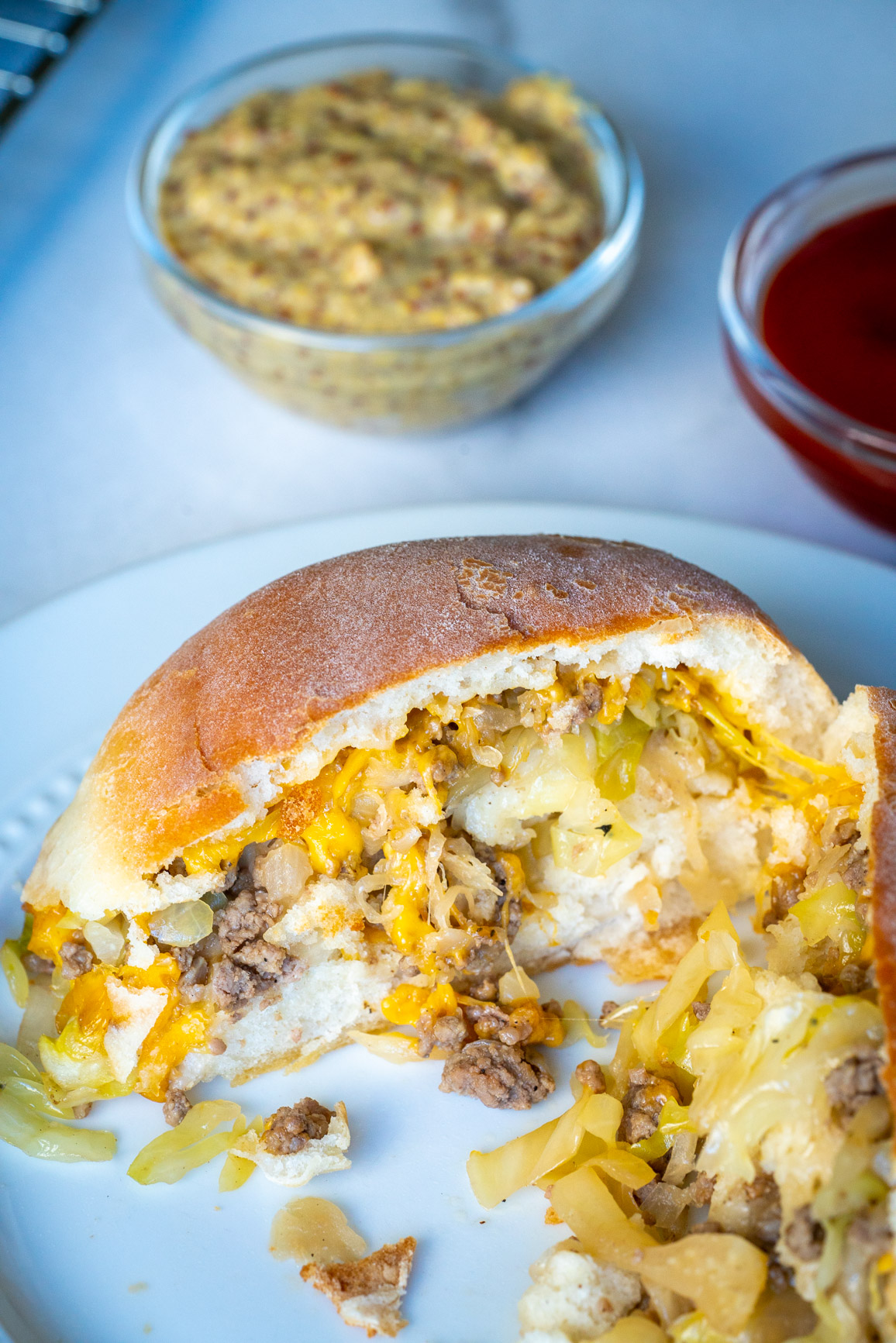 Then combine this mixture with flour and oil and you'll be left with a soft dough. Knead the dough for 6-8 minutes and then allow to rise for an hour. This might seem like a lot of work for some stuffed buns, but it's so worth it. The freshly-made yeast dough is the perfect compliment to the rich filling inside each one.
While the dough is rising brown the beef and then to the meat add your onion and spices. The simple mixture uses onion, garlic powder, and salt and pepper as the seasonings, and it's just the right blend for this recipe.
Add the beef to some steamed cabbage and some ready-made sauerkraut and then work on the dough. Roll out the dough on a floured work surface and cut into 6″ squares. Add some cheese to each square then top with 1/3 cup of the beef filling. Pinch opposite corners of each square to seal them shut.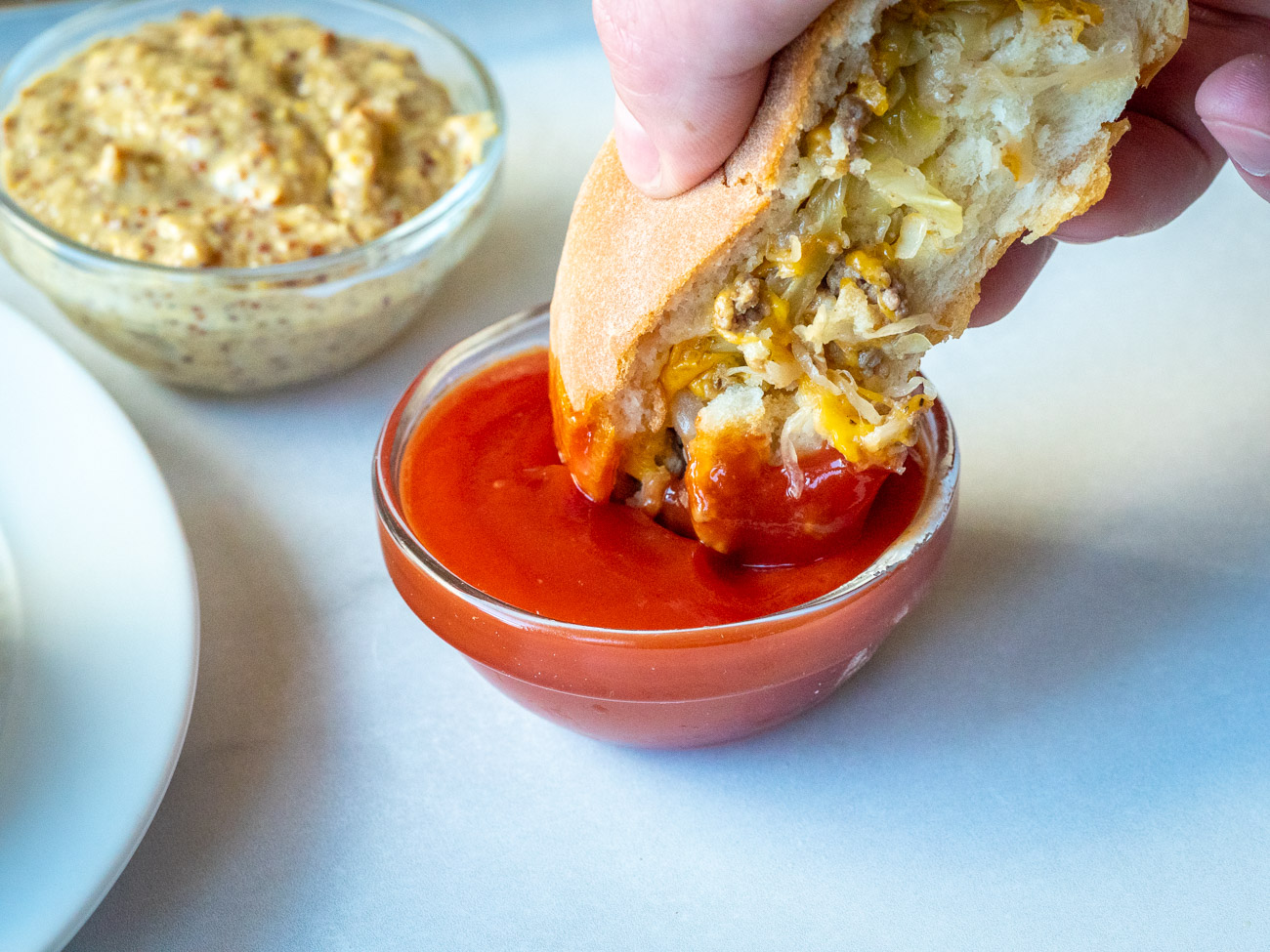 Place the buns seam side down on a baking sheet and bake for 15-20 minutes. At this point the tops should be deliciously browned and ready to go. Since the beef and veggies were cooked before going in, the baking is all about melting the cheese, browning the buns, and melding all the flavors together in a harmonious blend.
These buns are stick-to-your-ribs food and they remind me of growing up having sauerkraut as a side to hamburgers in the summer months, but all wrapped up together in a neat package. Plus, the nature of these stuffed rolls means they travel really well and make great lunches and picnic fare!
German Krautburgers
Makes 20 rolls
2h 20m prep time
30m cook time
For the filling:
2 tsp vegetable oil
1 lb ground beef
1 white onion, chopped
1 medium cabbage, grated
1 tsp dried onion
1/2 tsp garlic powder
1/2 tsp black pepper
1/4 cup sauerkraut
1/2 cup shredded cheddar or mozzarella cheese
For the dough:
1/4 cup water
2 tsp sugar
1 .25-ounce packet yeast
2 cups milk
2 tsp salt
3 Tbsp vegetable oil
5 1/2 cups all-purpose flour, plus extra for flouring
For the dough:
Combine water and milk in microwave, but do not allow to get too hot. Pour sugar and yeast into water and allow to sit for 5 minutes until foamy. In a large mixing bowl combine yeast with vegetable oil and salt. Add flour to yeast and mix well to form a soft dough.
Turn dough out onto floured surface and knead for 6-8 minutes, turning the dough as you knead. Place dough into a greased bowl and allow to rise for 1 hour. Dough should double in size.
For the beef and assembly:
Brown beef in oil over medium heat along with the onions, breaking up meat into small pieces with a spatula. Add in dried onion, garlic powder, and pepper and stir. Remove from heat.
Steam cabbage for 5 minutes in a separate pan and then combine with beef mixture and sauerkraut in a large mixing bowl.
Preheat oven 350˚F. Turn out dough onto floured work surface and roll out to a rectangle roughly 24"x30". Cut dough into 6" squares.
Add a spoonful of cheese in the middle of each dough square, topped with about 1/3 cup of the filling. Fold diagonally opposite corners in on each other and pinch to seal completely. Turn krautburgers seam side down onto a greased baking sheet.
Bake for 15-20 minutes or until tops are golden brown. Serve while hot with a side of mustard or ketchup.
Recipe adapted from Old Recipe Book.
SKM: below-content placeholder
Whizzco for 12T