Many of the aspiring grease monkeys out there are probably wishing that they could live inside of a gas station. One New Orleans resident has decided that he is actually going to live this dream and the results are amazing. Most of us look at old gas stations as mere buildings. This man took one look at this gas station and saw a chance to create a beautiful home for himself.
He's tied in all of the necessary elements, too. Sure, there are plenty of references to classic vehicles and gas station nostalgia. No place like this one would be perfect without them. The new home is not totally reliant on nostalgia, though. He's worked in lots of modern elements that are designed to create a more relaxed atmosphere.
The open interior is not expected, either. We were stunned when we were given the chance to check out the inside of the gas station, er, home. This does not look like Grandpa's garage. The converted residence is a mere stone's throw from the French Quarter and there is something about this place that simply screams "New Orleans"!
https://www.facebook.com/photo?fbid=10151038771324824&set=pb.706964823.-2207520000..
It's one of the most fun cities that we have ever visited, so it does not surprise us to see such a fun residence here. Robert Guthrie is the artist who is responsible for this masterpiece and he's got lots of antiques and wall art to round out the decor aspect of things. The home does not have an ounce of corniness to it. Guthrie's creation only hints towards nostalgia, without being consumed by it.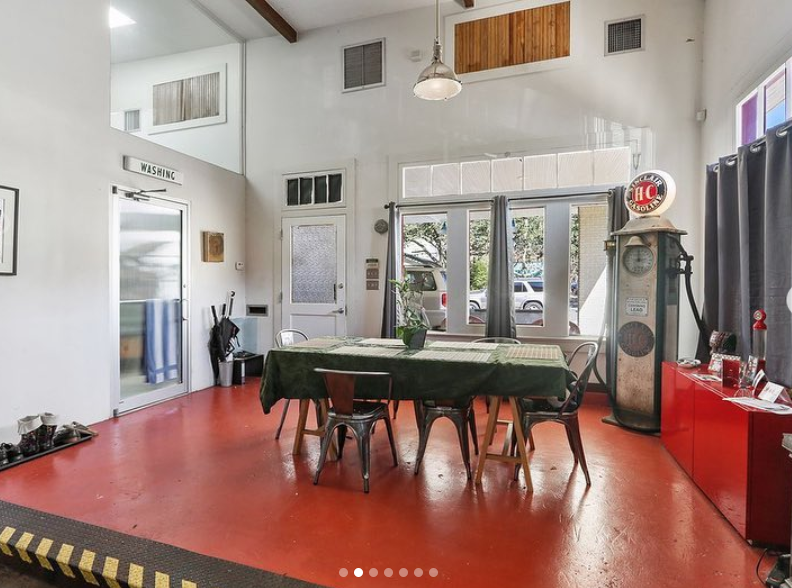 That's a tough balancing act to handle, for sure. Many homes like this one lose their way and end up descending into full-on kitsch. Robert, on the other hand? He has crafted a pad that is equal parts stylish and comfortable. Guthrie clearly digs the rustic loft look, as the high ceilings give the gas station the same appearance as a converted barn. This serves as an intriguing contrast with the metallic furniture.
The bathroom is Guthrie's favorite area of the home. He loves the sink lights, which are old car headlights. The black subway tile is also a very nice touch. He's also converted the gas station roof into a deck so that he has plenty of outdoor space. Robert's truly thought of it all, hasn't he? Be sure to check out the video below when you are ready for the full tour!
According to Curbed New Orleans, Guthrie lived in his gas station home until he passed away in 2014. The house is now on the market, so if you're interested in purchasing it for yourself you can learn more here.
SKM: below-content placeholder
Whizzco for 12T