Some folks would argue that brunch is the best meal of the day — and they would be correct! Brunch is a highlight of the week for many, and we get pretty excited about all the possible recipes one can indulge in, like this one. Good news: this recipe tastes great around the clock, even if brunch isn't your favorite meal of the day!
Quiche Lorraine is a fairly typical recipe, so it's fun and interesting to spice things up a little and go with different vegetables in this dish. This eggplant and leeks quiche is fantastic, in large part due to its fresh ingredients and homemade crust. You're welcome to use a store-bought crust if you want to save time and effort (it will still be delicious!), but we're telling you, there's really nothing better than the perfect flaky, buttery crust to round off each bite. For your next brunch get-together try this recipe and blow everyone away!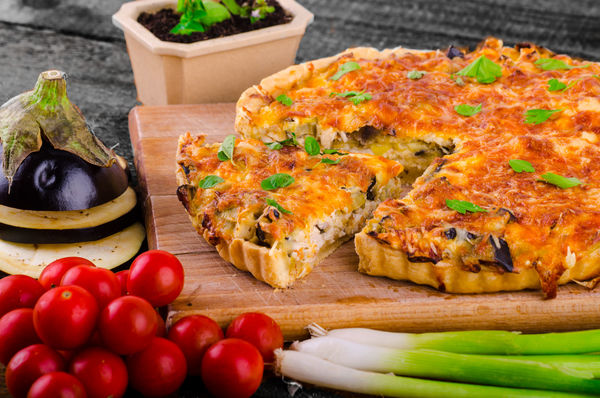 Eggplant Quiche
Yields 1, 10-inch round quiche
Ingredients
Crust:
1 1/2 cup all-purpose flour
4 tablespoons butter, very cold, cubed
4 tablespoons vegetable shortening, very cold
1/2 teaspoon salt
3-4 tablespoons ice water
beans (for weight)
Filling:
1 large eggplant, peeled and cubed (3/4-inch)
2 leeks, chopped
1 onion, chopped
2-3 cloves garlic, minced
3 eggs, beaten
1 cup milk
1/2 cup Parmesan cheese, medium grate
1/2 cup Cheddar cheese, medium grate
1/2 cup heavy cream
1/4 teaspoon nutmeg
salt and pepper, to taste
2-3 tablespoons olive oil
Directions
Preheat oven to 450º F and spray pie pan with non-stick spray.
In a food processor fitted with a steel blade, pulse flour with (very cold) cubed butter, shortening and salt until mixture is pebble-like in texture.
While pulsing, slowly drizzle in ice cold water until dough ball begins to form. Turn out onto counter and roll into a ball.
Wrap in plastic wrap and refrigerate for 30 minutes.
Remove from fridge and roll out onto a lightly floured surface. Fold dough in half and carefully transfer to 10-inch pie pan.
Spread dough out gently in pan and trim off excess overhang.

[Dough should be rolled out 1-2-inches larger than intended pie pan.]

Cover crust with sheet of parchment paper or aluminum foil and weigh down with beans.
Place in oven and bake for 10 minutes. Remove beans and bake, uncovered for another 5. Remove from oven and reduce oven temperature to 350º F.
Heat 2 tablespoons olive oil in a large pan over medium-high heat. Cook eggplant until softened, 8-9 minutes.
Add leeks, onion and garlic (and if necessary, more olive oil), and cook until translucent and fragrant, stirring occasionally. 5-7 minutes.
Drain off excess oil and season with salt and pepper. Set aside.
In a medium bowl, mix heavy cream and milk with beaten eggs, and add nutmeg and a pinch of salt.
Spread vegetables out evenly in the crust and slowly pour in egg mixture. Cover the top with mixed cheeses.
Place in oven and bake for 35-40 minutes, or until crust is golden brown and cheese is bubbly.
Let cool 10 minutes and serve warm.
Recipe adapted from Bulgarian Village Recipes
SKM: below-content placeholder
Whizzco for 12T