French Onion Soup in comforting casserole form.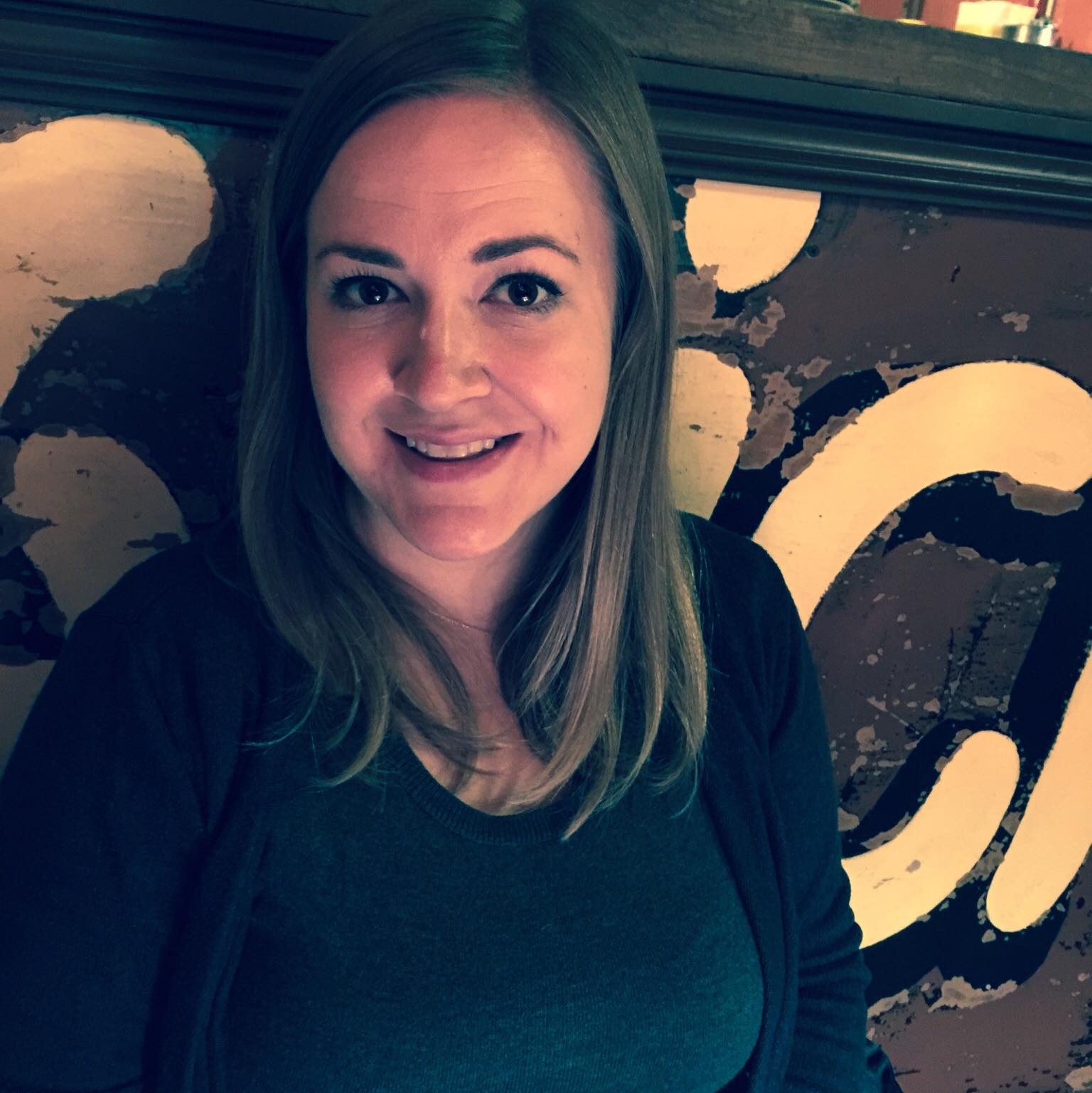 Kristy Norrell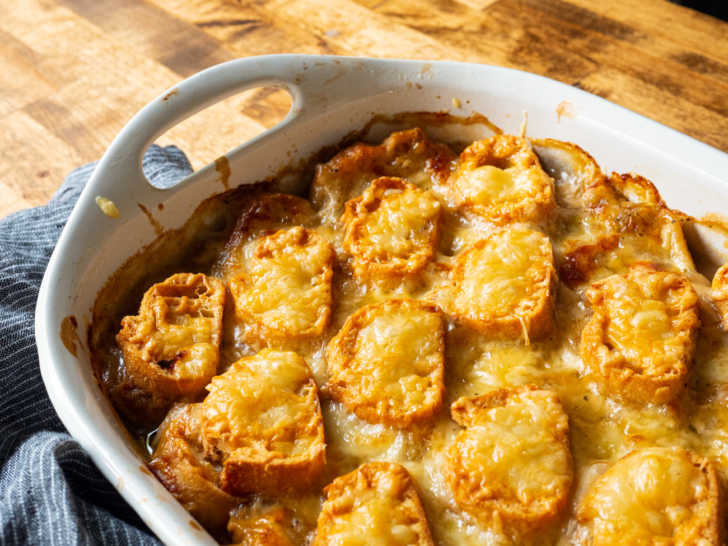 It's a hard choice, but I think that French Onion Soup just might be my favorite soup out there. It's like a magic trick the way it transforms a pungent onion into something savory and almost sweet. The crusty bread, nutty and melty Gruyere, and beefy broth don't hurt matters either – together, those components make a total winner of a soup, which is why we thought we might take those same components and turn them into a casserole! With a higher ratio of crusty bread to caramelized onions, this casserole is a heartier take on the classic soup and it's every bit as delicious.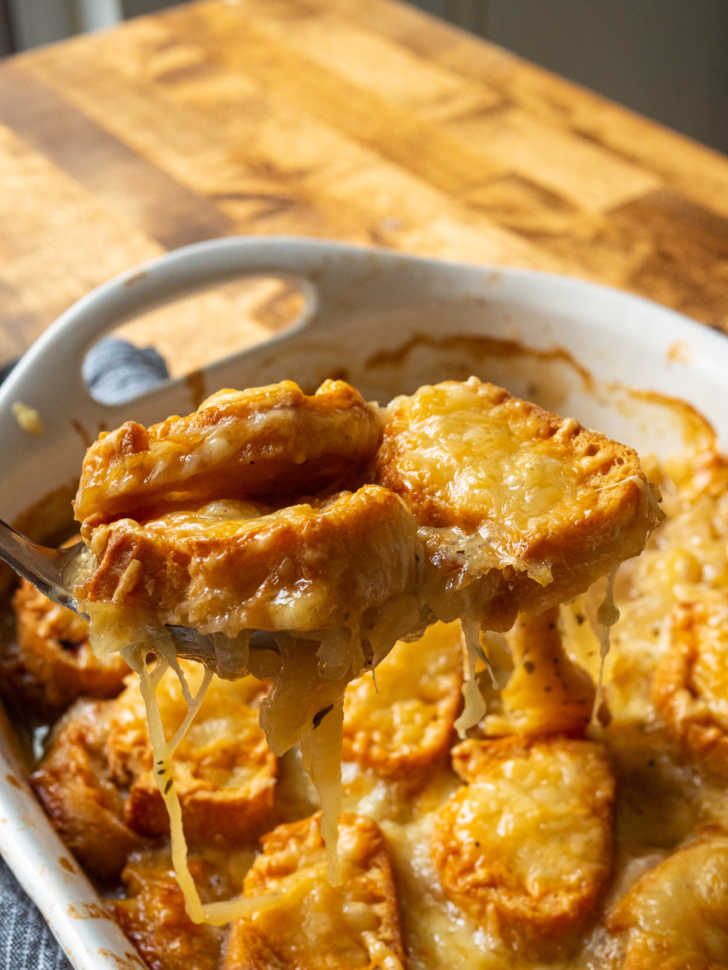 One of the best parts about French Onion Soup is the crusty bread or croutons that top it so we've used that not only as the topping in this casserole, but also as the base. You just want to slice up a baguette and toast half of the slices in the oven before arranging them in the bottom of your baking dish, that way they absorb some of the flavor and liquid but don't go totally to mush.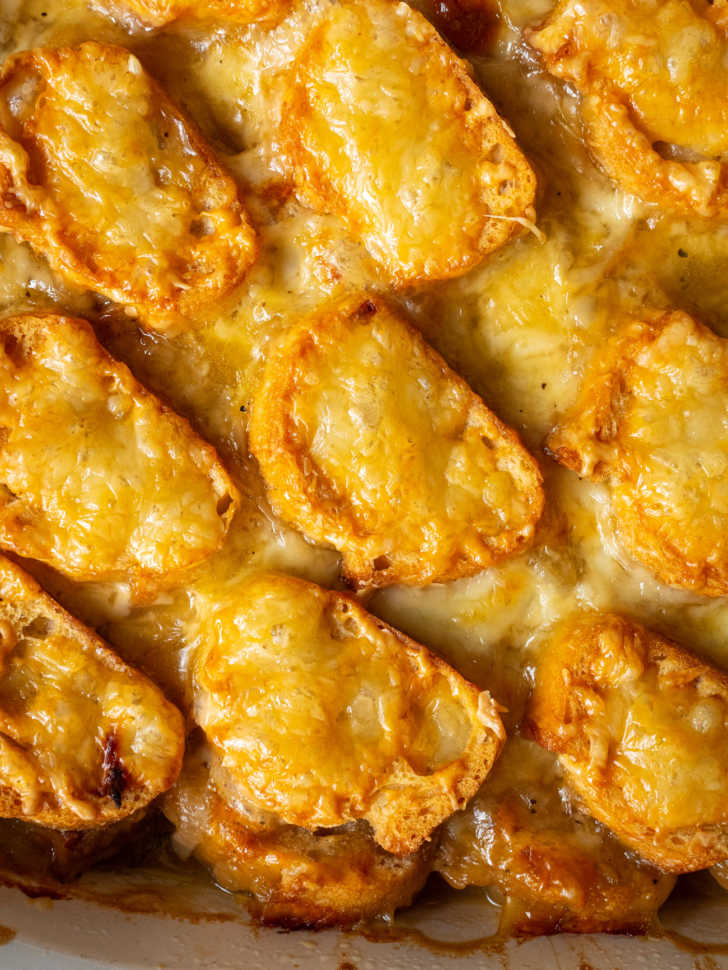 The thing that takes the most time here is, of course, caramelizing the onions which is a process you just can't rush. You'll need about five Vidalia onions and all you do is slice them up thin and cook them low and slow until they're sweet and golden brown. They're seasoned with a bit of thyme and bay leaves and then you make them saucy by stirring in some flour, beef broth, and sherry. It's a thicker mixture than French Onion Soup, but the flavor is very similar.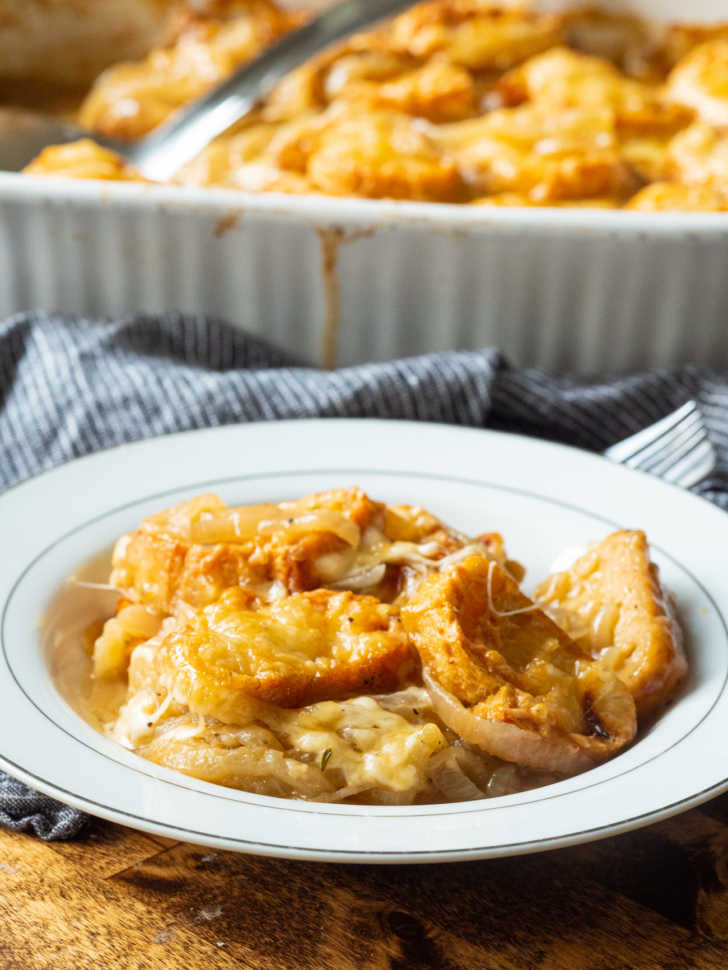 That filling goes over the bread base, and more sliced baguette goes on top, which is followed by plenty of delicious grated Gruyere. As it bakes, the bread absorbs some of the liquid and the top gets toasty and golden brown. It's a breadier, more filling French Onion soup experience, but that means you can easily make an entire meal out of that sublime flavor, and that's very good news.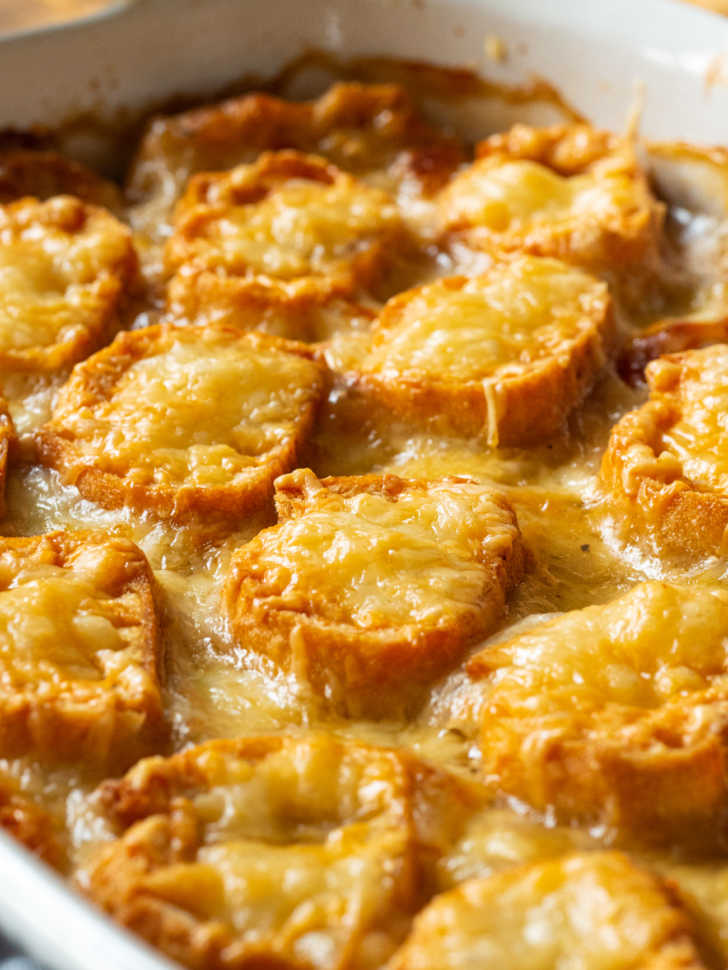 French Onion Soup Casserole
Serves 6
10m prep time
1h 10m cook time
Ingredients
1/4 cup unsalted butter
3 lbs Vidalia onions, thinly sliced (about 5 medium)
2 teaspoons Kosher salt
1/2 teaspoon black pepper
3 sprigs thyme, plus more for topping
2 bay leaves
1 baguette, thinly sliced
1/3 cup all-purpose flour
3 cups beef broth
1/2 cup sherry
2 cups Gruyere cheese, grated
Preparation
Preheat oven to 350°F.
Melt butter in a large Dutch oven or heavy-bottomed pot over medium-low heat. Once melted, add onions, salt, pepper, thyme, and bay leaves and cook until onions are golden brown, stirring often until golden brown, about 40-50 minutes.
Arrange baguette slices on a baking sheet and bake until lightly toasted, 10-12 minutes. Remove from oven and set aside.
Remove thyme sprigs and bay leaves from onion mixture. Stir in flour and stir constantly for 2 minutes. Stir in broth and sherry and bring to a boil. Let bubble until slightly thickened, stirring constantly, about 5 minutes.
Layer half of the baguette slices in a 9x13-inch baking dish. Spoon onion mixture over the top. Top with remaining baguette slices and sprinkle with cheese.
Cover dish tightly with foil and bake 30 minutes. Remove foil, and broil on high until cheese is golden brown and bubbly, 3-5 minutes. Sprinkle with thyme leaves and serve. Enjoy!
Recipe adapted from Southern Living.
SKM: below-content placeholder
Whizzco for 12T