Delicious rich and savory homemade pho in under an hour.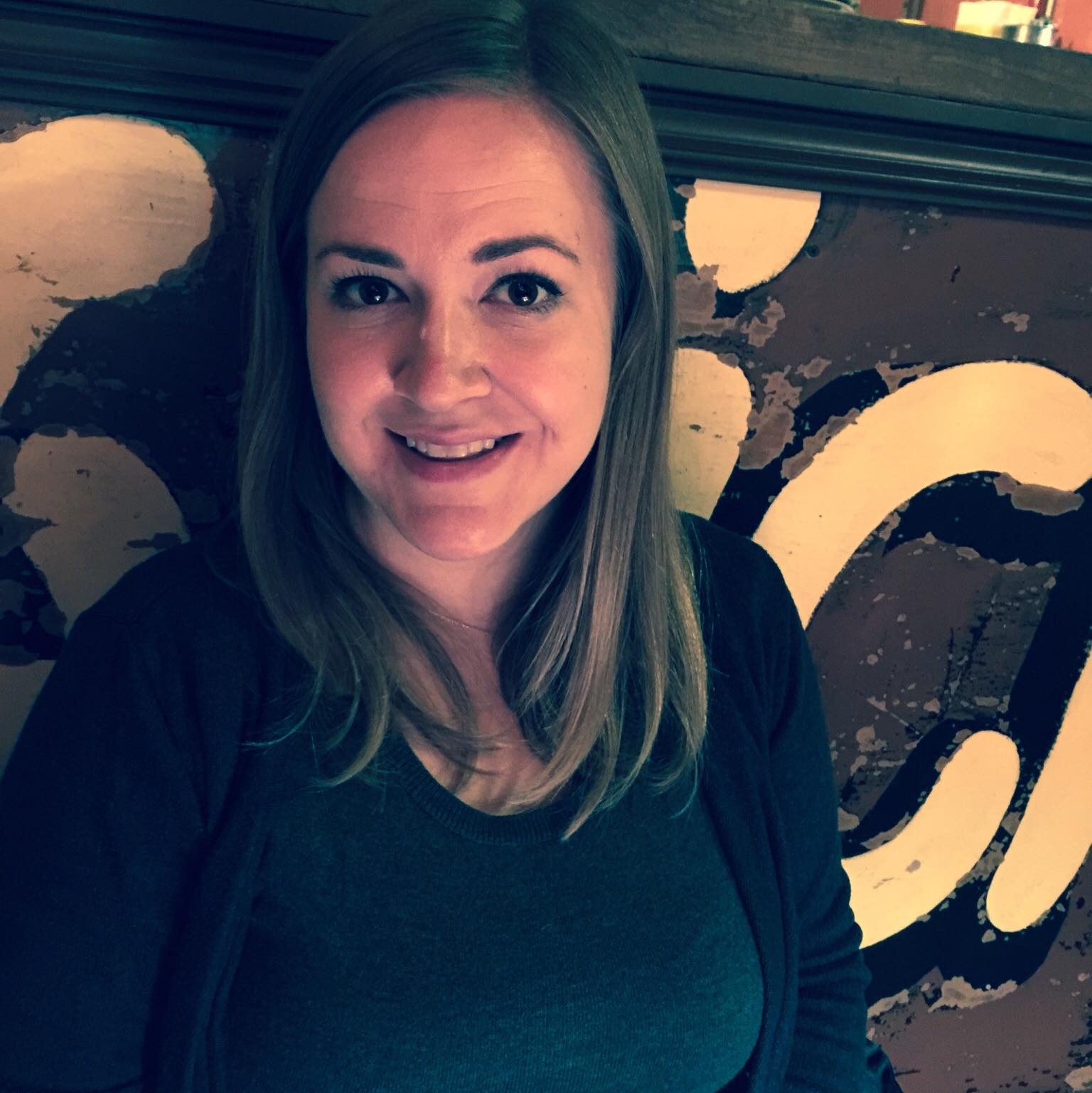 Kristy Norrell
I love pho. More accurately, I looooooovvve pho. But I've always thought of it as a restaurant-only dish since traditionally the broth that makes it so very wonderful takes hours and hours to make. And while I do love the occasional more-involved kitchen project, I don't always have eight-plus hours to spare just for simmering broth. But this pho, this oh-so Easy Homemade Pho does what I never thought possible – it gives you restaurant-quality pho right in your own kitchen in under an hour. Yes, you heard me right. In under an hour. And it's as rich and savory and flavorful as you could ever hope it to be.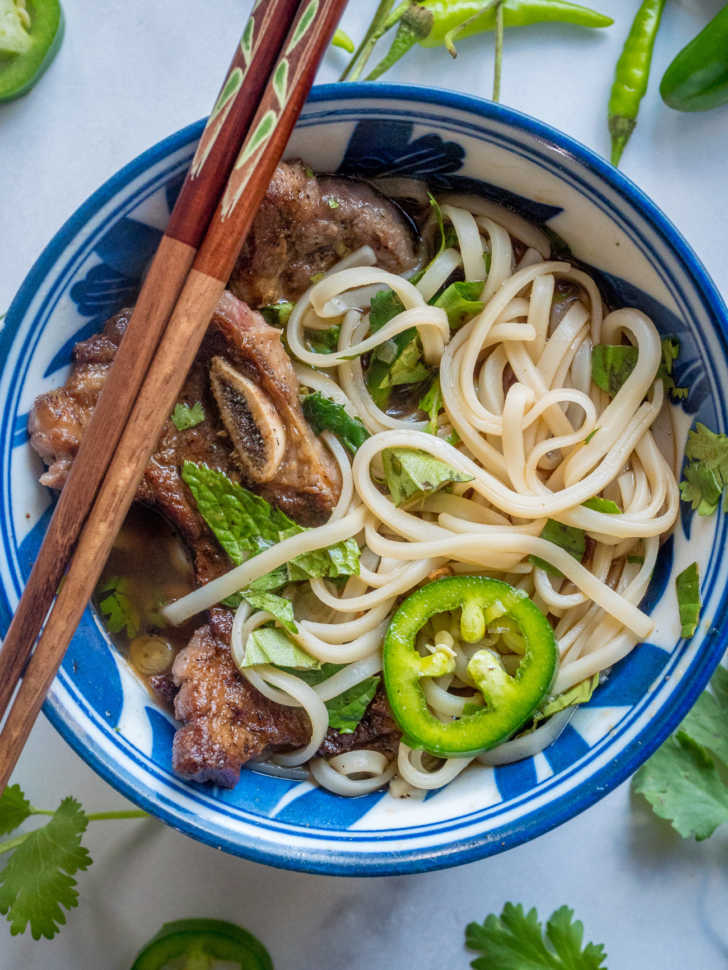 What separates pho broth from basic beef broth is the particular spices that go into it, as well as the long and slow simmering of (usually) roasted bones to really release all of the goodness from the marrow. If you've had it, you know the flavor is second to none.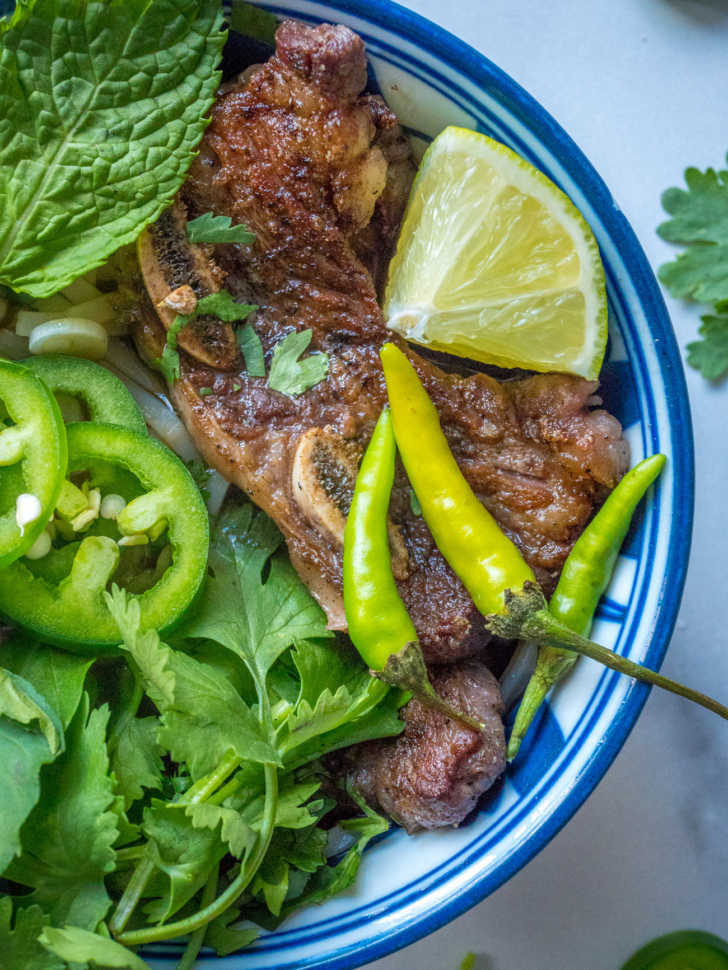 Here, there's no long and slow simmering necessary, but we still end up with a beautifully rich and hearty broth. Our shortcut is to use storebought beef stock, but approximate the same flavor with some roasting and toasting of the other ingredients. For instance, halved onions and fresh ginger get charred under the broiler until their flavor is enhanced…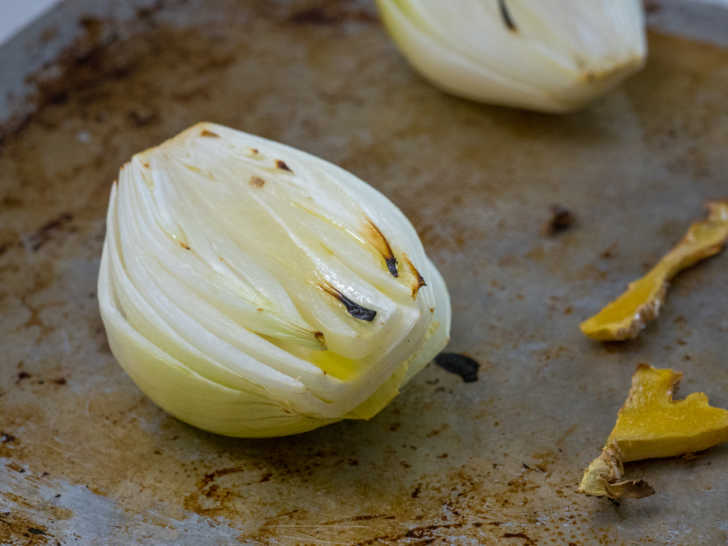 … and while that's happening you toast up some star anise, cloves, cinnamon sticks, coriander, and cardamom in a dry stockpot. Those are the specific spices that make a Vietnamese pho broth so unique and toasting them really brings out their flavor.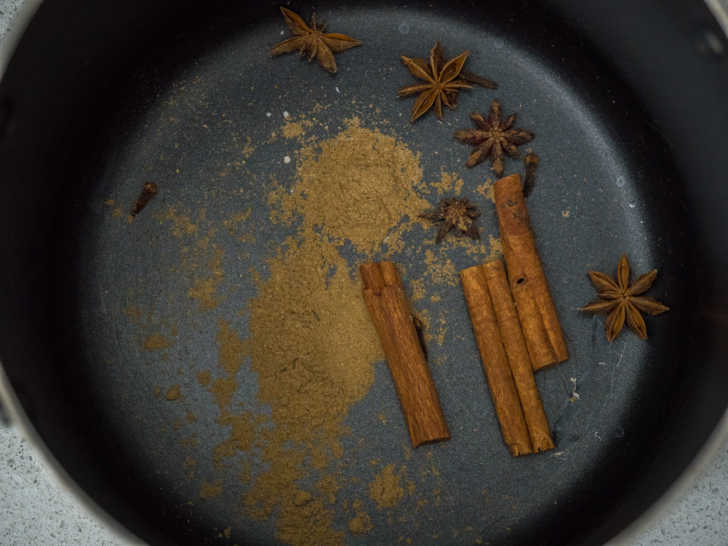 The onions and ginger join them in the pot, along with plenty of beef stock and everything simmers together for just thirty minutes or so. You can let it go longer, but since there are no bones to contend with, a short half an hour is all you really need.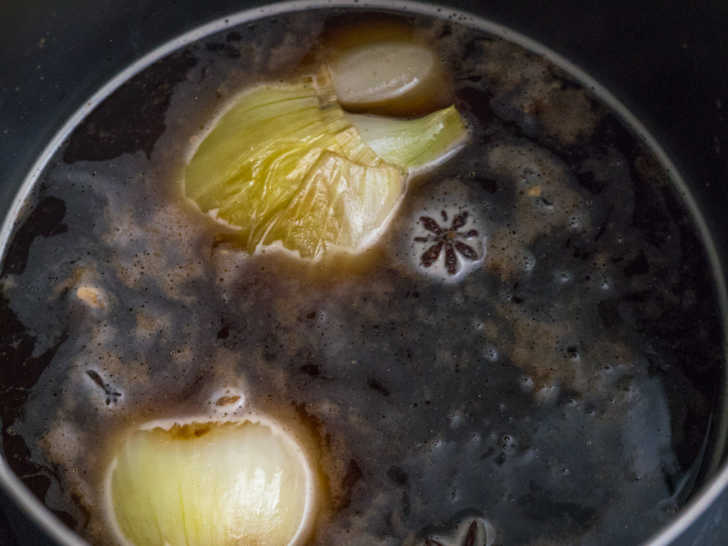 Strain the broth, stir in some fish sauce and sugar and bring it back up to a bubble so that you're sure it's hot enough to cook the raw beef you'll be adding to each serving bowl. There are a number of cuts of beef that work well here (see the ingredients list below) but if you're not planning to sear it or roast it or give it any extra treatment, make sure you slice it very thin so all it needs to cook through is that steaming broth.
And, of course, what would pho be without the toppings?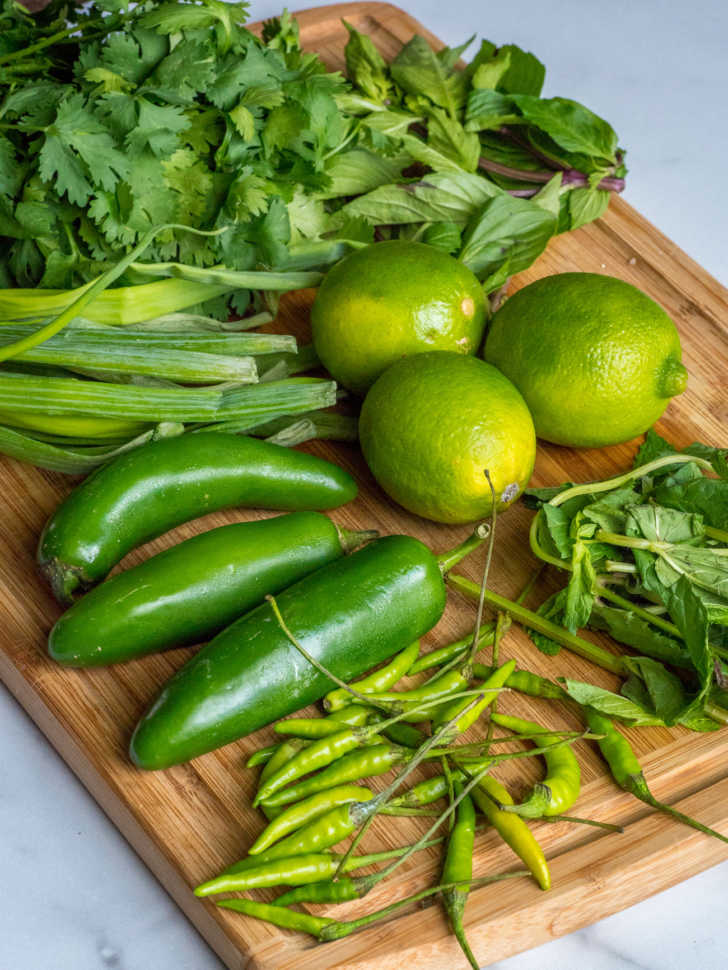 Cilantro, mint, Thai basil, bean sprouts, wedges of citrusy lime, hot jalapeños or bird chiles, bright green onion, a dollop of hoisin sauce… Pick your favorites and load that bowl up.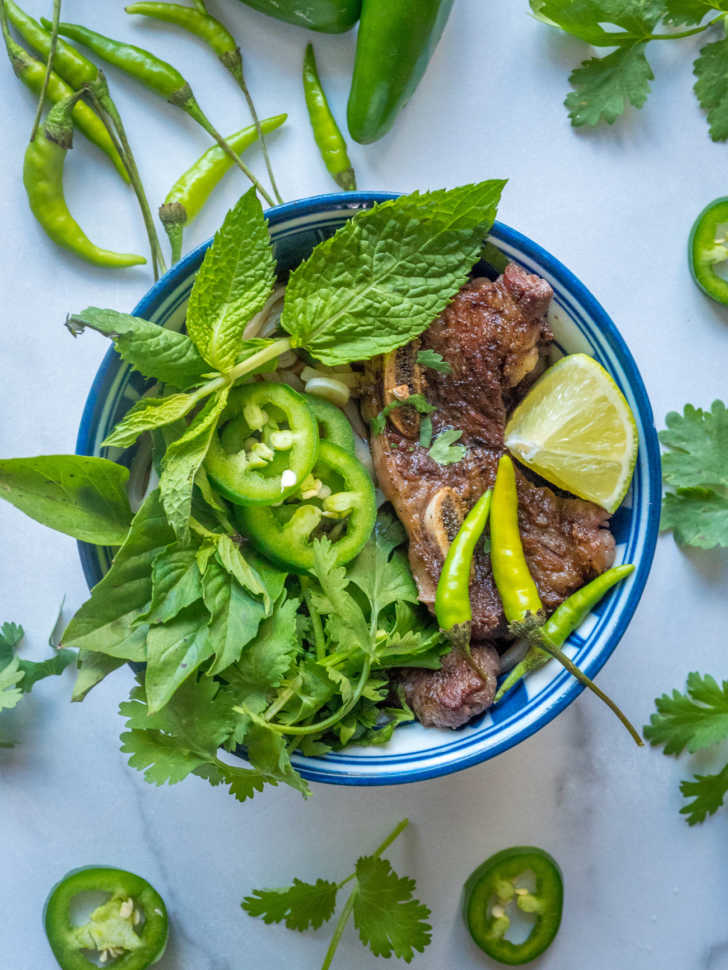 A handful of tender rice noodles in each bowl, some savory slices of beef, your favorite spicy, crunchy, and vibrant toppings, and that piping hot rich, spice-scented broth ladled into each bowl to bring it all together – there are few things better! And with this method, it's incredibly easy to get all that greatness anytime you want it, right out of your own kitchen.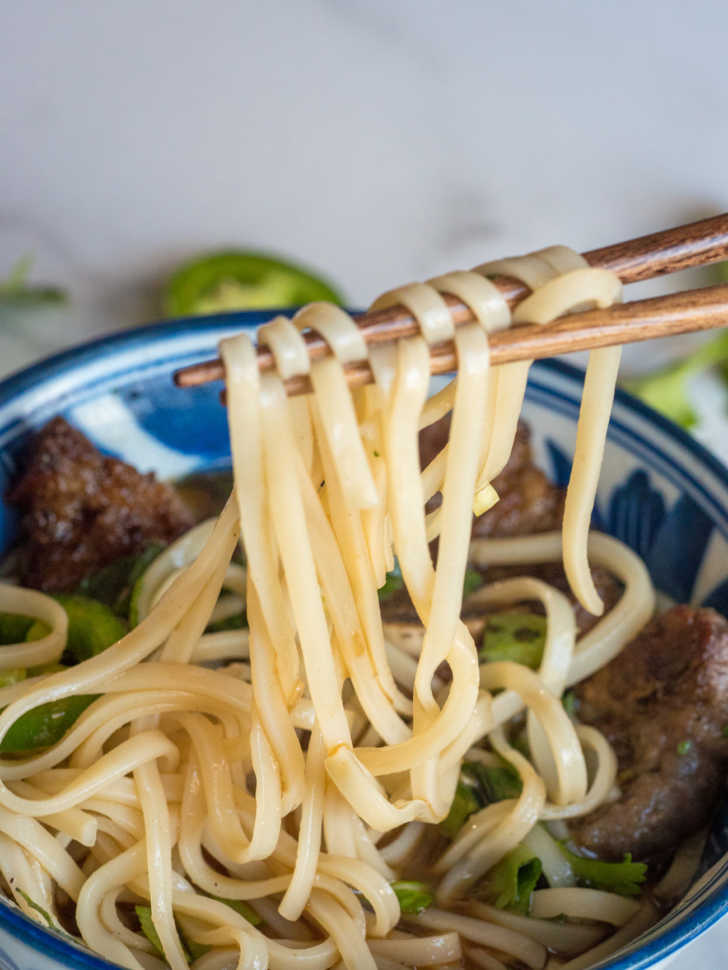 Easy Homemade Pho
Serves 4
10m prep time
30m cook time
For the broth:
1 large onion, peeled and halved
2 3-inch pieces of fresh ginger, halved
5 star anise
4 whole cloves
3 cinnamon sticks
2 teaspoons ground coriander
Pinch of ground cardamom
2 (32 oz each) cartons beef stock
1 tablespoon brown sugar
2 teaspoons fish sauce
Salt, to taste
For the soup:
8 oz raw steak, very thinly sliced (such as sirloin, round eye, flank steak, chuck roast, brisket, or london broil)
8 oz thin rice noodles, uncooked
For serving:
Fresh cilantro
Fresh mint
Fresh Thai basil leaves
Bean sprouts
Lime wedges
Thai bird chiles or jalapeños, thinly sliced
Green onions, thinly sliced
Hoisin sauce
Sriracha
Preparation
Turn oven to broil on high. Brush onion halves and ginger with olive oil and place on a sheet pan. Place pan about 8 inches under broiler element until onion and ginger are slightly charred, 5-10 minutes.
Meanwhile, place a large stockpot over medium-high heat. Add cloves, cinnamon sticks, coriander, and cardamom and toast for 3-4 minutes until fragrant. Be careful not to burn.
Add the charred onion and ginger, followed by the beef stock and bring to a boil. Reduce heat to medium-low, cover, and simmer at least 30 minutes.
While broth simmers, prepare noodles according to package instructions. Drain and rinse with cold water to halt further cooking. Toss with a drizzle of sesame oil to prevent sticking.
Strain the broth, discarding the onion, ginger and spices. Return broth to pot, then add fish sauce and brown sugar. Season to taste with salt. Bring back to a low simmer so broth is hot enough to cook beef.
Serve by adding a handful of noodles and a portion of sliced raw meat to individual bowls. Ladle the simmering-hot broth into bowls, making sure to completely submerge steak in order for it to properly cook. Top bowl with garnishes of choice. Stir garnishes into bowl to add flavor, serve immediately and enjoy!
Recipe adapted from Midwest Living.
SKM: below-content placeholder
Whizzco for 12T