We know what we're making for dinner tonight…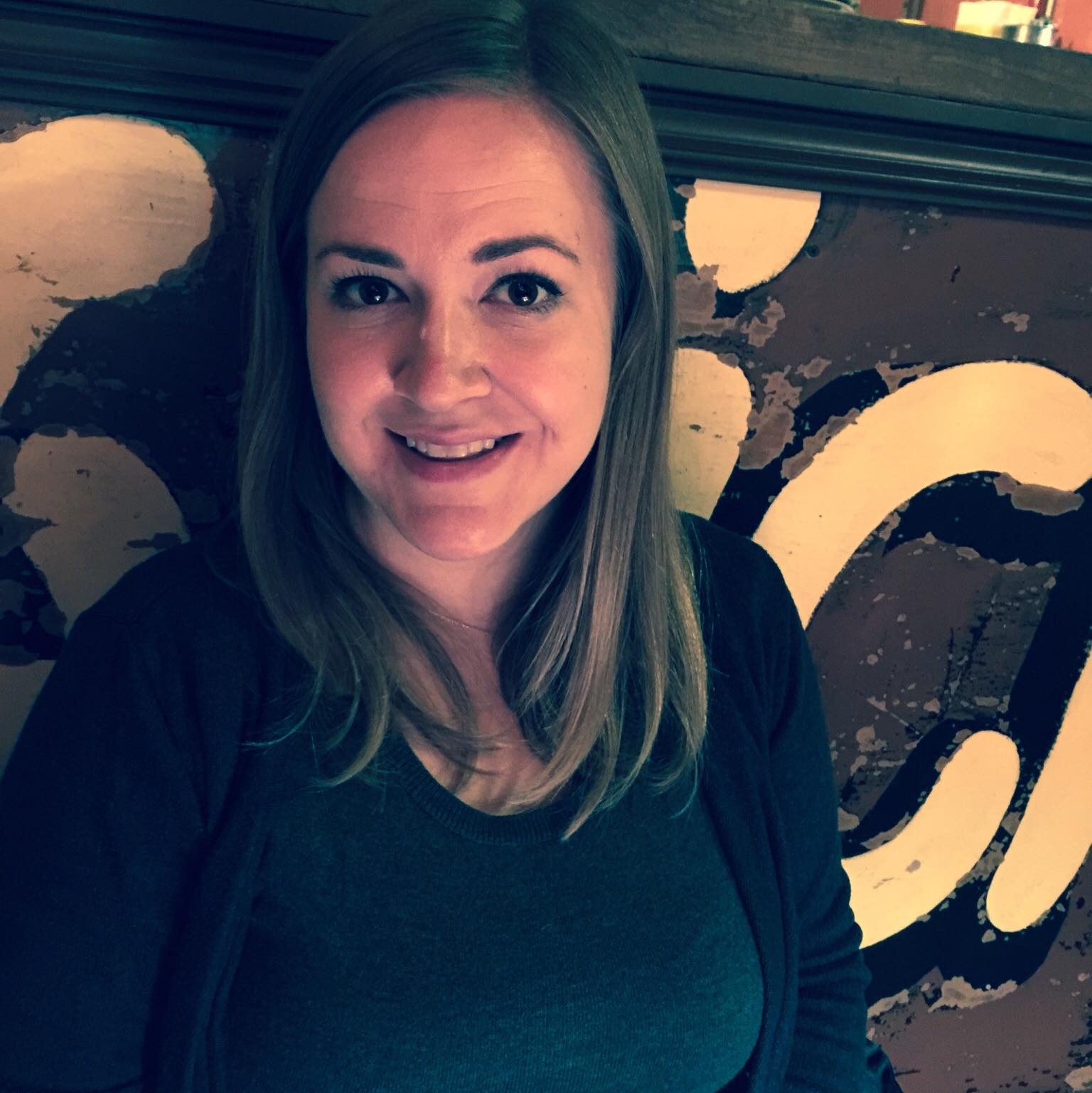 Kristy Norrell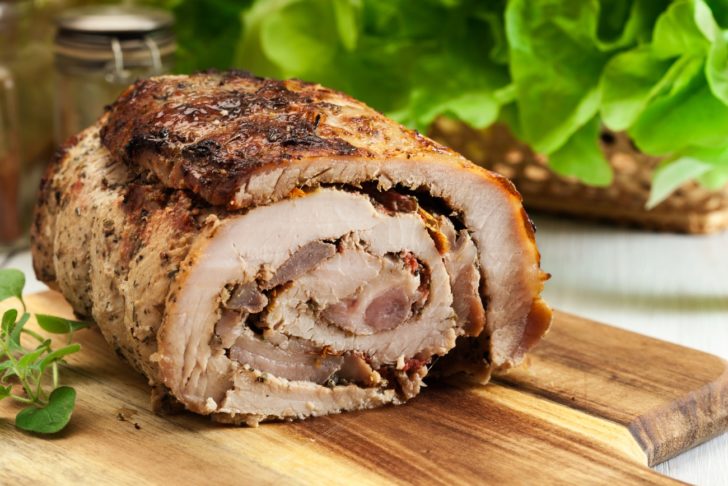 If you've ever had porchetta, you know that slow-roasted succulent flavor is second to none. It's an Italian culinary tradition where the body of a pig is deboned and then stuffed with liver, fennel, rosemary, garlic, and other herbs before the whole thing is roasted over a wood fire for 8 hours. And it's ahhh-mazing. But also really time-consuming. Also not really feasible for the home cook.
Luckily, people have found ways to simplify the dish and make a more doable version in your own home using a pork loin and pork belly and a handful of fragrant herbs. But even pork belly can be hard to find and a little unwieldy to roll with the double layer of pork… so we came up with this version. An easy, flavorful herbed pork roll that's roasted until it's mouthwateringly juicy. And it's a winner.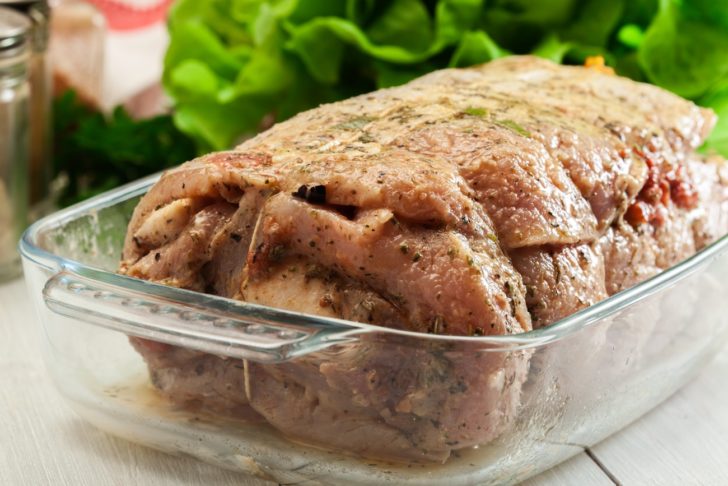 You start by butterflying a pork loin. It's simple enough, but you can always ask your butcher to do it for you. You just cut into the pork about a half an inch from the bottom – taking care not to cut all the way through – and continue cutting as you unroll the pork. You'll end up with one long, thin rectangle of pork loin.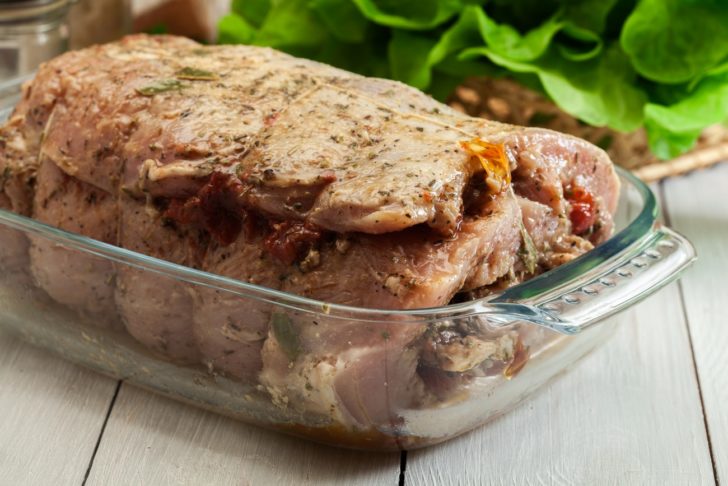 You then spread that with a seriously tasty mixture of sun-dried tomatoes, basil, thyme, garlic and salt and pepper and roll the whole thing up. Tie it up with some kitchen twine and pop it in the oven and in less than an hour you have one beautiful, fragrant, juicy rolled roast. It's an elegant meal anyone can master, and it's an ideal main event for any dinner menu, whether it's a holiday meal or a weeknight sit-down.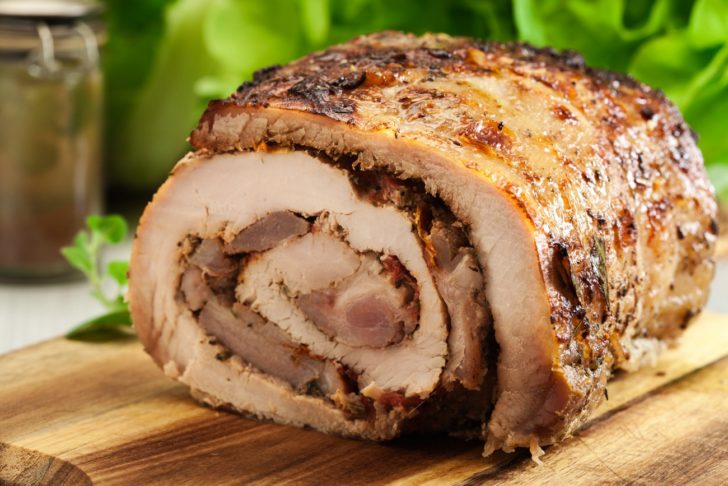 Easy Herbed Pork Roll
Serves 4-6
1 hour 15 minutes
Ingredients
1 3 lb boneless center-cut pork loin
1/4 cup sun-dried tomatoes, chopped
1/4 cup fresh basil, finely chopped and divided
3-4 cloves garlic, minced
4 tablespoons olive oil, divided
2 tablespoons fresh thyme, divided
Kosher salt and freshly ground pepper, to taste
Preparation
Preheat oven to 375°F and set aside a baking dish.
Place pork loin on a cutting board with the short side facing you. Using a sharp knife, slice into the roast about 1/2-inch from the bottom, taking care not to cut all the way through. Continue cutting, unrolling the roast as you go, until you have one large, thin piece of meat. Liberally season the pork with salt and pepper and set aside while you prepare the filling.
Set aside 1 tablespoon of the thyme and 1 tablespoon of the basil.
Place the remaining basil, thyme, sun-dried tomatoes, and garlic on your cutting board and chop everything together until it is well mixed and very finely chopped. Place in a small bowl and mix well with 2 tablespoons olive oil. Season with salt and pepper. (You can also combine these ingredients and chop in a food processor.)
Spread tomato mixture onto inside of pork loin, and roll the pork tightly, starting with the short side, until it is a tight roll. Tie with kitchen twine.
Rub outside of pork loin with remaining olive oil and sprinkle with reserved basil and thyme. Season well with salt and pepper and place in baking dish.
Cook in oven until pork reaches 145°F, about 45 to 60 minutes. Once cooked, remove from oven and let rest 10 minutes before slicing and serving. Enjoy!
Adapted from Tasty Ever After.
SKM: below-content placeholder
Whizzco for 12T