Many lasagna recipes feature sausage and beef, but this pasta dish packs layerswith roasted vegetables instead ñ making for a vegetarian version thatís just as flavorful.
The recipe itself has lots of room for versatility. Donít like onions? Want extra zucchini? Have a flavored olive oil thatíll pack a punch in the roasting process? You can make little tweaks along the way to match your preferences, ensuring the finished product will be super satisfying.
Aside from swapping meat for roasted veggies, the cheese choice is also unique. Traditional Italian lasagna relies solely on Parmesan, but this recipe uses a tasty combo of ricotta, mozzarella, and Parmesan. The modern twists on this classic dish definitely make for a meal thatíll get rave reviews from the dinner table.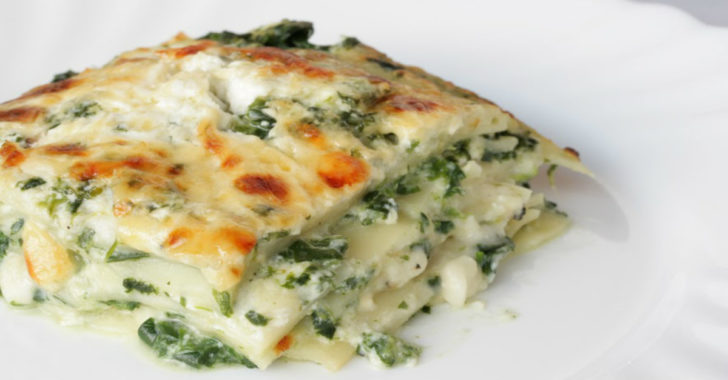 Vegetable Lasagna
(makes one 9×13 pan of lasagna)
Ingredients
1 package of no-boil lasagna noodles
2 jars (48 ounces) of marinara sauce (store-bought or homemade ñ try this recipe)
Several leaves of fresh basil, juliennedand divided
1 zucchini, quartered lengthwise and sliced
1 yellow squash, quartered lengthwise and sliced
1 red bell pepper, chopped
1 green pepper, chopped
1 onion, chopped
2 carrots, shredded
4 cloves of garlic, skin on
1/2 teaspoon dried oregano, divided
1/4 teaspoon dried basil
16 ounces ricotta (plus a little extra)
1/4 cup Parmesan, grated (plus a little extra)
1/4 cup mozzarella, grated (plus a little extra)
1 egg, beaten
Pinch of nutmeg
Extra virgin olive oil
Salt
Pepper
Directions
Preheat the oven to 400 degrees F.
Put all the chopped vegetables and garlic in a large bowl and toss with enough olive oil to fully coat them, as well as salt, pepper, dried basil, and 1/4 teaspoon of the dried oregano. Then, place a sheet of aluminum foil on a baking sheet and spread the vegetables on top of it, so they make an even layer.
Bake the vegetables in the oven for about 30 minutes, flipping them halfway in the process. If they arenít tender after 30 minutes, flip and let them cook for an additional 10 minutes. (If they are tender before the 30 minutes is up, take them out of the oven). Find the fourpieces of garlic, take them out of their skin, chop them, and add them back to the veggies. Set aside and lower the temperature of the oven to 350 degrees F.
Next, create a ricotta mixture in a large bowl. Combine the ricotta, Parmesan, mozzarella, egg, a few leaves of freshly cut basil, 1/4 teaspoon dried oregano, and nutmeg, and stir everything together until evenly mixed. Season with salt and pepper to taste.
Coat a 9×13 baking dish with cooking spray, then cover the bottom of the dish with marinara sauce. Place one layer of lasagna noodles on top of the sauce, being careful not to overlap them, and then top the noodles with a thin layer of marinara. Add half the ricotta mixture on top of the marinara, then half the roasted vegetables. Then add another layer of sauce, noodles, sauce, followed by the rest of the ricotta mixture and roasted vegetables.
Finally, cover with sauce, noodles, and a final layer of sauce. Top the entire lasagna with a generous amount of freshly grated mozzarella and Parmesan, plus ricotta.
Cover the lasagna with aluminum foil and bake for about 30 minutes. Then, remove the foil and let it bake for another 15 minutes, or until the cheese is bubbly and golden brown. The noodles should also be soft, too.
Top with freshly cut basil for garnish.
Enjoy!
Recipe adapted from A Hint of Honey
SKM: below-content placeholder
Whizzco for 12T