With the aroma of meatballs and spaghetti sauce floating through the house, it'll be tough to keep everyone away from the kitchen while you're making this dish.
At the dinner table, you can share this fun fact: According to Smithsonian, this dish doesn't actually originate from Italy. Rather, Southern Italian immigrants to the United States created this Italian-American dish – inspired by the polpettes of Italy, but made much bigger because they could afford more meat, and they made the meatballs with more meat than bread in them.
Throw some salad and garlic bread on the table to boot, and prepare to feast!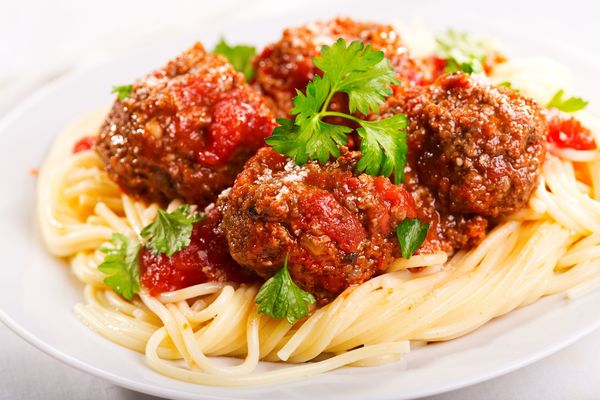 Spaghetti with Homemade Meatballs
(makes 4 servings)
Ingredients:
For the meatballs:
1/2 poundground beef
1/2 poundground pork
2 clovesof garlic, minced
1/2 cup breadcrumbs
1 egg
1/2 cup Parmesan cheese
1/2 tablespoon dried parsley (or 2 tablespoons minced fresh parsley)
1/8 teaspoonsalt
Black pepper to taste
Splash of milk
1/4 cupolive oil
For the sauce:
1/2 yellow onion, diced
2 clovesof garlic, minced
1 28-ounce can crushed tomatoes
1/8 teaspoonsalt
1/2 teaspoonsugar
Black pepper to taste
1/2 tablespoon dried parsley (or 2 tablespoons minced fresh parsley)
4 fresh basil leaves, cut into strips
Plus, 1 pound of spaghetti, cooked al dente
Directions:
Mix the meat, garlic, breadcrumbs, Parmesan cheese, egg, salt, pepper, parsley, and a splash of milk together in a large bowl. Combine well with your hands, then chill the meatball mixture for 15-30 minutes so itfirms up.
Get out a cookie sheet and dab your fingers into some water or milk (so the mixture wonít stick to your hands). Then, roll the mixture into 12-13 meatballs that are about 1 1/2 inches and place them on the cookie sheet.
Heat the olive oil in a large pot over medium-high heat, and add half the meatballs to the skillet. Turn the meatballs regularly until they are browned, then remove them and let them drain on a paper towel. Repeat with the second half of meatballs.
Use the same pot and add the onion, letting it cook for a few minutes until it is translucent. Then, add the garlic and let it cook for 1 minute. Pour in the crushed tomatoes, salt, pepper, sugar, and parsley and stir and cook over medium heat for 20 minutes.
Add the meatballs to the pot and carefully stir them in. Reduce the heat to a simmer and cook them for 30 minutes, making sure to give the sauce a few gentle stirs in the process. Stir in the basil before serving.
Serve the meatballs and sauce over spaghetti.
Enjoy!
Recipe adapted from The Pioneer Woman
SKM: below-content placeholder
Whizzco for 12T