If you're looking for a delicious way to get vegetables into a meal, try a delicious pasta primavera! This delicious dish is usually cooked with firm, crisp vegetables like broccoli, carrots, onions, and peppers, and it's noted for its light, aromatic herbs used for flavoring. The term "primavera" actually means "Spring", so now feels like the perfect time to cook up and enjoy this dish!
The classic sauce for pasta primavera is based on a combination of olive oil and Parmesan cheese, however we like to enrich ours with some heavy cream and chicken broth. For the pasta itself, we used bow-tie pasta for its distinctive look and the better chance to getting kids to enjoy it. For the vegetables, we used asparagus, peas, snow-peas, tomatoes, carrots, and peppers. Keep reading below for this great recipe…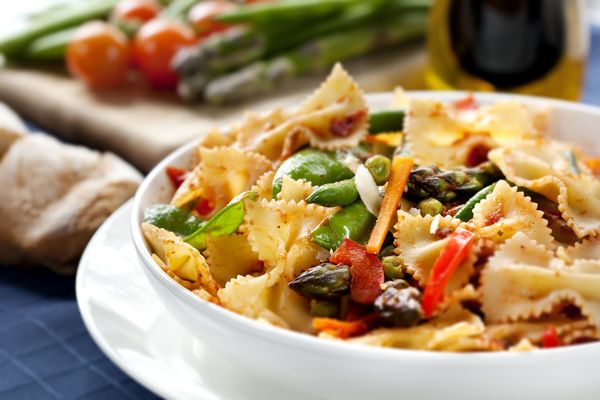 Pasta Primavera
(makes 4 servings)
Ingredients
1/2lb pasta
1 cup broccoli florets
1 red bell pepper cut into thin strips
3 carrots peeled and cut into thin strips
4 asparagus spears trimmed and cut to 1″ pieces
1/2cup frozen baby peas, thawed
1/2 cup snow peas
1/4lb green beans trimmed and cut into 1″ pieces
3 cloves garlic, minced
1/4 teaspoon red pepper flakes
3 roma tomatoes, seeded and diced
12 basil leaves, chopped
4 tablespoons butter
1/4 cup vegetable broth
1/2 cup heavy cream
1/2 cup grated Parmesan cheese
salt
Directions
Set a large pot of water on the stove over high heat. Salt it well. fill a large bowl with ice water. Boil the broccoli for 1 minute. Add the asparagus and green beans, and boil another minute. Add the snow peas and boil for 30 more seconds. Remove all the vegetables and plunge them into the ice water. Once they're cool, drain into a colander. Feel free to reserve the vegetable water to cook the pasta, or empty the pot and use fresh water.
Start the pasta boiling. Cook until done. While the pasta is boiling, prepare the sauce. In a large skillet, heat the butter over medium-high heat. When the butter is hot, add the garlic, carrots, red bell pepper, and red pepper flakes and saute for 1 minute. Add the diced tomatoes and saute another 2 minutes, stirring often.
Pour in the broth and turn the heat to high to bring it to a boil. Add the cream and toss in all the vegetables that were previously boiled plus the peas. Stir to combine. Turn the heat down until the cream-broth mixture is just simmering, not boiling.
Add the Parmesan cheese and stir to combine. If the sauce seems too thick, add more chicken broth, cream, or water.
Once the pasta is done, drain it and transfer to the sauce. Stir to combine. Add the basil and adjust the seasoning with salt if needed. Serve immediately.
Enjoy!
Recipe adapted fromSimply Recipes
SKM: below-content placeholder
Whizzco for 12T