Sometimes when grilling we are looking for a classic, wooden, smoky flavor. This flavor can really help make a dish sing, and one protein that is particularly enhanced through a good, wooden flavor is salmon. What's the best way to get that perfect wood-grilled flavor without requiring a smoker? For our recipe, all you need is a little wood and astandard charcoal or gas grill.
The answer is to use wooden planks you can obtain from specialty cookware stores, grilling supply stores, or even hardware stores (though the first two are preferable since they are less likely to have any bad chemicals in them). You can actually cook with a large variety of wood types. Alder adds a mild, mellow flavor, while cherry is more rich or bright. Hickory is smoky and is fantastic for red meats and pork. For salmon, however, we absolutely love using cedar. Cedar adds a lush, smoky, aromatic flavor that pairs perfectly with some lemon, dill, and rosemary. Keep reading below for this excellent recipe…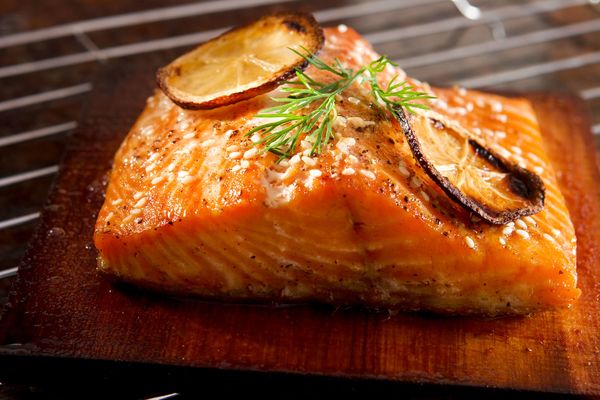 Cedar Plank Salmon
(makes 6 servings)
Ingredients
1 cup white wine for soaking the wood planks
2 tablespoons grainy mustard
2 tablespoons mild honey
1 teaspoon minced fresh rosemary
1 teaspoon minced fresh dill
1 tablespoon grated lemon zest
3 teaspoons sesame seeds (optional)
1 2lb salmon fillet with skin
Directions
Rinse the plank(s) with water to remove any dust. Fill a large container with water. Submerge the plank in the water. Add the white wine. Soak the cedar planks for two hours before grilling.
Heat the grill to about 350F or medium heat.
Stir together the mustard, honey, rosemary, dill, zest, sesame seeds, and 1/2 teaspoon each of salt and pepper. Spread the mixture on the flesh side of the salmon and let the salmon stand at room temperature for 15 minutes.
Place the salmon on the plank, skin side down, and grill, covered with lid, until the salmon is just cooked through and the edges are browned (13 to 15 minutes). Let the salmon stand on the plank 5 minutes before serving.
Enjoy!
Recipe adapted fromEpicurious
SKM: below-content placeholder
Whizzco for 12T