There's a reason it's so popular in the Midwest.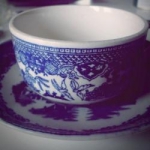 Rose Heichelbech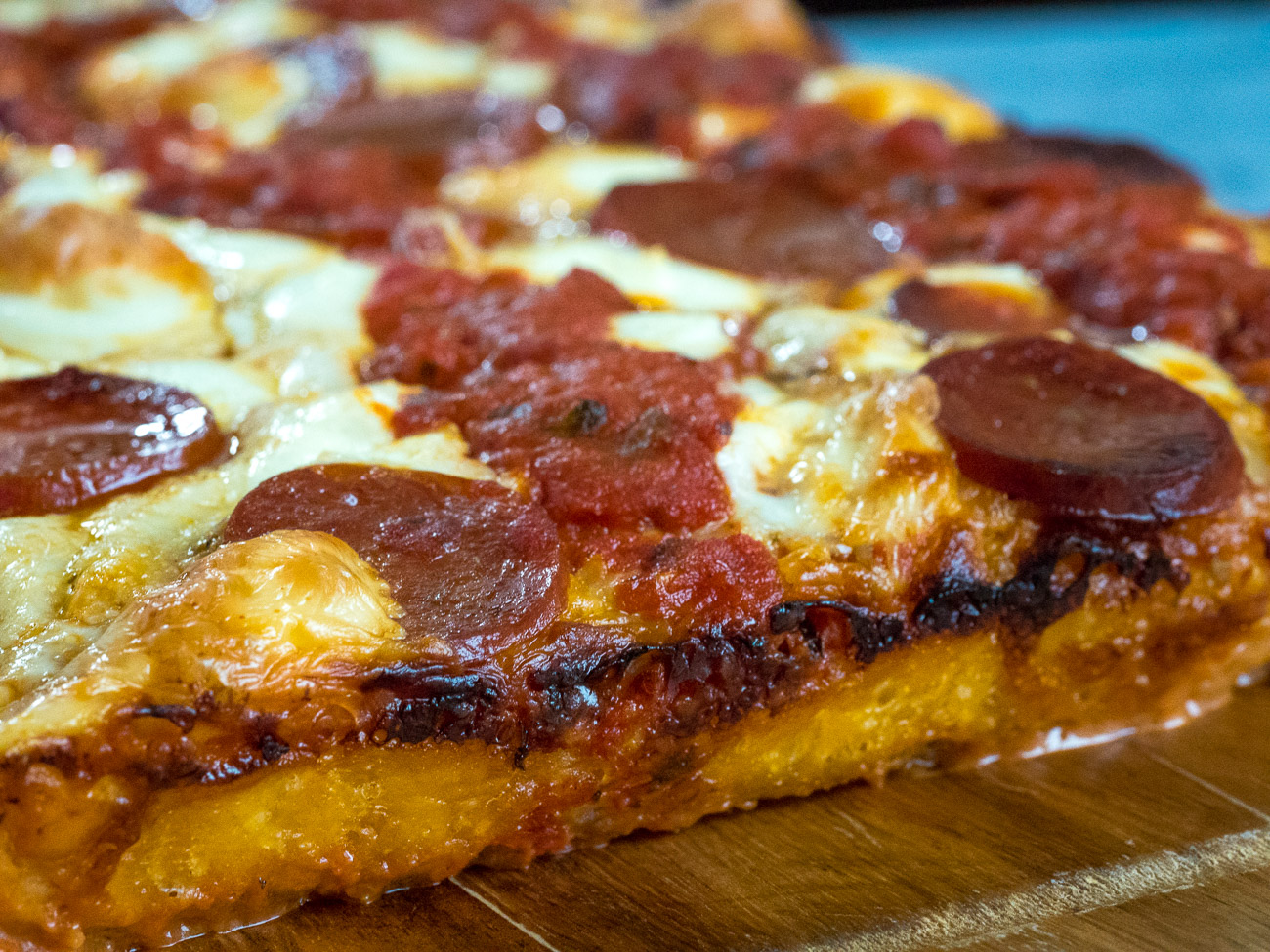 Pizza night growing up was always a special time. In our house this meant homemade pizzas made Detroit style. My mom would often replace the pepperoni with thick slices of salami or other hard sausage, switching between these and pepperoni. These square pizzas were always a huge hit for dinner. And, if you didn't grow up in the Midwest there's no time like the present to try this regional delicacy.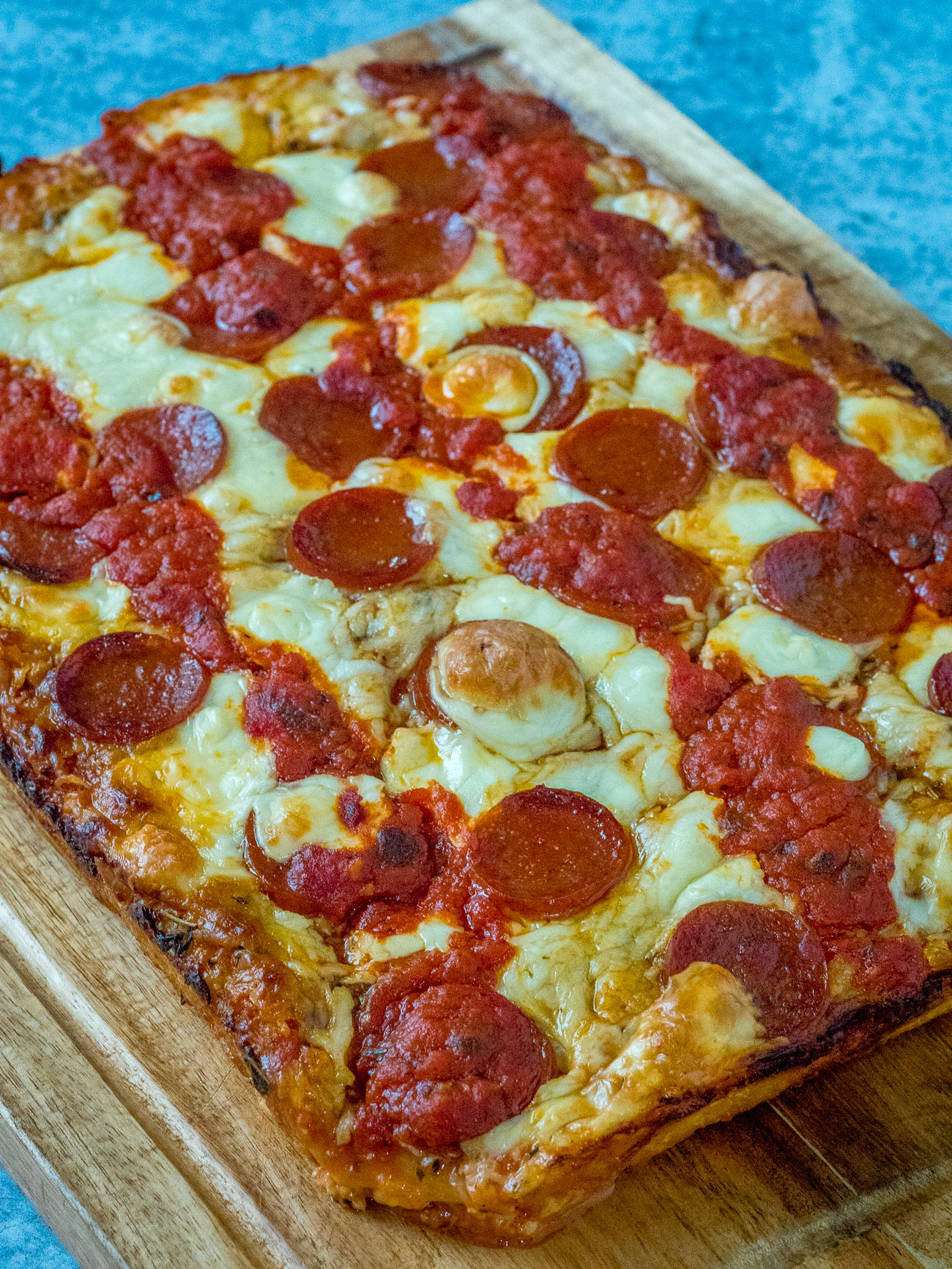 One of the things that makes Detroit pizza so special is the crust. This is a rising crust that, when formed in a 9″x13″ metal pan comes to the perfect height. This is not a deep dish, though it is much thicker than a thin crust pizza. Once you make the dough you'll need to let it rise for 2 hours.
Another distinct quality of Detroit pizzas are the lines of sauce on top. Unlike Chicago style which has a whole layer of sauce over the top, Detroit style pizza has three lines of sauce that run over (but don't completely cover) the cheese and the pepperoni.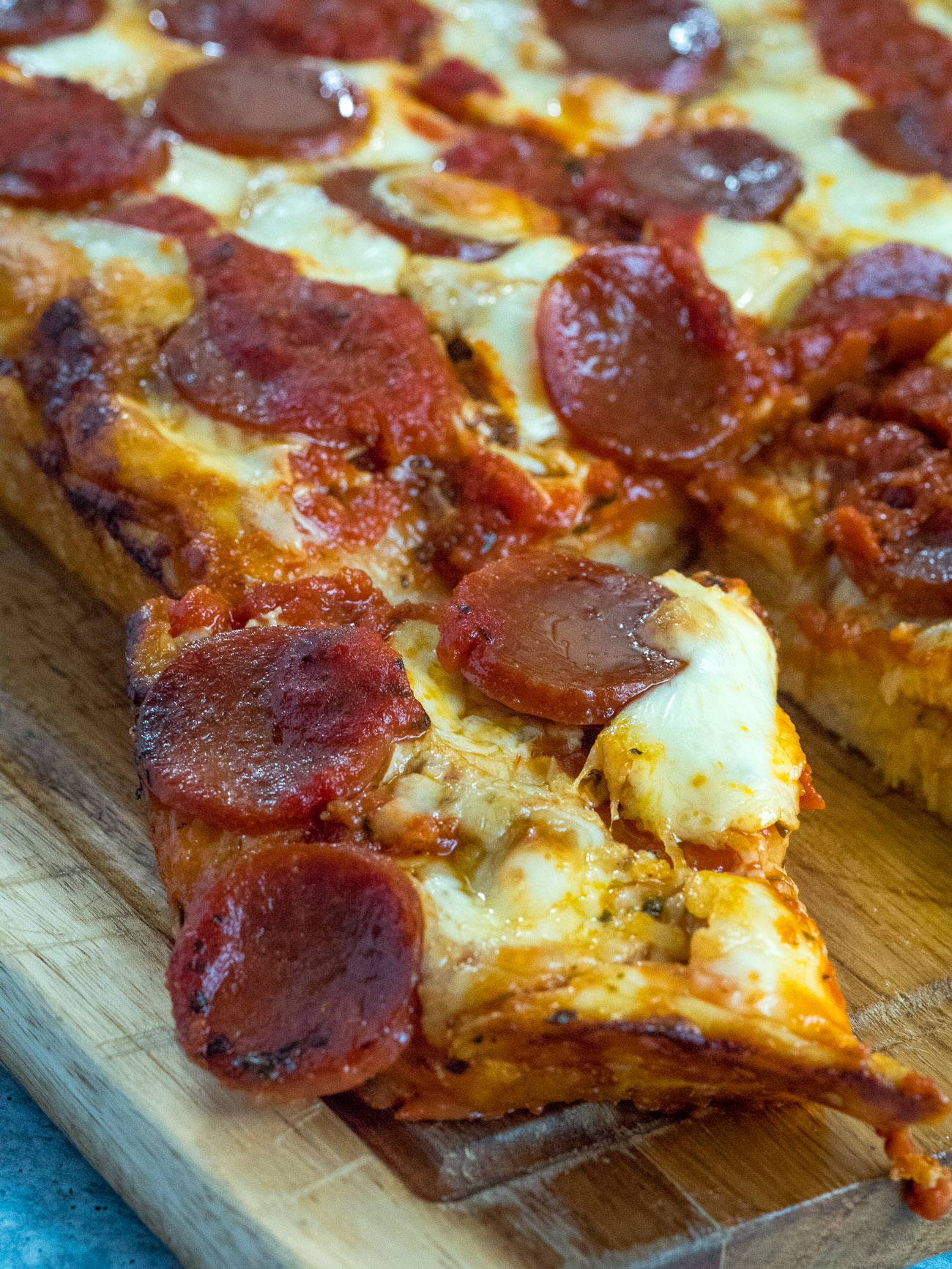 So that the dough stays nice and moist, we also added some sauce under the cheese as well, though not as much as for a regular pizza since the main sauce situation is on top of the pizza.
Yet another unique thing about Detroit pizza is that you take the toppings all the way to edges. Combined with the oil in the pan and the high heat, this creates a crispy edge that is irresistible. If you're used to only making regular round pizzas you might think it looks burnt, but this is the way it's supposed to be.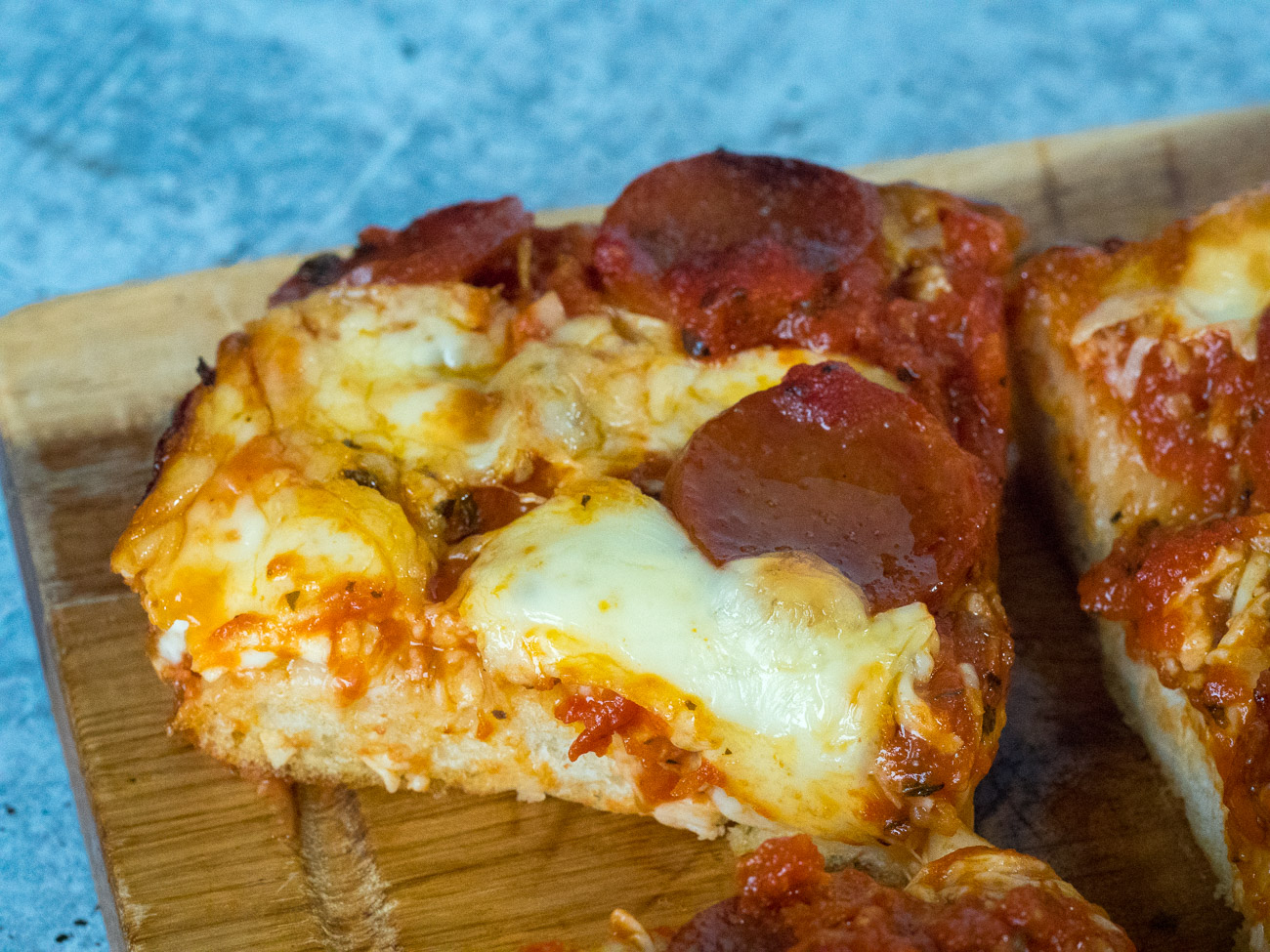 Once you've assembled your pizza it only takes about 10-15 minutes to bake in a 500˚F oven. This high heat ensures that the pepperoni and the crust get nice and crispy.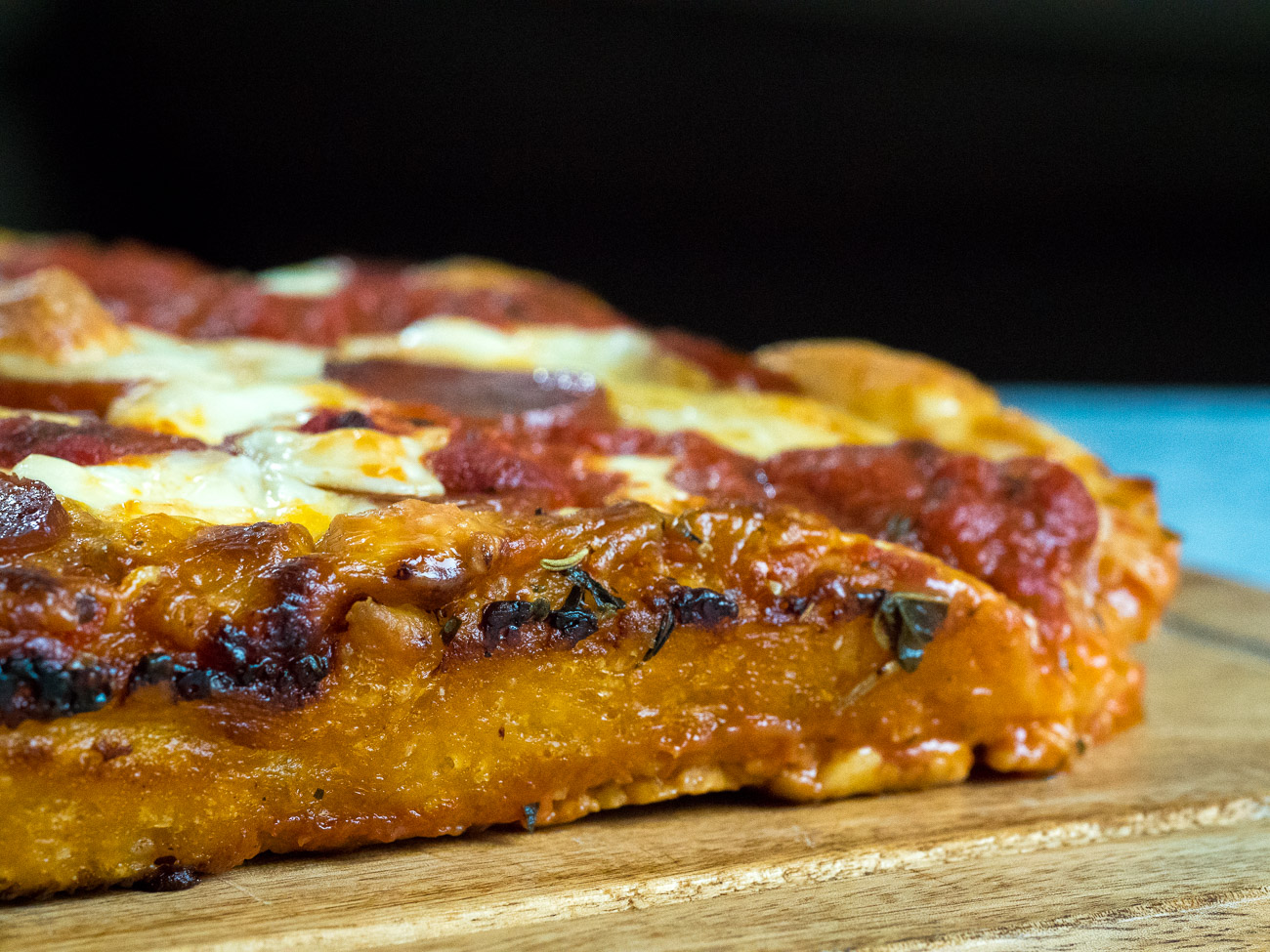 If you've never had Detroit style pizza then you have to try this regional favorite. Pizza night may never be the same after you make this scrumptious recipe for the family.
Detroit Style Square Pizza
Serves 6-8
2h 20m prep time
15m cook time
2h 5m inactive
Ingredients
3 tablespoons olive oil, plus extra for oiling dough bowl
2 1/4 cups all-purpose flour
2 teaspoons salt
1 teaspoon rapid rise yeast
1 teaspoon sugar
2 14-ounce jars of pizza sauce
2 teaspoons dried Italian seasoning
2 cloves garlic, minced
Salt and pepper to taste
6-8 ounces sliced pepperoni
16 ounces shredded and/or cubed mozzarella cheese
Preparation
Combine flour, salt, yeast, and sugar in a large bowl and mix until just combined. Pour in 1 cup warm water, then continue to mix until dough begins to hold together. If dough is too wet add a little bit more flour.
Oil a separate (large) bowl with olive oil. Roll pizza dough into a ball and place in the oiled bowl. Cover with cloth or plastic wrap and allow dough to proof for 2 hours (ideally in a warm place). Dough should double in size.

Preheat the oven 500˚. Pour olive oil into a 9"x13" inch metal pan. Make sure the sides are at least 2-3" deep.
Place the dough into the pan and then gently stretch the dough to the edges of the pan.

Reserve 1 cup of the pizza sauce. Pour pizza sauce over the dough and sprinkle herbs, garlic, salt, and pepper over the sauce. Cover sauce with cheese, making sure the cheese reaches all the way to the edges of the pan. Top with pepperoni. Pour remaining pizza sauce over the top of the pie in three lines.

Bake for 10-15 minutes or until the edges become dark and crispy.
Recipe adapted from Food Network.
SKM: below-content placeholder
Whizzco for 12T