The Tarte Tatin is a typical French recipe that originated (perhaps unintentionally) in the 1880s and consists of fruitusually applesthat is cooked in butter and sugar, and then baked with the crust on top. Being an upside-down dessert, this tart is fun to make, if a little nerve-wracking. Just know that it will taste phenomenal no matter what, so don't worry if things go a little sideways (figuratively speaking) when you're flipping this tart over at the end. With this pear version of the Tarte Tatin will knock everybody's socks off, including your own!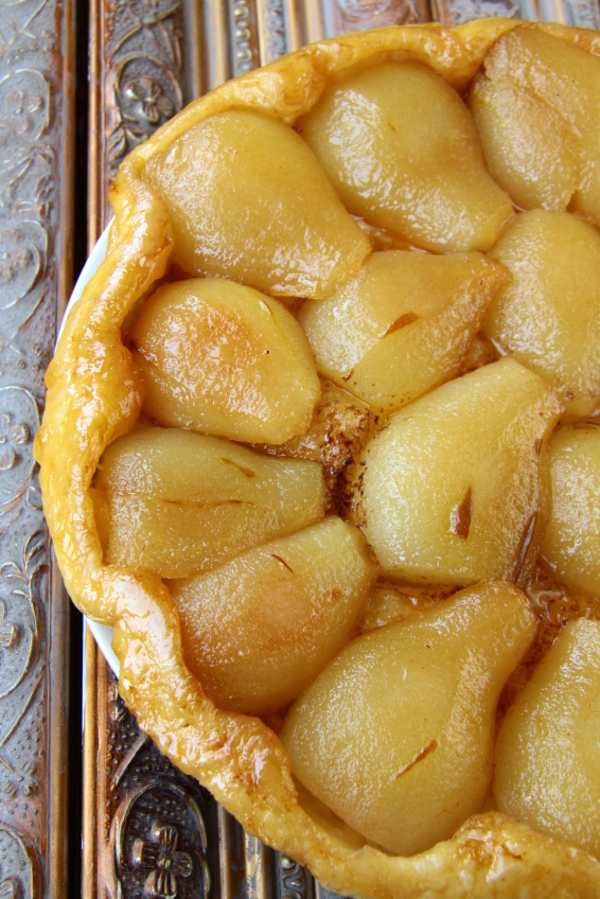 Pear Tarte
Yields 1, 9 or 10-inch tart
Ingredients
Crust:
1 stick cold butter, cubed
1 cup all-purpose flour
1 teaspoon sugar
1/2 teaspoon salt
1/4 cup plain, Greek yogurt
Filling:
5-6 pears (bosc)
1 1/2 tablespoons lemon juice
6 tablespoons butter
3/4 cup sugar, plus 2 tablespoons
1 teaspoon candied ginger, minced
1/4 teaspoon cinnamon
1/8 teaspoon nutmeg
Directions
In a food processor, pulse together flour, sugar and salt.
Slowly add in cold butter and pulse until mixture is crumbly and butter is the size of peas. Then add in yogurt and pulse until ball of dough forms.
Turn out and roll into a flattened disc. Wrap in plastic wrap and refrigerate for at least 1 hour.
Peel and halve pears and place them in a large bowl. Sprinkle with lemon juice (to reduce browning) and 2 tablespoons sugar and toss to coat.
In a large, oven-proof skillet over medium-high heat, melt 6 tablespoons butter (make sure butter evenly covers skillet) and evenly distribute 3/4 cup sugar. Stir to incorporate and cook until sugar dissolves.
Add pears and coat well with sauce. Continue cooking until sauce caramelizes and turn a dark, amber color. About 15 minutes.
Preheat oven to 375º F.
Carefully arrange pears so they're cut-side up in skillet, rounded edges facing out, with as few gaps as possible. Sprinkle with cinnamon, nutmeg and candied ginger.
Remove dough from fridge and turn out onto a lightly floured surface. Roll dough to a 1/4-inch thickness that is approximately 1-inch larger than your skillet.
Place skillet on a baking tray (to catch extra liquid) and place dough on top of pears. Use a fork to carefully tuck excess dough inside the edge of the skillet.
Place tray in oven and bake for 30-35 minutes, or until crust is golden brown.
Remove skillet from oven and let cool 5-10 minutes. Run knife along the edge of the skillet to loosen crust.
Cover with a large Pyrex dish or serving plate and use both hands, and thick oven mitts, to flip the skillet over. It's okay if some crust or pear sticks, carefully rearrange and let cool.
Serve with ice cream or crème fraiche.
Recipe adapted from Simply Recipes
SKM: below-content placeholder
Whizzco for 12T