Chef Boyardee is a canned pasta that is beloved by many/all children and even us grownups get a craving for it now and again. However, it can feel a little questionable eating it when you 're not totally sure of what goes into that can, and the amount of sodium labeled on the back of it makes us cringe! We 've made a delicious homemade alternative that tastes amazing and that you 'll be excited for you and your kids to eat! It 's a recipe that takes some courage and determination, but we 've broken it down for you and made the whole pasta-making experience doable!
Attempting and successfully putting together this dish will show you that making pasta is not something for just chefs! Once you've successfully pulled it off, you can take this recipe and transform it into any number of your favorite pastas–we just decided to try this one because it 's a meal that 's loaded with fun, family memories that we can 't wait to build and improve on!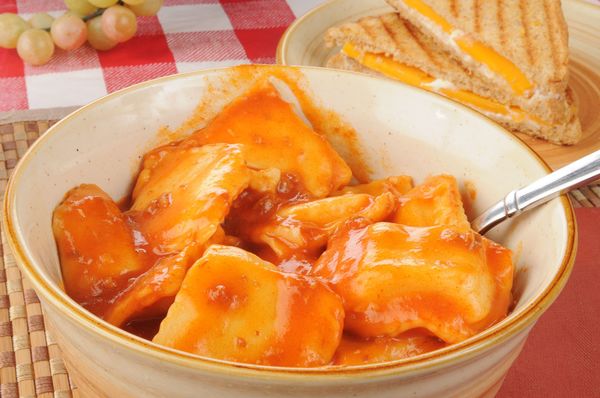 Homemade Beef Ravioli
Serves 4
Ingredients
Pasta:
2 1/4 cups all-purpose flour
4 eggs
1 1/2 tablespoon semolina flour, plus more for dusting
1 1/2 tablespoon extra-virgin olive oil
3/4 teaspoon fine sea salt
1/8 teaspoon nutmeg
Filling:
1 pound ground beef
1/4 cup Parmesan cheese, grated
1 tablespoon onion powder
1 tablespoon garlic powder
kosher salt and pepper, to taste
Sauce:
1/2 pound ground beef
1 (12 oz.) can tomato soup, undiluted
2/3 cup cheddar cheese
1/2 cup tomato sauce
1/3 cup water
1 teaspoon dried parsley
1/2 teaspoon garlic powder
1/2 teaspoon onion powder
1 pinch sugar
kosher salt and pepper, to taste
Directions
Note: if you don 't have a pasta maker, roll 2 dough halves out as thinly as possible (it 's best if you can see the shape of your hand), space filling out across the dough, cover with second piece of dough and cut with a rotary cutter to seal the edges.
Combine filling ingredients in a medium pan and cook, stirring with wooden spoon to break up lumps, until meat is thoroughly browned. Set aside.
To make pasta: pulse together flours, salt and nutmeg. Add eggs one at a time and pulse until fully incorporated.
Slowly drizzle in olive oil until mixture is crumbly and just beginning to come together.
Turn crumbly dough out onto a flat surface that 's been dusted with semolina and knead until smooth. (You could also use a mixer fitted with a dough hook attachment on low speed.)
Tightly cover in plastic wrap and let rest 30 minutes.
Divide dough into 4 equal parts; take first part and wrap the remaining pieces. Roll dough out to 1/2-inch thickness and sprinkle with semolina.
Carefully feed dough through pasta machine (set on the widest setting), fold dough into thirds and feed through machine again, starting with the folded edge.
Repeat one more time on the widest setting, folding first. Then begin making the setting narrower and feeding the dough twice through each.
When you can see the outline of your hand through the dough, transfer it to a lightly floured surface.
Repeat process with remaining refrigerated dough.
Scoop 1 tablespoon of meat filling and spoon it out onto the dough at 2-inch increments.
Place second sheet of rolled dough on top of filling and use a rotary cutter to cut and seal the edges.
Bring a large pot of salted water to boil and then repeat filling process with remaining dough.
When all ravioli are ready, carefully drop 1/2 into boiling water and cook for 4-7 minutes, or until ravioli float to the surface. Remove with a slotted spoon and repeat with remaining ravioli.
For the sauce: cook beef in a large pan or skillet over medium-high heat until evenly browned.
Once cooked, pour in tomato soup, tomato sauce and water. Then add parsley, garlic and onion powders, sugar, salt and pepper. Stir well and cook for 10-15 minutes, or until slightly thickened.
Remove from heat and stir in cheese. Taste and adjust seasoning, if necessary.
Gently toss ravioli and sauce and serve immediately.
Recipe adapted from Just A Pinch
SKM: below-content placeholder
Whizzco for 12T