Delightfully tender pork with fresh, fragrant garden herbs and a touch of lemon.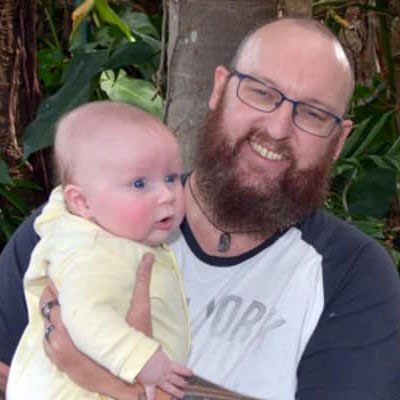 Jono Elderton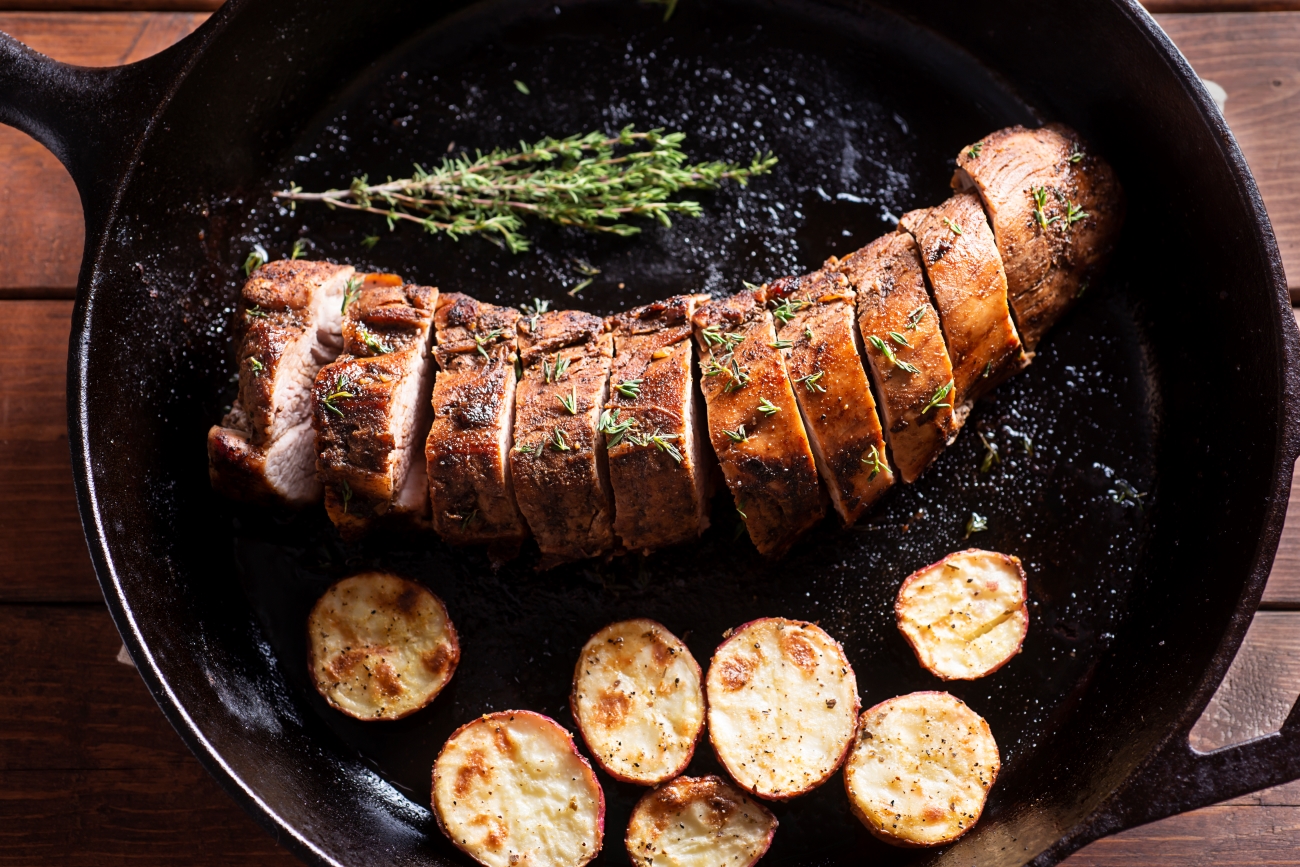 I love cooking with pork tenderloin. It's a lean yet still tender cut that can be used in a variety of awesome different methods, from stir frying and roasting to slow cooking and barbecuing. While there is often a temptation to get exotic, a classic skillet pork tenderloin can be the perfect meal for 2-4 people. The pork is juicy and tender yet threaded with subtle flavors from pantry favorite herbs and spices – and takes only 40 minutes to prep, cook and have on the table.
This Classic Skillet Pork Tenderloin recipe calls for the meat to be transferred from stovetop to oven for baking, yet it can be adapted to be cooked in either fashion (you may just have to adjust your heat and timing). I like commencing the pork in the skillet for searing and seasoning, before it's added to the oven in the skillet – where I don't have to watch it too closely – for baking at a temperature hot enough to cook it quickly without drying out the meat.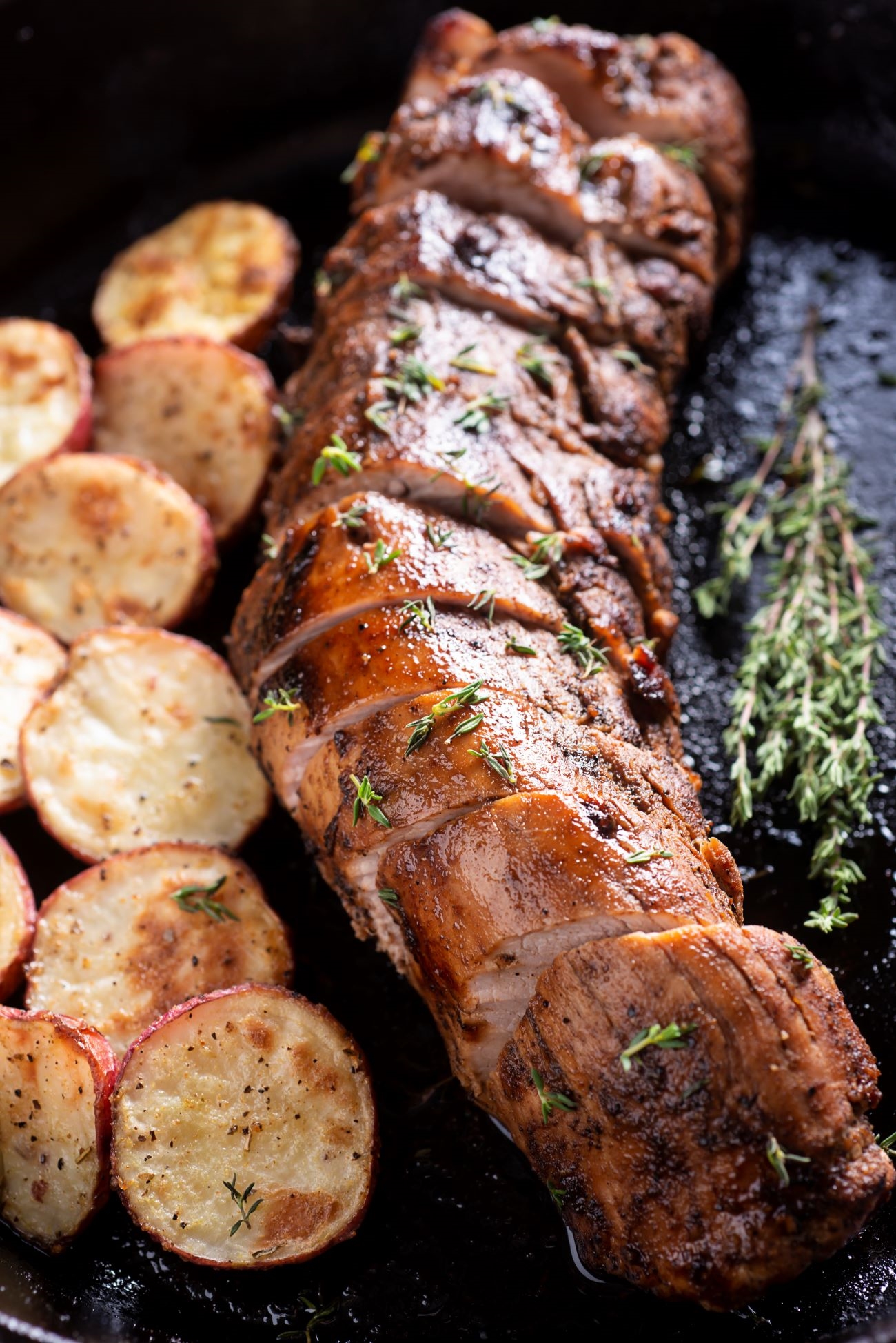 The herb rub is French inspired – combining thyme, garlic, onion, sage and tarragon. You can certainly simplify the rub to one or two elements if you wish, however these ingredients work perfectly to season the pork as it's seared in the skillet and then baked. The lemon offers a zesty accent that works delightfully in contrast to the combination of pantry herbs, and helps their flavor settle into the meat.
Depending on your sides – I like to cook chat potatoes in the skillet as well – you can make a great one pan meal that looks and tastes delicious, with minimal clean up and little stress along the way. I make this skillet pork tenderloin during the working week, as I can get it done with little hassle in the time it takes me to sort three kids' dinners out (alas, they all eat quite differently), feed them, and clean up after!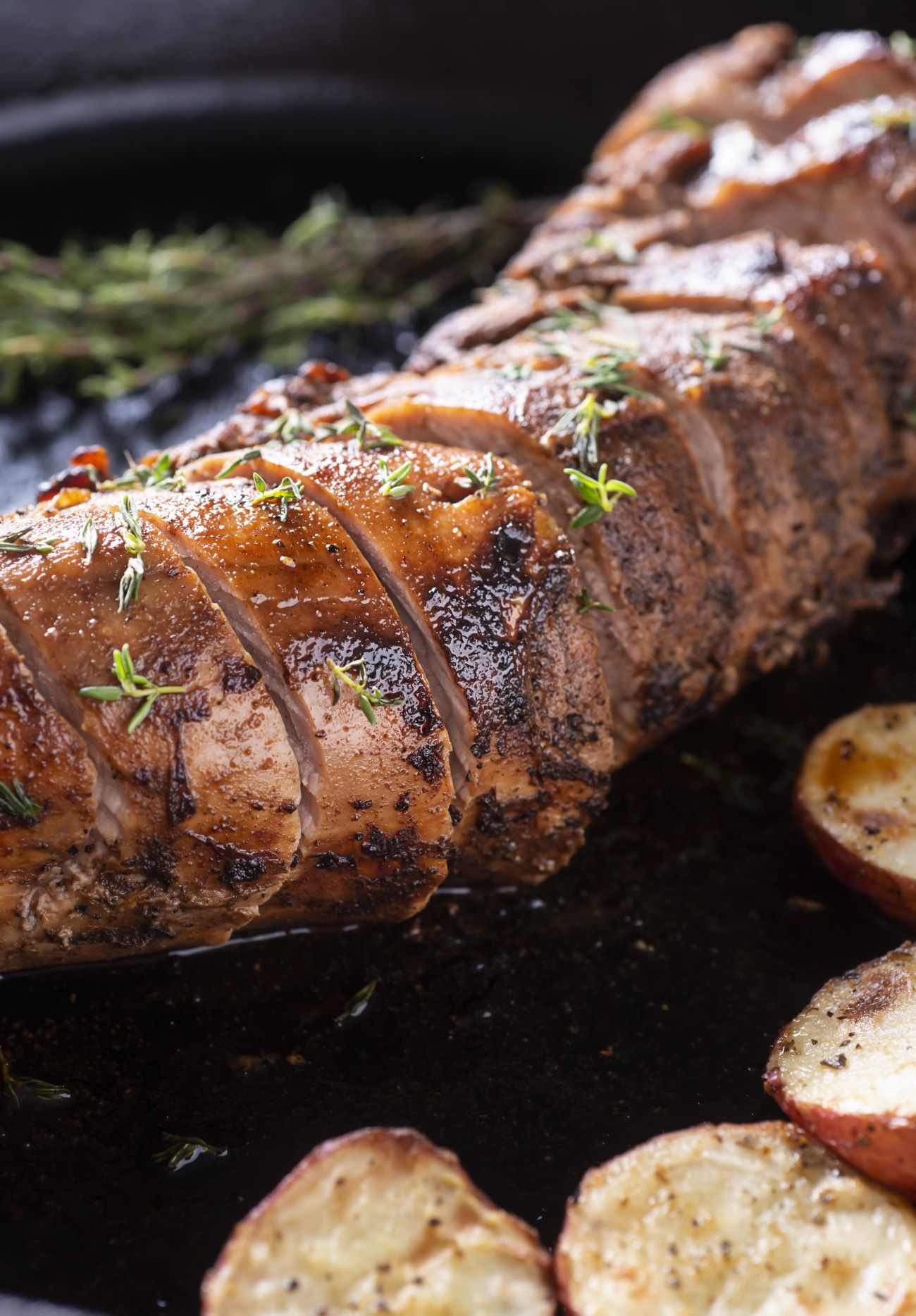 Classic Skillet Pork Tenderloin
Serves 2-4
10m prep time
30m cook time
Ingredients
1 pork tenderloin (approx 1.5 pounds)
2 tablespoons olive oil, divided
2 tablespoons fresh thyme (finely chopped)
2 teaspoons garlic powder
2 teaspoons onion powder
1 teaspoon dried sage
1 teaspoon dried tarragon
2 teaspoons Kosher salt
1-2 tablespoons lemon juice
Garnish: Fresh thyme sprig
Preparation
Preheat the oven to 400°F.
In a medium mixing bowl combine herbs, spices, and lemon juice along with one tablespoon of olive oil. Stir mixture until it forms a nice, thick paste that makes a delicious rub.
Apply rub liberally over the meat, making sure that all of the pork (including the ends) is covered by the seasoning mix. Press the seasoning into the meat to 'stick it' more soundly.
Add the remaining olive oil to a large skillet over medium-high heat. Place the pork tenderloin in the pan and cook for 4-5 minutes, turning the meat every to sear each side of the pork.
Transfer the pork tenderloin to the oven (you can switch to a roasting pan or keep in the skillet) and bake for 20-25 minutes, or until the pork is cooked through.
Remove from the pan and sprinkle with salt and pepper, then garnish with fresh thyme. Rest the meat for 5 minutes before slicing it into 8-10 equal-sized medallions.
Recipe adapted from My Delicious Meals
SKM: below-content placeholder
Whizzco for 12T