Douhua, or tofu pudding, is an ancient Chinese dessert made from softened tofu. It's versatile with many styles depending on where in Asia you are. Northern Chinese tofu pudding is served with soy sauce, making it a more savory dessert while in the Hubei region it's served sweetened with sugar.
We wanted to make a sweetened dessert, very similar to the rice pudding many of us are familiar with. It turns out it's actually relatively simple to make. The recipe we found called for 1 pandan leaf. If you can't find any in your food store or your local Asian supermarket, that's okay. We replaced it with 1 teaspoon vanilla extract. Gypsum, we found, was another difficult ingredient to come by. If you can't find any food grade gypsum near you, you can order online. You can also check your local pharmacy for food grade gypsum. It's also an ingredient in homebrewing beer, so check local shops that may cater to homebrewers. With that said, here's our favorite tofu pudding recipe…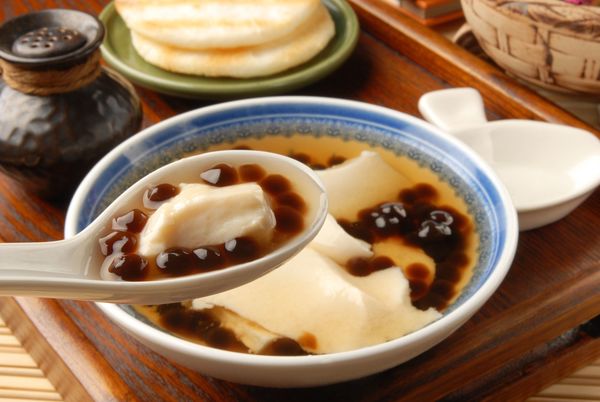 Tofu Pudding Recipe
(makes 6 servings)
Ingredients
PUDDING
8 cups organic soy milk
2 teaspoons gypsum
2 teaspoons cornstarch
1/3 cup water
GINGER SYRUP
one 2″ piece fresh ginger, peeled and pounded
8oz rock sugar(like rock candy. 1 1/2 cups granulated sugar works as a substitute)
1 cup water
1 teaspoon vanilla extract
Directions
Add all of the syrup ingredients in a saucepan and boil, stirring often until the syrup reduces and becomes thick. Set aside.
In a bowl, mix together the gypsum, starch and water. Stir well to combine.
In a saucepan, bring the soy milk to a boil, and continue to boil until it reduces slightly (from about 8 cups to 6). Turn off the heat.
Stir the gypsum mixture, and add to a wide pot. Pour the soy milk into the pot about 1 foot above the pot to make sure the gypsum distributes well. Do not stir.
Cover the pot with a kitchen towel and then the lid and allow the pudding to set for 1 hour.
To serve, spoon the pudding into a serving bowl and add the syrup. Optionally, garnish with tapioca pearls.
Enjoy!
Recipe adapted fromRasa Malaysia
SKM: below-content placeholder
Whizzco for 12T