A simple, homey classic made just as it should be.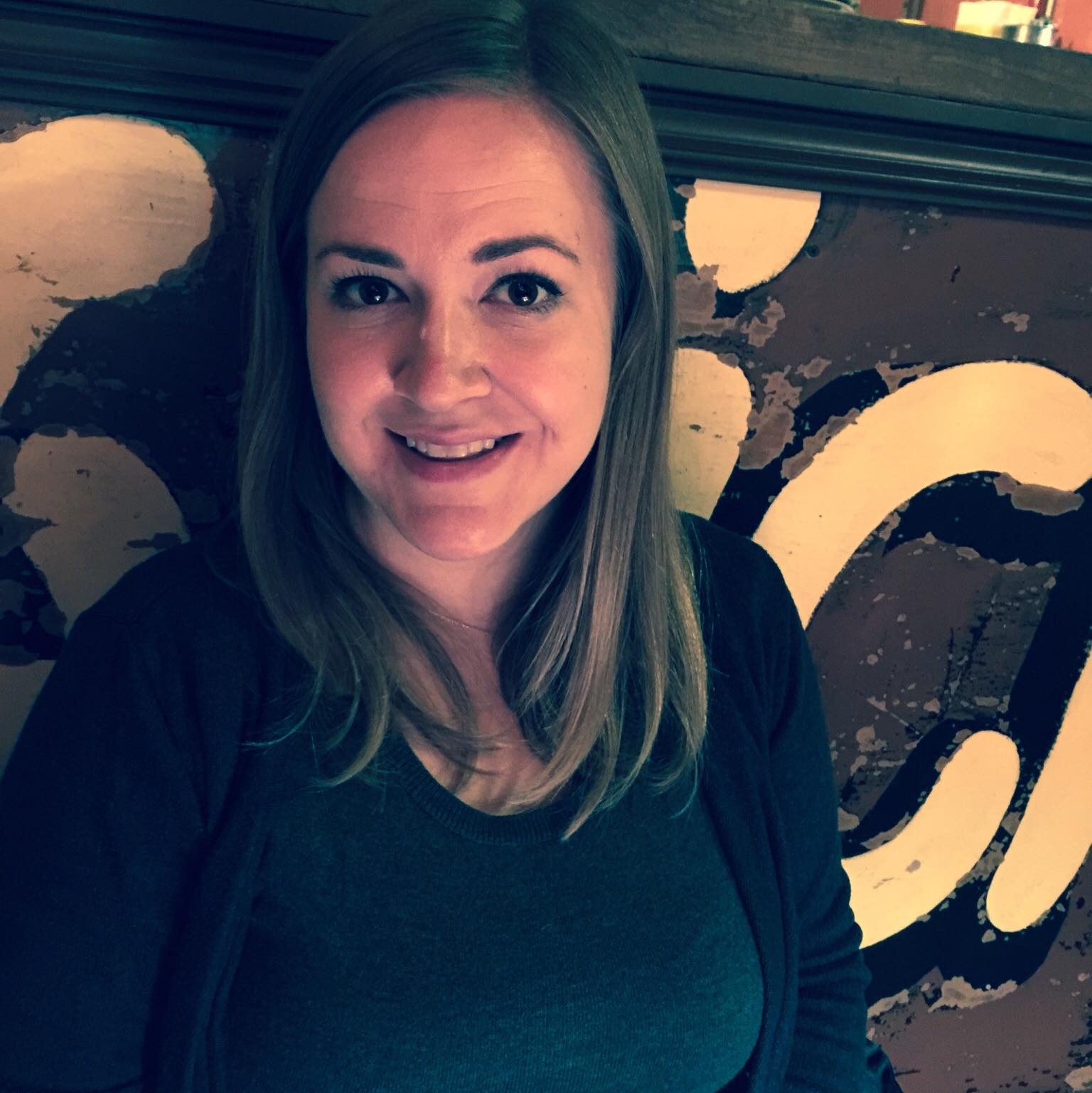 Kristy Norrell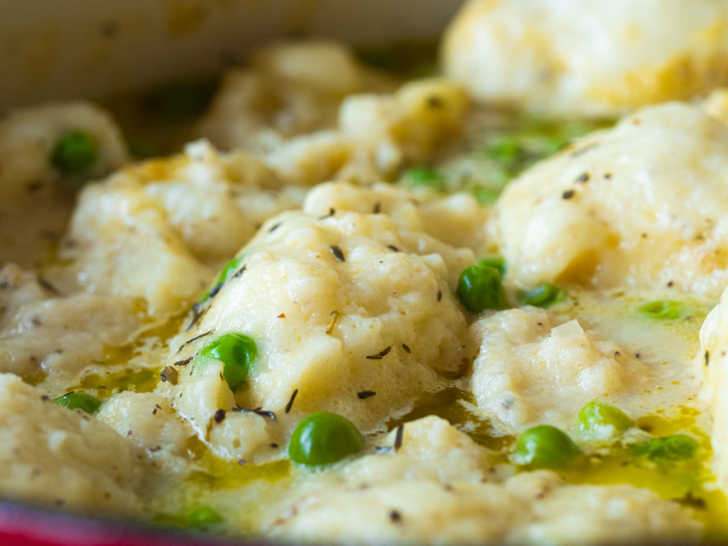 Sometimes here at 12 Tomatoes, we try to create innovative new takes on dishes like mashups of two favorites or turning a favorite sandwich into a soup. But sometimes, a classic is really best left in its original form, like these Old-Fashioned Chicken and Dumplings. This dish is straightforward comfort food – no tricks, no gimmicks, just homey stick-to-your-ribs fare that will never go out of style. After all, there's nothing better than a classic done right and this recipe most definitely is!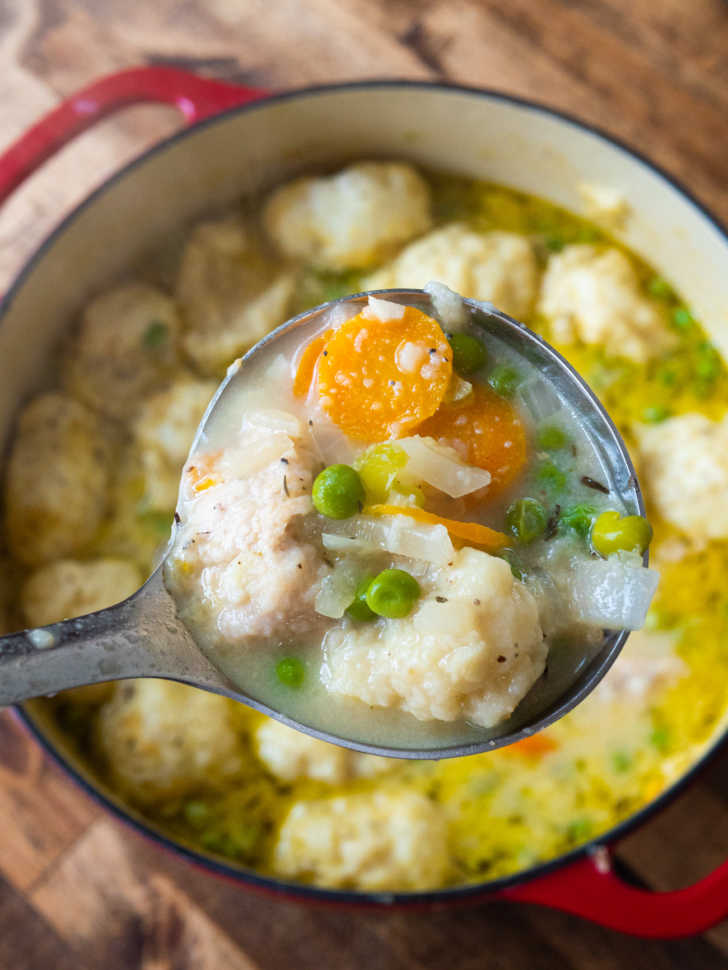 The nice thing about this version of chicken and dumplings is that you're cooking the chicken in the broth, which leaves you with moist chicken and a flavorful sauce. You start by dusting some chicken with flour and then browning it up in the pot you're going to cook everything in. Your goal isn't really to crisp up the chicken – the flour does help give the chicken some texture, but mainly, it helps thicken the broth later.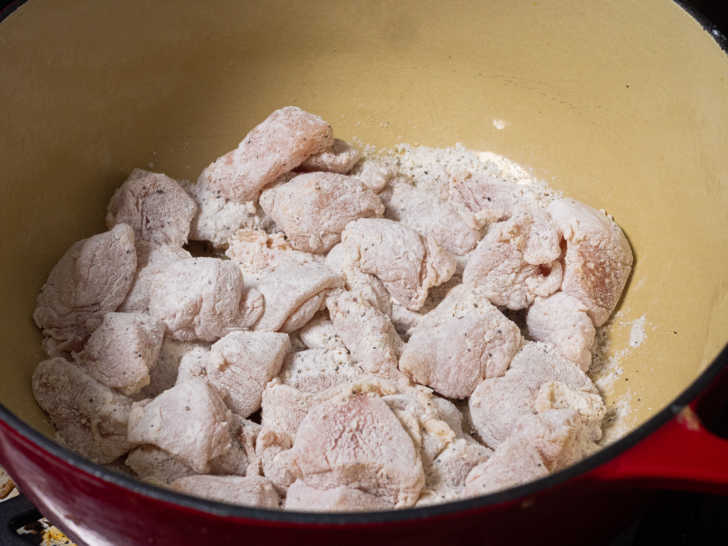 After the chicken is browned, it hops out so the veggies can hop in and you just need to sauté them long enough for them to soften and get a little bit of color.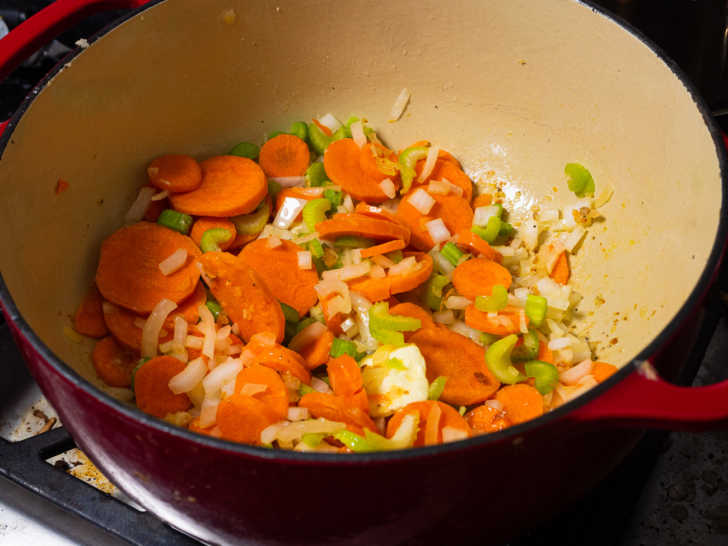 Then, you really start to build the dish by stirring in some chicken broth, thyme, and bay leaves, and adding the chicken back in. Though we're using store bought stock here, simmering the chicken in it adds back in some nice homey flavor.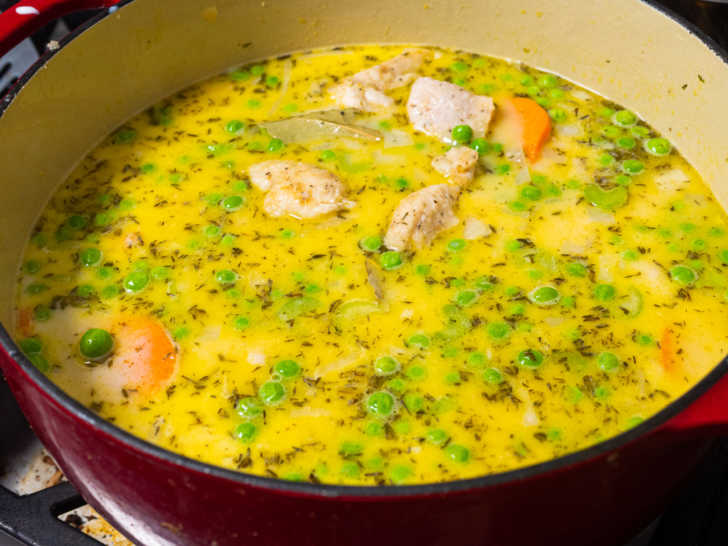 Cream and peas round it all out and while it simmers, you can get to work on the dumplings. I personally love how easy a dumpling is. There's no rolling out or rising to worry about, just a quick stirring of ingredients.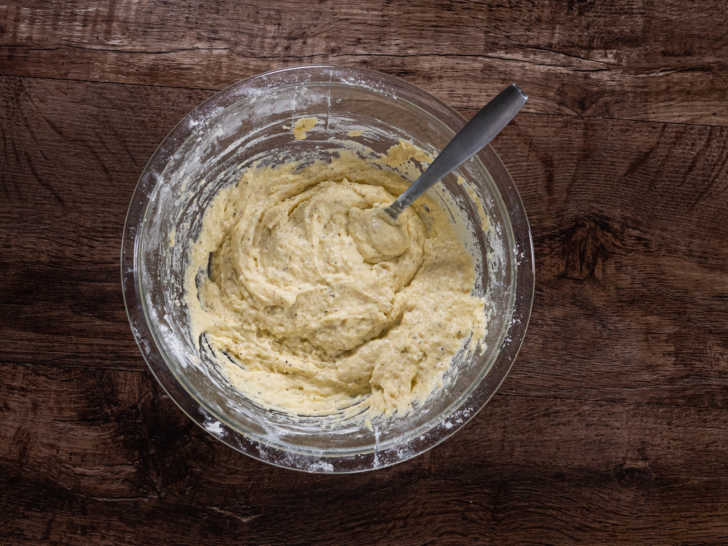 While there are plenty of recipes out there that use shortcuts like pre-made biscuit dough or strips of pie dough, I just feel like this isn't really a place where you need a shortcut since all you're doing is stirring together some flour, baking powder, buttermilk, and eggs and dropping spoonfuls of it into the simmering broth.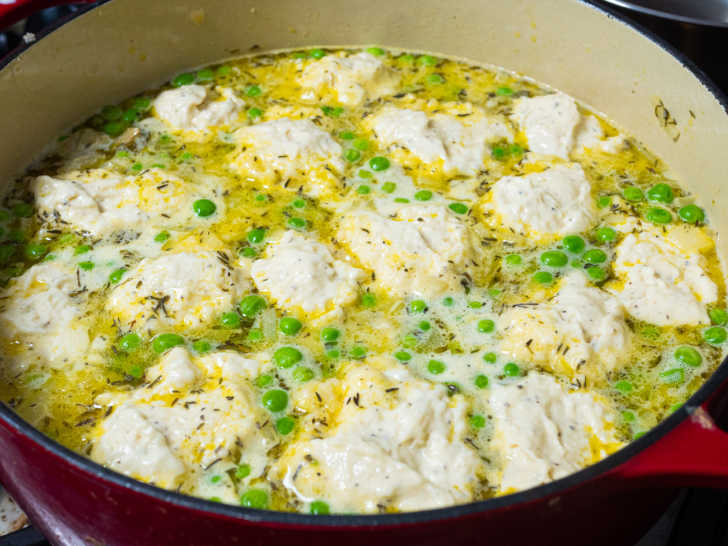 Try to give the dumplings a little bit of room to puff up; you don't want to crowd them too much. It takes about fifteen minutes for the dumplings to cook, so all told this dish can be done in just about forty minutes (and even quicker if you're fast with your prep work).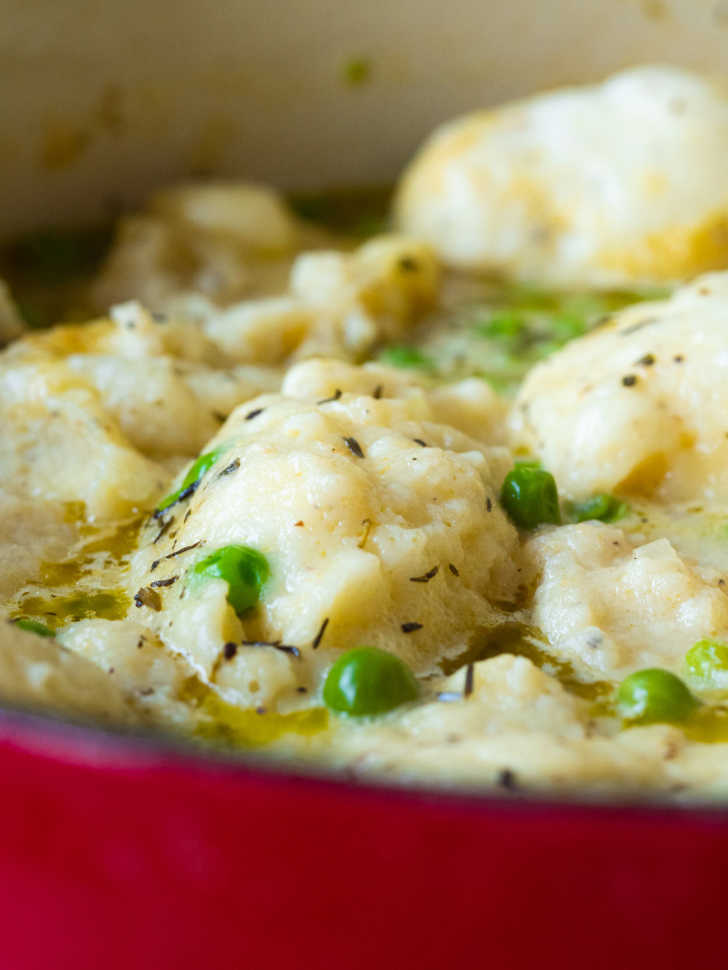 It's a simple enough dish, but it's just so straightforward in its deliciousness – a cozy savory stew made velvety with a bit of cream and dotted with sweet peas and carrots and pillows of tender dough. We're not breaking the mold with this recipe, just enjoying comfort food done right!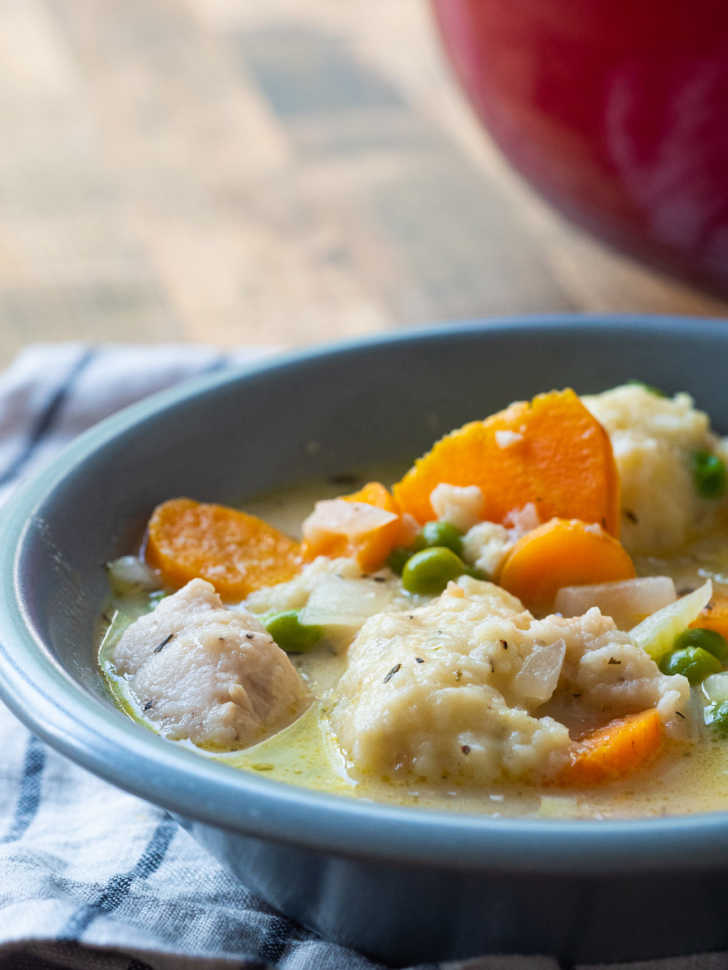 If this recipe is right up your alley, here are a few more you might enjoy! Our Chicken and Biscuits Cobbler is kind of a mashup between a cobbler and a pot pie and has a delicious savory filling topped with fluffy biscuits. Our Southwestern Chicken Chowder with Cornbread Dumplings is chicken and dumplings… but with a ton of zesty southwestern flair and flavor. (It's super yummy!) And our Cheaters' Chicken Pot Pie? Well that's classic pot pie filling topped with flaky storebought biscuit dough. It's a little more dumpling-like than the traditional pot pie and absolutely perfect for busy weeknights. Happy cooking!
Old-Fashioned Chicken and Dumplings
Serves 6
10m prep time
30m cook time
For the chicken:
2 lbs boneless, skinless chicken breasts and/or thighs, trimmed and cut into 1 1/2-inch pieces
1/2 cup all-purpose flour
2 tablespoons olive oil, divided
For the sauce:
2 tablespoons butter
2 large carrots, peeled and diced
2 stalks celery, diced
1 large onion, diced
2 bay leaves
1/2 teaspoon dried thyme
2 cloves garlic, minced
5-6 cups chicken broth
1/2 cup heavy cream
1 1/2 cups frozen peas, thawed
For the dumplings:
1 1/2 cups all-purpose flour
2 teaspoons baking powder
1/2 teaspoon salt
3/4 cup buttermilk
2 eggs
Kosher salt and freshly ground black pepper, to taste
Preparation
In a medium bowl, season chicken with salt and pepper and toss with 1/2 cup flour.
Heat 1 tablespoon olive oil in a large pot or Dutch oven over medium-high heat. Add chicken and cook until outsides are browned, stirring occasionally, 3-5 minutes. Remove to a plate and set aside.
Reduce heat to medium and add remaining olive oil and butter. Add carrots, celery, and onion and cook until softened, about 5 minutes.
Stir in broth, thyme, bay leaves, and chicken. Bring to a simmer, then stir in cream and peas and season to taste with salt and pepper.
Meanwhile, prepare the dumplings:
In a medium bowl, stir together the 1 1/2 cups flour, baking powder, and salt. Add buttermilk and eggs and stir until no raw flour remains.
Drop dough by tablespoons into simmering broth, giving them some space to puff up.
Cover, reduce heat, and let simmer gently until dumplings are puffy and chicken has cooked through, about 15 minutes. Enjoy!
Recipe adapted from Feast and Farm.
SKM: below-content placeholder
Whizzco for 12T