I love a stuffed pork roast!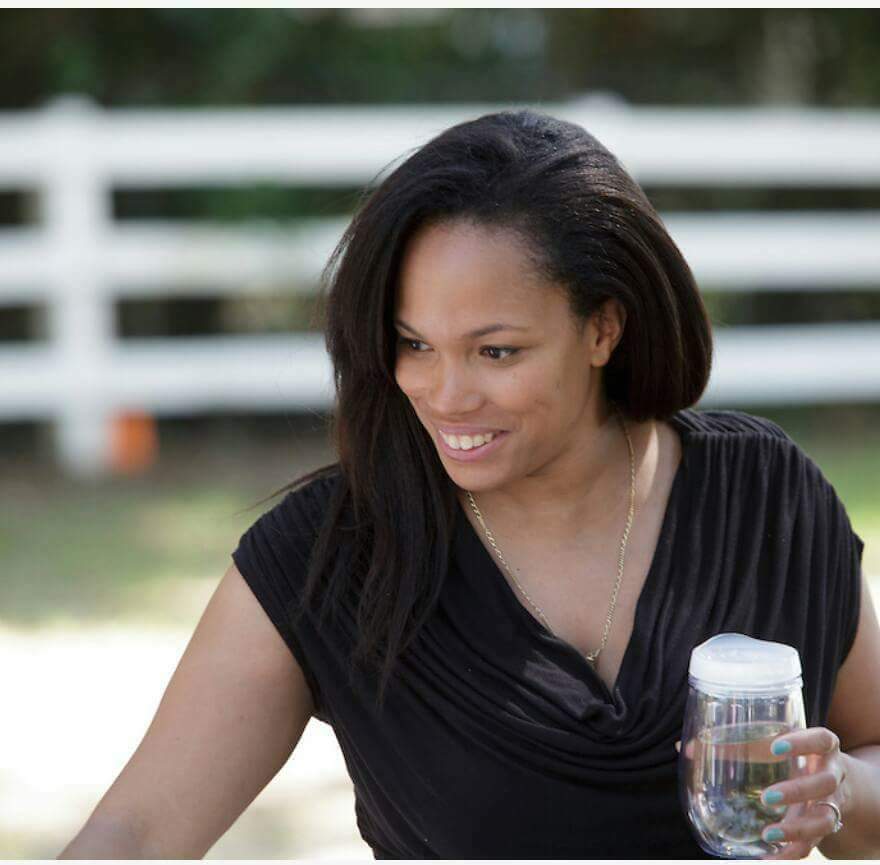 Ajza Case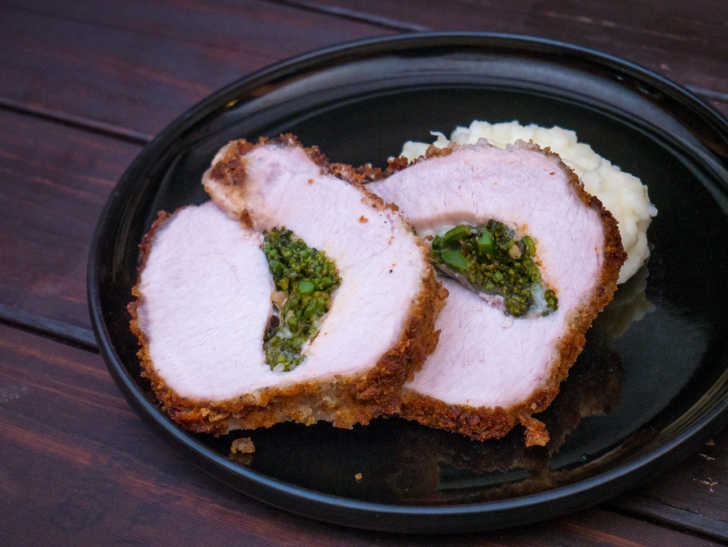 I'm looking forward to the next time I can have friends and family over for a nice dinner. I plan to do something extra special, but I also want to be sure that I get to enjoy that long-awaited gathering as well! That's where this amazing cheesy broccolini stuffed pork comes in. It requires a little bit of hands-on work at the start, not much, and then the oven does the rest of the work, freeing me up to prepare for and enjoy the company of the ones I love. For now, I'm in rehearsal-mode, perfecting those meals that I can't wait to share!
I love a stuffed pork roast! It looks so elegant but it really is super easy to make, so any intimidation at the idea should disappear. Inside, a beautiful and colorful filling. In between, juicy and tender pork. On the outside, a flavorful crust. One slice will reveal all three layers for a dinnertime showstopper. Broccolini is a great alternative to broccoli if for no other reason than that it looks elegant. Here, the long stems will lay perfectly between the two halves of the pork. Creamy swiss cheese and dried herbs, of which sage has to be my favorite, complete this rich and colorful filling.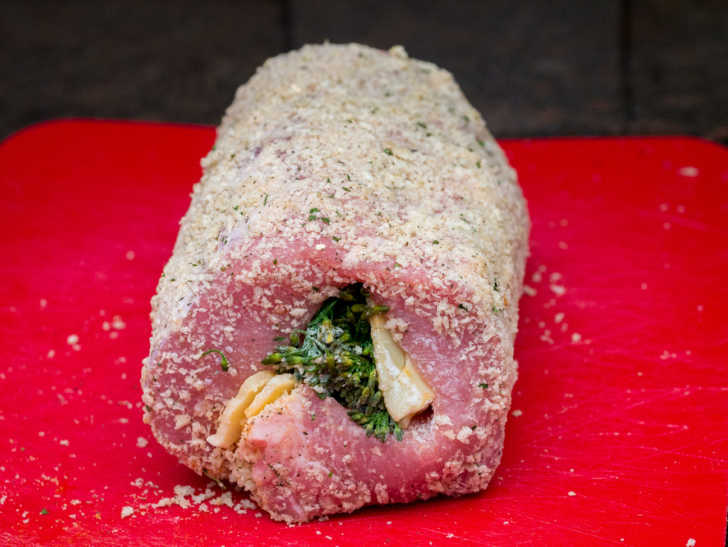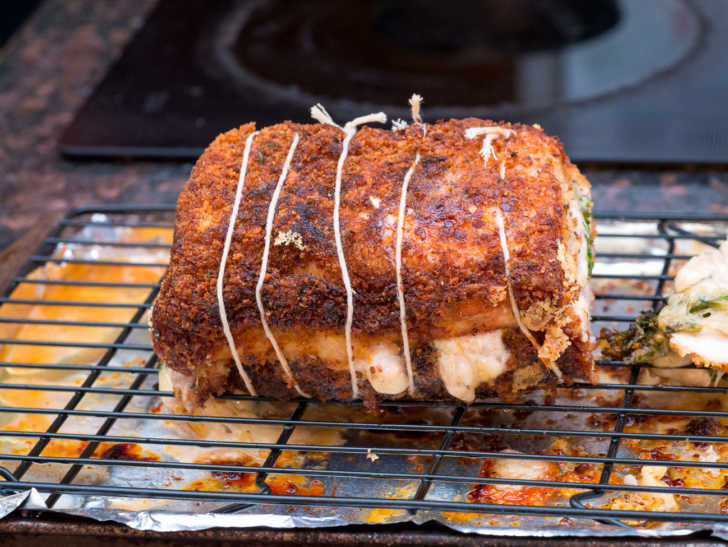 Searing the meat will ensure that moisture is locked into the meat, and that is a very important quality to have when serving pork. Pork is prone to dryness and we want to avoid that at all costs, especially because we're cooking the meat for almost an hour. The meat, once stuffed is gently rolled in an egg wash and seasoned Panko breadcrumb mixture, then crisped on all sides giving it beautiful color and flavor. To keep the pork crisp on the outside, I'll roast the pork sitting atop a cooling rack, helping the meat to maintain that sear.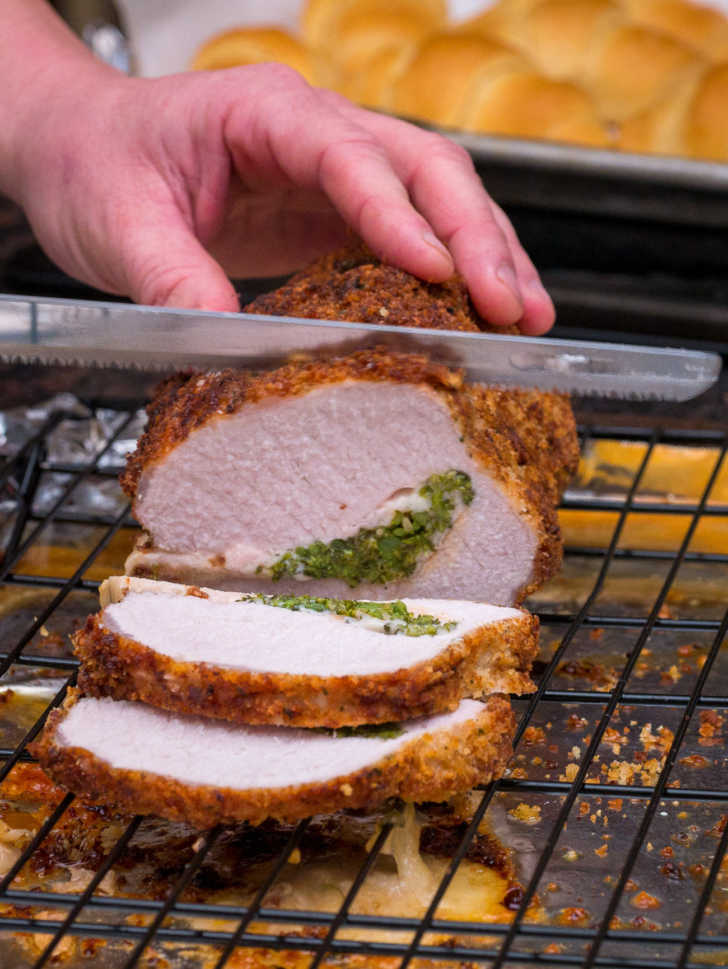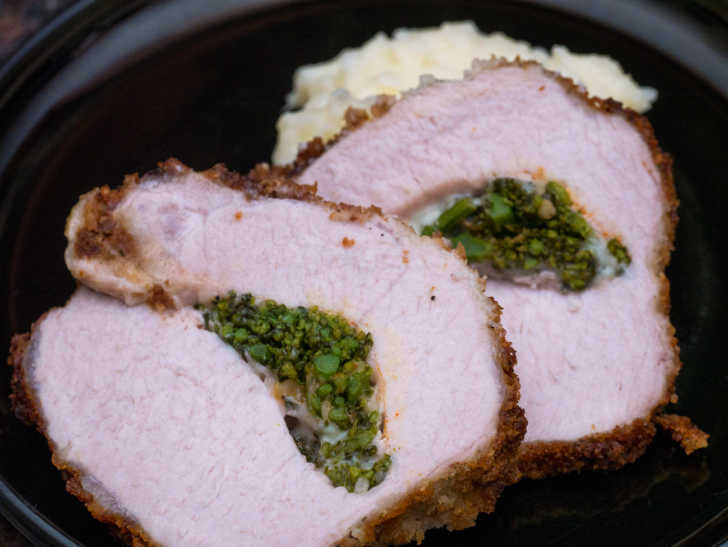 Once the roast comes out of the oven, you must follow this one rule: let the meat rest for 10 minutes before slicing. This will bring those all-important juices back into the meat so that it remains tender and flavorful. Just look at that beautiful filling and the perfect doneness of the pork! I'm drooling just thinking about it. An elegant meal is easily achieved with simple ingredients and a little bit of flare. A cheesy broccolini stuffed pork is going to feed my table, with the delicious sides that echo the comfort and deliciousness of the pork. I hope you enjoy it, too!
Cheesy Broccolini Stuffed Pork
Serves 4-6
20m prep time
55m cook time
Ingredients
2 1/2lb boneless pork roast
6 slices Swiss cheese
1 (6oz) package steams-in-bag broccolini
3/4 teaspoon garlic powder, divided
3/4 teaspoon dried minced onion, divided
1/2 teaspoon dried parsley
1/2 teaspoon dried rubbed sage
1 cup all-purpose flour
1 large egg
1 cup Panko breadcrumbs
Kosher salt
Black pepper
1/4 cup vegetable oil
Preparation
Preheat oven to 325°F.
Cook broccolini according to directions on the package. Trim off stems.
Slice the pork roast on the horizontal about 3/4 of the way through. Open and lay flat.
Place 3 slices of Swiss cheese on one side of the pork.
Place broccolini on top of Swiss cheese. Season with 1/4 teaspoon garlic powder, 1/4 teaspoon dried minced onion, kosher salt, and pepper.
Top with remaining slices of cheese.
In a shallow dish, pour in flour. In a second shallow dish, mix together one large egg and a bit of water. In the last shallow dish, mix together breadcrumbs, ½ teaspoon garlic powder, ½ teaspoon sage, ½ teaspoon dried minced onion, ½ teaspoon parsley, salt, 1 teaspoon and ½ pepper.
Roll roast into flour, dip into egg wash mixture, then press into panko breadcrumb mixture.
Brown roast on all sides. Place a cooling rack on a baking sheet and spray with non-stick spray.
Place the seared roast on the cooling rack. Tie shut with kitchen twine, in ½-inch increments.
Bake for 50-55 minutes or until the temperature reaches 155°F.
Let rest for 5-10 minutes before slicing. Enjoy!
SKM: below-content placeholder
Whizzco for 12T