Just can't ever get enough of that salty-sweet combo!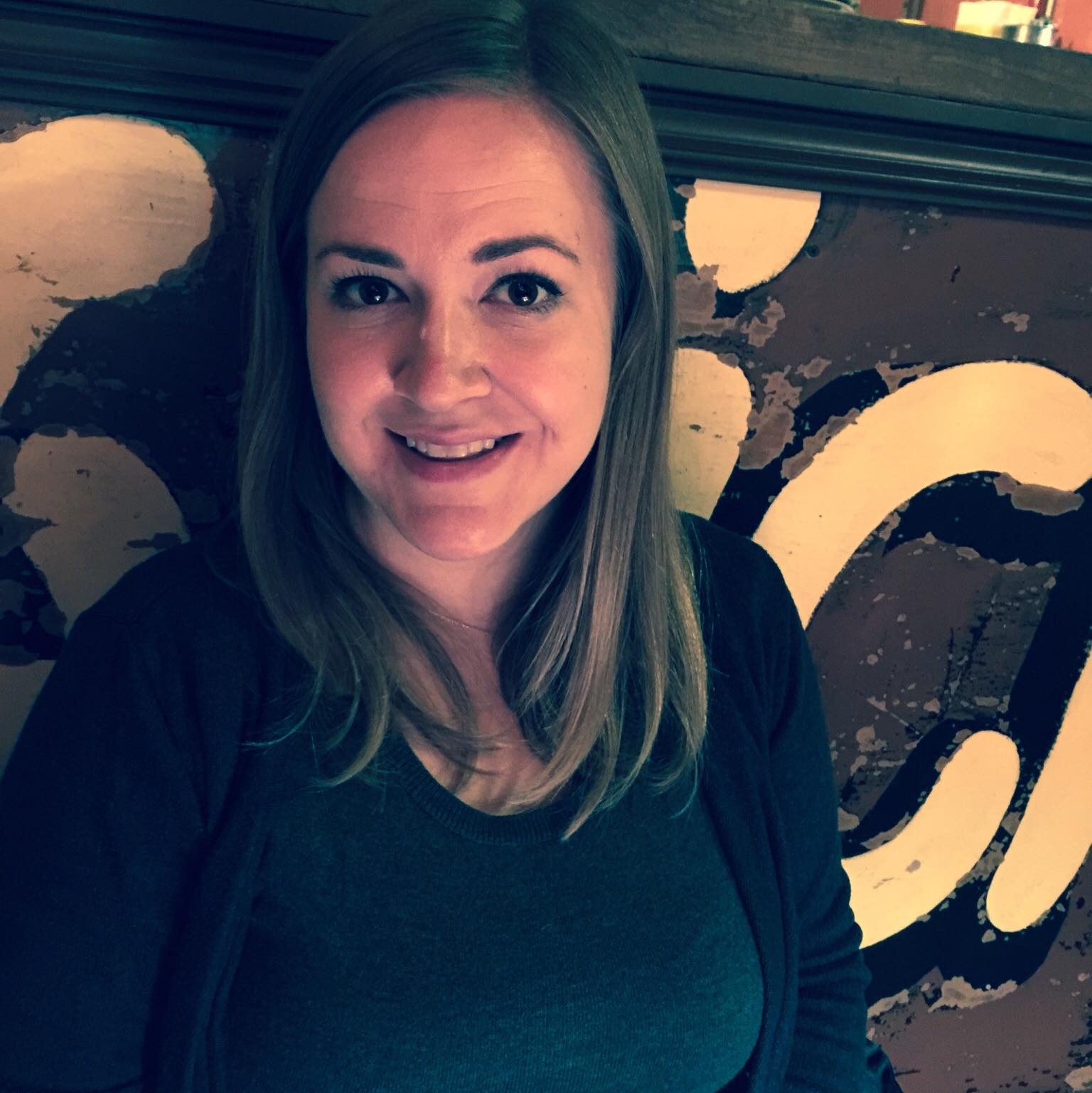 Kristy Norrell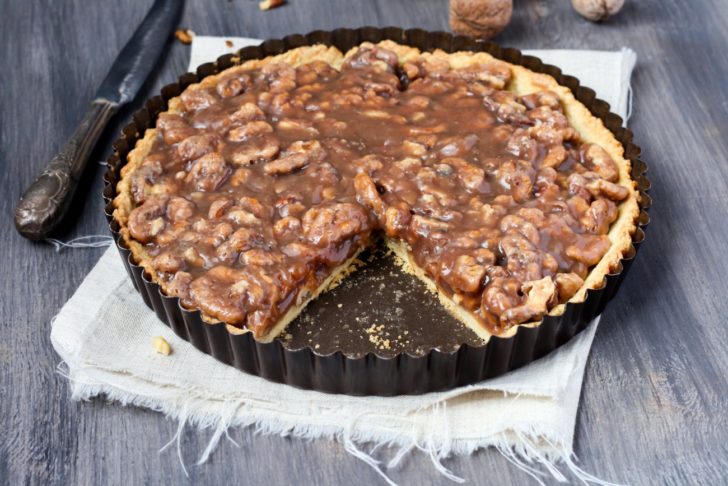 As marvelous as pecan pie is, it feels like a thing that's just meant for Thanksgiving… or mayyyybe Christmas. Perhaps we're alone here, but to us, it feels a bit out of place the rest of the year, almost as if it's designated solely as a holiday dessert. However! This doesn't mean that we don't always love a little dessert that's crunchy and nutty and sweet, like this wonderful Caramel Walnut Tart. It's a tart that's French in style, but simple to prepare, and while it's reminiscent of that holiday classic, it feels right all year round. Think of it as the French answer to pecan pie. And once you try it, you'll think of it often. We promise.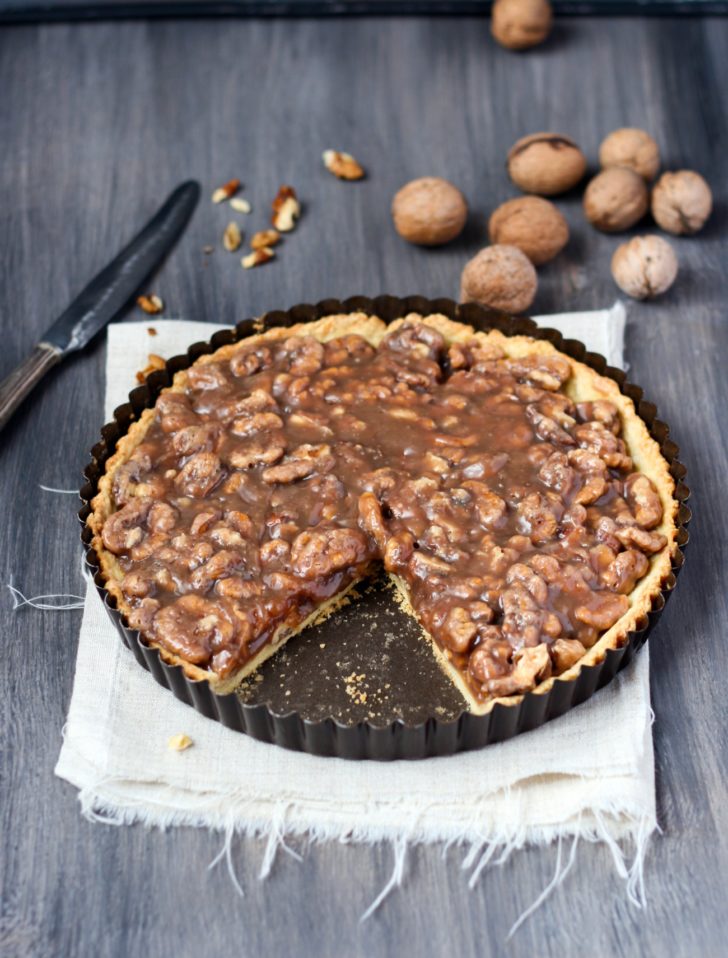 This tart uses walnuts for its nutty crunchiness, but you could use a combination of walnuts, pecans, and hazelnuts, or even almonds if you felt so inclined. An all-walnut filling, though, brings a butteriness to this tart that pecans or a mixture just can't quite manage, so it really is worth a try.
The nuts are folded into a sweet and salty caramel filling, which tastes both richer and less cloying than the filling of its pecan pie cousin. Desserts that have that delicate balance of salty and sweet always seem to be just so irresistible… and this lovely tart is no exception!
Caramel Walnut Tart
Serves 6
30 minutes active, 2 hours inactive
Ingredients
For the crust:
1 1/2 cups all-purpose flour
1/2 cup (1 stick) unsalted butter, cubed
3-4 tablespoons ice water
2 tablespoons granulated sugar
1 teaspoon vanilla extract
1/2 teaspoon salt
For the filling:
1 1/2 cups walnuts, chopped
1 1/4 cups granulated sugar
2/3 cup heavy whipping cream
1/4 cup water
2 tablespoons unsalted butter, cubed
1 teaspoon vanilla extract
1/2 teaspoon salt
Preparation
When ready to bake, preheat oven to 375°F and set aside a 9 1/2-inch tart pan.
First, make the crust. In a large bowl, whisk together the flour, 2 tablespoons sugar, and 1/2 teaspoon salt. Add the butter, and cut the pieces in using a pastry cutter or two butter knives until mixture is crumbly.
Sprinkle 3 tablespoons of ice water and vanilla over the butter/flour mixture. Using a fork, work liquid into the dough until it sticks together when you pinch it with your fingers. If needed, add up to 1 tablespoon more ice water.
Form dough into a ball and then flatten into a disk. Cover in plastic wrap and chill in refrigerator for at least 1 hour.
When dough has chilled, remove from fridge and let sit for 10 minutes. Roll out on a lightly floured surface to a 12-inch round. Place dough in tart pan and press down and into the sides. Trim dough at edges of pan and pierce the bottom all over with a fork. Chill in freezer for 30 minutes.
Bake crust in preheated oven for 20 minutes. If bubbles form while baking, you can pierce them with a fork. Transfer to a rack to cool.
Meanwhile, make the filling. Heat sugar and 1/4 cup water in a medium heavy-bottomed saucepan over medium-low heat, stirring until sugar dissolves.
Increase heat to medium-high and boil without stirring until mixture is a deep amber color. This should take about 10 minutes; swirl the pan occasionally.
Reduce heat to medium and slowly stir in the cream. Mixture will bubble up quite a bit. Stir until mixture is smooth. Add butter and vanilla and stir until butter has melted.
Stir in walnuts and pour the mixture into the pre-baked crust. Increase oven temperature to 400°F and bake for 20 more minutes.
Allow to cool completely on a wire rack before serving. Enjoy!
Adapted from Simply Recipes.
SKM: below-content placeholder
Whizzco for 12T