Plus, there's another part of their name – can you guess what it is?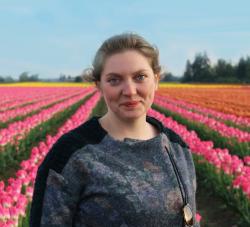 Decatur Macpherson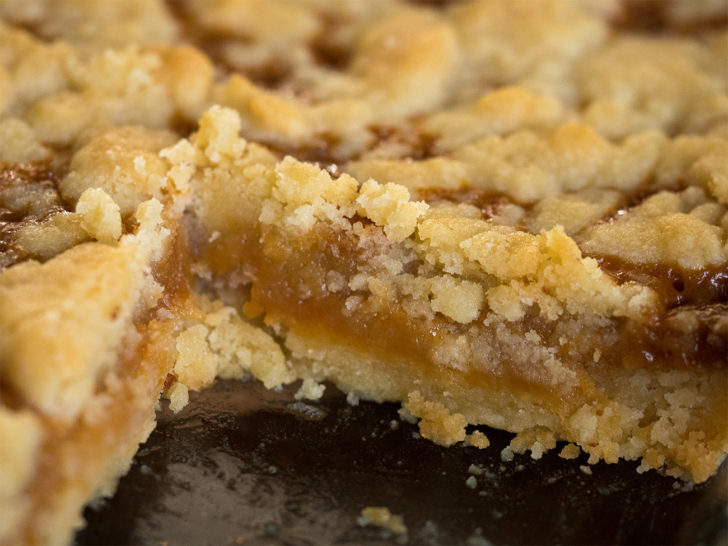 Okay, now we do love dessert, but we don't usually go TOO crazy when it comes to what goes in our desserts; the ingredients – particularly the quantity of certain ingredients – are generally pretty standard…but that's not the case here. Salted caramel butter bars are just that: buttery. Comprised of a butter-packed, golden shortbread crust and topping, and a gooey, decadent salted caramel filling, these bars will have you totally hooked, since they are absolutely addictive. You might glance at this dessert and think it looks pretty simple, but the flavor is anything but.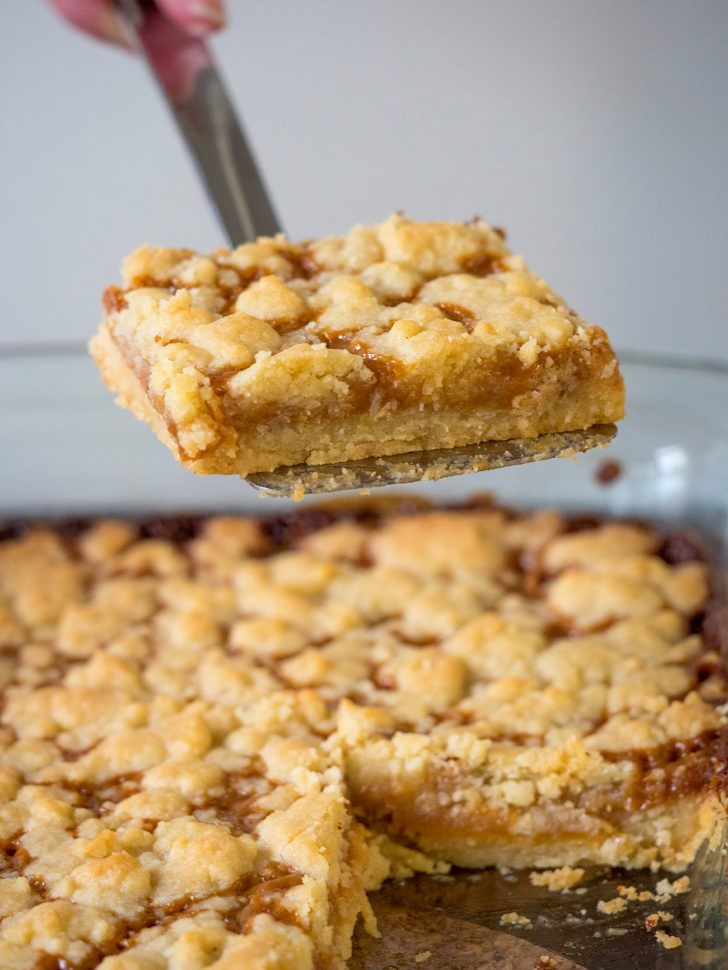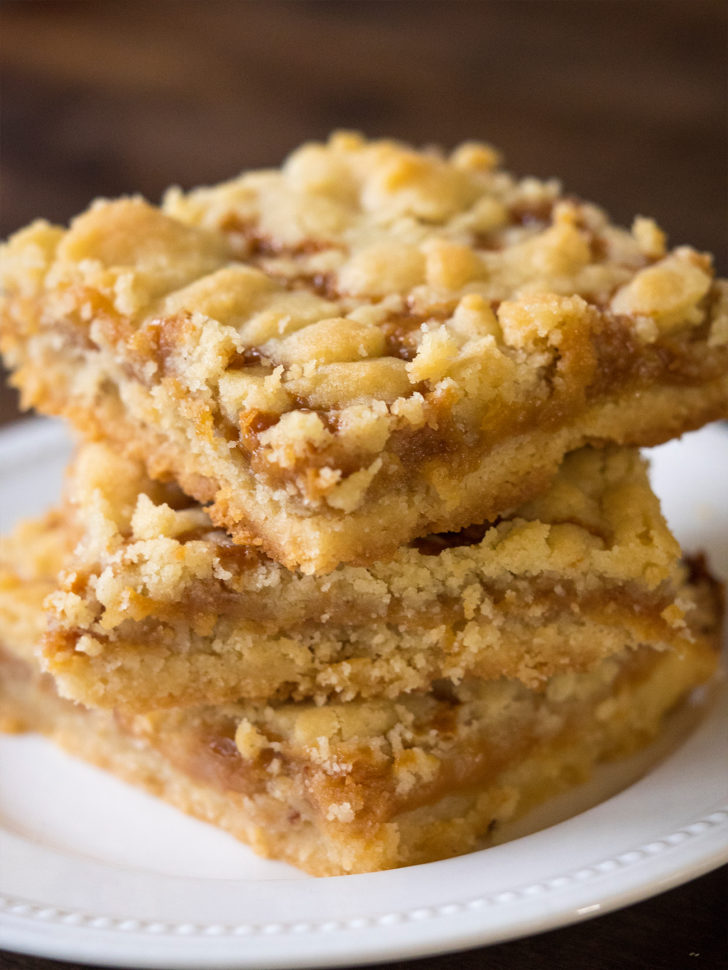 As we mentioned above and as the title suggests, these bars are buttery. They use a full pound of butter in the crust, which might seem insane to some, but it truly makes all the difference in the flavor of the dish. Add to that almost one tablespoon of salt, to be sprinkled over the caramel filling, and you've got a dessert that's got a ridiculously yummy depth of flavor and that will be everyone's new favorite. Cut those bars small, since they're rich and you don't need a huge piece to feel satisfied, and sit back and relax. They're the perfect treat for yourself and everyone will be thankful you made them – you'll see!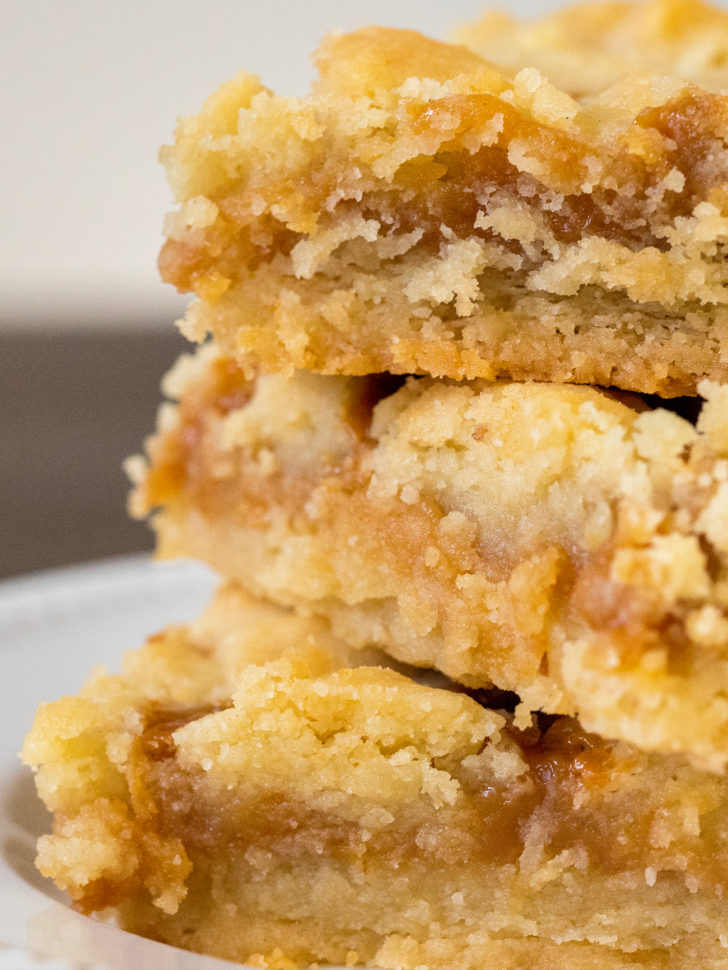 Salted Caramel Bars
Ingredients
Crust/Topping:
4 cups all-purpose flour
1 pound (4 sticks) salted butter, room temperature
1 1/4 cups powdered sugar
3/4 cup sugar
1 1/2 tablespoons vanilla extract
Filling:
50-60 caramel candies, wrappers removed (14 oz. bag)
1/3 cup heavy cream
1/2 tablespoon sea salt
1/2 teaspoon vanilla extract
Preparation
Preheat oven to 350º F and lightly grease a 9x13-inch dish with non-stick spray.
For the crust, cream together butter and sugars in a large bowl for 3-5 minutes, or until fluffy and lightened in color.
Mix in vanilla extract, then gradually beat in flour until just incorporated, when smooth dough comes together.
Take 1/3 dough and gently press it into greased baking dish, then place in oven and bake for 20 minutes.
Wrap remaining dough tightly in plastic wrap and refrigerate until further use.
Remove crust from oven when golden brown and let cool.
Place unwrapped caramels and heavy cream in a large, microwave-safe bowl and microwave for 1 minute.
Stir vigorously, or until smooth. If not melted after 1 minute, microwave in 30-second increments, stirring in between, until smooth.
Stir in vanilla extract, then pour caramel over cooled crust, sprinkling sea salt over the top.
Remove chilled dough from fridge and crumble pieces evenly over caramel-topped crust.
Once you've used all dough, place baking dish in oven and bake for 26-28 minutes, or until top crumble is light golden brown.
Remove baking dish from oven and let cool completely, then cut into squares and enjoy!
Recipe adapted from Recipe Diaries
SKM: below-content placeholder
Whizzco for 12T