When comfort food calls a recipe like our cabbage casserole is just what we're looking for!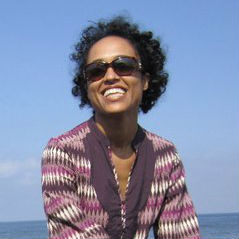 Sarah Cool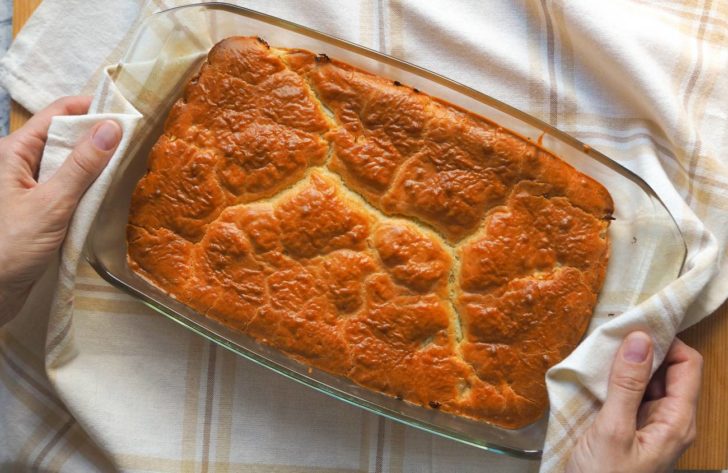 Cabbage pie casserole isn't a new dish by any means. It has a long history and is one of those recipes that is often passed down from generation to generation. Retro or vintage dishes like this are definitely making a comeback, so we thought we'd give this one a try just for old times sake and we've got to tell you, we were not disappointed. A cabbage filling is enhanced by savory ingredients that really make it mouthwatering. The casserole is topped with a light batter that puffs up and becomes almost pillowy at the top. Do we have your attention yet? Because this is an amazingly wonderful meal you've got to try.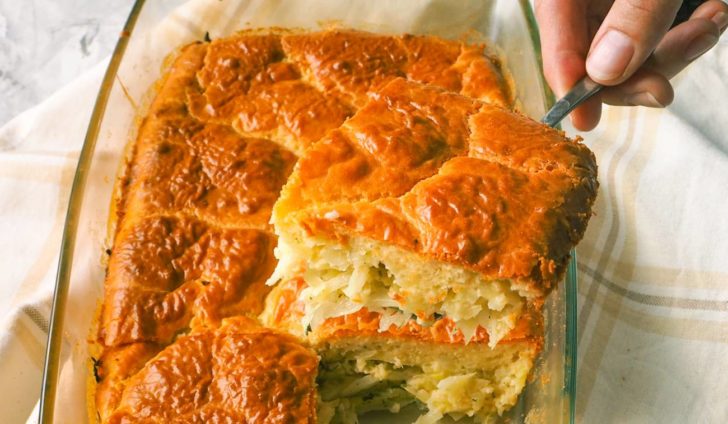 There's nothing too frilly or fancy about cabbage casserole, so it's important to add a little character to the filling, something that will bring flavor to boiled cabbage. We've added onions sautéed in oil and butter as well as shredded parmesan cheese to help make the filling just a little bit creamy. And fresh herbs really make a difference here, we've gone with chopped dill for the combination of color and freshness. Of course, we can't forget the crust. It is light, golden, and offers a little more substance to the casserole, making it truly satisfying and indulgent.
We're in casserole season so it's time to pull out some great recipes that we can serve to our hungry – and chilly – family. A warm cabbage casserole is just what we're looking for. It's a classic recipe that clearly has stood the test of time – we know, cliché, but it's true! This is a meal that will never disappoint. When comfort food calls, a recipe like our cabbage casserole is just what we're looking for!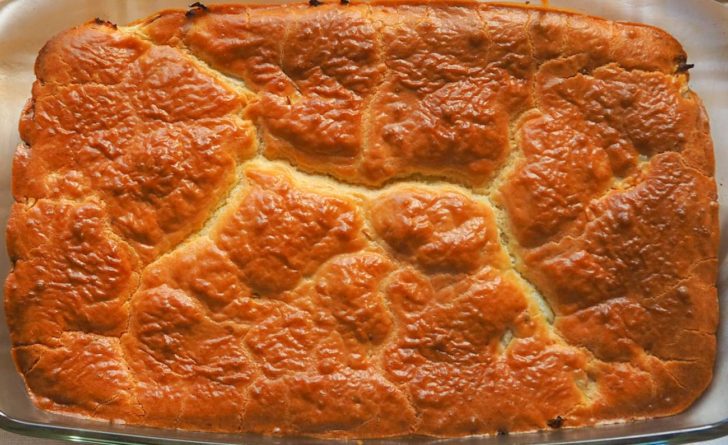 Cabbage Pie Casserole
Ingredients
Filling:
4 cups cabbage, shredded
1 small onion, chopped
1 cup shredded parmesan cheese
⅓ cup fresh dill, chopped
2 tablespoons unsalted butter
1 tablespoon olive oil
1 teaspoon kosher salt
1/2 teaspoon black pepper
Crust:
3 large eggs
⅓ cup sour cream
⅓ cup mayonnaise
2 teaspoons sugar
1 ½ teaspoons baking powder
½ cup flour
½ teaspoon kosher salt
Preparation
Preheat oven to 350°F. Coat a 9x6 inch baking dish with cooking spray. Set aside.
Boil shredded cabbage for 10 minutes in a large pot. Drain and run under cold water to stop the cooking process. Squeeze out excess liquid.
Sauté onion in olive oil and butter until translucent. Add boiled cabbage and season with salt and pepper and sauté for 3-5 minutes. Remove from heat and stir in fresh dill and parmesan cheese. Transfer cabbage mixture to prepared baking dish.
Mix flour, baking powder, sugar, and salt. In a separate bowl, whisk together eggs, sour cream, mayonnaise until well combined. Add dry ingredients to wet and mix until evenly mixed.
Pour batter over top of cabbage mixture. Bake for 30-35 minutes or until batter is a golden brown color and has a bounce to the touch.
Recipe adapted from Imagelicious.
SKM: below-content placeholder
Whizzco for 12T