American pizza joints have gone from the province of corner take-out stores and popular franchises to dominate the food landscape with variety, versatility, and value.
Whether you like pizza wood fired, thin crust, New York/Detroit/Chicago style, Sicilian or Neapolitan, the truth is these days you shouldn't have to go far to find the pie of your choice.
I've tabbed my friends, pored through search engines, Yelp, YouTube, and a range of social media posts to find the best versions of pizza across the United States.
I'd like to go to each one of the restaurants listed below with a full wallet, a film crew, and some friends, to try out the best pies in the country.
Take a look at the list for each US state, you won't find a national chain in the collection. Let us know the pies you like, how you like them cooked, and the places that craft them the best.
Alabama
Tortuga's Pizza
2801 John Hawkins Pkwy, Birmingham, AL 35244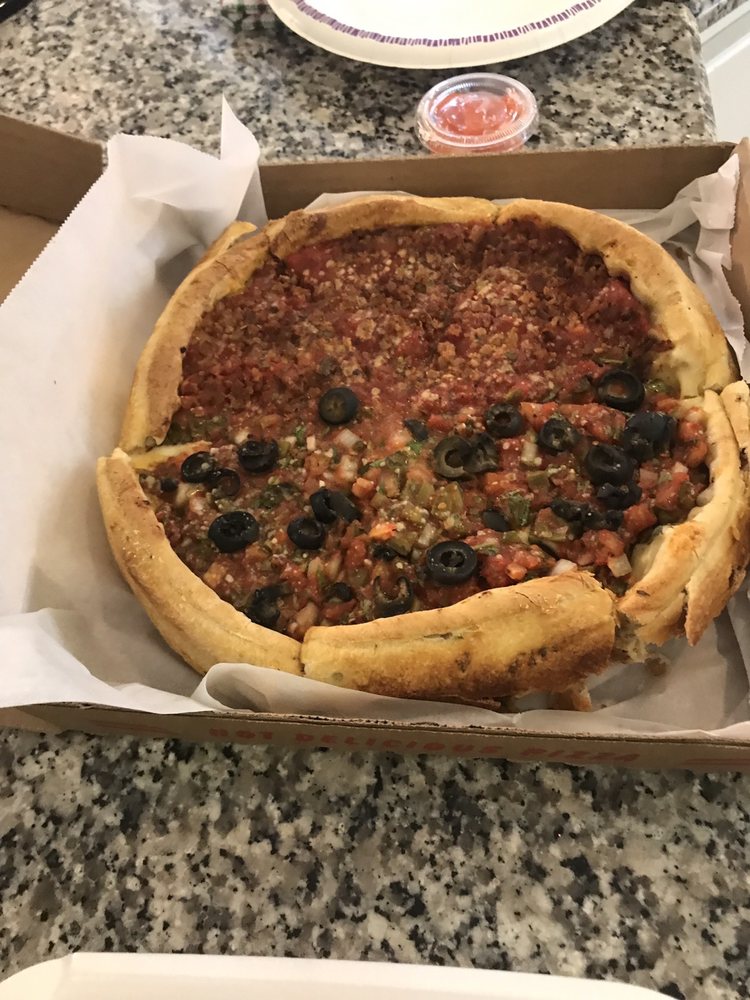 Tortuga's is the place to go in Birmingham (or Hoover) for the best in Chicago style deep dish pizza, served with a smile.
It's a quality little pizza joint that will always have the ball game and a cold brew handy, yet retains a family-friendly atmosphere.
Best Pie: The Beachum (pepperoni – bacon – green bell peppers – onions – fresh jalapenos)
Alaska
Moose's Tooth Beer & Pizza
3300 Old Seward Hwy, Anchorage, AK 99503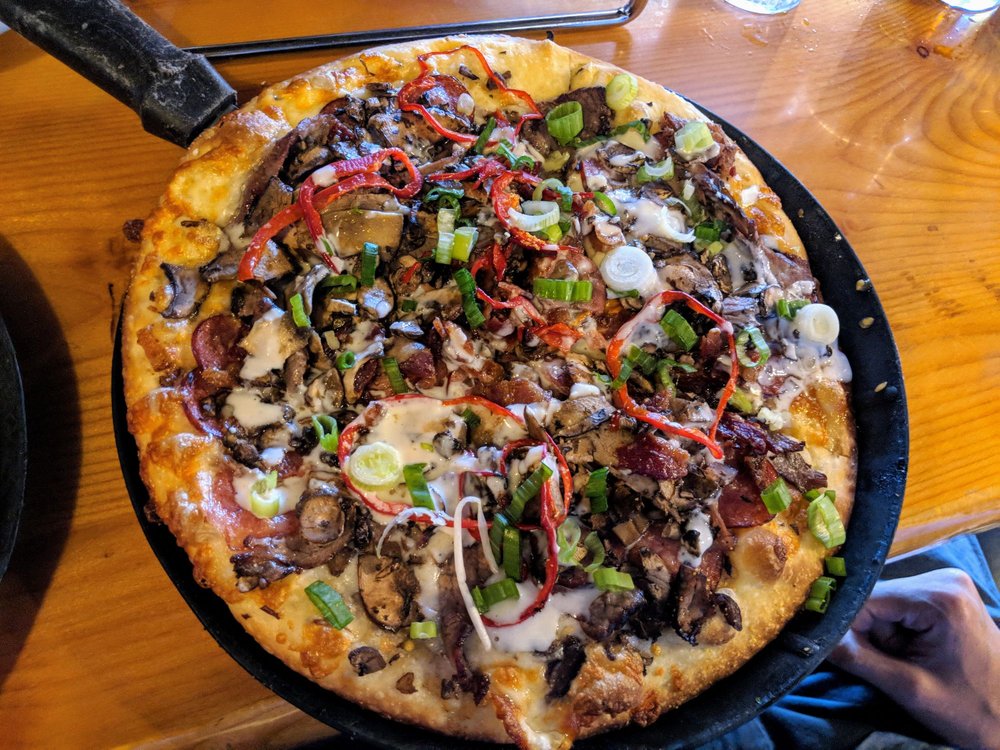 Hailed in some quarters as one of the world's 10 best pizza joints, the quality of the fare at Moose's Tooth means the call may very well be warranted.
There's a tremendous variety of types – including vegan wheat and cauliflower crust – topping options, and some cool limited edition pies that cycle through the menu.
If you're looking for the ultimate Anchorage experience, then the funky Moose's Tooth Beer and Pizza should be right at the top of your list.
Best Pie: Call of the Wild (reindeer sausage, steak, bacon, portabella & crimini
Mushrooms, red peppers, green onions, garlic cream sauce, mozzarella, provolone, garlic oil)
Arizona
Cibo Pizzeria
603 N 5th Ave, Phoenix, AZ 85003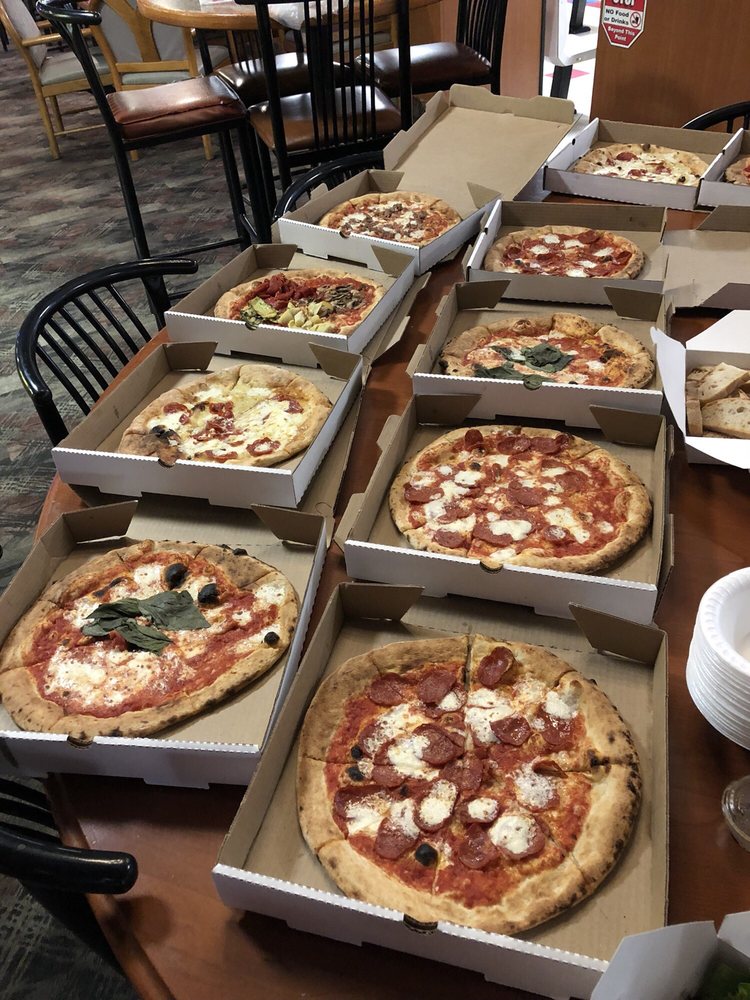 Cibo (pronounced Chee-bo) is housed in a circa-1913 bungalow, offering wood-fired pizza favorites along with Italian staples such as antipasto and insalatas.
The pies are built with simplicity, focussing on premium ingredients, great balance, and beautiful traditional Neapolitan crusts. I highly recommend grabbing a simple pie, then filling out your order with a side salad, polpette (meatballs), and some fried calamari.
Best Pie: Quattro Formaggi (mozzarella, fontina, parmigiano, pecorino and gorgonzola)
Arkansas
Nima's Pizza & More
109 S School St Gassville, AR 72635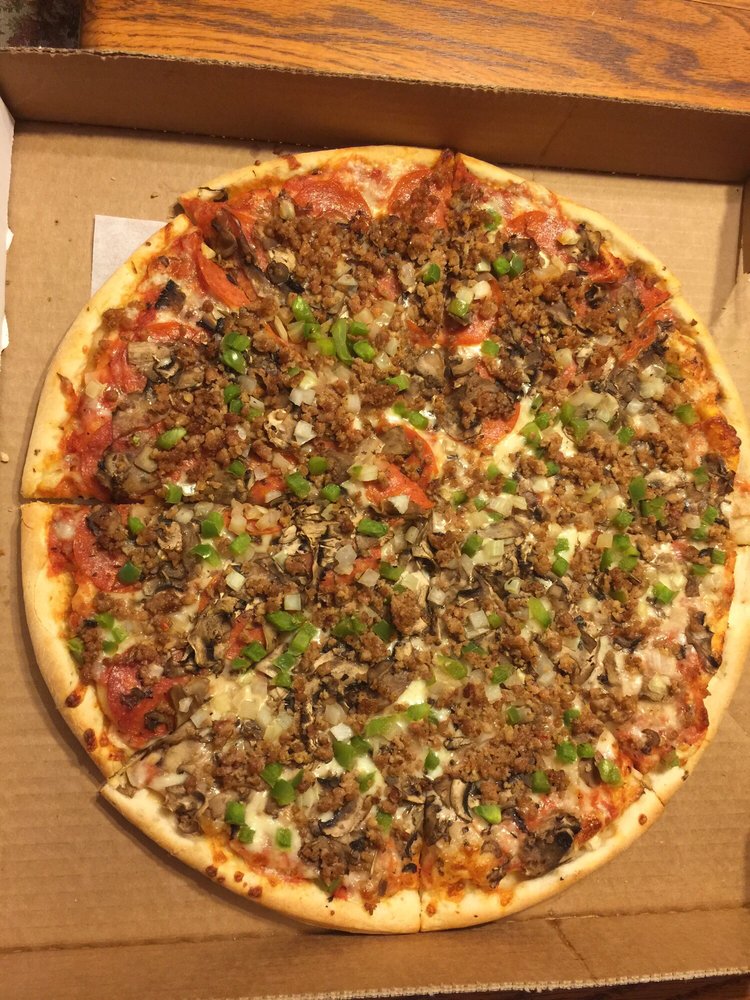 Nima's Pizza is exactly the nondescript mountain town pizza joint you see in your mind's eye, with friendly staff, simple top-quality eats, and handmade crusts.
While it lacks the sizzle of other options on this list, if you're looking for a great Arkansas gem then head into the Ozarks for Nima's Italian food.
Best Pie: Roasted Garlic Chicken (provolone cheese, roasted garlic sauce, chicken chunks, mozzarella, Colby cheese)
California
Masa of Echo Park Bakery and Kitchen
1800 W. Sunset Blvd, Los Angeles, CA 90026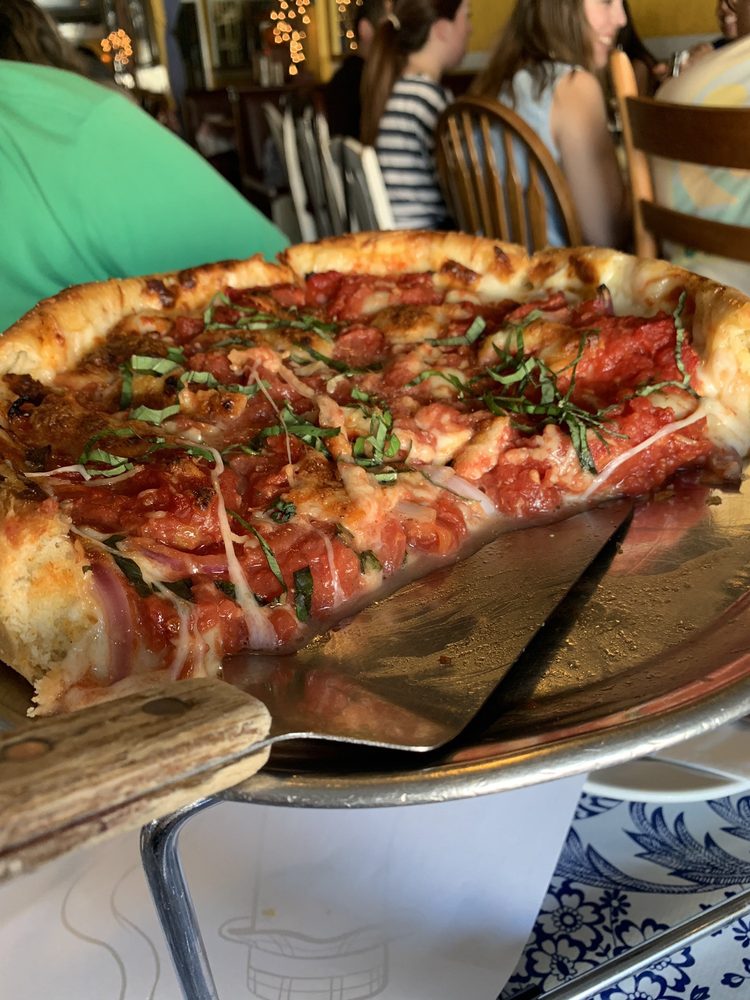 As always, choosing the best of anything in a state the size of most countries is practically impossible.
However, if you are looking for the quintessential Chicago deep dish pizza experience (right down to the decor) but want to eat it in the summer sun of Cali, then Masa's is the way to go.
Great for traditional pies but catering to vegan tastes as well, you can ever build your own pizza from a tremendous range of meats and vegetables.
Just make sure you aren't in a hurry or order ahead if you're strapped for time. These deep dish offerings take 40mins cooking time to hit perfection.
Best Pie: California (spinach & sundried tomato)
Colorado
Duca's Neapolitan Pizza
Multiple Locations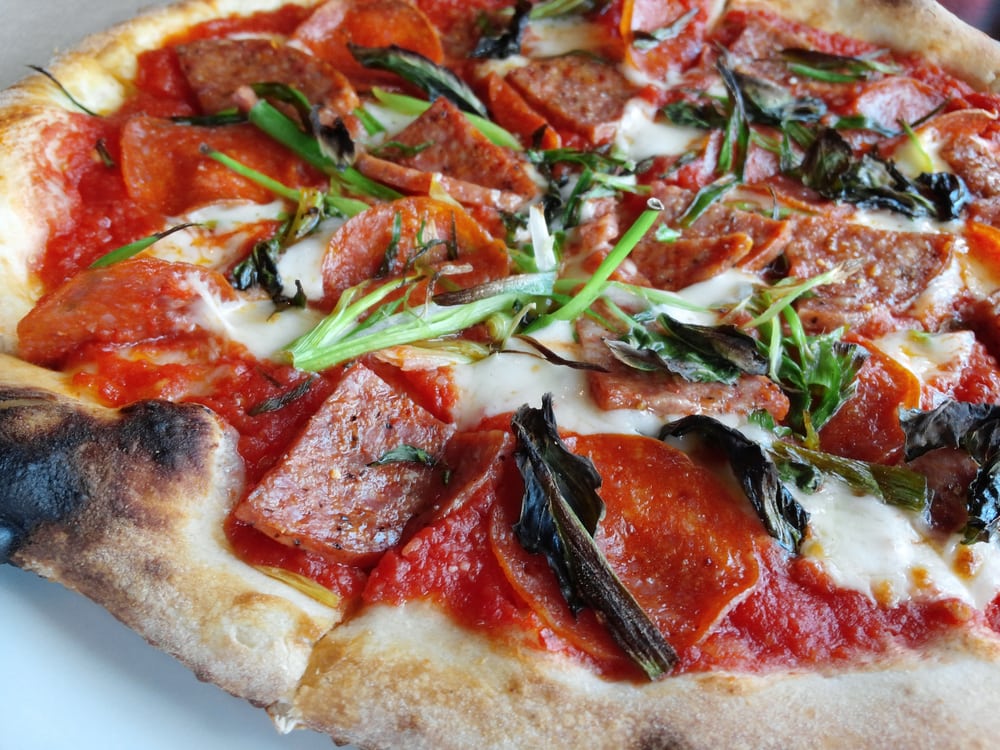 A Colorado Springs staple and home to beautiful tasting Neapolitan pizzas, there's authenticity and joy in every pie from the Duca's franchise.
While the pizzas themselves are tremendous, if you're looking for something else cool you can grab a calzone, or try a Piadini sandwich – a folded flatbread sandwich in between a sub and a gyro).
Best Pie: The Duke (margherita with salami, oven roasted mushrooms, garlic)
Connecticut
Modern Apizza
874 State St, New Haven, CT 06511, United States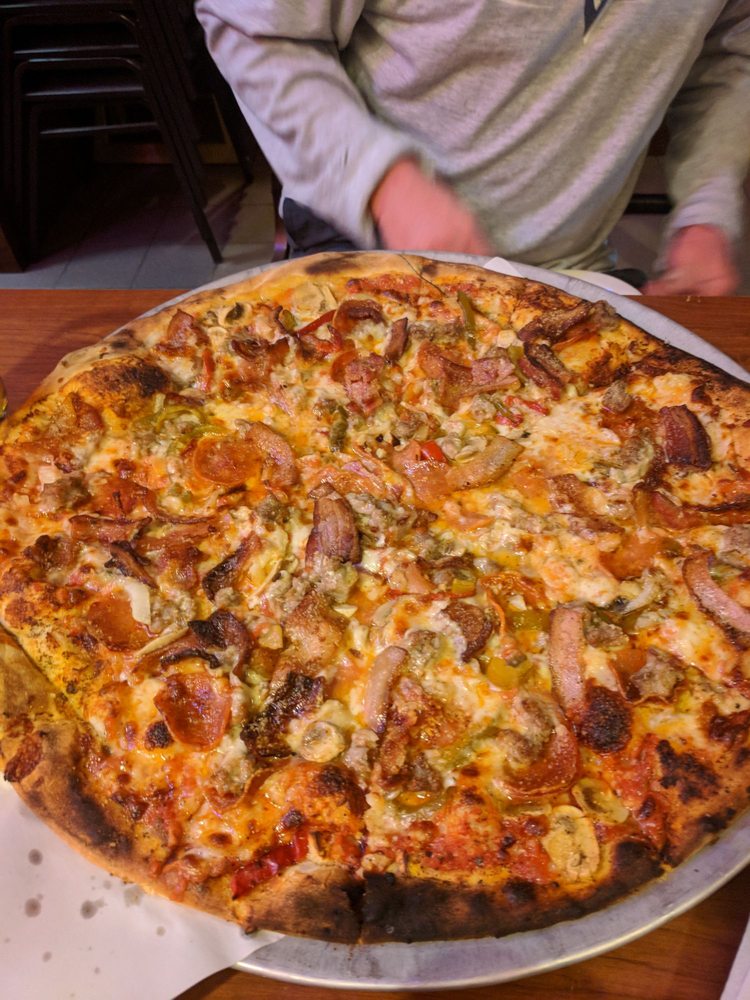 People come from miles around and drive up to an hour each way for this popular thin crust New Haven favorite.
The pizzas are brick oven baked and made large. The best thing about Modern Apizza is that you can take a red or white base and get it made however you prefer, with a huge range of toppings available.
Best Pie: The Italian Bomb (bacon, sausage, pepperoni, mushroom, onion, pepper, garlic)
Delaware
Gianni's Pizza
1600 Delaware Ave, Wilmington, DE 19806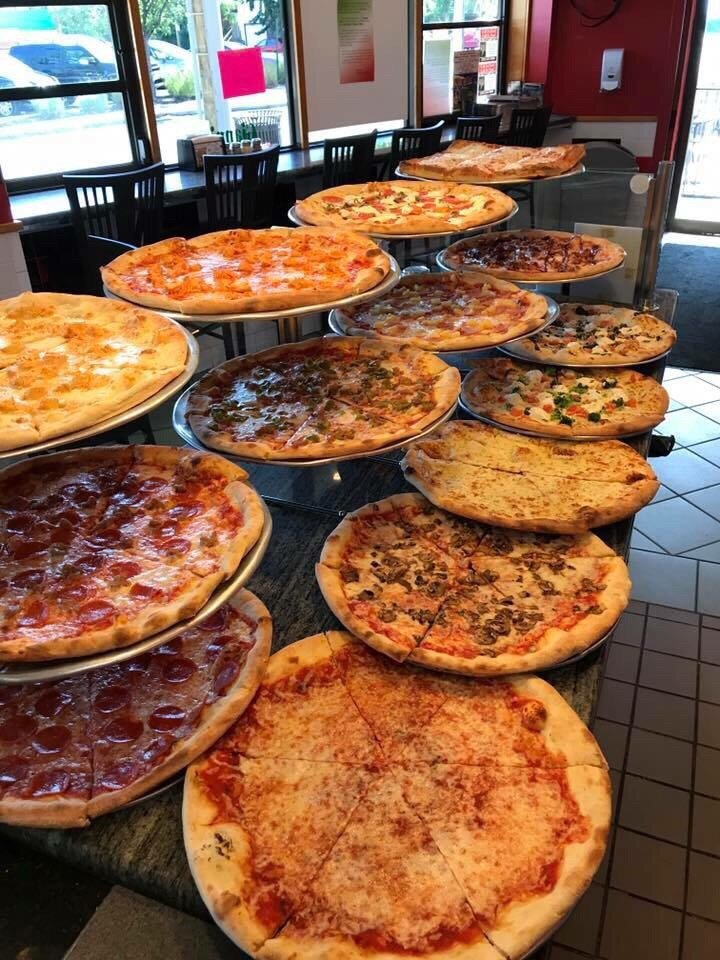 Gianni's is a Trolley Square favorite for traditional slices and whole pie pizzas (if woodfired is your thing, try the Wood Fired Pizza Shop in Newark).
The pizzas are made simply from premium ingredients and there are great options, especially in chicken pizzas and veggie pizzas.
Also, you can grab a delicious cheese slice for just $2.50, great for when you are in a hurry.
Best Pie: Stuffed Veggie Pizza (Includes Broccoli, Mushrooms, Spinach)
Florida
Eddie and Sam's NY Pizza
203 E Twiggs St, Tampa, FL 33602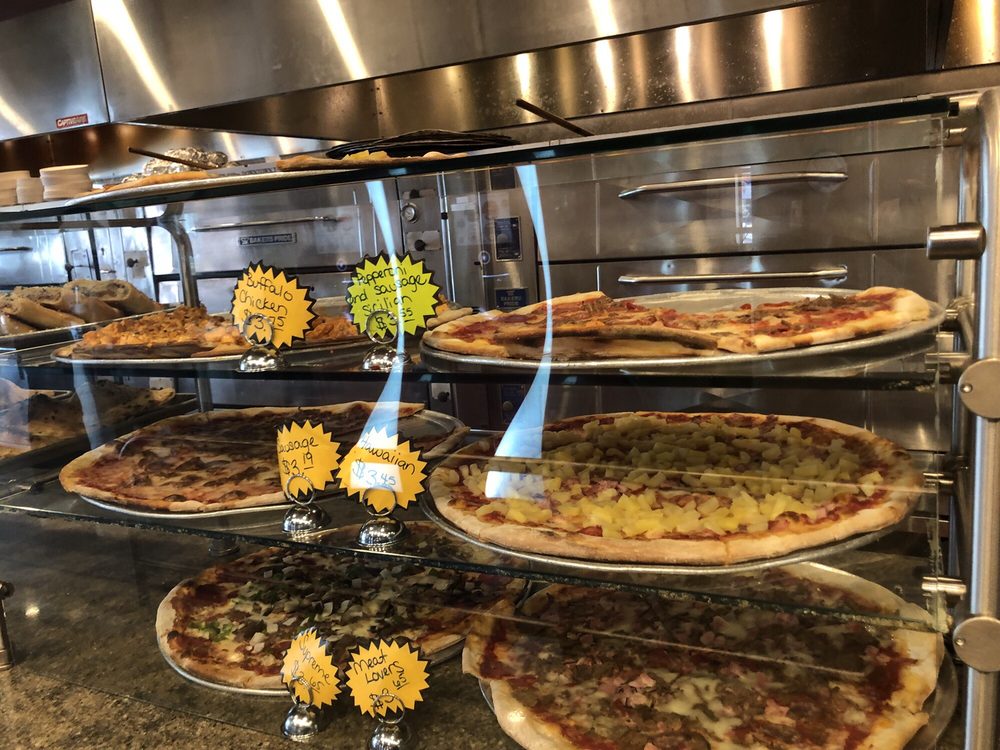 First of all, this laidback Tampa favorite has slices in more than 20 flavors available every day, and they are absolutely massive proper NY-style slices.
Despite their size, it's hard to stop at just one slice.
If you are opting to get a full pie, you can't go wrong either. Eddie and Sam's offer great-tasting thin crust pies that don't scrimp on quality ingredients.
Make sure to add the breaded eggplant as an extra on your pizza, it's deliciously tasty!
Best Pie: Bianca (White) with spinach and chicken (No red sauce – ricotta blend with fresh garlic, mozzarella, provolone, Parmigiana)
Georgia
Varasano's Pizzeria – Buckhead
2171 Peachtree Rd UNIT 100, Atlanta, GA 30309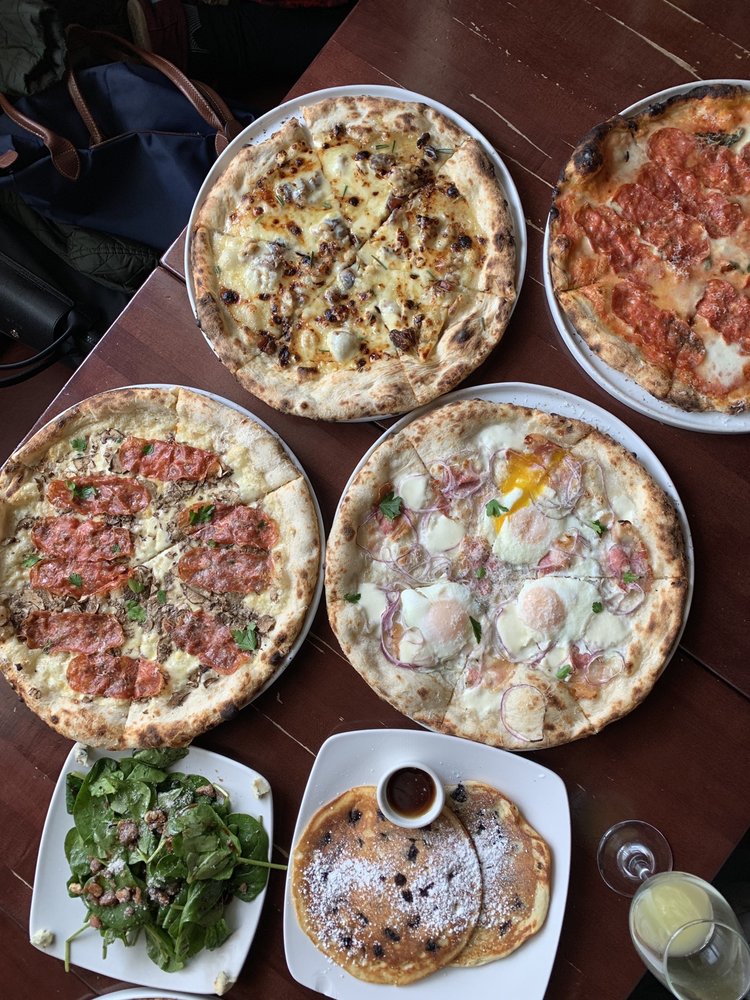 Varasano's Pizzeria uses all natural ingredients, with thin, delicate crusts flash baked in three minutes designed to be folded and eaten, none of that knife and fork business.
They are one of the few pizzerias in the U.S. that make dough using traditional natural sourdough yeasts that are then fermented for several days, which is why Varasano's recommends the addition of only one topping to their base specialty pies.
Varasano's also has great traditional Italian options, share plates, and outstanding old school desserts, set in a relaxed, welcoming environment suitable for a casual night out or something more celebratory.
Best Pie: Nucci Pizza (garlic, olives, and Emmenthaler finished with arugula, capicola, and herbs)
Hawaii
Big Kahuna's Pizza
550 Paiea St, Honolulu, HI 96819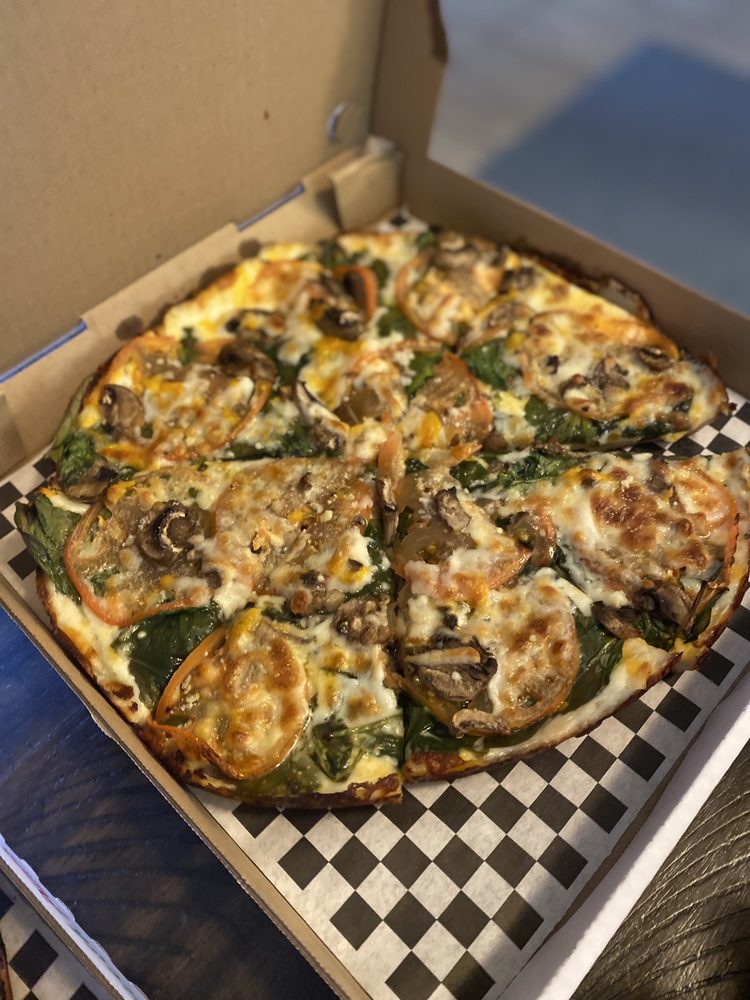 Some of the best pizzas in the Islands can be found on the Airport Route, with Big Kahuna's serving locals and tourists for over 25 years.
Big Kahuna's pizzas are big on flavor and toppings, with kalua pork the specialty. Each slice is packed with goodies on top of crusts that are freshly made daily.
Don't just grab a pizza; you have to get the garlic cheese balls too (2 serves) because they are super delicious!
Best Pie: Kanaka (Oven roasted shredded kalua pork, Hawaiian BBQ sauce, green onions)
Idaho Lucy's New York Style Pizzeria
Multiple Locations


If you're heading back from Yellowstone National Park and craving a New York slice of civilization, then local Idaho chain Lucy's is exactly what you need.
The bases are great, toppings are just right, and the mozzarella melt is near perfect.
And if you're heading into the forest, you can grab a pizza pack with all the ingredients you need to make a proper New York pizza of your own.
Best Pie: The BLT (creamy ranch sauce topped with bacon, fresh tomatoes, and crisp lettuce. drizzled with balsamic)
Illinois
Naudi Signature Pizza
926 W Diversey Pkwy, Chicago, IL 60614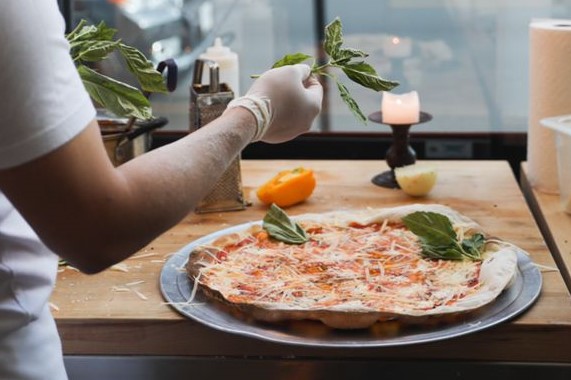 The lineup for pizza in Chicago bats deep, but Naudi Signature Pizza is creating a lot of buzz.
While new (and flat) in comparison to Chicago's old school deep dish favorites, Naudi Signature Pizza has almost universal fantastic feedback, a huge achievement for a young restaurant in the social media era.
Any pizza joint that uses fresh basil on its pies knows what's up, and get yourself some honey cake when you're done with the pie.
Best Pie: Pepperoni Classic (four cheese, pepperoni, fresh basil, mushrooms)
Indiana
Jockamo Upper Crust Pizza
Multiple Locations

Indianapolis has a booming pizzeria scene and Jockamo leads the argument for the best of the bunch.
The three locations serve great pizzas in a family-friendly atmosphere, along with sandwiches, salads, and sides.
You can even get weekend hangover pizzas (there's gravy!) or build your own.
Best Pie: The Jockamo Special (basil pesto sauce, artichoke, Roma tomato, 3-cheese blend, balsamic reduction)
Iowa
Zipp's Pizzaria
301 Audubon St, Adair, IA 50002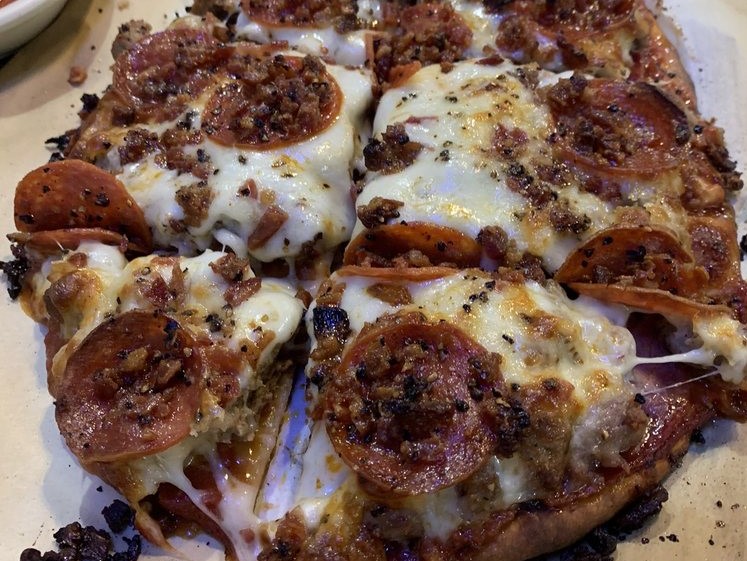 Sometimes you have to get away from the center of things to find a great food option, and Zipp's Pizzaria fits the bill.
You'll find Zipp's off the highway in Adair, about halfway between Iowa City and Omaha, Nebraska, and it's always pumping on weekends.
Zipp's is a small, friendly spot with great service and unpretentious food – you can grab a drink or cocktail too while enjoying the friendly atmosphere and unique topping options.
Best Pie: Gizzmo (garlic butter, ham, ground beef, and American cheese – after baking ketchup, mustard, pickle, and onion is added)
Kansas
Piatto Neapolitan Pizza
1706 E Douglas Ave, Wichita, KS 67214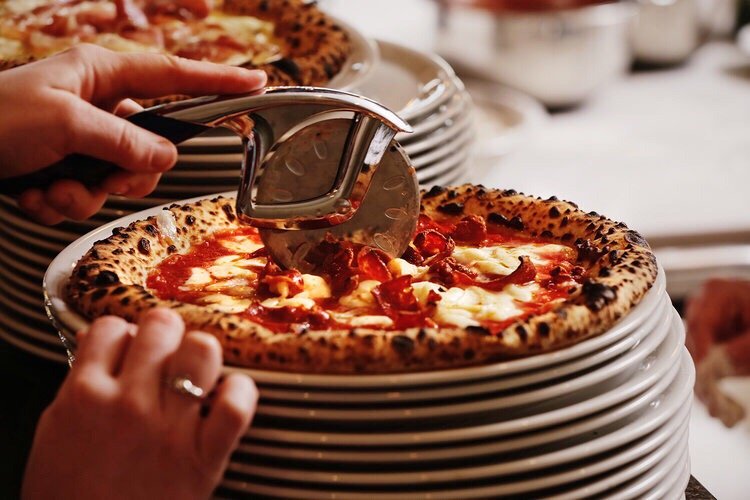 It's the base of these Wichita, Kansas pizzas that makes these pies so great.
Whether your preference is for red or white bases (my advice, go for one of each) the premium ingredients make for simple, tasty pies with a touch of old world class.
If you are looking for a stylish environment with quality food or a place to go on a date, Piatto Neapolitan Pizza is a terrific choice.
Best Pie: Rucola (smoked prosciutto, arugula, grape tomatoes, shaved parmesan, fresh mozzarella, cracked black pepper, olive oil)
Kentucky
Miguel's Pizza
1890 Natural Bridge Rd, Slade, KY 40376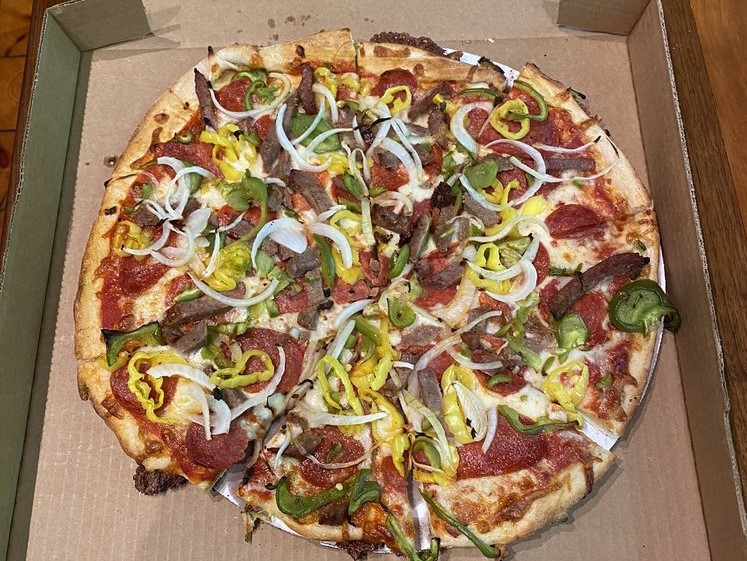 Miguel's Pizza is likely the only place on this list you'll find made-to-order pizzas, and rock climbing gear!
Miguel's is a family-friendly pizza place beloved by climbers, hikers, and those escaping from the city for a time, where you can enjoy a few beers with a filling meal before (or after) a trip into the hinterlands.
It may not be fancy, but Miguel's Pizza offers great tasting toppings, pizza sandwiches, and pies by the half, plus plenty of good old fashioned Kentucky friendliness.
Best Pie: Get yourself a 16" pie and load it up with whatever cheese and toppings that tickle your fancy!
Louisiana
Tony's Pizza
335 E Prien Lake Rd, Lake Charles, LA 70601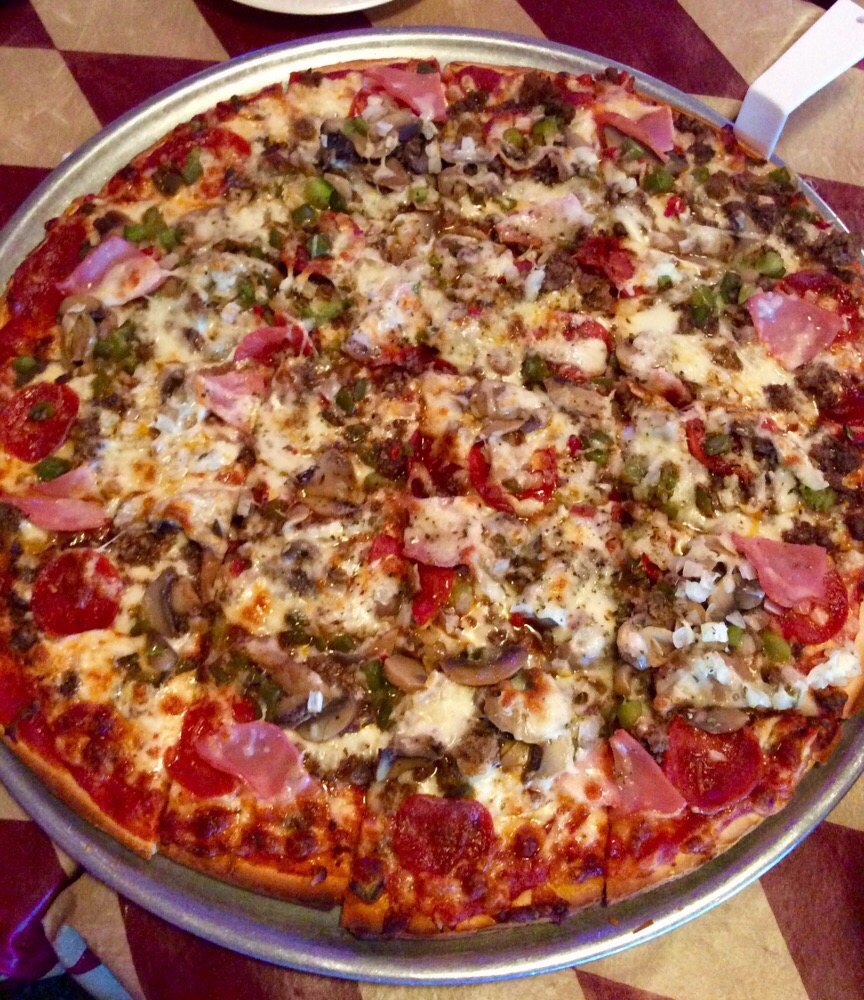 There might be some flashier, hipper places in the South to get your fix, but Tony's Pizza has been serving pizza, pasta, and po boys since 1968.
The Lake Charles institution offers all the classics in an old school pizza booth atmosphere. Tony's is always busy, but always friendly, and happy to accommodate all kinds of diners.
Best Pie: Tony's Super Deluxe (pepperoni, Italian sausage, Canadian bacon, beef gyro, onion, bell pepper, mushrooms, and black Greek olives)
Maine
Slab Sicilian Street Food
25 Preble St, Portland, ME 04101


First come first served is how they roll at Slab Sicilian Street. This popular restaurant bar offers a tasty variety of food and drink.
While you can get traditional 12" thin crust pizzas, there's also a killer Sicilian 1lb handmade slab done old world style (suits one person solo), calzones, and sandwiches for you to sink your teeth into.
Best Slab: Vegan friendly Tomato pesto (Sicilian crust, tomato sauce, pesto, roasted tomatoes, garlic, tapioca cheese, oregano)
Maryland
Frankly Pizza
10417 Armory Ave, Kensington, MD 20895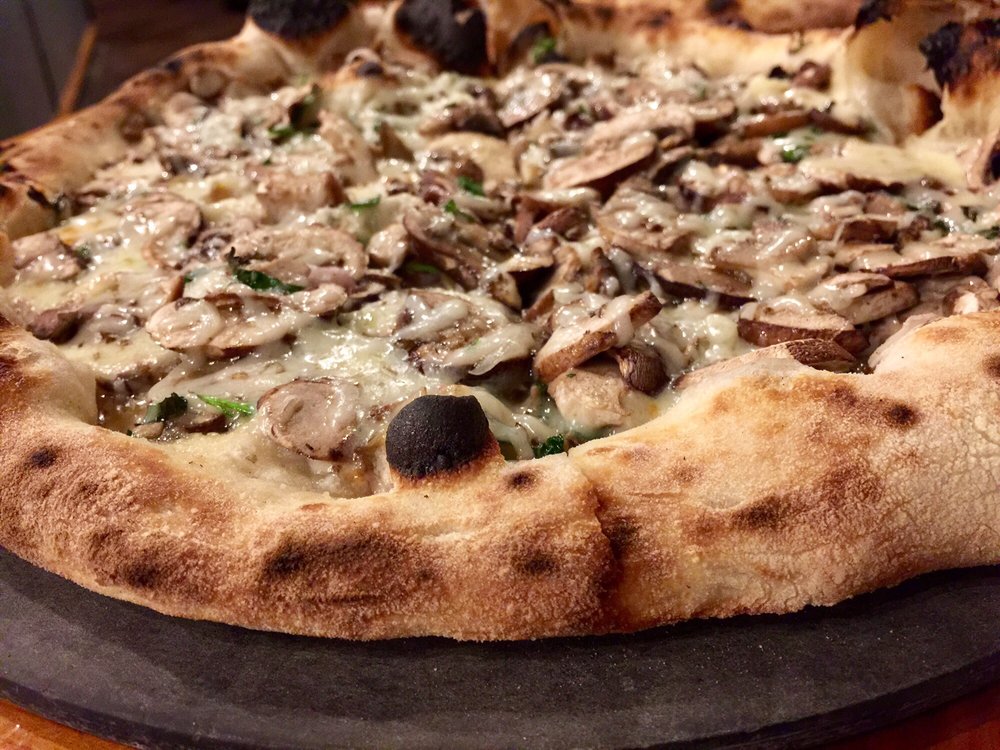 Frankly Pizza is the place to eat if you are looking for freshly made red and white pies baked in the woodfire style.
Frankly Pizza is always busy, but you can make reservations (a must if you intend to dine gluten free) and there are also options for non dairy.
The atmosphere is family friendly and relaxed despite roaring trade during the dinner peak, with the fresh, premium ingredients making any wait extremely worthwhile!
Best Pie: Hot Mess (mozzarella, pickled jalapeños, caramelized onions, house-made bacon, Gruyere, Romano)
Massachusetts
Red Rose Pizzeria
1060 Main St, Springfield, MA 01103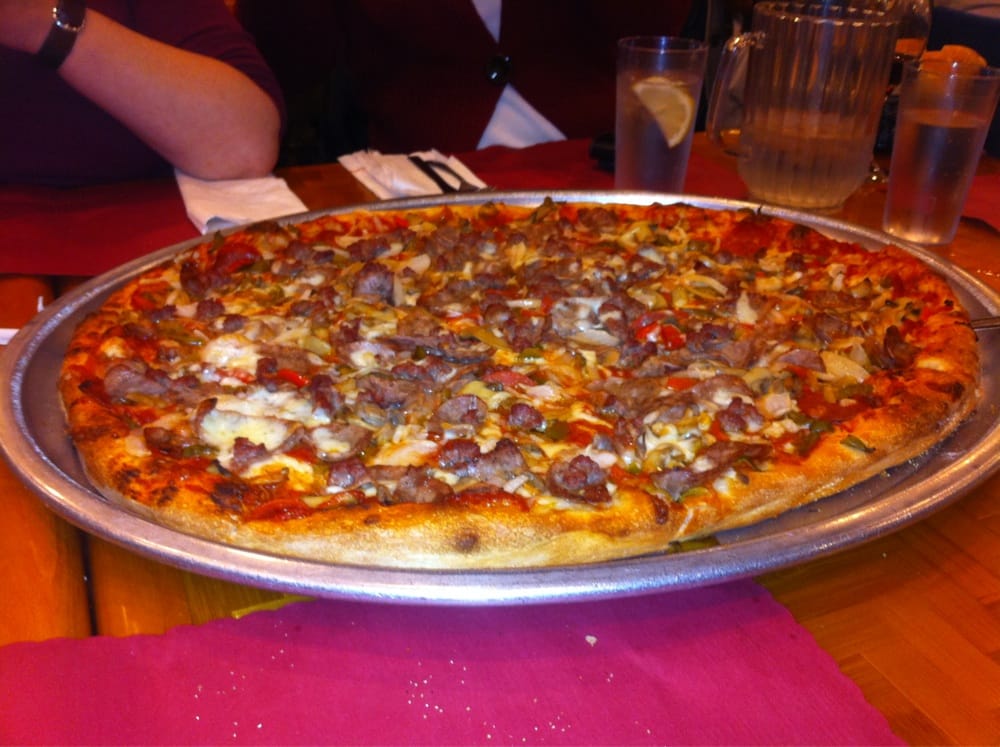 This family owned Italian restaurant first started serving in 1963, and is now run by Tony Caputo and his sister Rita.
Red Rose is famed for the pies but offers a truly gigantic menu of tasty Italian pasta, seafood, salads and favorites.
The pizzas are hot, fresh, and filling – exactly the home style Italian thin crusts your mind imagines. Mix and match toppings in four sizes, including a 28 slice party sized pie if you are feeding the masses.
Best Pie: Pulled pork BBQ (mozzarella cheese, pulled pork, red onions, banana peppers, and bbq sauce)
Michigan
Loui's Pizza
23141 Dequindre Rd, Hazel Park, MI 48030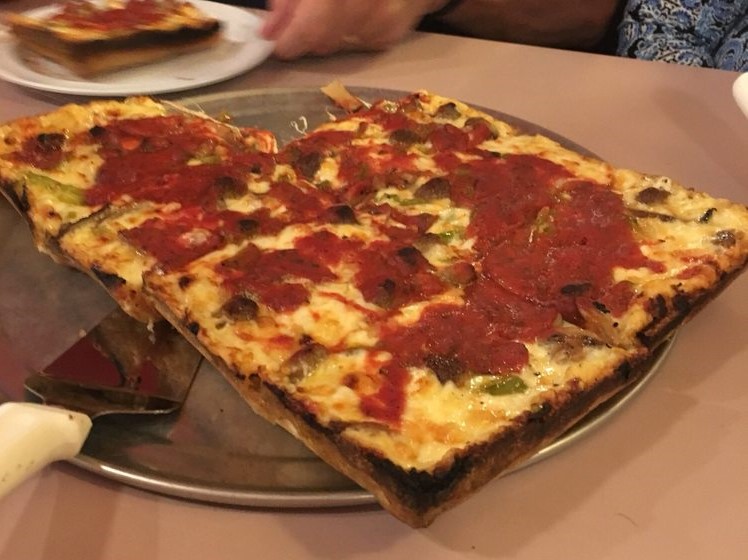 While it doesn't have the reputation of New Jersey or New York, making pizza in Michigan is rich in old school tradition.
One such old school pizza joint is Loui's pizza. You can't miss the interior, which features classic Italian restaurant booths, tables, and a ceiling full of Chianti bottles.
At Loui's you get simple, well made pies, plus pastas, salads, sandwiches, and hoagies made hot and fresh. You can even get spaghetti sauces to go.
Best Pie: Meatlovers (pepperoni, ham, sausage, ground beef, bacon, and cheese)
Minnesota
Pizzeria Lola
5557 Xerxes Ave S, Minneapolis, MN 55410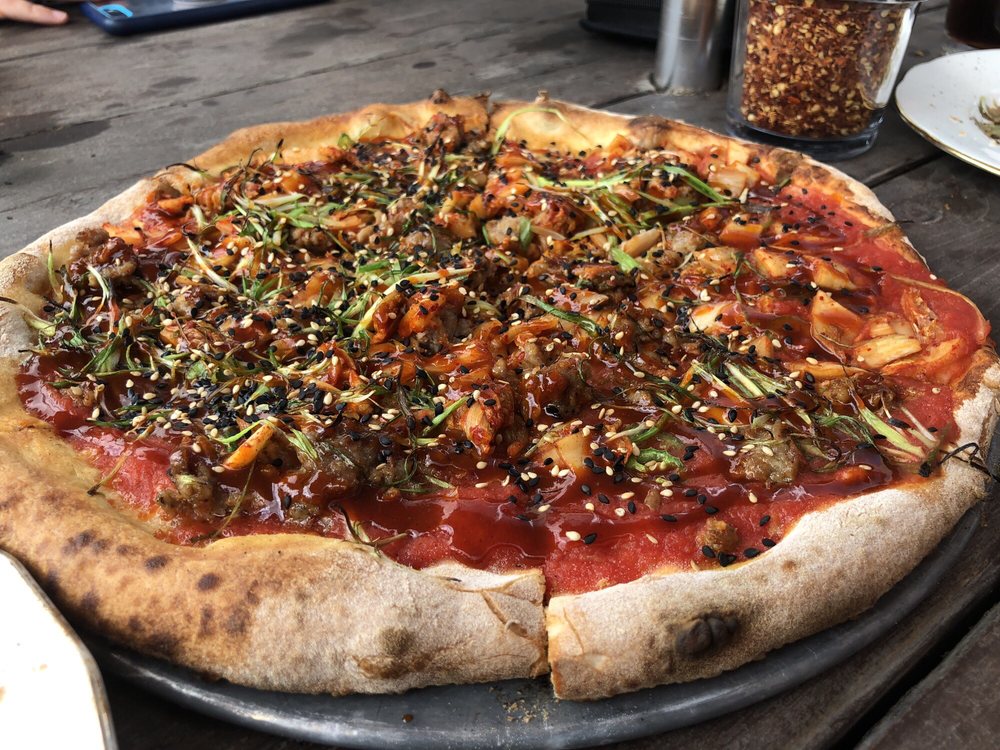 The quintessential new school pizza joint, Pizzeria Lola offers a menu of interesting Neapolitan style pizzas, along with tasty starters and a cool drinks menu.
If you are in the mood for a bold pizza done differently, with exceptional ingredients and quality bases (you can go gluten-free as well), this is the best you'll find anywhere in the Twin Cities.
Best Pie: Korean BBQ (beef short ribs, mozzarella, scallions, arugula, sesame, soy-chili vinaigrette) and get some Panang wings for your starter!
Mississippi
Sal & Mookie's New York Pizza & Ice Cream Joint
200 District Blvd E, Jackson, MS 39211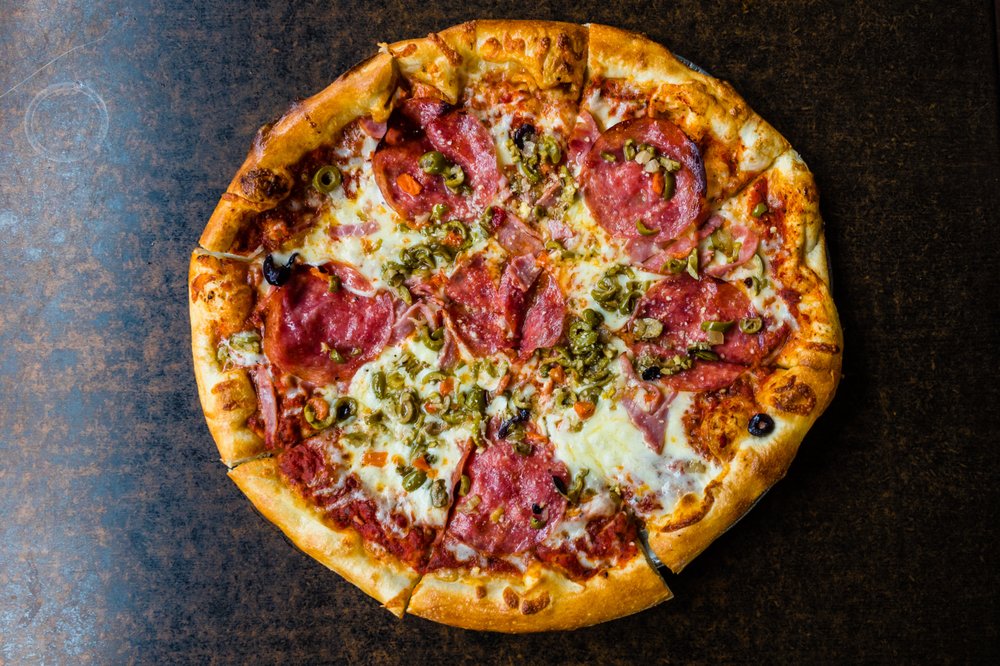 With pizza and ice cream being two of my favorite things to eat, Sal & Mookie's is right in my wheelhouse (there's 3 of them in Jackson, Biloxi, and Madison).
I like that the atmosphere is cool, calm, and relaxed, featuring both a family-friendly area and an adults-only section in case you want a spot to eat that's a little less boisterous (maybe with a few adult sodas).
Having their specialty pizzas named after cool New York areas and landmarks is also a great touch!
Best Pie: John's Bleeker (bechamel, Fontina, grilled chicken, caramelized onion, sun dried tomatoes and spicy Italian sausage)
Missouri
Original Pizza
110 SW State Route 7, Blue Springs, MO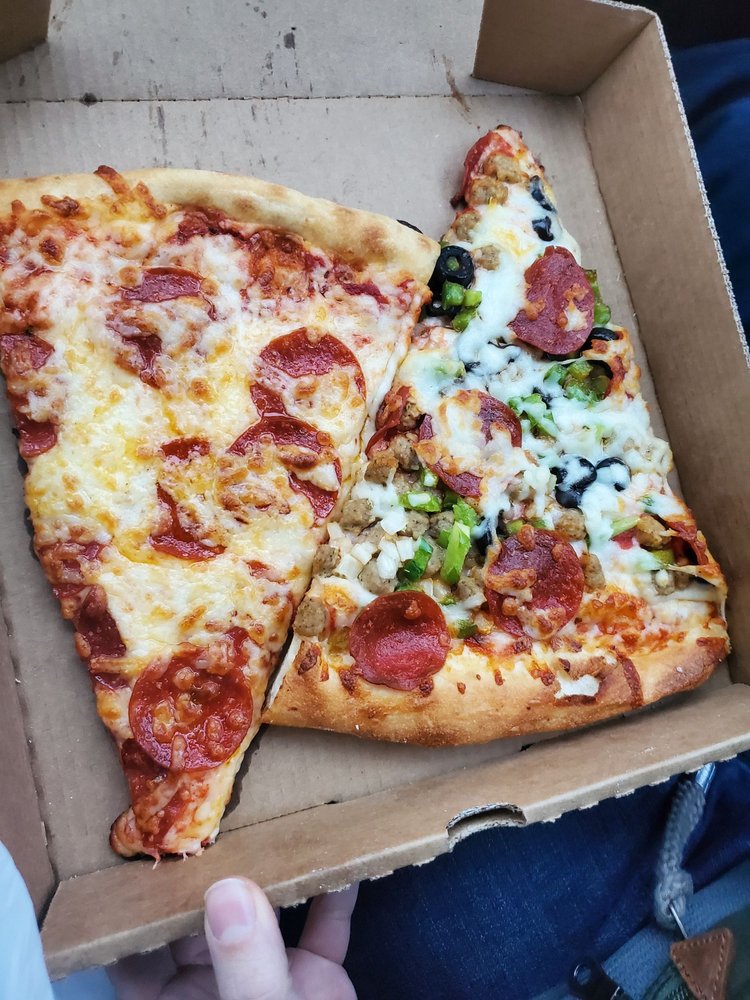 Great tasting, no frills New York-style pizza sold by the slice or the pie.
Original Pizza is filling and fresh, they are good eats whether you are stopping through Kansas City, or live just around the corner.
They are versatile with the pie options too, so you are bound to find something to suit your favored pizza style from a good sized solo slice to a specialty sized crust.
Best Pie: Chicken Fajita Pizza (chicken, onions, green peppers)
Montana
Biga Pizza
41 W Main St, Missoula, MT 59802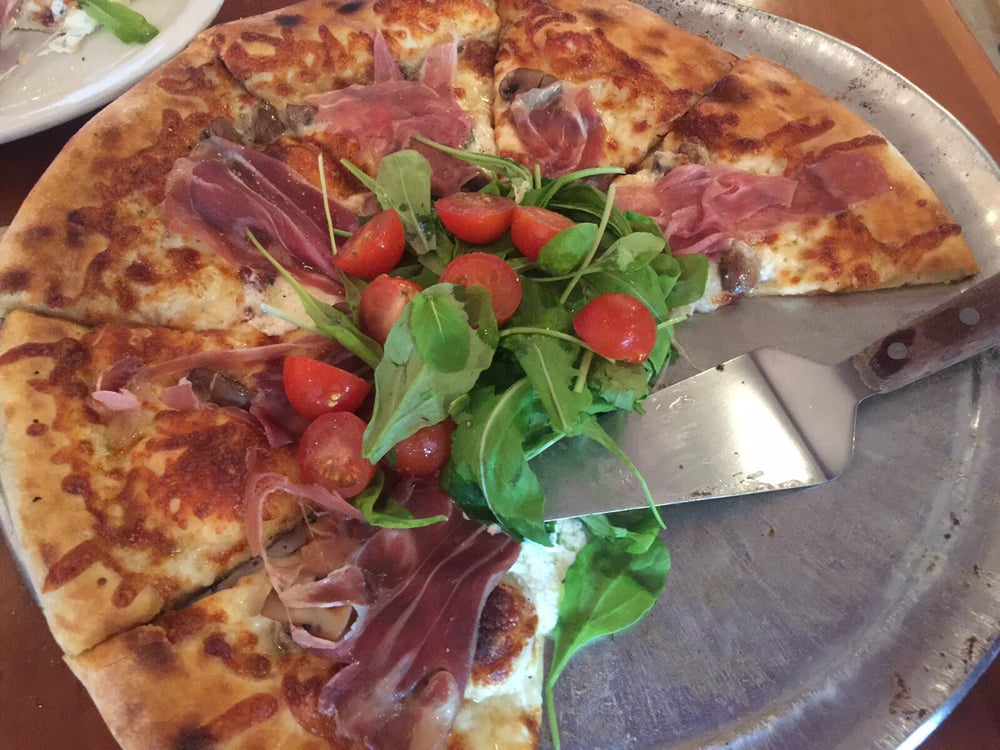 Just for the record, the restaurant name Biga is not a poorly spelled reference to size! Biga is a method of pre-fermentation used in creating numerous types of Italian breads and pizza crusts.
As for the pizza at Biga Pizza? Tremendous, thin crust pies fired in a huge brick oven, with a range of different tasty options (including vegan/veggie friendly for those inclined).
The meat varieties are impressive, there's a range of fresh vegetable options, and you can rock great antipasti plates and salads to complement your 12" or 16" crust.
Best Pie: Prosciutto Pizza (prosciutto di Parma, mascarpone, mozzarella, fresh herbs, garlic, olive oil, fresh arugula & cherry tomatoes)
Nebraska
Orsi's Italian Bakery & Pizzeria
621 Pacific St, Omaha, NE 68108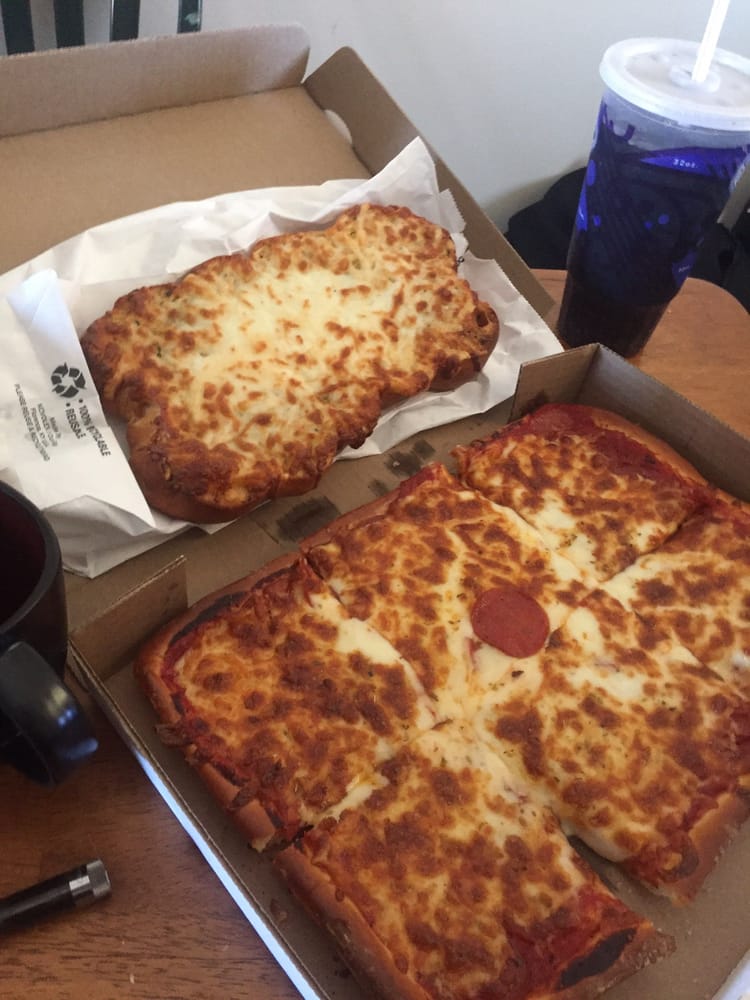 The perfect place for a little bit of Italiana, there's something for everybody at this friendly and casual restaurant that's been serving up brilliant baked goods since 1919.
If you are going through Omaha on a cross country special, being able to pull up at Orsi's and relax for a bit over a few great slices, lifts away the wear of miles spent in the car.
Best Pie: It doesn't matter what pizza you get, just make sure you also grab the amazing garlic bread, a jar or two of imported olives, and some cannoli for dessert (your taste buds will thank me)
Nevada
Settebello Pizzeria Napoletana
140 Green Valley Pkwy Henderson, NV 89012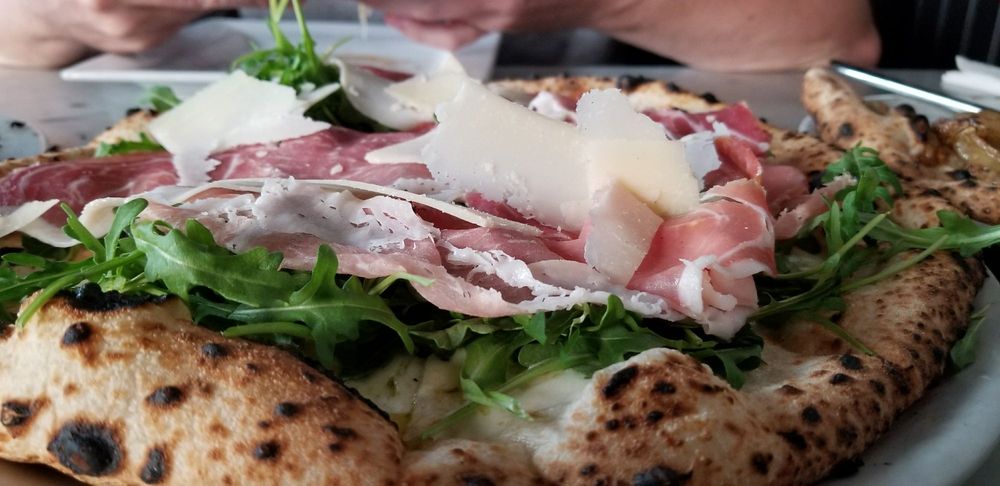 With five restaurants in various locations (including Cali, and Utah) Settebello Pizzeria Napoletana offers a great pizza dining experience.
The Henderson location has been open since 2005, with Owner Pizzaolo Carmine on deck rocking the kiln and pizza paddle to create some beautifully premium options.
Best Pie: Bianca (prosciutto crudo, arugula, parmigiano reggiano, fresh milk mozzarella and extra virgin olive oil)
New Hampshire
Tilton House of Pizza
298 Main St, Tilton, NH 03276,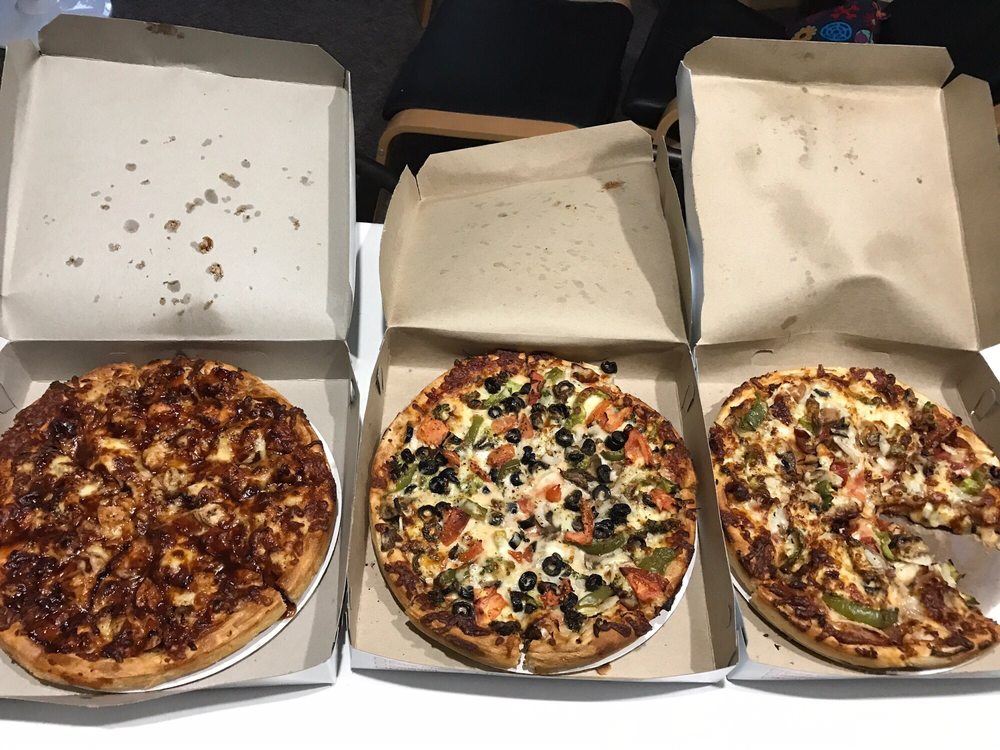 The small town of Tilton, New Hampshire is home to a pizza joint with a huge reputation.
If you are looking for some of the best pies on the East Coast, then Tilton House of Pizza is well worth a visit for pizzas, hot and cold grinders, and other Italian favorites.
The huge range of toppings, exemplary service, and attention makes the much loved THOP well worth coming back to visit if you are even vaguely close to the Tilton area.
Best Pie: Grilled Chicken Florentine (Alfredo sauce, marinated chicken, spinach, fresh garlic, mushrooms, tomato)
New Jersey
Arturro's Pizza
180 Maplewood Ave, Maplewood, NJ 07040,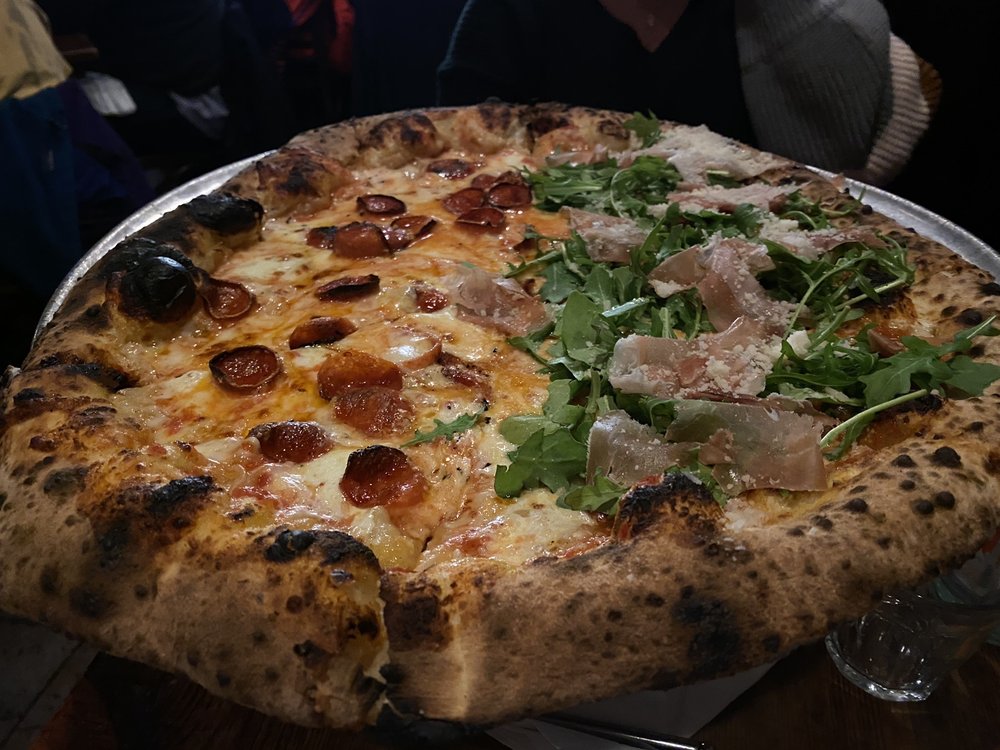 Look, I'd just like to apologize to every other pizza joint in the state of New Jersey. I understand how seriously the art form is taken in this part of the world, and it really was a shame to have to pick just one.
That being said, Arturo's is as good a pizza place as you'll find anywhere in the United States, offering thin crust artisanal pizzas with a nice variety of fresh ingredients.
Grab a pizza, small plate meatballs or pasta, and a couple of salads to experience a truly memorable meal.
Best Pie: Maple Bacon (fresh mozzarella, heritage bacon, shaved onions, PA maple syrup, parmigiana)
New Mexico
Giovanni's Pizzeria
921 San Pedro Dr SE, Albuquerque, NM 87108,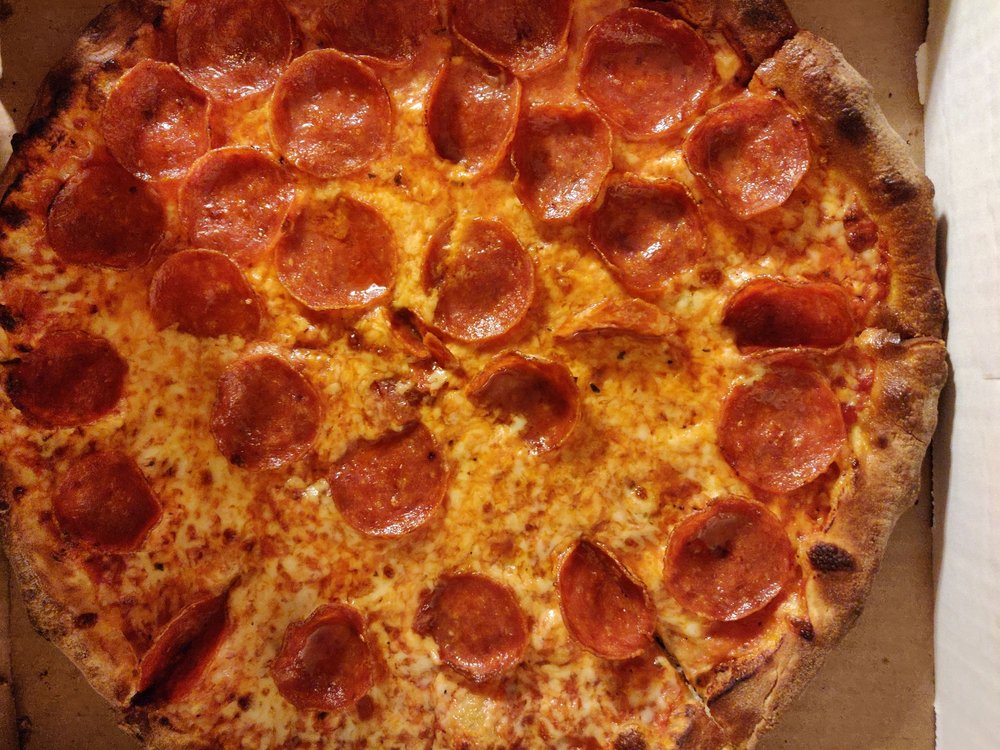 I wouldn't have figured there was much call for tremendous New York Style slices and pies in the heart of New Mexico, but boy oh boy.
A Giovanni's pizza slice is like a little big wedge of melted cheese magic.
Get a slice, fold it in half, and get to work. I bet it's difficult to stop at just one!
Best Pie: Pepperoni and cheese (simple is beautiful)
New York
Joe's Pizza
1435 Broadway, New York, NY 10018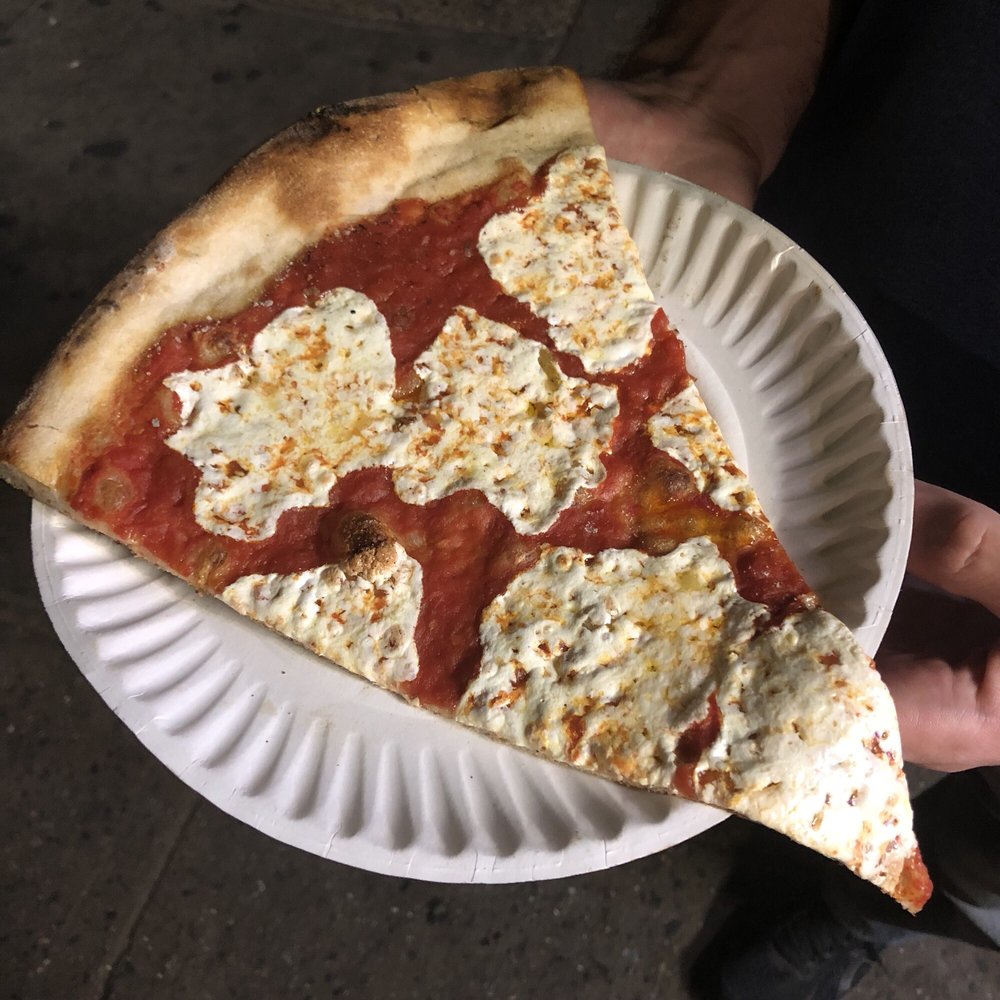 The only thing I ate more than pizza in New York was hot dogs, and even then it was a close run thing. I didn't even have to be hungry, they just had to be there and I was buying.
Much like NJ, the sense of history and seriousness with which the pizza community operates in New York is both obsessive and impressive, and especially so when you are close to Times Square
While I could have gone with any one of 15-20 options, I chose Joe's Pizza on Broadway. I still vividly remember how good the first pepperoni slice was, and how it was the only pizza joint I made sure to go to twice (in the same day).
Best Pie: Just hit the counter (you may need to line up, but it moves quickly) and pick what you like!
North Carolina
Alino Pizzeria
500 S Main St #401, Mooresville, NC 28115,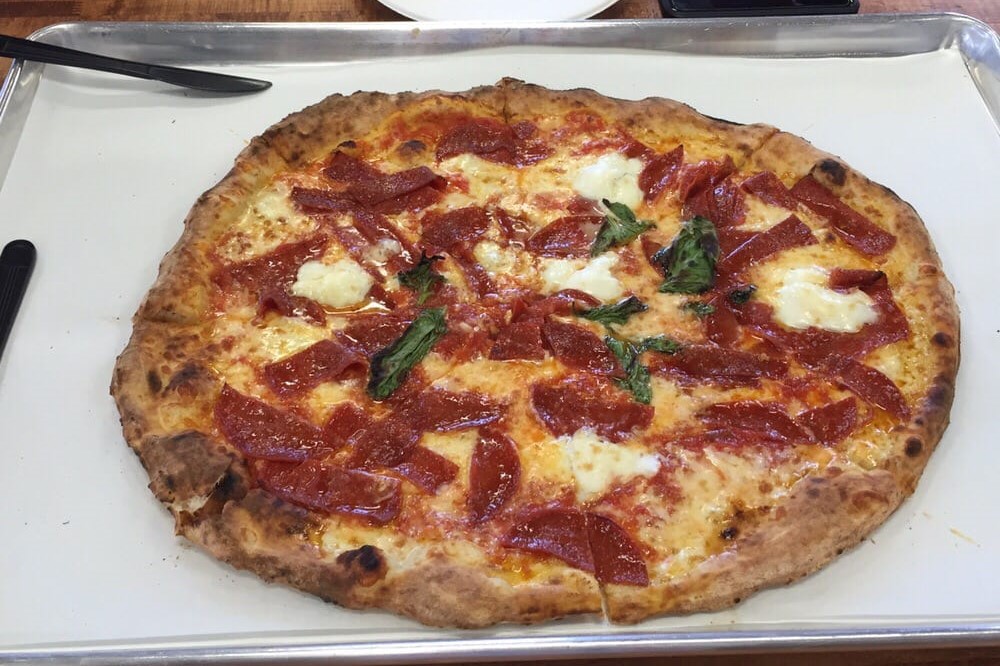 Alino is a massive scale pizzeria serving Neapolitan style pies in a family-friendly environment.
It's always in action, with three massive kilns, a lot of chopped wood ready for action, and a fun indoor-outdoor vibe.
There's no messing about. You get a great range of home town sounding pizzas served well done and slightly charred in the traditional style, and you better believe the cannoli are awesome too!
Best Pie: Personalizzare (Artichokes, cremini mushrooms, sweet peppers, spicy peppers, caramelized cipolline onions, cherry tomatoes, spicy salami, pepperoni, ham, sausage)
North Dakota
Rhombus Guys
606 Main Ave, Fargo, ND 58103


You've just got to love a pizza joint with a rooftop section and its own brewery, although maybe not during the dog days of winter!
Rhombus Guys (also at Grand Forks) has great wood fired pizzas, with plenty of veggie options such as gorgonzola pear, and some unique pizza combinations.
Settling in with some friends with a pie or two to share, and a few tins of craft beer brewed on-site makes me want to grow a longer, bushier beard.
Best Pie: Louisiana Saturday Night (Cajun marinara, shrimp, pepperoncini, sausage, red pepper, caramelized onion, and mozzarella)
Ohio
Samosky's Homestyle Pizzeria
6738 Center Rd, Valley City, OH 44280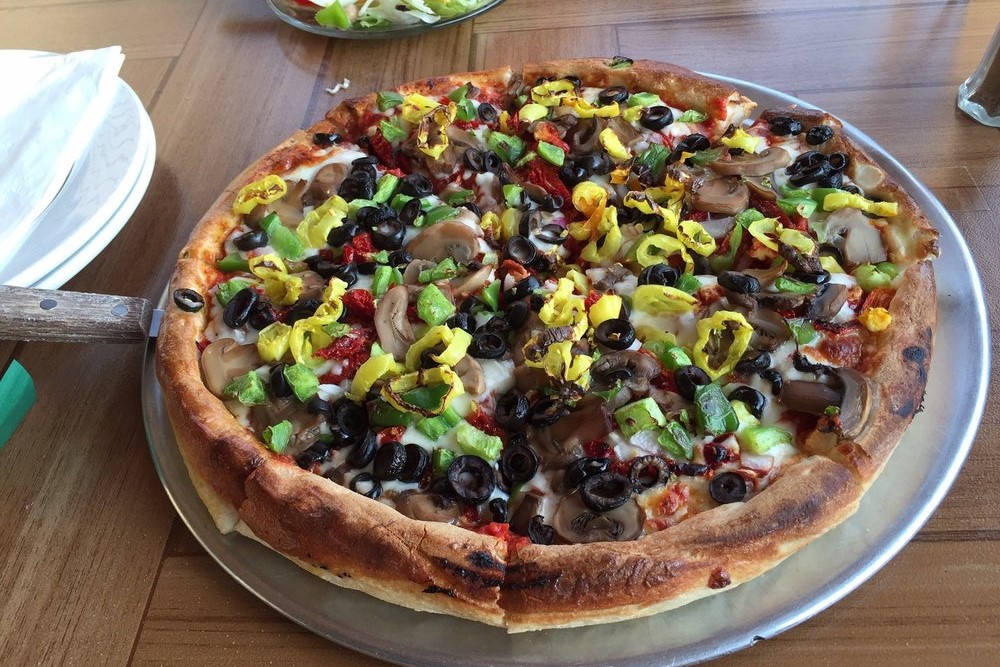 Samosky's offers great wood fired pizzas done home style fashion (their kiln is a work of art), however for the non-pie fan there are smokehouse favorites and burgers as well.
It's a crisp and modern experience with indoor-outdoor seating and a relaxed but bustling atmosphere, suitable for everything from quiet dates to family celebrations.
Best Pie: Red or White veggie pizza (mushrooms, black olives, sun dried tomatoes, banana peppers, green peppers, onions, mozzarella, and provolone cheese)
Oklahoma
Empire Slice House
1804 NW 16th St, Oklahoma City, OK 73106,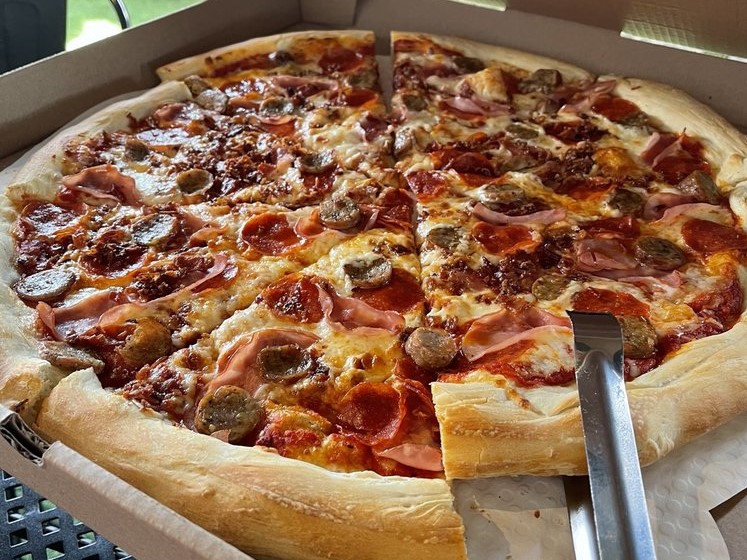 Empire brings a touch of New York pizza to OKC, with cool modern decor, some banging tracks, and a whole bunch of tremendous dining options.
You can sit at the bar, hit the walk-up counter, or kick it closer to the walls which feature a gazillion different photos and images for you to check out while waiting for a pie.
At Empire Slice House you can go by the slice or get an entire pizza. Don't be afraid to mix up the classics and special pies – they have the best pizza names that I've seen – because you'll be rewarded with interesting flavors and offerings you'll happily come back to.
Best Pie: Figgy Stardust (Basil & almond pesto, marinated mozzarella, roasted chicken, baked ham, figs)
Oregon
Scotty's Pizza Parlor
2128 SE Division St, Portland, OR 97202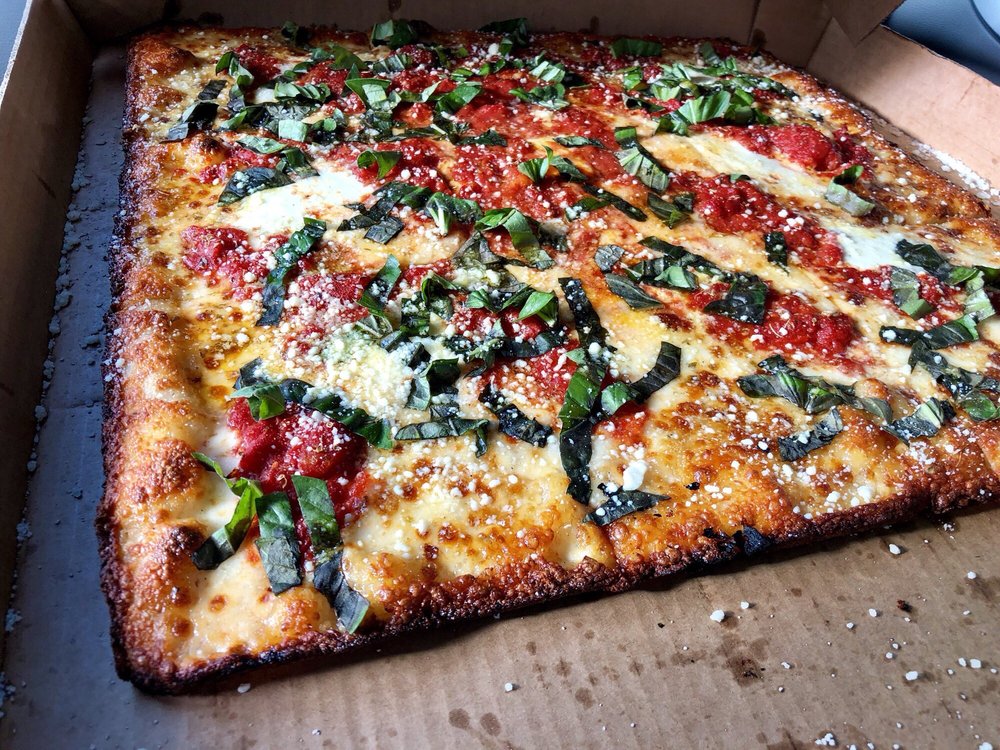 Scotty's Pizza Parlor offers 18-inch round pies and the Sicilian rectangular variety (16-inch) with a nice touch of sourdough flavor.
They make simply crafted, thin crust pizzas made with great care and a commitment to locally sourced produce.
Scotty's usually uses a two-part baking process, but if you are strapped for time, there is the option to grab a par-baked pizza, which means you can finish it off yourself at home.
Best Pie: The #1 (tomato sauce, fresh and aged mozzarella, pecorino romano, fresh basil, shaved parm, & olive oil)
Rhode Island
Pizza J
967 Westminster St, Providence, RI 02903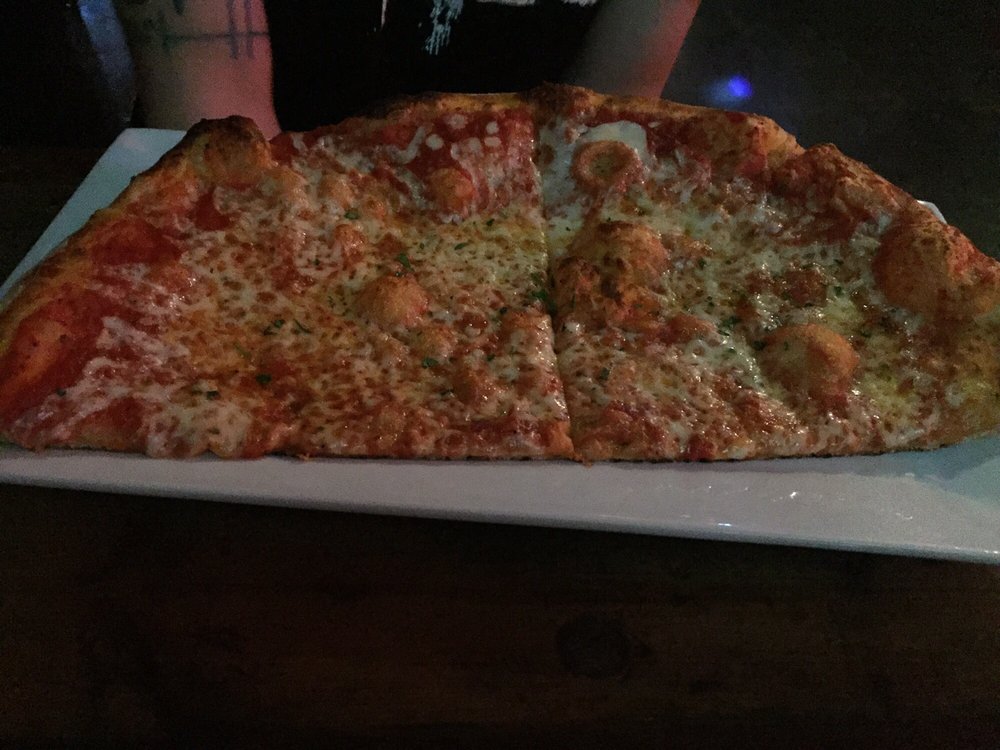 One of the most popular Providence pizza joints, Pizza J offers a chilled and friendly vibe and some great tasting pizzas for carnivores, veggie lovers, and vegans alike.
Brick kiln-fired, Pizza J is always bustling. Quality small eats for you to have with your pizza include top drawer garlic fries and calamari.
Best Pie: Neurotic Sasquatch (grilled chicken, whiskey-cola bbq sauce, shaved red onion, mozzarella, scallions
South Carolina
D'Allesandro's Pizza
229 St Philip St, Charleston, SC 29403,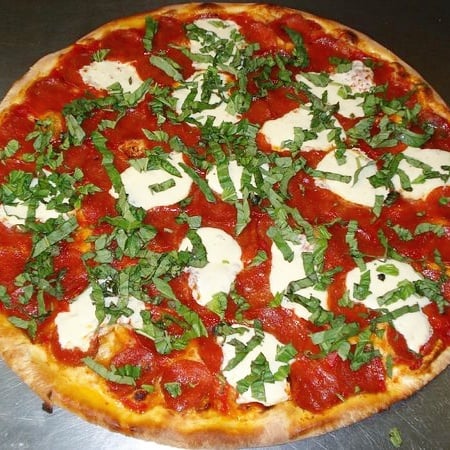 This Charleston favorite (also in Greenville and Summerville ) offers a great variety of tasty pies in a small, friendly, and relaxed atmosphere.
'Dal's' offers unpretentious pizza in the thin crust style made with quality ingredients, a range of fresh toppings, and hand-tossed bases.
They offer a range of creative options on 10, 12, and 16-inch bases including vegan-friendly white pies (no cheese) and other cool vegetarian options.
Best Pie: Beetnick (olive oil and garlic base, mozzarella, goat cheese, bacon, golden beets, rosemary)
South Dakota
Lintz Brothers Pizza
14287 SD-36, Hermosa, SD 57744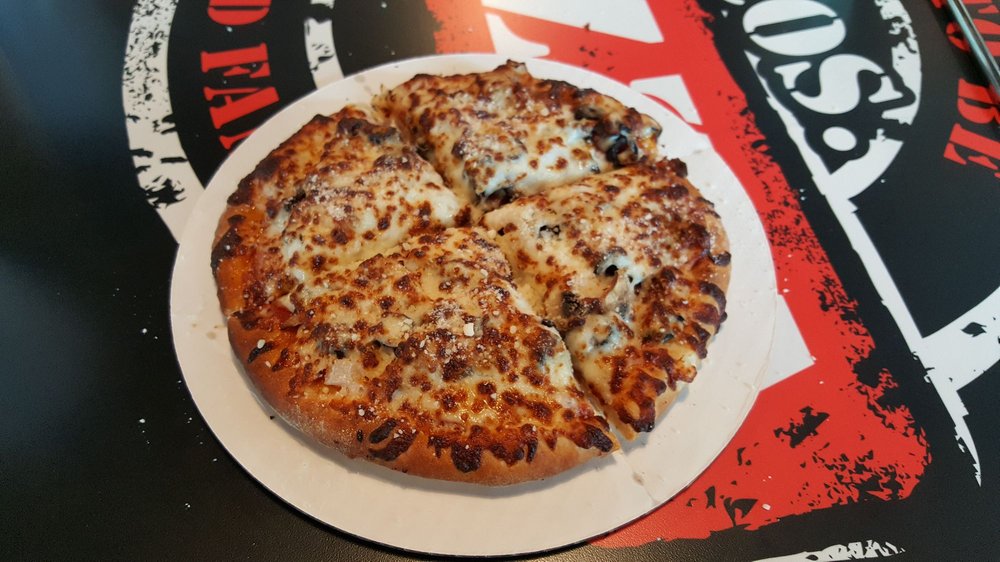 At first blush, you wouldn't think Hermosa, South Dakota would be a hot bed of pizza innovation, but thanks to the pizza-loving Lintz brothers, you can get a tasty new spin on the art of pizza making.
While they offer the classics on hand tossed crusts as well as the chance to make your own, Lintz Brothers stand out for their specialty pizzas that mix inspiration from a range of flavors and cuisines.
Best Pie: Flaming German Samoan (Canadian bacon, sausage, pineapple, sauerkraut, and jalapeños)
Tennessee
Five Points Pizza
1012 Woodland St, Nashville, TN 37206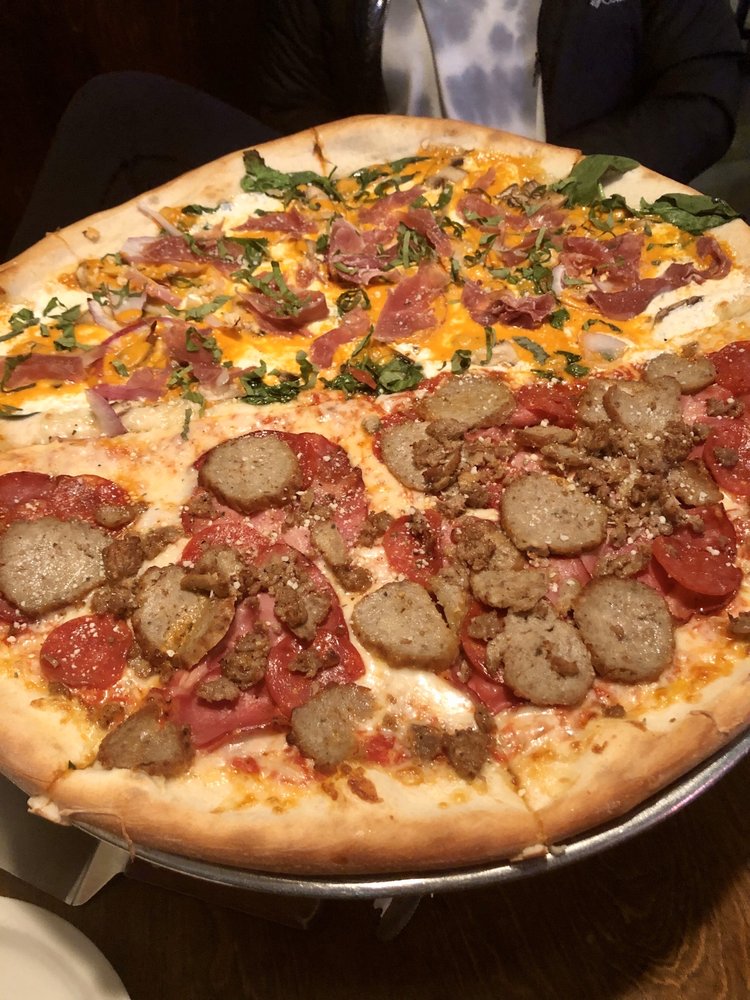 Five Points has two locations, East and West, but you'll find quality pies made to order or by the slice.
If you're eating in, there are no reservations, just first come first served (which I really like for grabbing pizza, as you can always get take out and have a similar experience)
I like their willingness to mix up sauce flavors (habanero cream sauce sounds magic), and the Five Points slice of the day option – which comes straight up on a paper plate with no fuss or substitution!
Best Pie: Vodka Sauce Pie (house-made vodka tomato cream sauce, prosciutto di Parma, spinach, mushrooms, red onions, fresh basil, minced garlic, fresh mozzarella
Texas
Frank's Pizza
417 Travis St, Houston, TX 77002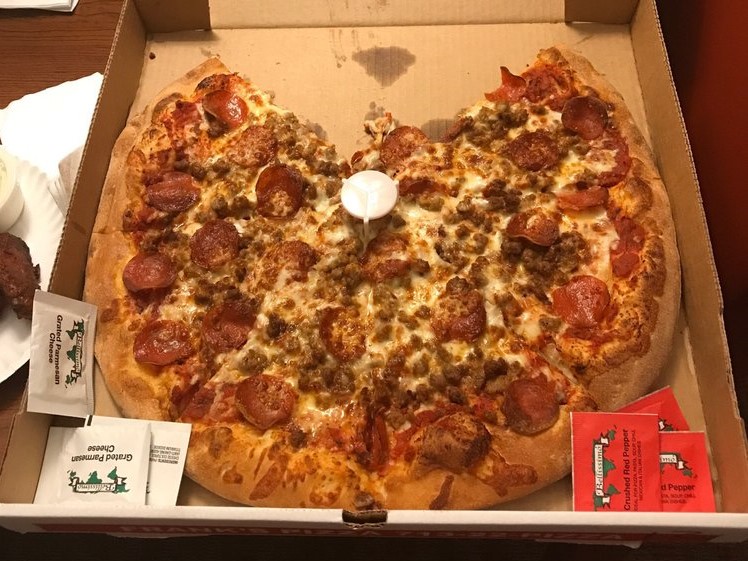 Massive-sized NY slices and whole pies go well with the "it's bigger in Texas" ideal at this famous Houston downtown pizza joint.
Frank's Pizza offers tasty affordability with late night options, in addition to a small dining space that's always bustling, friendly, and fast.
Frank's is a great place to load up before a big night out or to hang with your friends and catch up.
Best Pie: Chicken Fiesta (fajita chicken morsels, jalapeños, queso, black olives, mushrooms, onions, tomatoes, green peppers, and pesto sauce)
Utah
Rusted Sun Pizzeria
2010 S State St Salt Lake City, UT 84115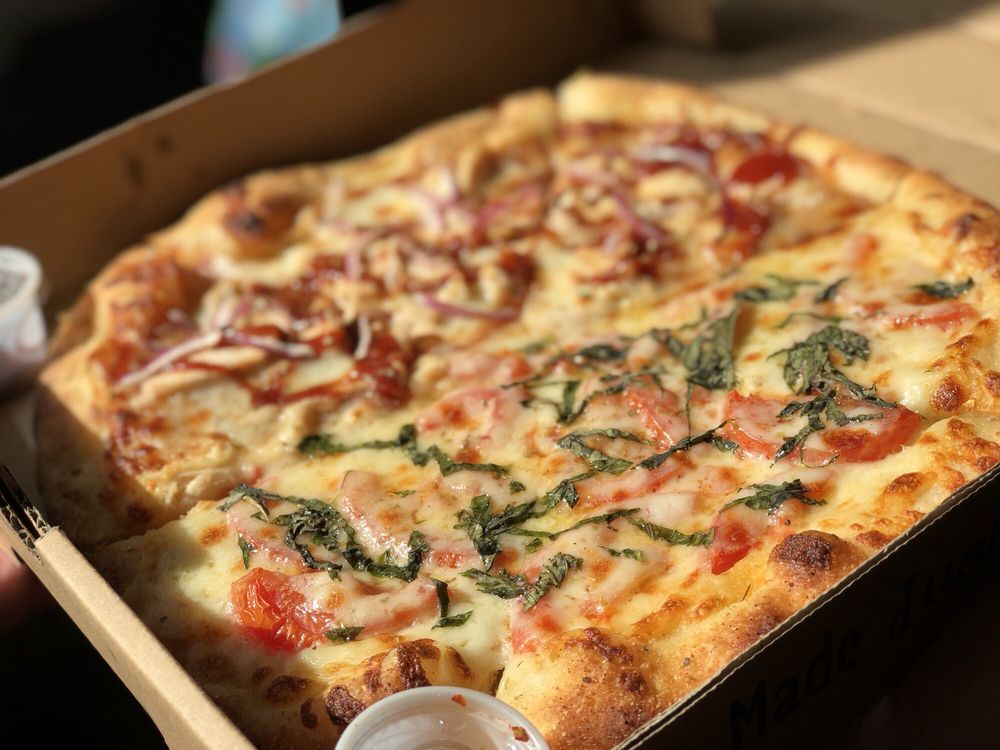 Rusted Sun Pizzeria offers tremendous pizza, calzones, and pasta, in a small but always busy dining environment.
The handmade crust texture for their pies is fantastic – more traditional than crunchy wood fire style – and the toppings are plentiful without being overbearing.
Many of the patrons recommend getting a half and half 16-inch pizza to share with a salad and cool drink.
Best Pie: Round Up (bbq sauce, mozzarella, chicken, bacon, red onion, red pepper, drizzled with buffalo sauce)
Vermont
Folino's Wood Fired Pizza
6305 Shelburne Rd, Shelburne, VT 05482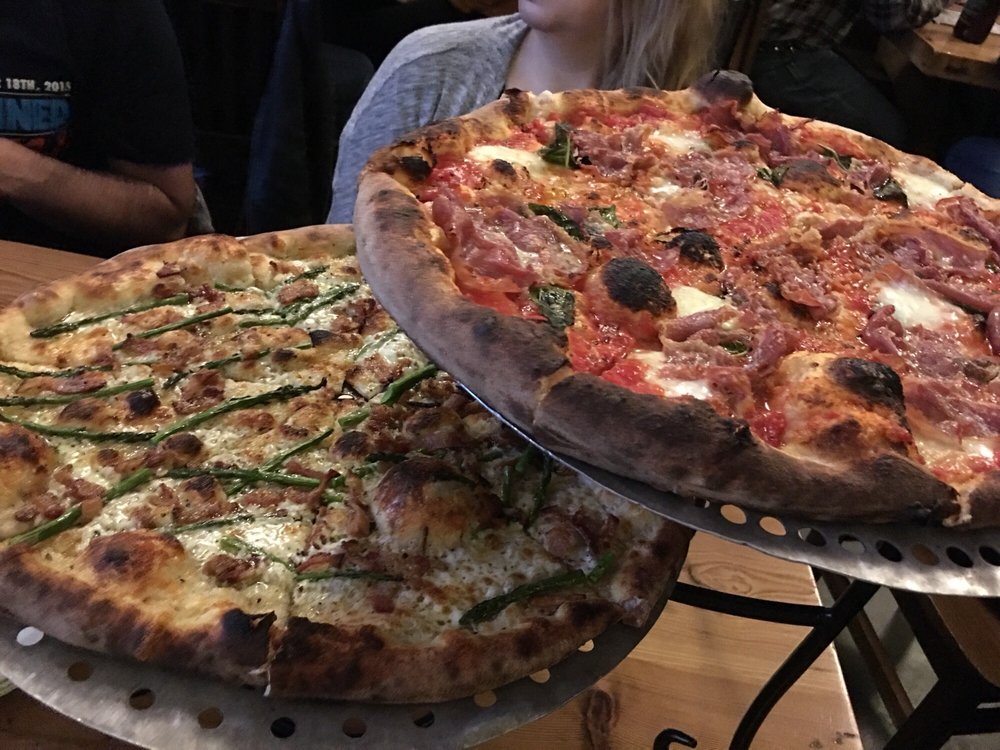 Conveniently found close by the Fiddlehead Brewery, Folino's Shelburne location is a friendly counter-service pizza joint (they also have a Burlington location).
Folino's offers simple but tasty wood fired pies and cold frosty mugs for you to bring your own brews.
The sauce and crusts are near perfect, complementing the Neapolitan 'apizza' style premium ingredients. If you don't want any char, make sure to order your pie blonde.
Best Pie: Fire Kracker Shrimp (olive oil base, three cheese blend, garlic, arugula, red onions, chipotle marinated shrimp chipotle aioli)
Virginia
Pupatella
5104 Wilson Blvd, Arlington, VA 22205,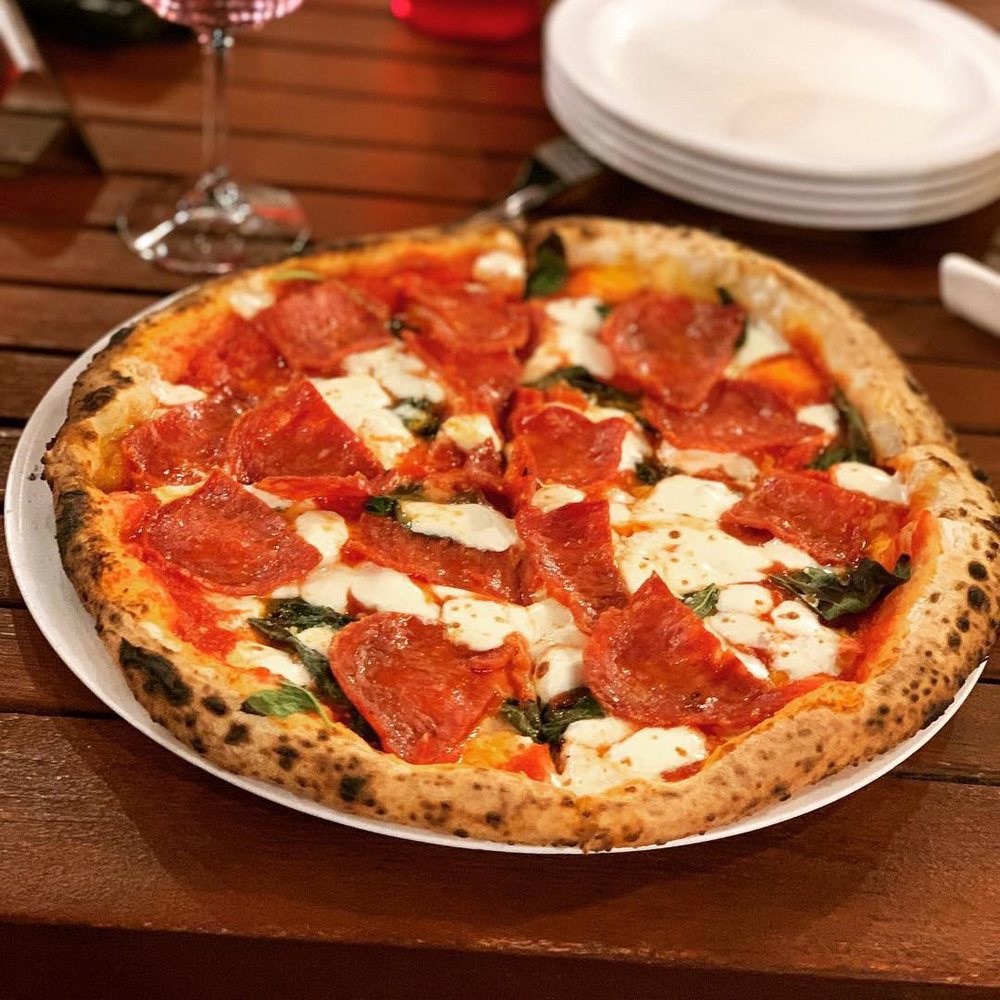 Now in four Virginia locations, (and one in Washington D.C.) Pupatella has made a name for itself as the place for Virginians to enjoy the best Neapolitan-style pizza.
The solo pizzas (about 11 inches) are made with fresh, tasty ingredients. There's an extensive selection of white and red pies, plus cool samplers, salads, and pasta to try out as well.
Pupatella is sleek, modern, and highly enjoyable for those looking to share a modern pizza experience.
Best Pie: Capricciosa (sautéed mushrooms, marinated artichokes, prosciutto & fresh mozzarella)
Washington
Pizzeria Pulcinella
10003 Rainier Ave S, Seattle, WA 98178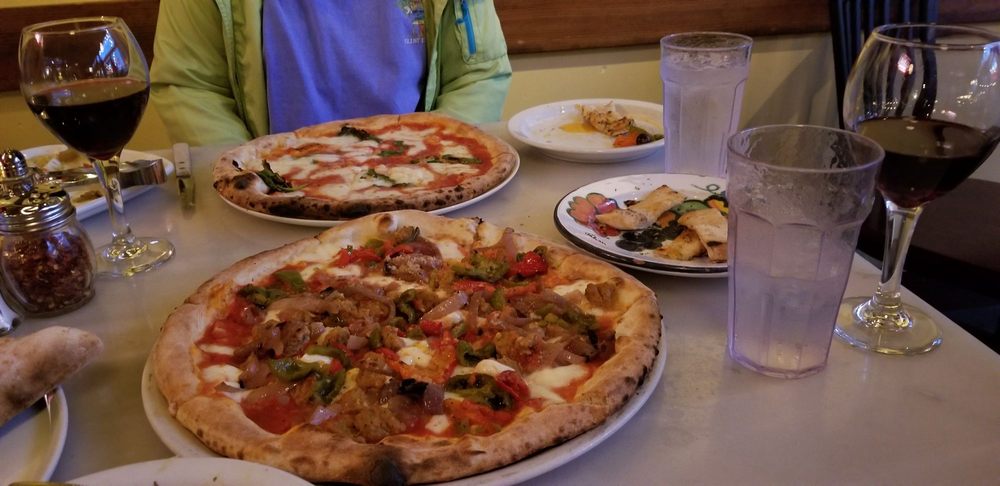 According to the restaurant's menu, "Pulcinella (pul chee'nel la) is a character from the 17th century Italian Commedia dell'Arte that is widely recognized as the symbol of Naples."
A great restaurant and quaint building help make Pizzeria Pulcinella a relaxed, friendly place to enjoy Neapolitan pizza made with simplicity – there's a good range of fresh, quality ingredients.
There are antipasto plates, calzones, and popular pasta dishes available if you're not in the mood for a slice, and be sure to try something from the dessert list!
Best Pie: Giovanni (roasted pepper & pesto sauce, mozzarella, pepperoni, sausage, onion, crimini mushrooms, fresh tomatoes)
West Virginia
Vito's Pizza
104 Park Blvd, Clarksburg, WV 26301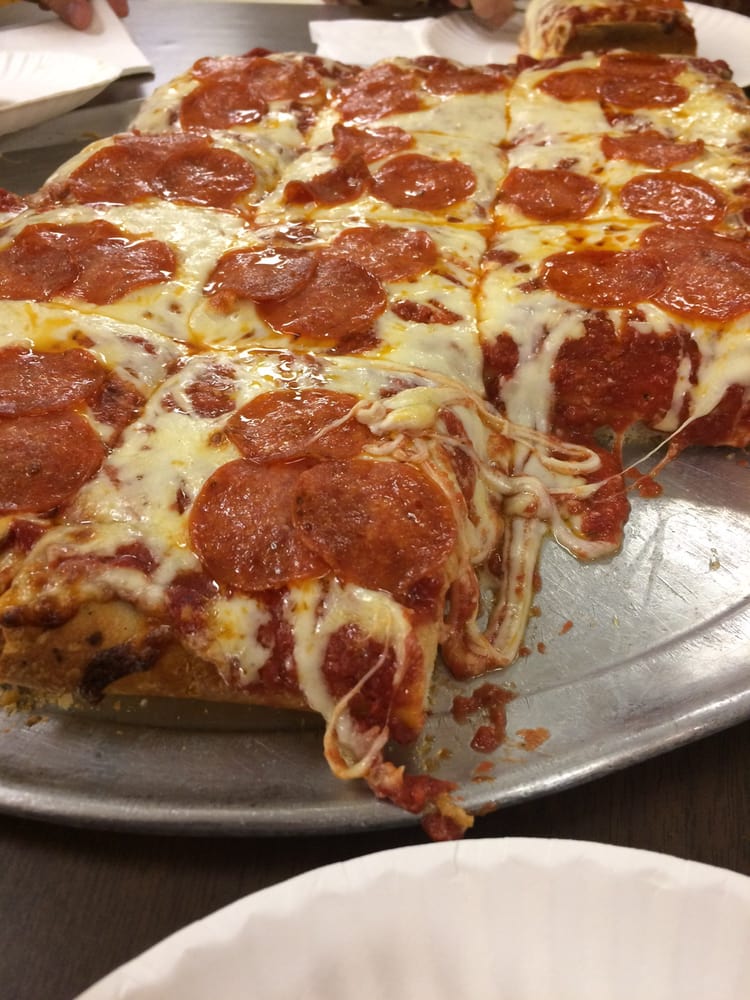 A family-run pizza joint and restaurant – plus hoagies and subs – in Clarksburg, Vito's does Italian food with no messing about.
You can get the thin crust Neapolitan crusts – Vito's also sells them by the slice – or go for the old school Sicilian square pies which are thicker.
The pizzas and ravioli are tasty, there's plenty of cheese and ingredients, and the customer service is exceptional.
Best Pie: Vito's Special (pepperoni, sausage, green peppers, mushrooms, onions, olives, and bacon)
Wisconsin
Wy'east Pizza
5601 W Vliet St, Milwaukee, WI 53208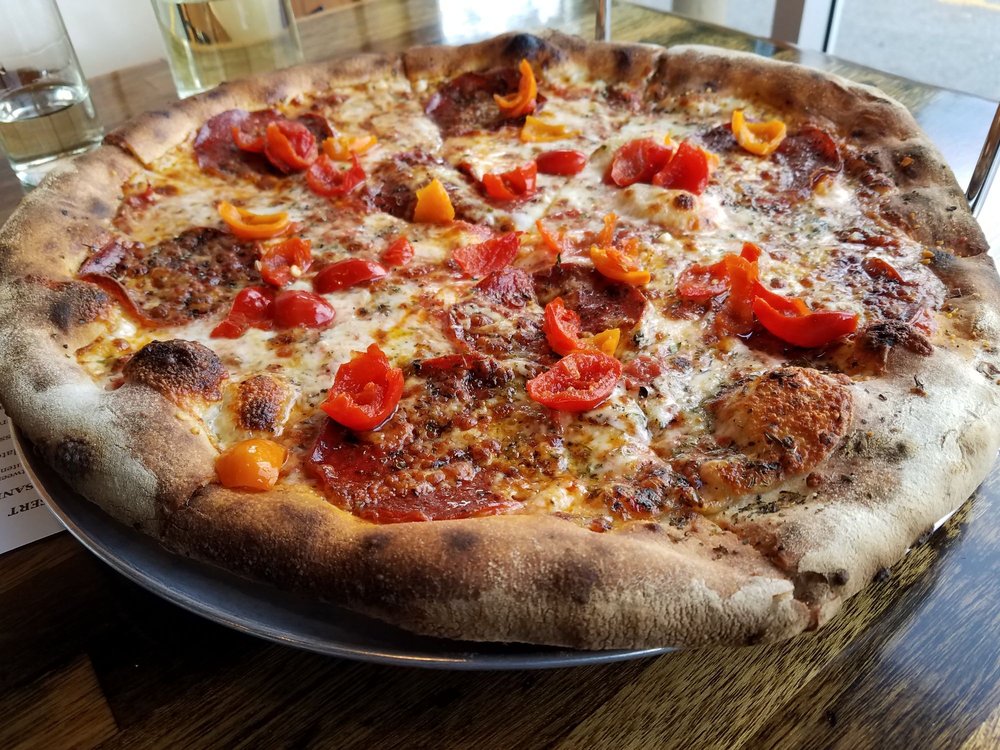 Brilliant wood fired pizzas cooked up in a massive yet beautiful kiln, Wy'east Pizza makes great pies with a focus on making the best, bread-like crusts, hand-stretched and quick-fired for maximum enjoyment.
Wy'east Pizza offers the classics, but they also have whites pies, seasonal specialties, and traditional toppings with a twist that are great for testing out your tastebuds.
I recommend a mix of the old school and the new, plus a side of garlic sourdough focaccia to really carb up your evening!
Best Pie: Hot Marmot (pepperoni, fresh garlic, Mama Lil's sweet hot peppers)
Wyoming
Pizza Carrello
601 S Douglas Hwy, Gillette, WY 82716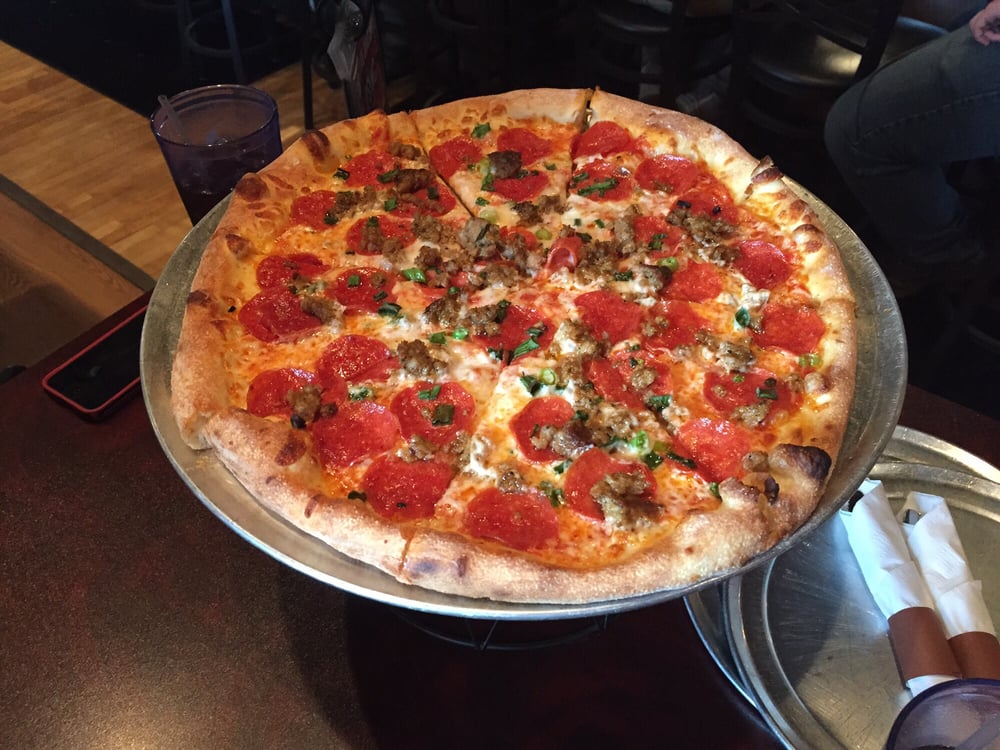 A quality wood fired pizza restaurant that would be at home in New Jersey or Naples, Pizza Carello emphasizes creativity and quality, sustainably sourced ingredients (right down to their hard wood).
Pizza Carello offers a wide variety of pizzas – the menu changes seasonally – daily handmade pasta, salads, and wraps in an environment that suits the relaxed nature of Wyoming's wide open spaces.
Get yourself pies to share, and make sure you grab a raspberry dream dessert pizza to finish off the experience!
Best Pie: Fajita Pizza (Wood-fired chicken (or steak), cumin garlic lime sauce, mozzarella, peppers, red onions, jalapeños, chili pepper, cilantro, and lime)
SKM: below-content placeholder
Whizzco for 12T