I don't know about you, but I'm always on the lookout for tips and tricks to help me stay organized. Pinterest is usually my go-to for the latest and greatest hacks, but TikTok is becoming a close second for finding little treasures and hacks. If you're unfamiliar, TikTok is an app where users can share short video clips. Lots of TikTok users have taken to filming helpful tips and hacks for all sorts of things. Today I'm going to show you a few of my favorites!
Cord Organization Hack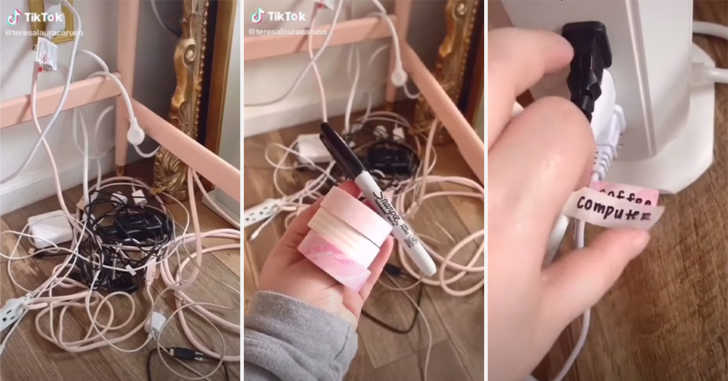 Tangled, messy cords are one of my biggest pet peeves, especially if I need to unplug something and all the cords are black or white. Inevitably, I end up unplugging everything else first before finally finding the right cord. Not to mention, tangled cords are a fire hazard and not very fun to look at.
With this super simple hack, all you need is washi tape (or masking tape) and a sharpie. Simply make a little tag with the tape to label each cord. This will hopefully help you separate each cord and keep them better organized.
Clothes Storage Hack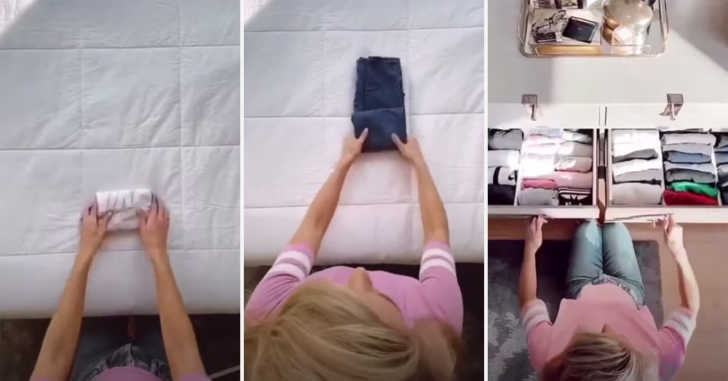 Whether you live in a small space or you just don't have enough space for the clothes you got on your recent shopping trip, this little hack will sure come in handy. It's also great for traveling because you can pack a lot in a small space!
There are a few different methods for folding individual pieces of clothing, but the basic idea is to roll your clothes instead of folding them. For t-shirts, fold in the sides, tuck in the sleeves, then roll it up. For jeans, fold in half length-wise, tuck in the triangle part where the inseams meet, then roll it up. You get the idea. As you can see, you can fit a whole heck of a lot of clothes in a tight space!
Shower Organization Hack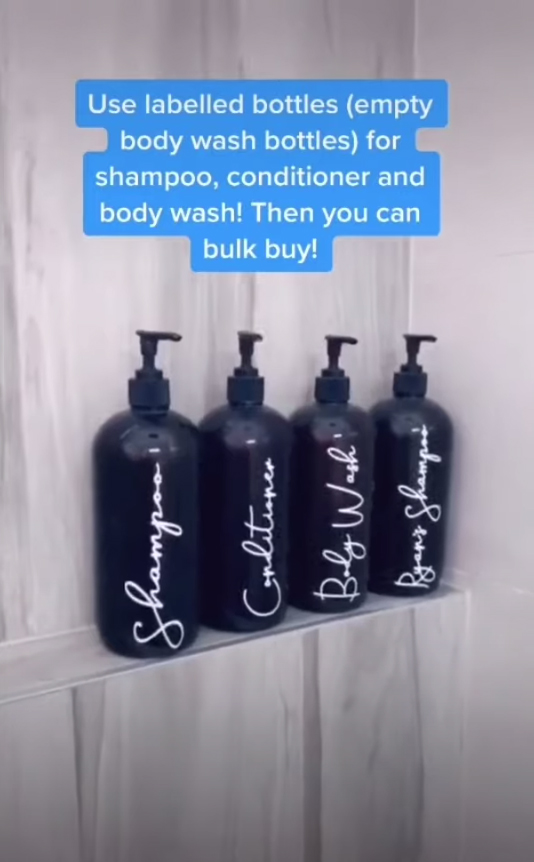 This is such a simple yet effective idea. Grab some plastic bottles with a pump attached (or reuse old ones). Label each bottle with a sharpie and set them on a shelf in your shower. You may need to find a shelf, but they are relatively inexpensive and easy to find in most stores and online. Once your bottles are set up, simply fill with your favorite shampoo, conditioner, body wash, etc. Not only does this look nice and organized, but you can save money by buying shampoo & conditioner in bulk.
Closet Organization Tips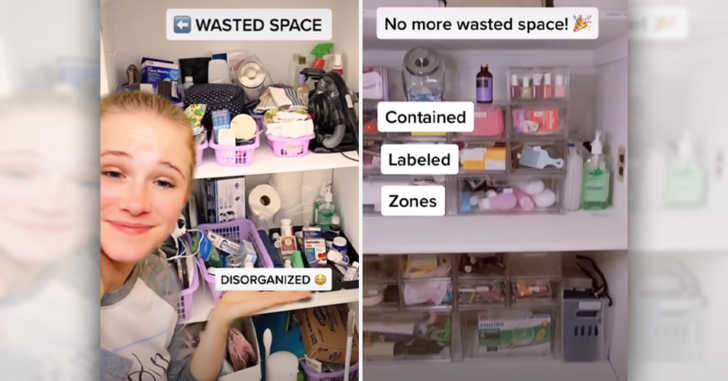 Oh boy, does the photo on the left ever look familiar! I'm willing to bet most of us have a closet or two that are in a similar state of disarray. Good thing there are a few easy ways to get everything under control.
Start by emptying out the closet. All of it. Every. Single. Thing. Sort the mess of things by category. As you're sorting and grouping, be on the lookout for items you no longer use or products that are past their expiration date.
Then, measure your space. Once you have the correct measurements, you can shop around for organizational bins – but only after you've measured! There's nothing more disappointing than finding out your purchases don't fit the space. Plus, you'll want to be able to maximize both the height and depth of the space.
Something to keep in mind when shopping for bins is how many things in each category you have. For example, if you don't have a lot of nail polish, be on the lookout for a small bin or basket instead of a big tub for "beauty supplies." See the rest of the tips here!
SKM: below-content placeholder
Whizzco for 12T