No, really. The best ever.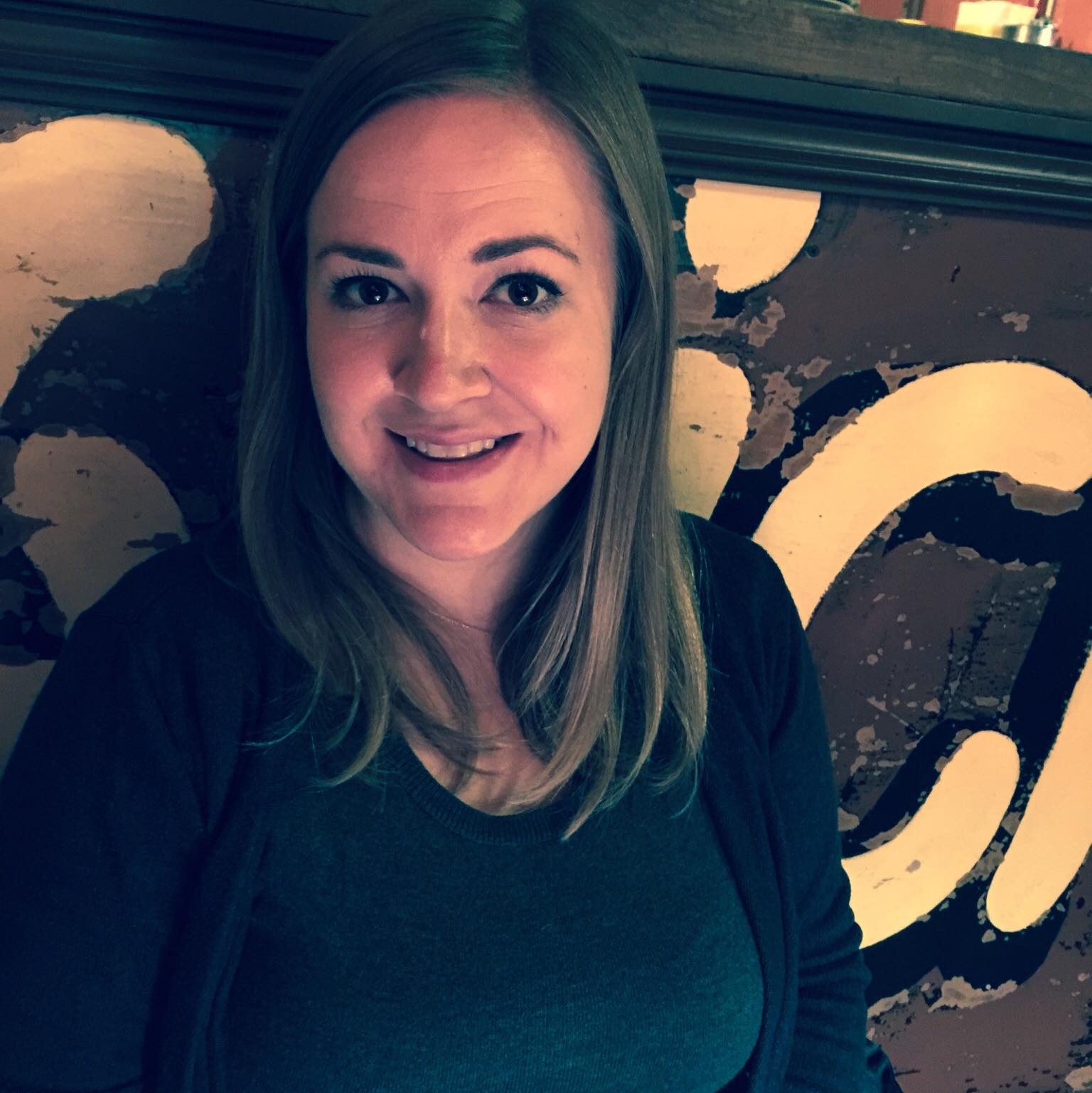 Kristy Norrell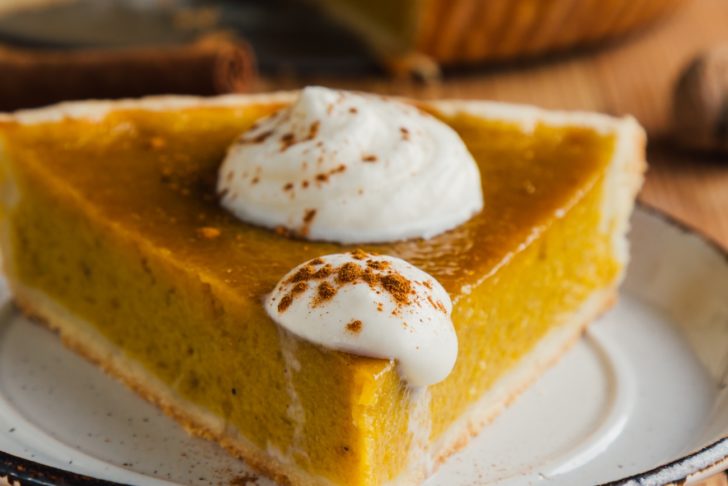 Most of us only eat pumpkin pie once, maybe twice a year. (It's sad but true.) So here's what we're thinking: if you're going to have a certain treat only twice in 365 days, don't you want it to be the very best that it can be?
Glad we're in agreement.
Our Best Ever Pumpkin Pie answers that call. It's the ideal pumpkin pie – smooth and custardy and bursting with pumpkin and spice. It's so perfectly pumpkin that it satisfies those autumnal cravings if you only eat it once at Thanksgiving, but its rich flavor is enough that you'll start thinking about it as soon as the dog days of summer see their way out. It's that good.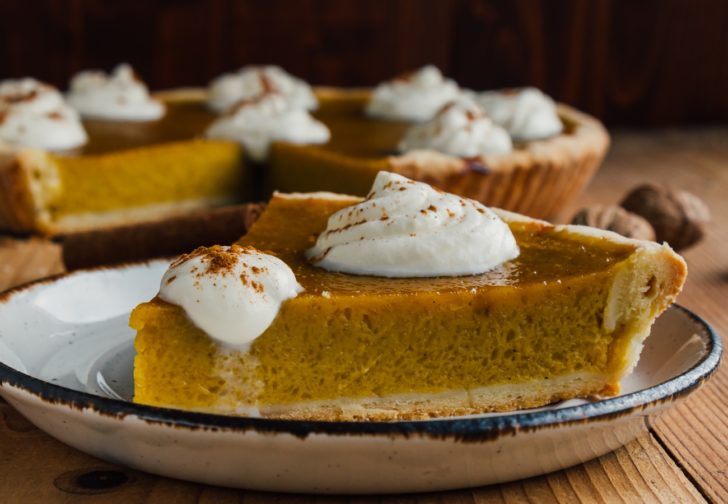 It's not tricky, it's not fancy, but there are a couple of keys to success. The first is that we like to spice our own pie, rather than relying on a pre-made 'pumpkin pie spice' mix. This allows customization when needed, and it also somehow tastes fresher. But mostly, we like a little more cinnamon and a little more nutmeg (and the opportunity to grate it fresh) than comes standard in the jar.
The second is to use heavy whipping cream rather than evaporated milk. It's subtle, but the end result is a cleaner taste with a rich, creamy bite. We use standard canned pumpkin in our pie, but if you're up for making your own pumpkin puree, by all means, go for it. You'll need two cups of puree. Whatever you do, just don't use canned pumpkin pie filling.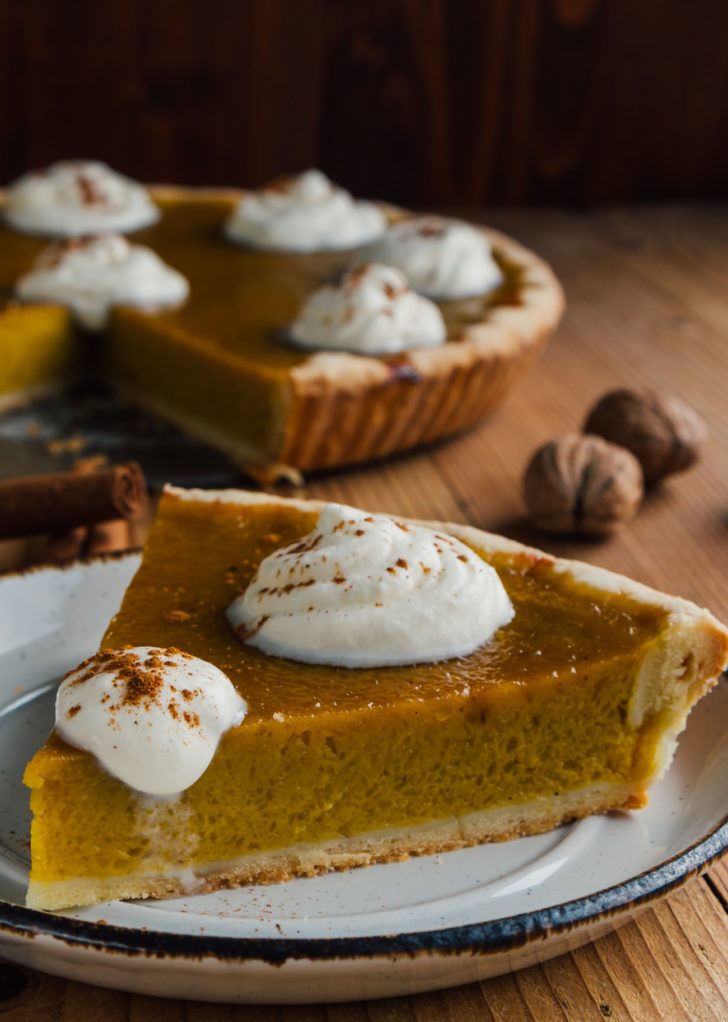 Two little tablespoons of maple syrup and a little bit of dark brown sugar bring a unique note into the background. Again, it's a subtle change, but we now find it missing in every pumpkin pie we taste without it. And it probably goes without saying – but splurge for the real stuff in this instance and leave the Mrs. Butterworth's in the back of the fridge.
Bake the pie until it's just set, and a knife inserted into the center comes out wet, but clean, and you'll be good to go. Let it cool until it's at room temperature and serve it as is or chill it first in the fridge. We like to have a room temperature slice after dinner, followed by a chilled one for breakfast, both served with plenty of whipped cream. (Because if we're only doing this once a year, we might as well do it up.)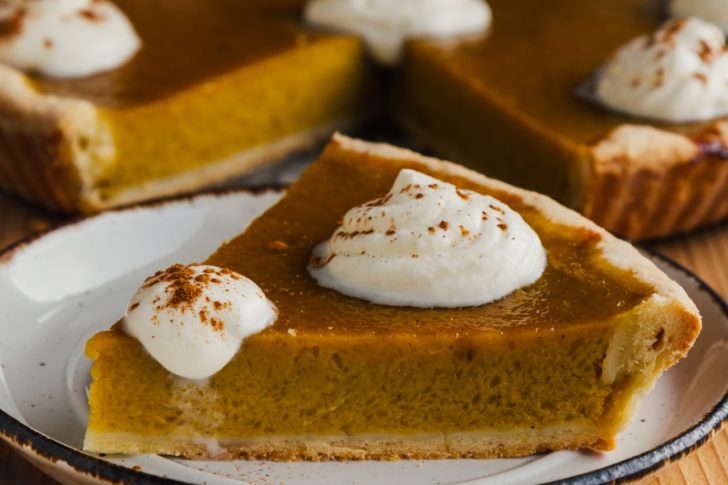 (Oh, and, your favorite pie dough recipe will do just fine, but here's our latest favorite: Cream Cheese Pie Crust).
Pumpkin Pie
Ingredients
1 9-inch pie crust
3 large eggs
1/2 cup dark brown sugar, packed
1/3 cup granulated sugar
2 tablespoons real maple syrup
1/2 teaspoon salt
2 teaspoons cinnamon
1/2 teaspoon ginger
1/2 teaspoon nutmeg
1/4 teaspoon cloves
1 (15 oz) can pumpkin puree
1 cup heavy whipping cream
Preparation
Preheat oven to 400°F and line a 9-inch pie dish with the pie crust. Set aside.
In a large bowl, beat the eggs. Add in the brown and white sugar, maple syrup, salt, cinnamon, ginger, cloves, and nutmeg, and beat until well combined.
Stir in the pumpkin puree, followed by the cream. Beat until everything is well incorporated.
Pour into unbaked pie shell and bake for 10 minutes. Reduce heat to 350°F and bake until a knife inserted into the center comes out wet but fairly clean, about 35-40 minutes. Cool to room temperature, and enjoy!
Adapted from I Wash You Dry.
SKM: below-content placeholder
Whizzco for 12T