A salty and sweet combo that can't be beat.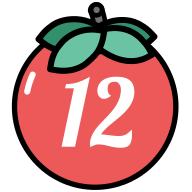 Victoria Brittain

When you share or print a 12 Tomatoes recipe,
you're making mealtime meaningful.
100%
of the Share to Care sponsor fees fund meals for families in need.
Learn More
CLICK ANY LINK BELOW TO JOIN OUR CAUSE!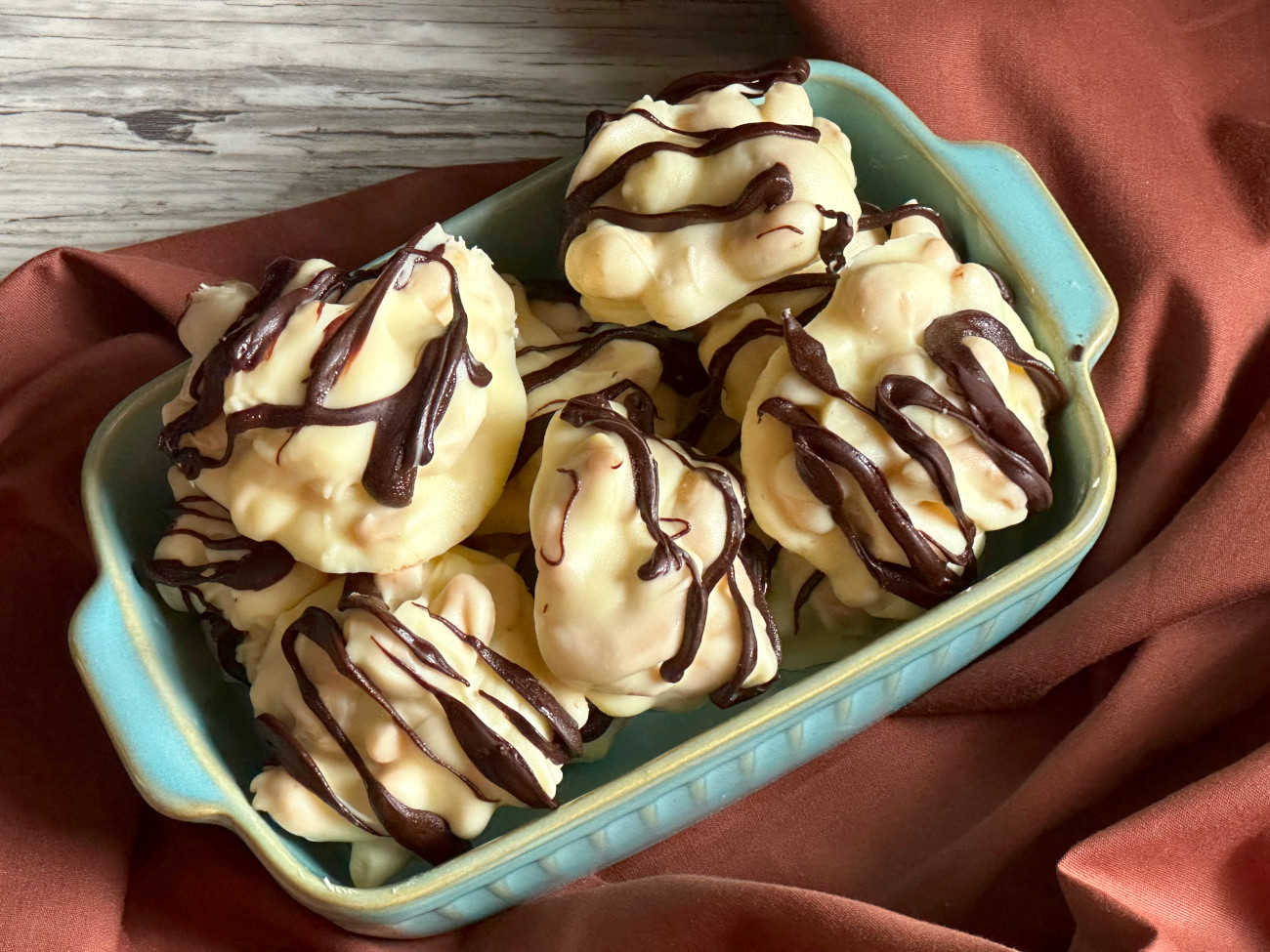 In the depths of the town's low-ceilinged general store, the small barrel bins of candy housed the sweet relief after a long day of school and an even longer and dreaded evening of homework. There were sour and sweet gummies, chewy taffies, and meltaway squares of fudge, but nothing was quite like the intriguingly named Amish Zebra Cashew Clusters. For the briefest moment, you could slowly savor your time between school and homework by eating one of these clusters. Maybe you're not a child anymore, but we need some of these candies to get that feeling again.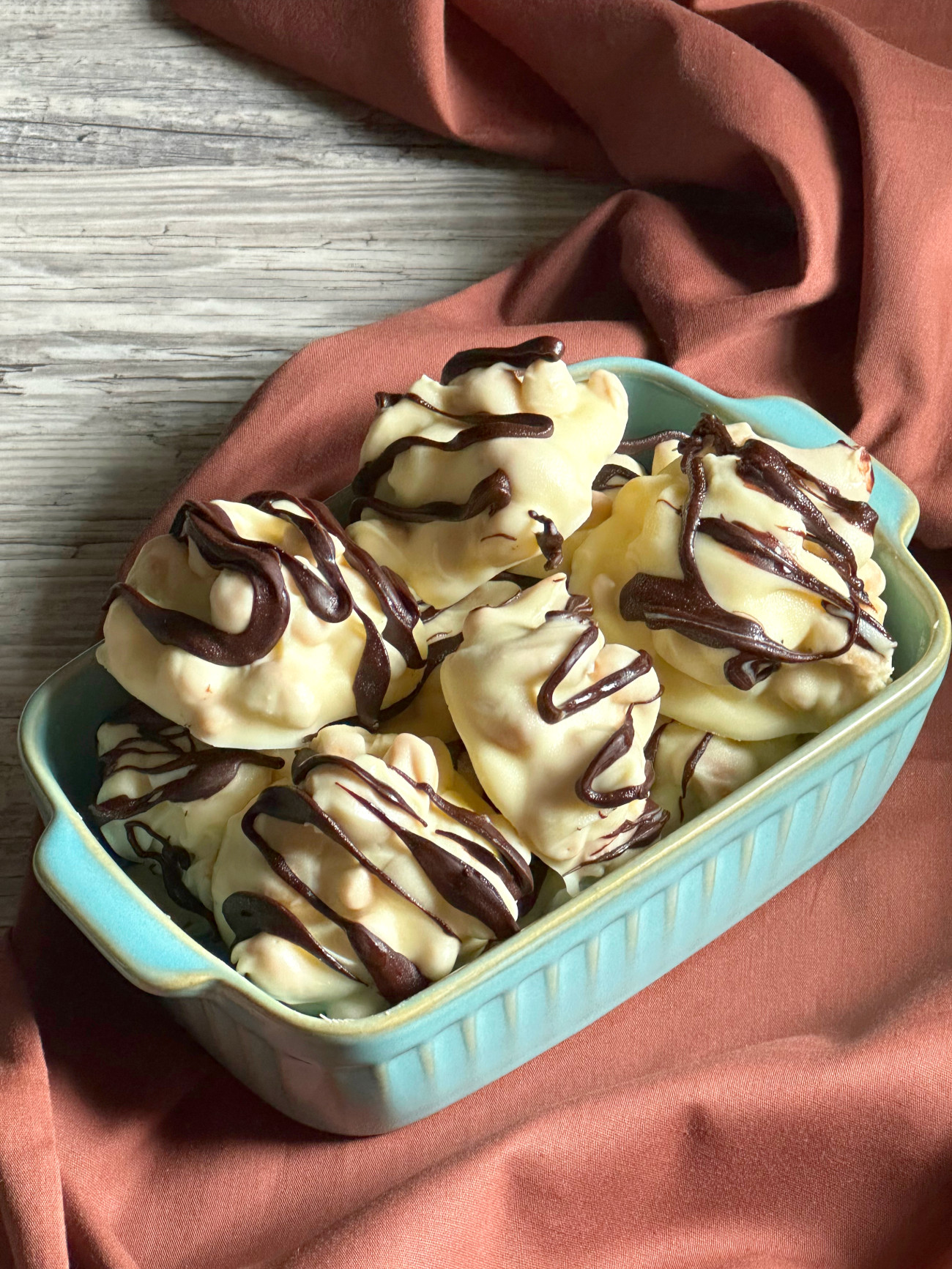 Why these candies are called Amish Zebra Cashew Clusters is probably based on their appearance. Simple answer. Why are they Amish? Well, it's hard to say, but the closer you get to Pennsylvania, the more you see these clusters. A mound of cashews mixed with white chocolate is garnished with stripes of chocolate, making for a palatable balance of sweet and chocolatey richness. Salted roasted cashews add the well-needed balance to the chocolate, meaning the salty-sweet combination is at peak perfection here. These clusters are perfect candies to not just eat, but also give. Amish Zebra Cashew Clusters would be great additions to a holiday cookie tin or a gift for the host or hostess of a party.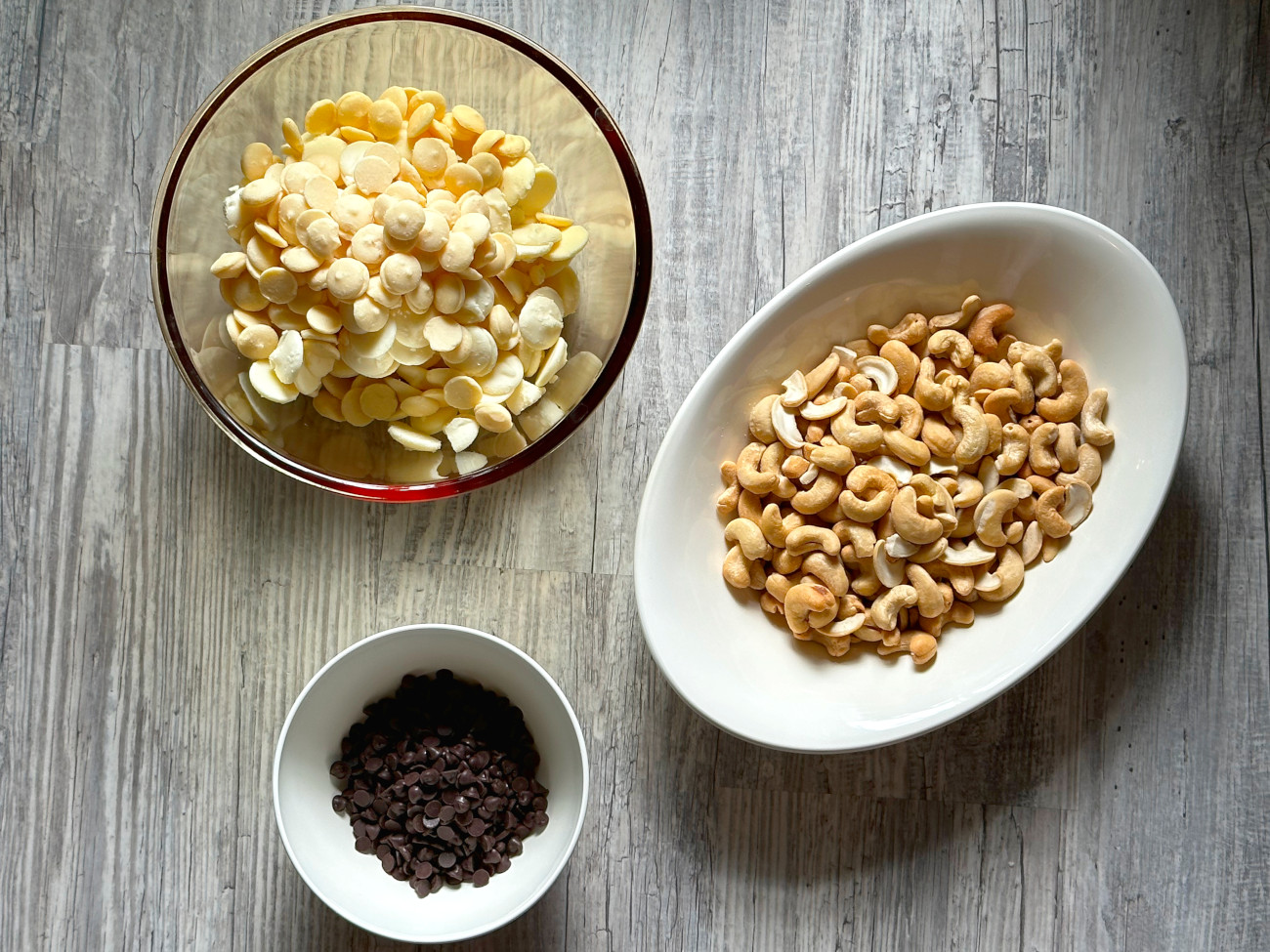 This recipe is the simplest recipe you'll find for a dessert. There are cashews, white-coating chocolate, and milk chocolate chips.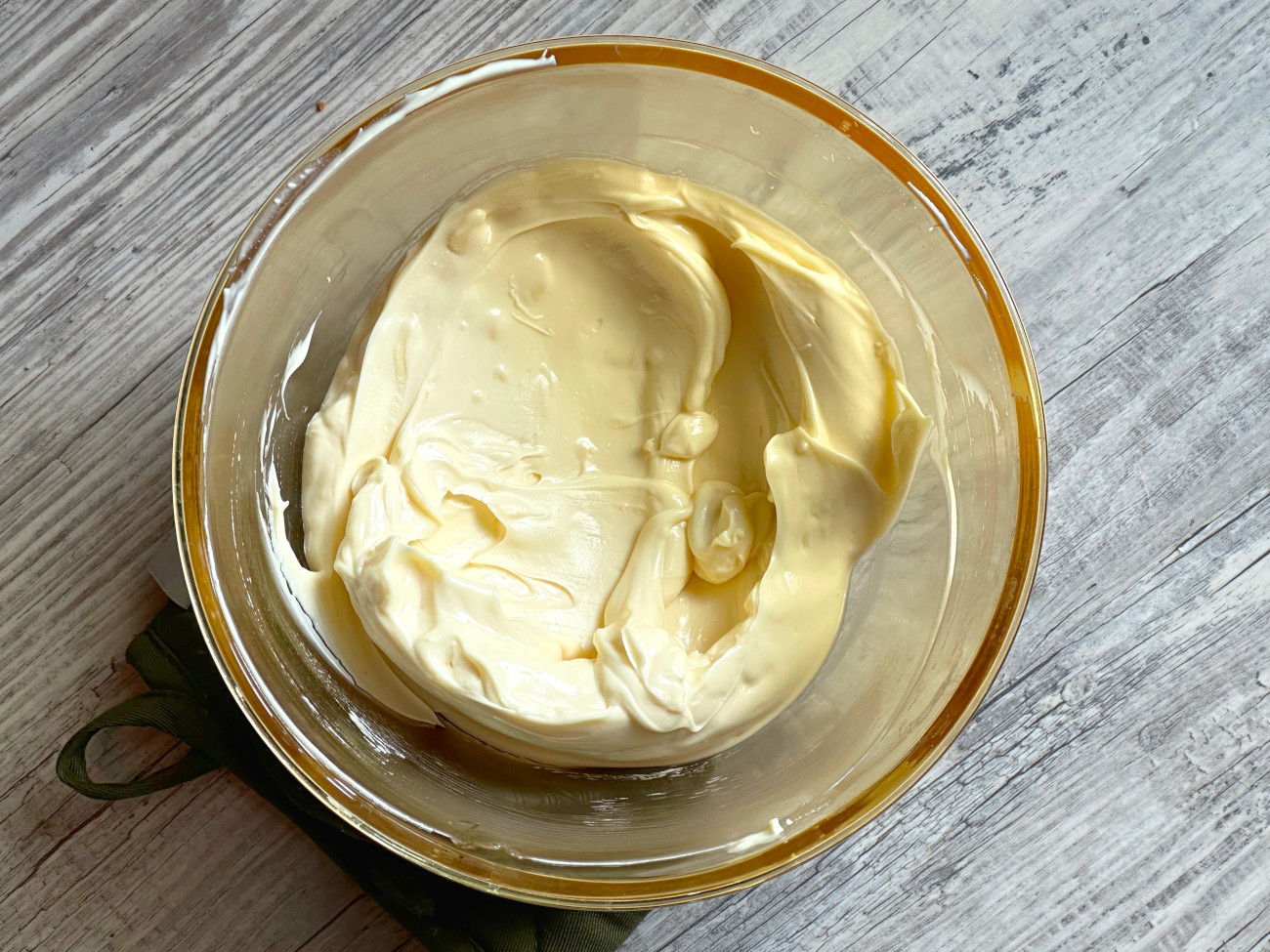 Start by melting the white chocolate. If you're afraid of the white chocolate seizing up in the microwave, use coating chocolate or almond bark, which is a super forgiving ingredient to work with. Either way, you should melt your white chocolate or almond bark in 25 to 30-second intervals, stirring each time. The heat from the bowl and the stirring will evenly melt the chocolate.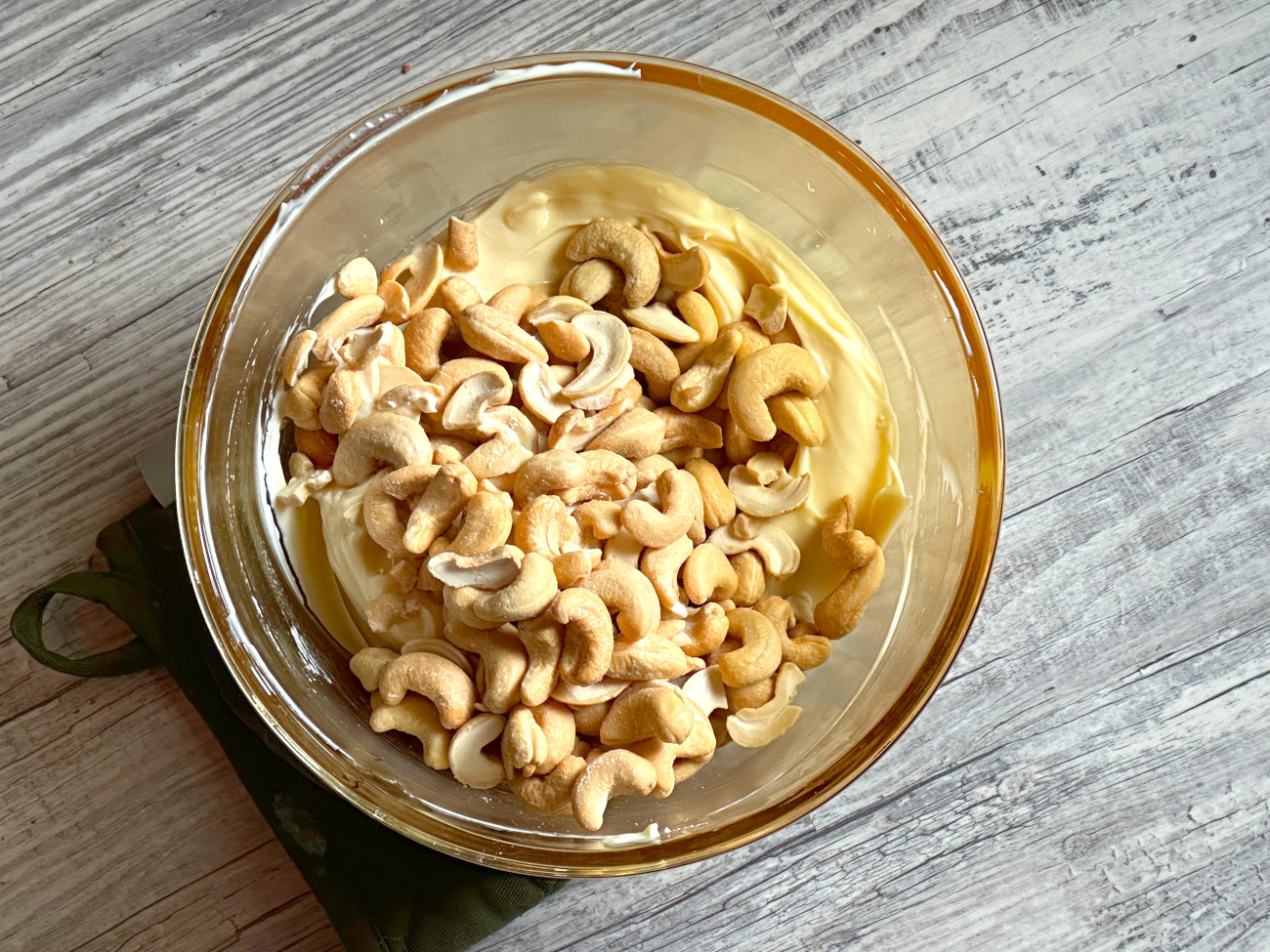 Next, fold in the cashews. I opted to use salted roasted peanuts as they have a more strong, nutty flavor, and the bit of salt counters the sweetness of the chocolate.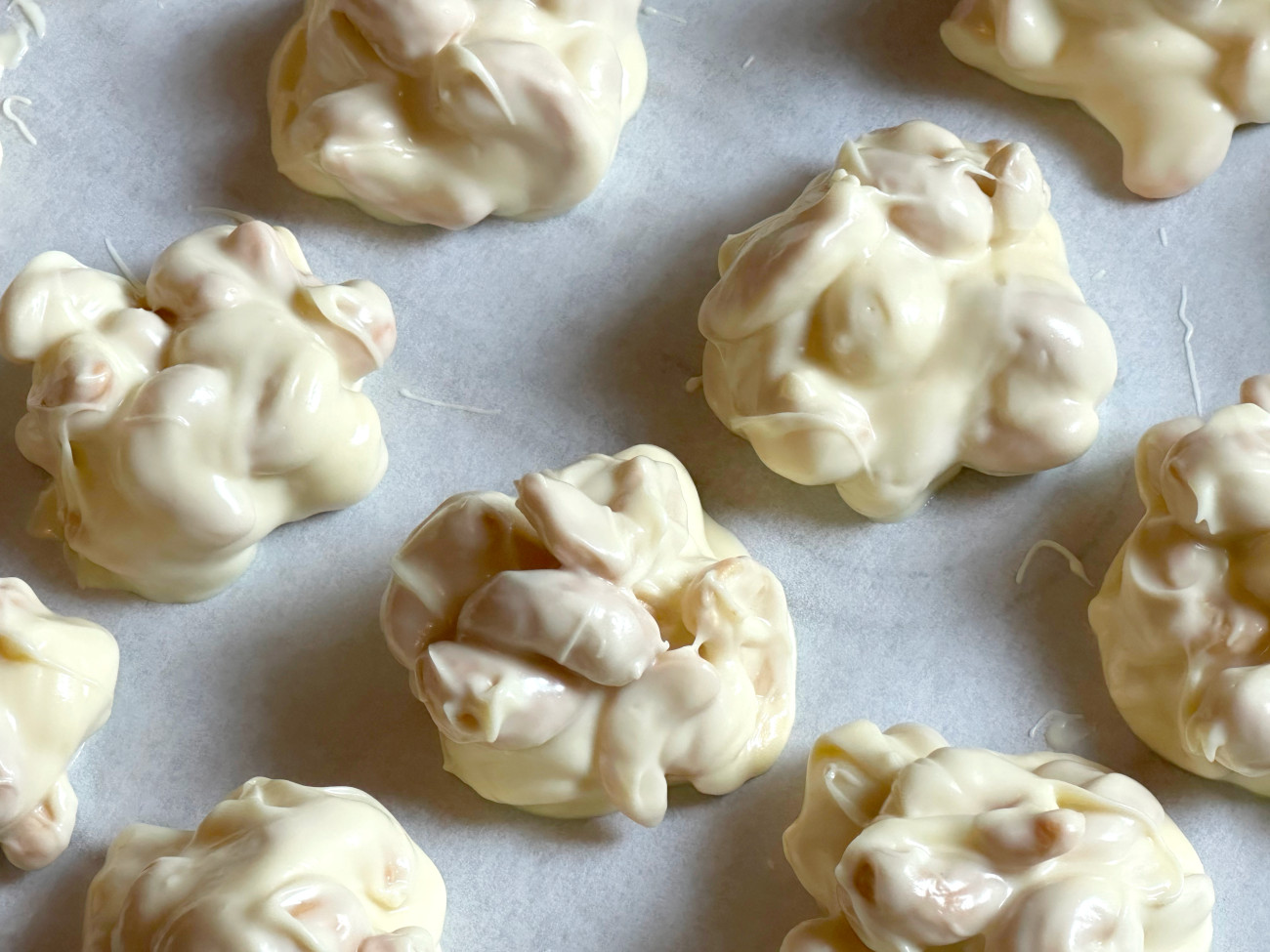 No fancy equipment here, simply use a large soup spoon to portion out the clusters onto a parchment-lined baking sheet. If the shape looks lumpy, it's perfectly fine, after you scoop out the cluster you can adjust the shape afterward. Here, this recipe made sixteen large clusters, but if you wanted a smaller bite, you could easily reduce the size.
You'll want to let the clusters set up a bit before doing the final chocolate drizzle.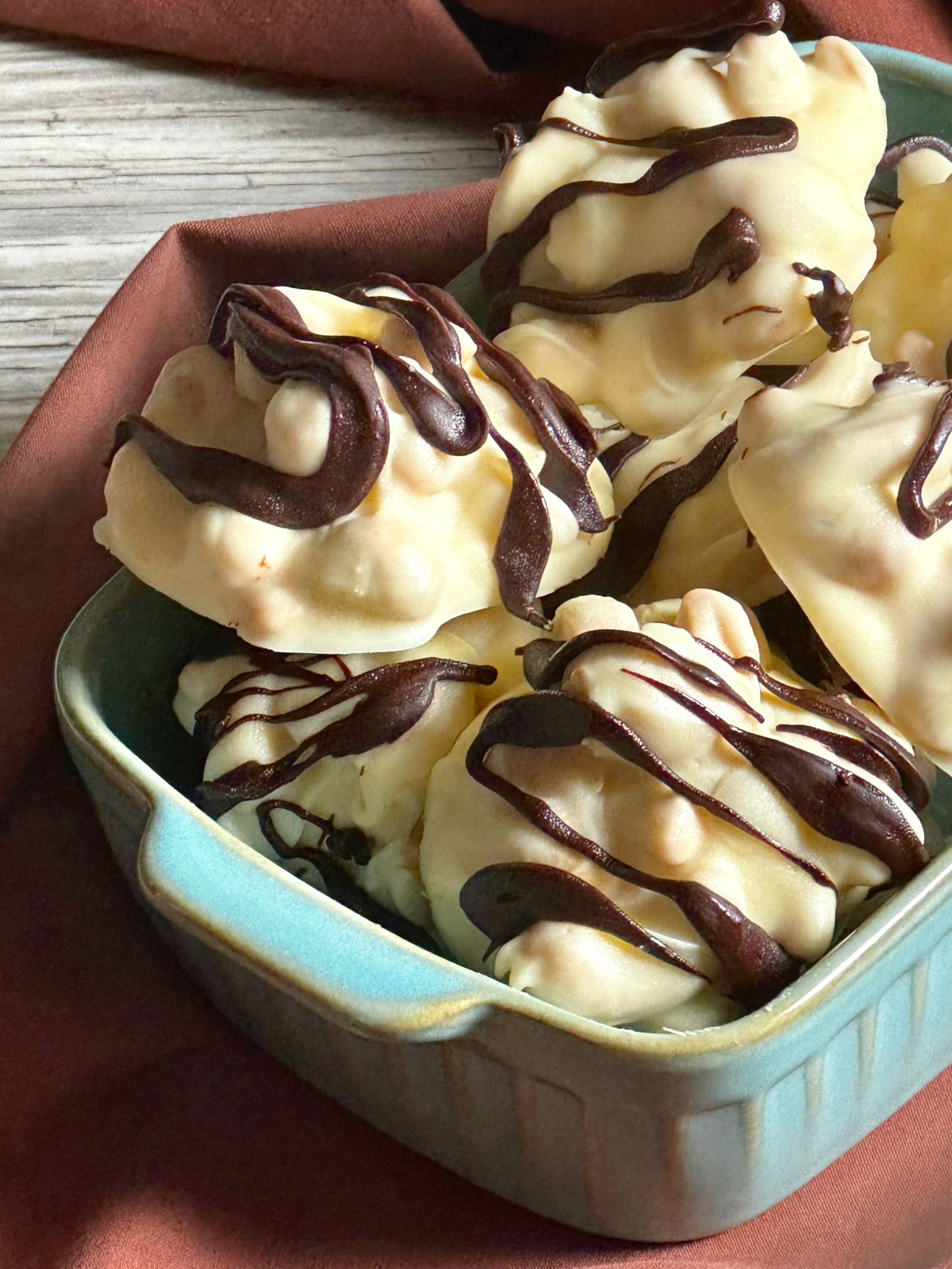 The finished product? A hundred percent addictive. The cashews are slightly salty, while the white chocolate coats the tongue with a creamy sweetness. Accents of chocolate stripes make for a developed chocolate flavor that has a slightly deeper contrast from the white chocolate. Creamy, crunchy, salty, and sweet, this candy satisfies that sugar hit in the best possible way.
Amish Zebra Cashew Clusters
Makes 30 clusters
16m prep time
1 cook time
40m inactive

When you share or print a 12 Tomatoes recipe,
you're making mealtime meaningful.
100%
of the Share to Care sponsor fees fund meals for families in need.
Learn More
CLICK ANY LINK BELOW TO JOIN OUR CAUSE!
Ingredients
12 ounces (about 2 cups) salted roasted cashews
20 ounces almond bark or white chocolate
8 ounces milk chocolate
Preparation
Line two cookie sheets with parchment paper, set aside.
In a large bowl, melt almond bark in 25-second intervals, stirring between each 25-seconds until completely melted.
Fold cashews into almond bark, stirring until cashews are completely coated.
Using a big tablespoon, drop portions onto prepared cookie sheets. You can readjust the shapes of the clusters after they hit the parchment paper.
Let the cluster set up a bit, about 20 minutes.
Once the cashews set up, melt the milk chocolate in 20 to 25-second intervals until completely melted. Drizzle the milk chocolate over each cluster and let clusters set up completely (generally another 20 minutes) before serving or storing them in a container.
Recipe adapted from The View From Great Island.
SKM: below-content placeholder
Whizzco for 12T