Slow-cooking meat is a longstanding American tradition, right up there with baseball and apple pie. The concept stems from the Caribbean, where early settlers observed natives roasting whole animals over the "barabicu," or "sacred pit." The tradition quickly took hold in the U.S., which now boasts four main regional styles and a "Barbecue Belt" spanning the East Coast to Texas.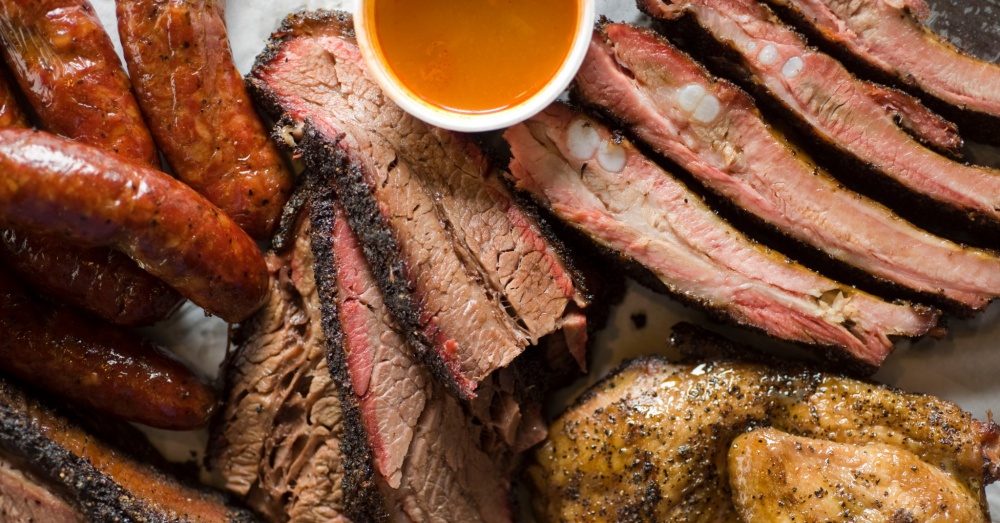 "Carolina-style" features smokey piles of pulled pork flavored with tangy sauce, while "Memphis-style" is generally code for wet or dry pork ribs. Down in Texas — which unsurprisingly comprises the bulk of this list — beef brisket bears so much flavor that sauce is widely considered an afterthought. Meanwhile, Kansas City-style devotees slather their smoked pork and beef brisket with tangy sauce. Such choice makes it difficult to pick a favorite, though sampling our top ten will certainly make for a delicious road trip. Buckle up, and be sure to bring some napkins!
10. Hometown BBQ, NYC
Since 2013, this converted warehouse in Red Hook, Brooklyn, has disproved the notion that good barbecue doesn't exist above the Mason-Dixon line.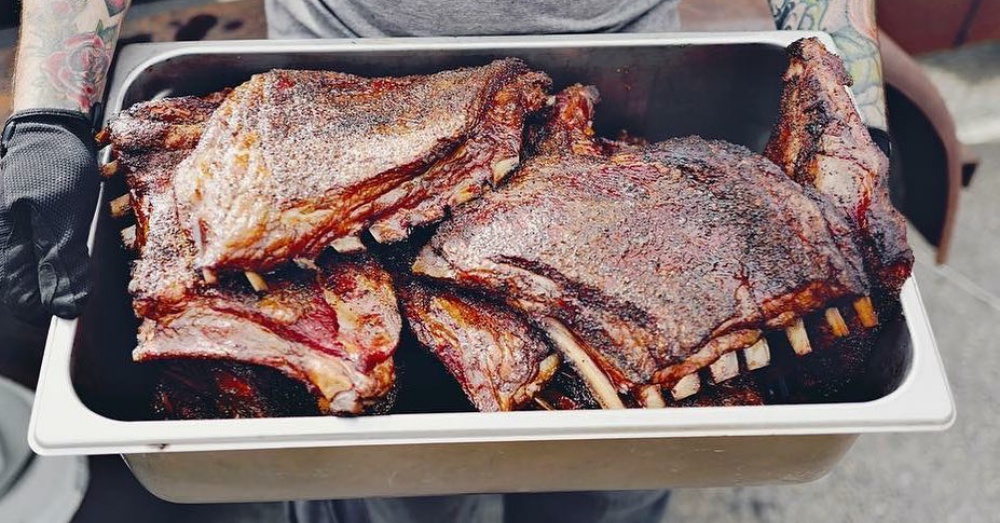 That's because Pit-master Billy Durney has honed his unmistakable talent for slow cooking meat down in Texas, the veritable home state of barbecue, and has the tattoo to prove it. If long lines are any indication, the yankees are certainly enjoying Hometown's southern bona fides, which were recently showcased on an episode of the Cooking Channel's Man, Food, Fire!
[sc name="content-ad-horiz-1″]
Which BBQ joint was counted among Paula Deen's top places to eat in Birmingham, Alabama?
9. SAWS BBQ, Birmingham, AL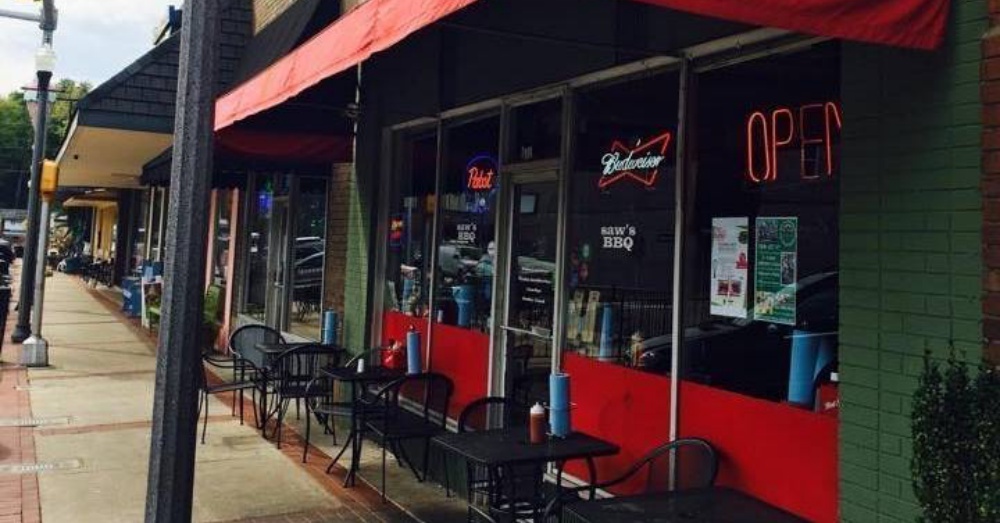 SAWS was founded by North Carolina resident, Mike Wilson, who learned early on that smoking meat was basically in his blood. When Wilson finally opened up his own shop in 2009, he named it SAWS after his old high-school nickname, Sorry Ass Wilson, which is unfortunate as far as epithets go but clearly hasn't affected the food any.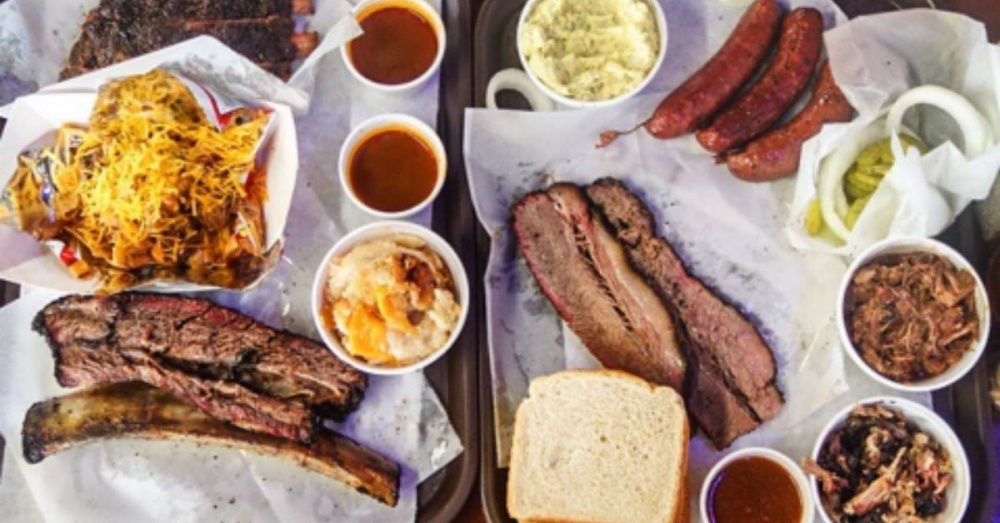 A decade later, SAWS' barbecue has earned some high-profile fans, including Southern food Queen Paula Deen, who counted SAWS among her top 10 places to eat in Birmingham, Alabama. Men's Journal took it a step further by calling this unassuming shack, which has since expanded into multiple outlets around town, the Best BBQ in America.
Which St. Louis institution is celebrating its 10th anniversary?
8. Pappy's Smokehouse, St. Louis, MO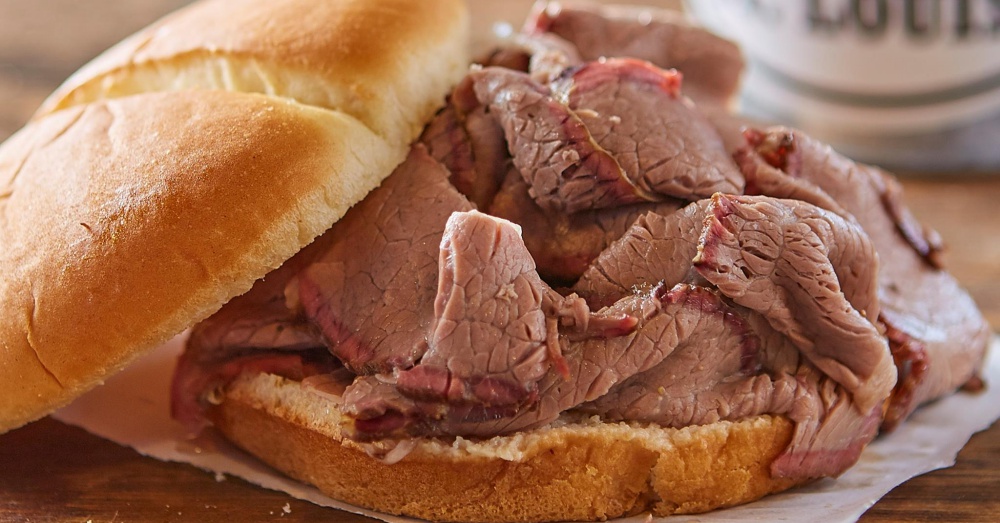 To the BBQ novice, Pappy's promise of Memphis-style 'cue in the great city of St. Louis initially sounds confusing. Yet the pit smoke clears when you consider that Memphis refers to Pappy's smokehouse style, not its geographic ZIP code.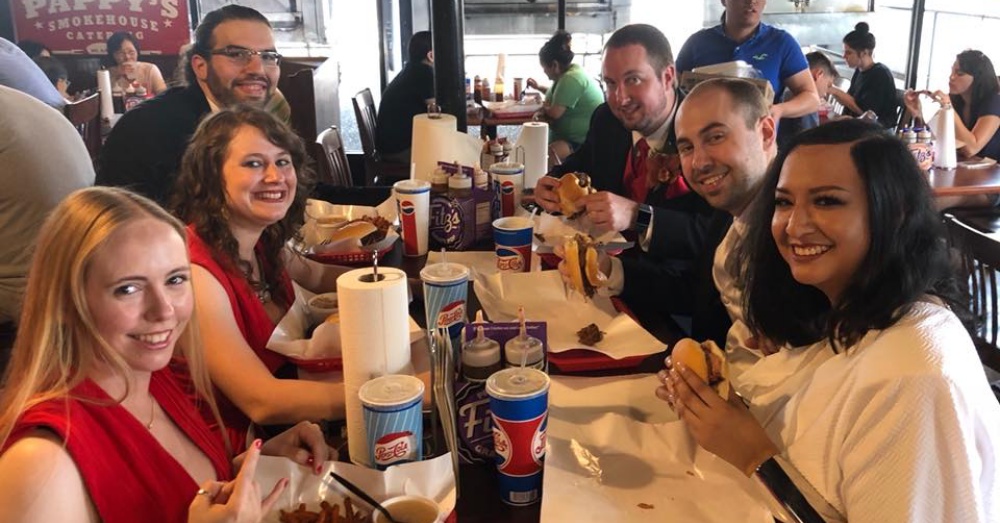 Now in its 10th year, Pappy's Smokehouse is a veritable St. Louis institution, with nods from Zagats, The Travel Channel and The Food Network, which recently named Pappy's ribs as the best in the country. And at least one bride (above) has hosted her wedding party here, despite the obvious risk of wearing a white dress inside a BBQ restaurant.
[sc name="content-ad-horiz-2″]
Which Mississippi smokehouse won a cook-off on Regis and Kelly?
7. The Shed Barbecue & Blues Joint, Ocean Springs, MS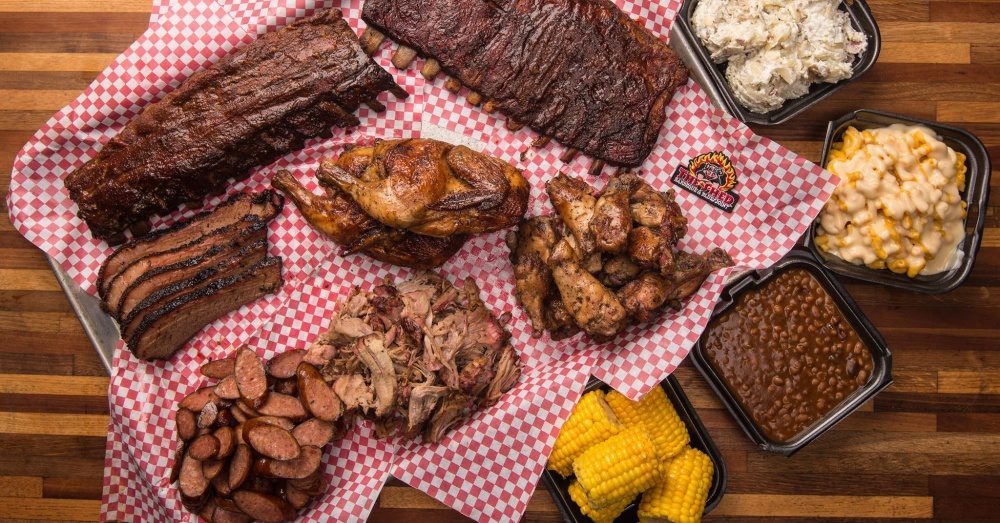 This Bayou smokehouse might have started in an actual shed, but don't let its modest heritage fool you. Not only did its signature Pulled Pork sandwich win Regis and Kelly "Ultimate Hometown Grill Off," The Shed's signature "ShedSpred" remains a favorite of Vice President Joe Biden.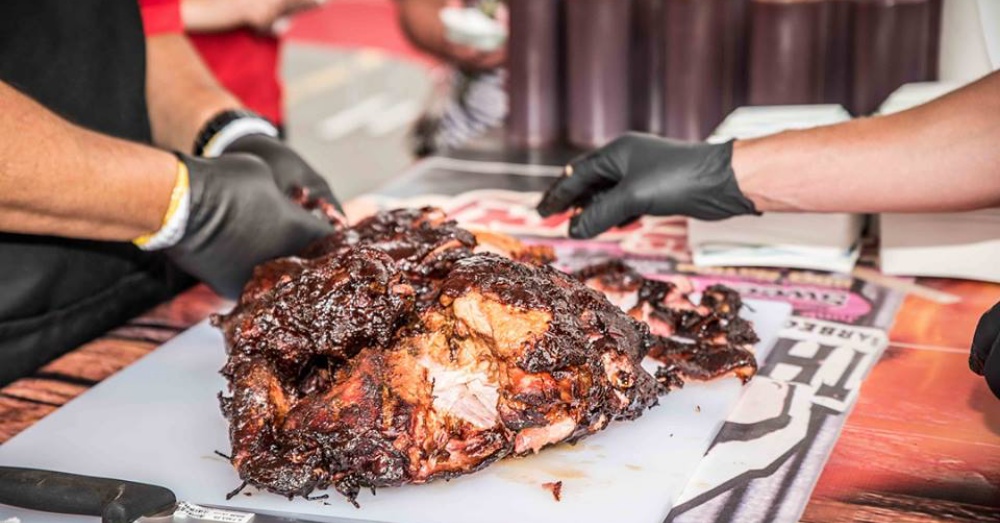 Naturally, this family-run shop has experienced some challenges over the years, the worst being in 2012, when the original Highway 57 location burnt to the ground. Within days, though, this quirky roadside stop was back and bigger than ever, feeding a growing crew of "Shedheds" (aka repeat patrons) and BBQ/Blues enthusiasts driving in from neighboring states.
Which Texas restaurant is called "The Cathedral of Smoke?"
6. Louie Mueller BBQ, Taylor, TX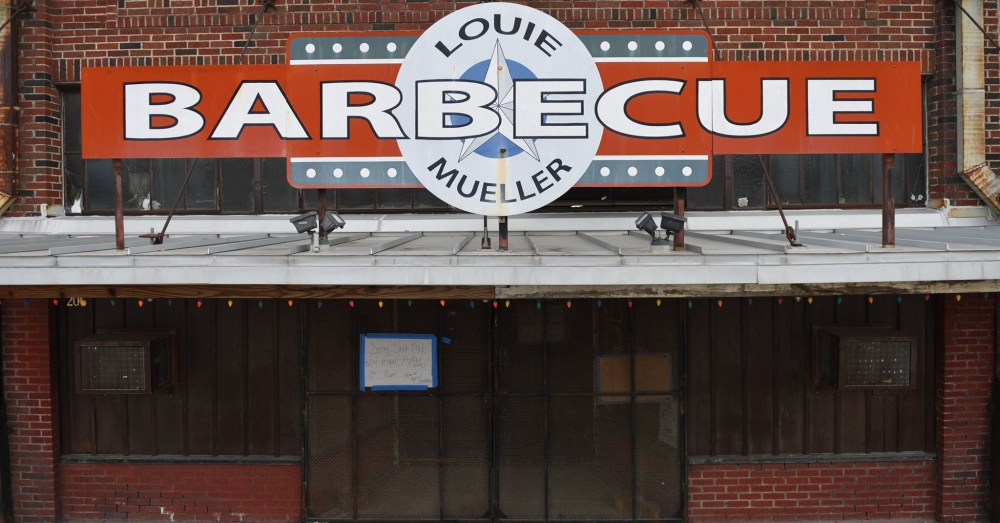 This family-run place has been called "the cathedral of smoke" for its longstanding role in producing Texas's best barbecue since 1949.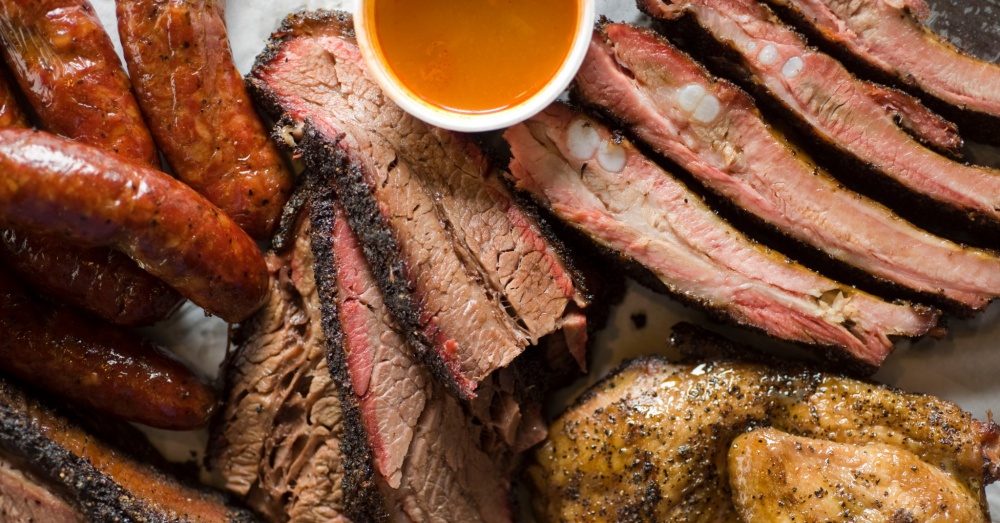 But Louie's local renown doesn't stem from matters of longevity, or simply because of its location in Taylor, TX, a central Texan town awash in BBQ credentials. Part of the secret the Mueller family's strict adherence to a time-worn recipe, so much so that this regional favorite — dubbed Texas's best BBQ by The New York Times, Bon Appetit, The Food Network and Texas Monthly — was named "an American classic" by the James Beard Foundation in 2007.
[sc name="content-ad-horiz-3″]
Which longstanding smoke pit anchors the "Barbecue Capital of Texas"?
5. Black's Barbecue, Lockhart, TX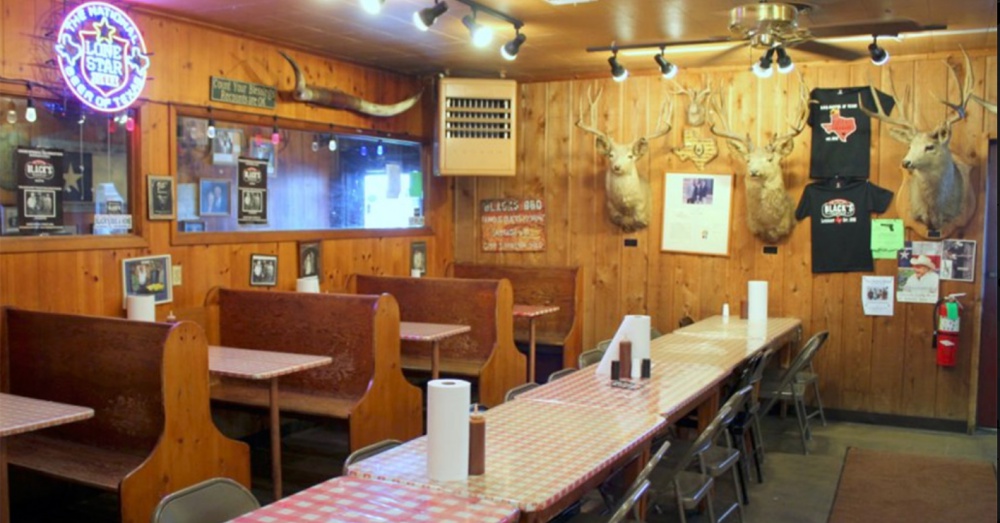 Back in 1999, the local legislature designated the small town of Lockhart, TX, as the official "Barbecue Capital of Texas." Almost 20 years later, this small town still specializes in smoked meats, with world-famous BBQ joints lining the main street.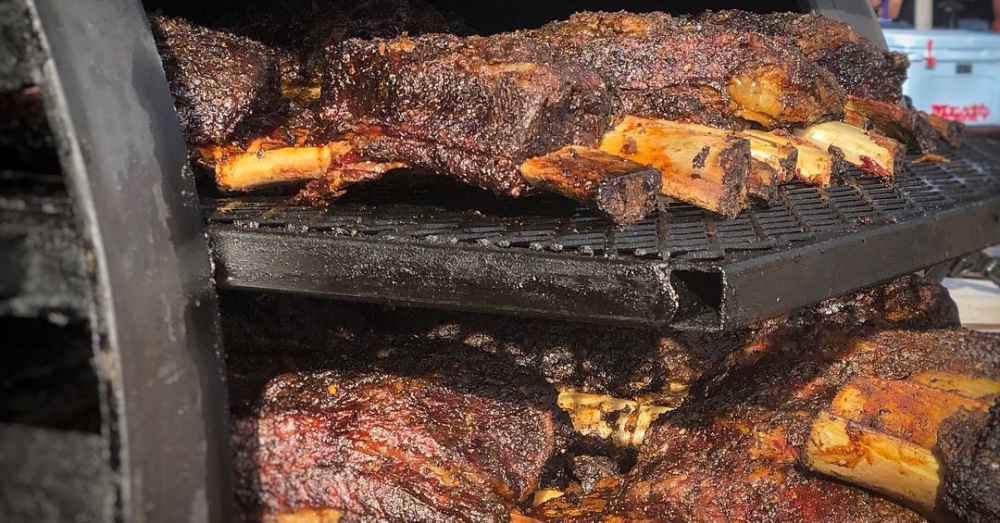 Of these, it's hard to dispute the deliciously high merits of Black's Barbecue, which has been smoking meats in these parts since 1932. Four generations later, this family-run pit — which can hold 500 pound of smoked meat at one time — draws such a loyal following it's since expanded into a second location in nearby Austin.
Which restaurant's namesake pit master was named "Best Chef of the Southwest"?
4. Franklin Barbecue, Austin, TX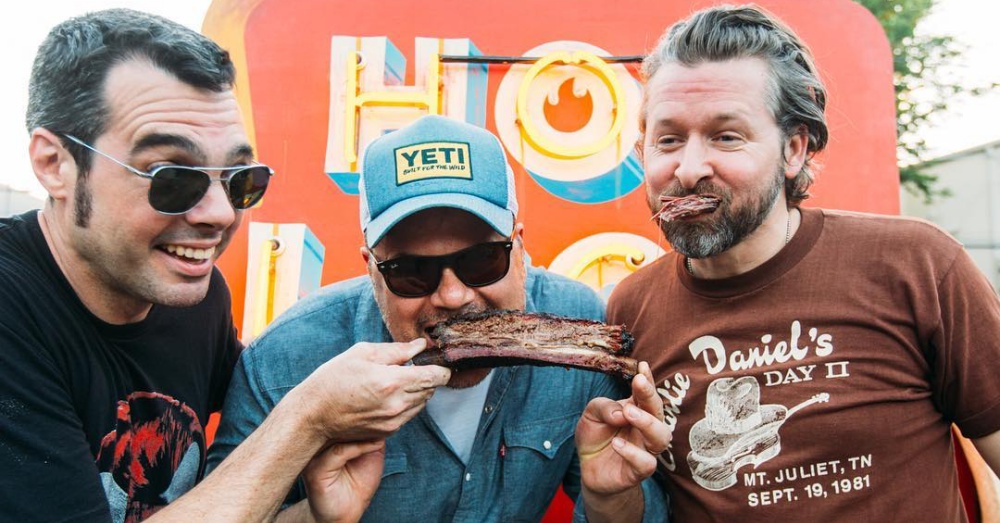 Barbecue joints are synonymous with the American South, but only one has earned rave reviews from President Obama, hour-long lines, and a shout-out from the Texas Monthly, which guessed Franklin's just might be the best barbecue in the entire universe.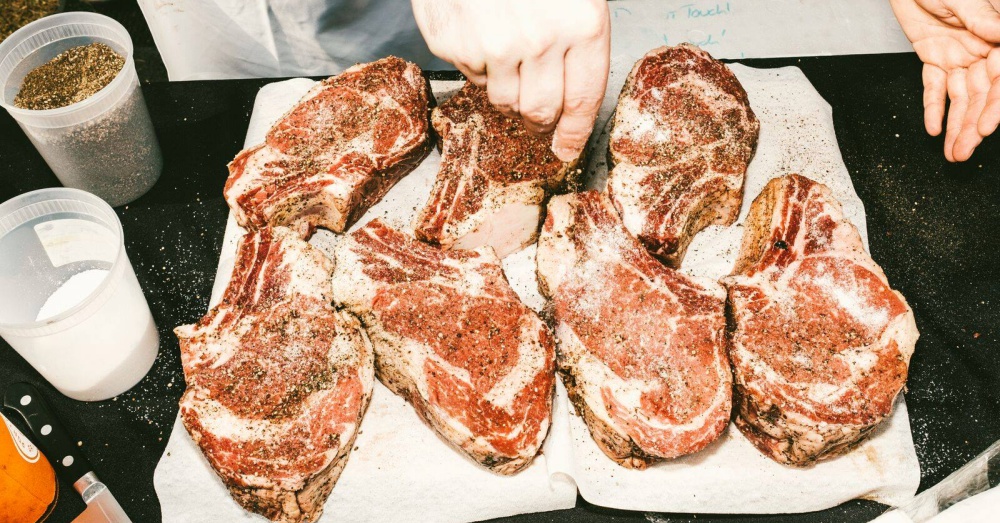 It all boils down to the talent of owner/pit master, Aaron Franklin, aka the "Best Chef of the Southwest," per the James Beard Foundation. Three years later, Franklin shows no signs of slowing down, even prompting Anthony Bourdain to declare Franklin's brisket the best that he ever had.
[sc name="content-ad-horiz-4″]
Which restaurant is considered an early pioneer of Austin's barbecue scene?
3. The Salt Lick, Driftwood, TX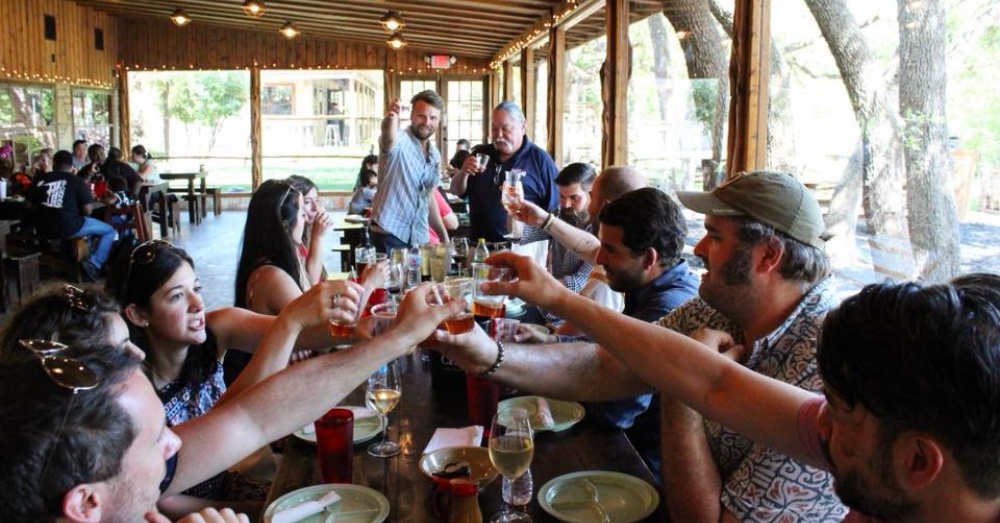 In 1967, a Texan couple named Thurman and Hisako Roberts converted their Driftwood ranch into a barbecue outlet, which quickly spawned a loyal following, multiple outlets, ongoing accolades, and a thriving online business.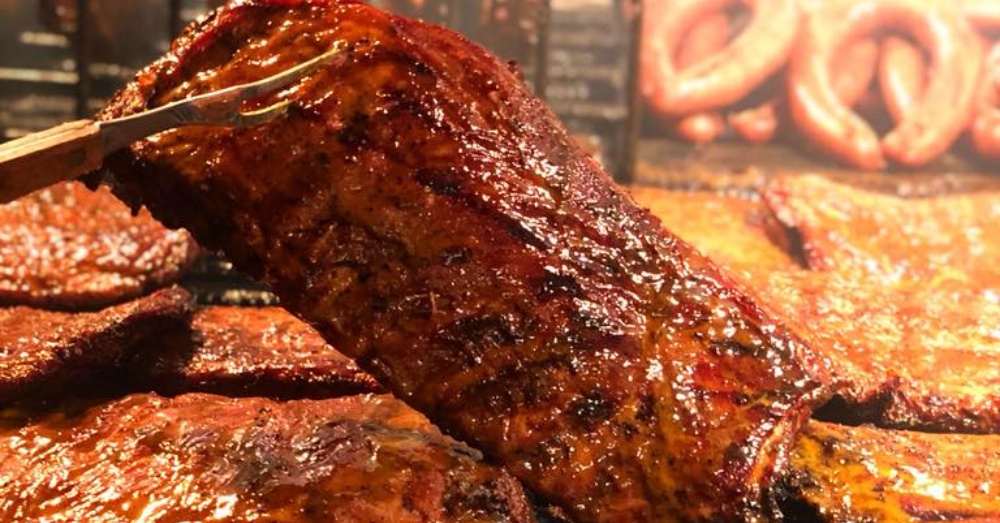 Decades later, the Salt Lick is still considered one of the early pioneers of Austin's barbecue culture, laying the foundation for the thriving smokehouse scene we see today. Even if you can't make it out to their original Driftwood ranch, which warrants a drive for its hill country vistas, and despite modernization, remains cash-only, you can still sample the smoked meats that helped get everything started at Austin's International airport.
Which Kansas City smokehouse is known as Oklahoma Joe's?
2. Joe's Kansas City Bar-B-Que, KS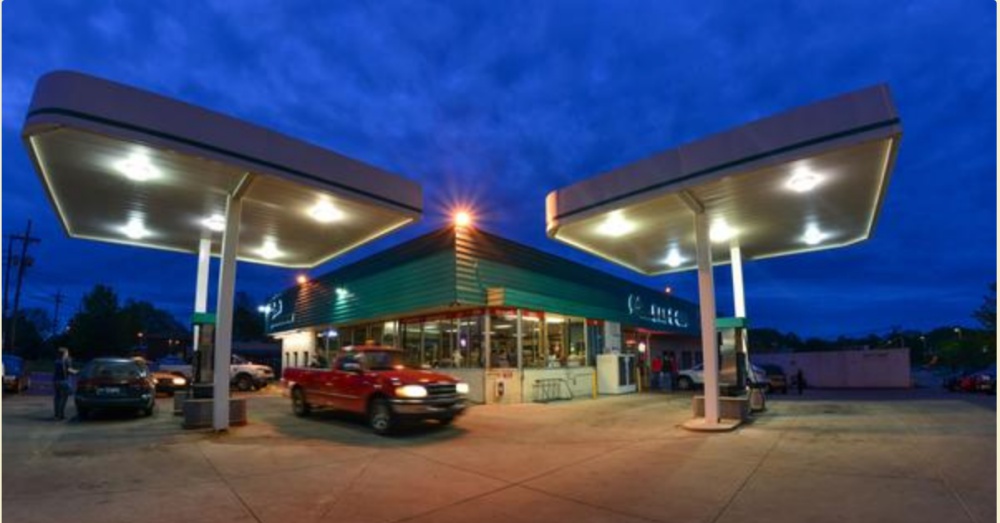 Though based in Kansas City, this longstanding restaurant has been known as Oklahoma's Joe's for many years, owing to now-defunct location in Stillwater, Oklahoma, that closed way back in 1997. In 2014, the company decided to officially move forward as Joe's Kansas City Bar-B-Que, though locals will forever remember this place by its original nickname.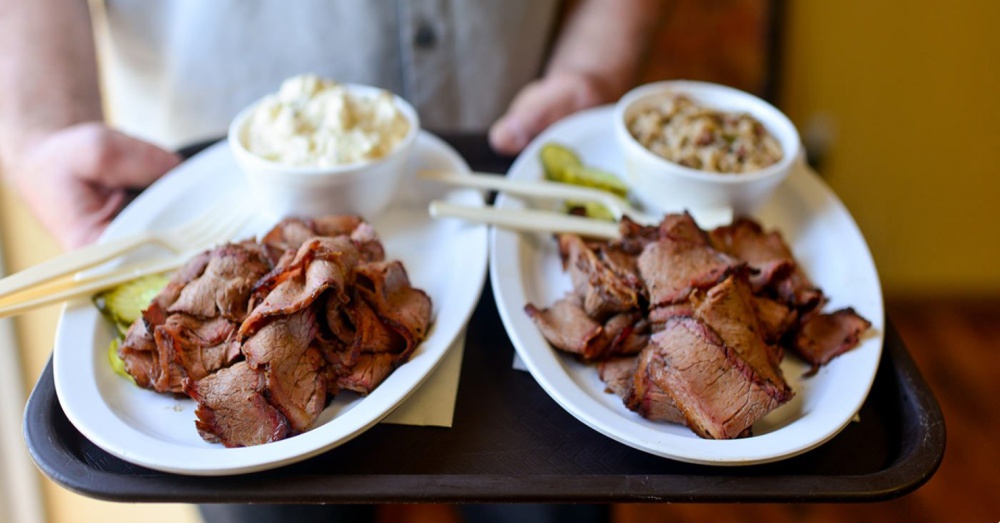 Regardless, the branding confusion hasn't effected the quality of the menu any. Anthony Bourdain considered Oklahoma Joe's one of 13 Places To Eat Before You Die and USA Today called them America's tastiest ribs, while the signature Z-Man sandwich has even been linked to winning Kansas City Royals baseball games. Not too shabby for a company borne out of a humble gas station.
Which food-truck-turned-BBQ was included in The 100 Best Barbecue Restaurants in America?
1. Kerlin's BBQ, Austin, TX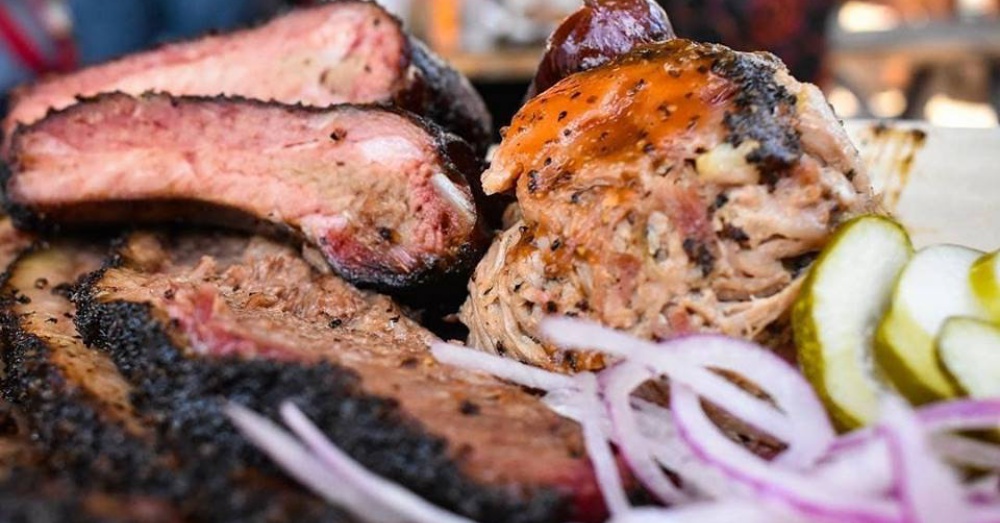 Opened 2014, Kerlin's BBQ is a relative newbie to Austin's barbecue scene, but owners aren't letting their relative youth, or permanent location inside of a food truck, slow them down any.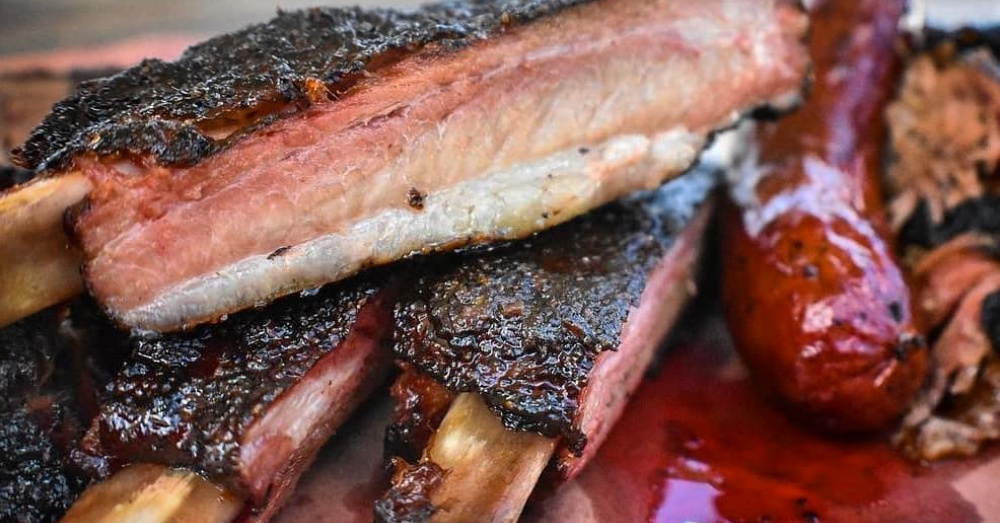 Within a year of opening, Kerlin's BBQ had already been included in a new book, The 100 Best Barbecue Restaurants in America, while the Austin Chronicle, which certainly has no shortage of barbecue joint to gush about, described Kerlin's brisket as a "transcendent experience."
[sc name="content-ad-horiz-5″]
SKM: below-content placeholder
Whizzco for 12T