"What do you want to do for dinner?" People dread this question for various reasons and would choose "it's complicated" as their relationship status with dinner. Some are limited by time, others by money, and others by a lack of culinary interest. Our living situation adds another twist. If you want help with dinner and fall into one of these categories, these guidelines will help.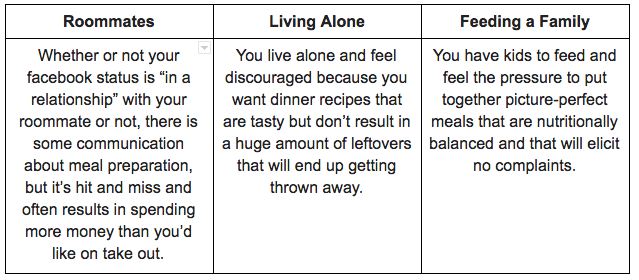 1. Identify your grocery shopping personality
Here's the image that I hear the majority of people describe striving for: Sunday morning, peacefully and creatively brainstorming dinner recipes to make the upcoming week, able to anticipate what will sound good to eat days in advance. Then transferring the recipe ingredients into a list to take to the grocery store, and after arriving home from blissfully grocery shopping, engaging in some degree of partial or entire food preparation. Entering the work week armed and ready to arrive home each night, happily putting together the ingredients that were thoughtfully purchased and prepared on Sunday.
Where does this fantasy come from?! When I ask about the origin of this expectation, most people mumble in a failure tone "doesn't everyone do that?" and then go onto describe hearing a friend or colleague brag about successfully doing this combined with seeing it described as "easy" on tons of Pinterest pins. So here's the deal: we are all unique in what our method will be for procuring and preparing food, and if we focus on some imaginary idea of what it should be we won't have a chance to figure out what our personal grocery shopping style is.
Your taste buds are living each day as it comes and have no idea what you'll want a few days from now. Shopping every few days might be a good idea, while also being sure to keep staples on hand that you know you like. Your grocery shopping personality is European.
As long as you have a list, you'll nail it. This means focusing on the recipe to list part of the process and making sure you enter the market list-in-hand. So focus on keeping the list alive, whether it's stored on your phone or paper.
The atmosphere in the grocery store drives you absolutely insane. Whether it's the lights, the sound, the people — whatever it is that bugs you, honor it and order groceries to be picked up or delivered.
Your brain is a recipe-filled database. You can walk into the grocery store list-less and fill your basket with things you know you will use in delicious meals, whether these recipes are tried and true for you or new to you. If this is you, you have a gift!
Recipes TBD. You don't need to know the recipe before shopping because you know which staples to keep in the kitchen that will allow you to create the main meal. When you shop, you fill your basket with a variety of grains, proteins, fats, produce, seasonings, and faith that you'll figure it out later.
Once you've identified your grocery shopping style is, own it! This is how you work best. Being in touch with your grocery shopping style makes grocery shopping (and dinner preparation) go much, much smoother.
Click the NEXT PAGE button for more great meal-planning tips!
SKM: below-content placeholder
Whizzco for 12T