Ground beef is a central ingredient in my family's diet.
It's the only meat my eldest son (5) enjoys, and it's also important for keeping our weekly food costs down while developing a list of quality plan ahead meals. Being able to use ground beef in a range of popular worldwide recipes helps me create interesting, exciting meals without having to break the budget on more expensive cuts or risky sauces that my youngsters may not want to eat.
While some may think ground beef is boring and limited, the truth is it's a terrific blank canvas to use in a range of meals, salads, and snacks that lift your dining from mundane to exceptional. These nine easy ground beef dinners are easy to make and full of delicious flavors.
1. Mongolian Ground Beef Noodles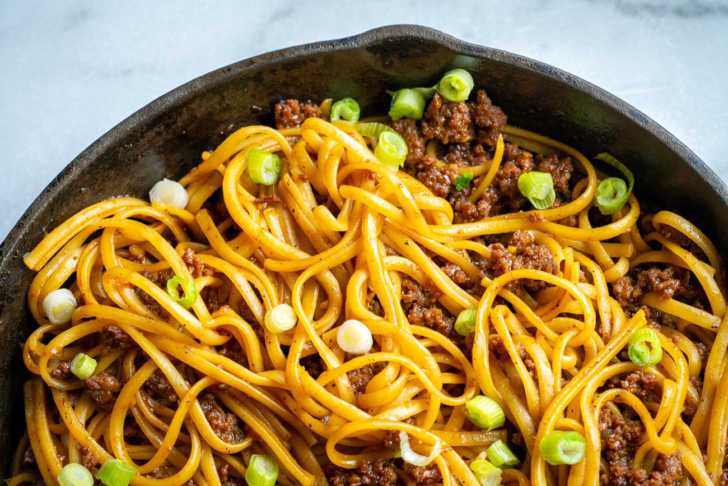 Mongolian Beef is one of those Chinese dishes that is always on your order, whether it's dinner for 1 or 21. Sweet, savory, and hearty it's great, especially with your favorite choice of noodles (skinny egg noodles for me, Hokkien for my wife).
You can make this fantastic Mongolian noodle recipe in as little as 15 minutes, and it tastes delicious!
2. Easy Cheesy Ground Beef Enchiladas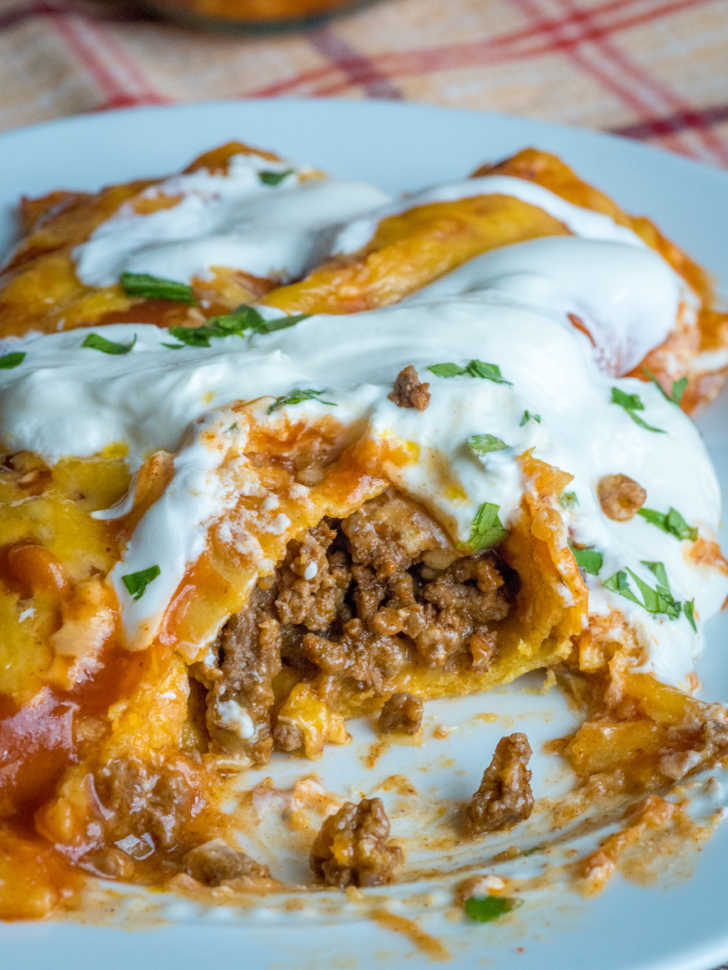 I could eat enchiladas every day.
A perfect melt of cheese and beef, onions and taco seasoning baked into yummy tortillas is my idea of a good time.
This Ground Beef Enchiladas recipe is a simple and effective way to feed the whole family quickly and inexpensively.
If you want to change your ground beef enchiladas up a bit, make up a side plate including any or all of spicy rice, black beans, guacamole, Pico de Gallo, plus a little hot sauce (or a lot) and sour cream for a touch of individuality.
3. Beef Hand Pies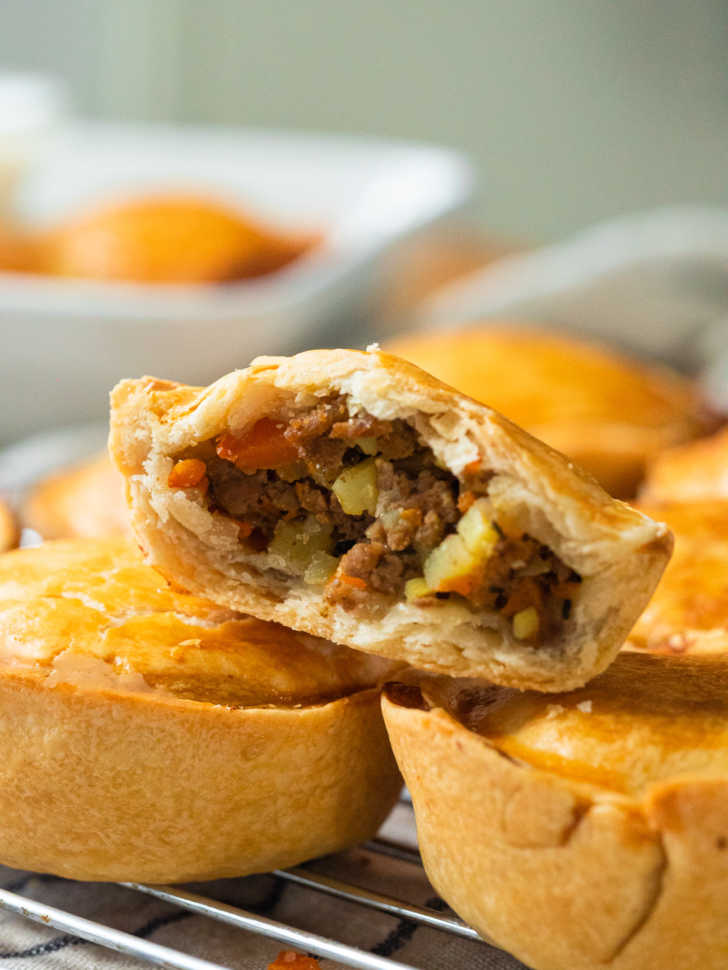 I've spent a significant portion of my travelling life seeking out the world's best pies, a goal I'm happy to think will never end.
Our recipe for Ground Beef Hand Pies is brilliant, mixing all the elements you want. It's good ground beef, gravy, and yummy pastry all wrapped up in a hand-sized bundle.
4. Thai Basil Beef Skillet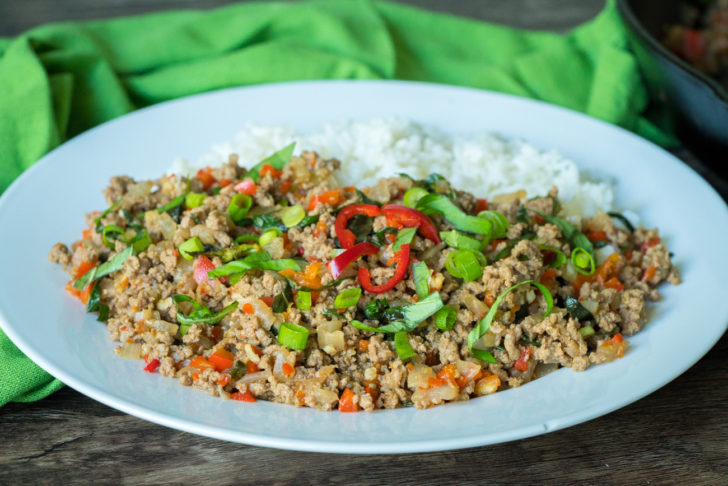 One of my all-time favorite Thai dishes is larb, which is a simple mix of ground mince – pork, chicken, or beef – that's loaded with lime juice, your desired amount of bird's eye chilli, basil, and coriander then wok-fried and served with Thai sticky rice.
This Thai Basil Beef Skillet recipe offers a great take on traditional larb, offering the traditional Thai flavors in a simple ready meal.
It's healthy, tasty, and easy, but also allows for innovation with ingredients or flavor once you've gotten the initial recipe squared away.
5. Mimi's Beef Lasagna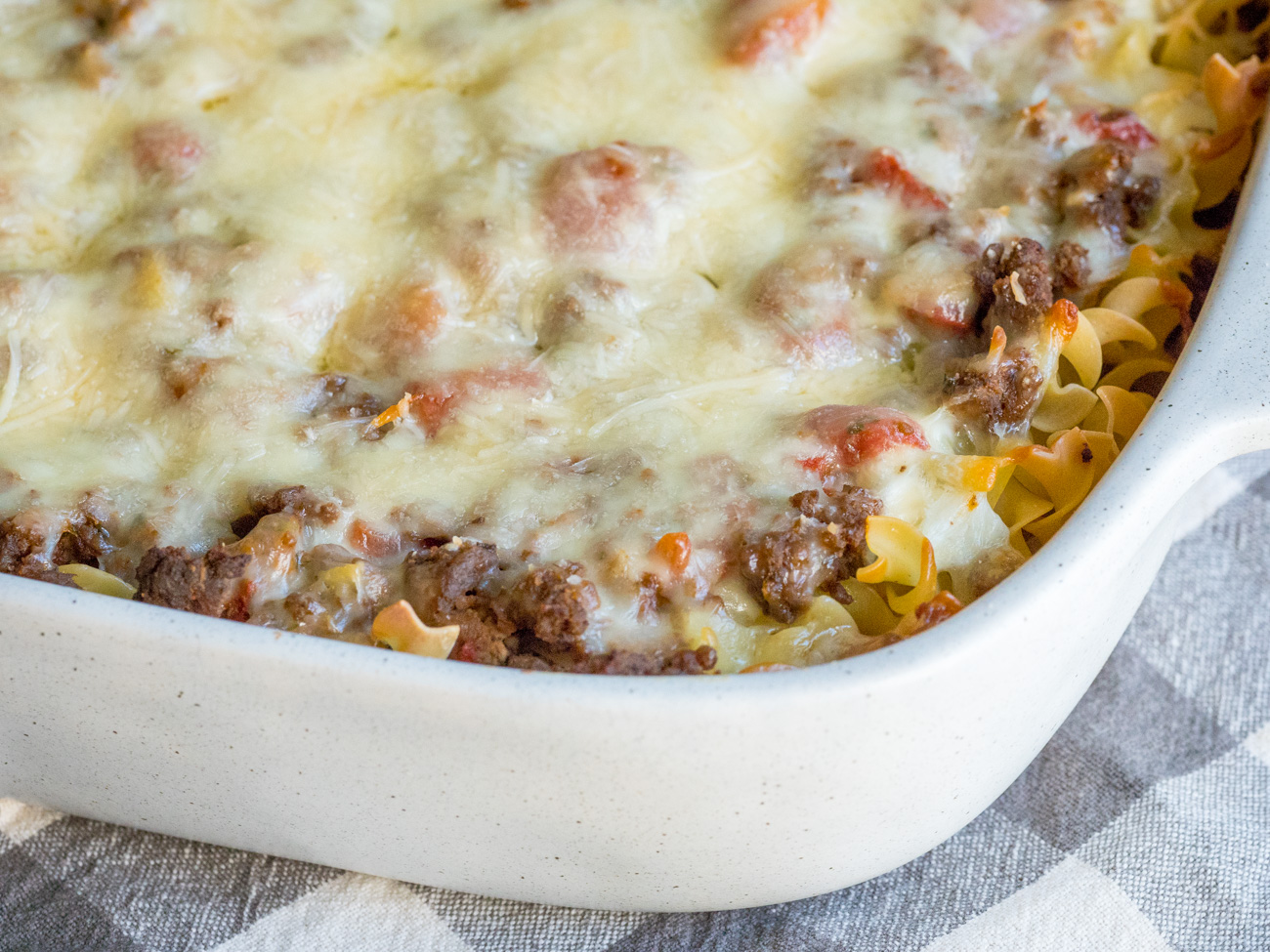 There is absolutely no way I'm willing to upset all the Nonnas out there, that have the greatest beef lasagna recipes in the world. I haven't tried them all, but I'm working on it!
Check out this recipe for Mimi's Beef Lasagna. If you're new to making the dish, this is a great way to start off.
6. French Onion Noodle Bake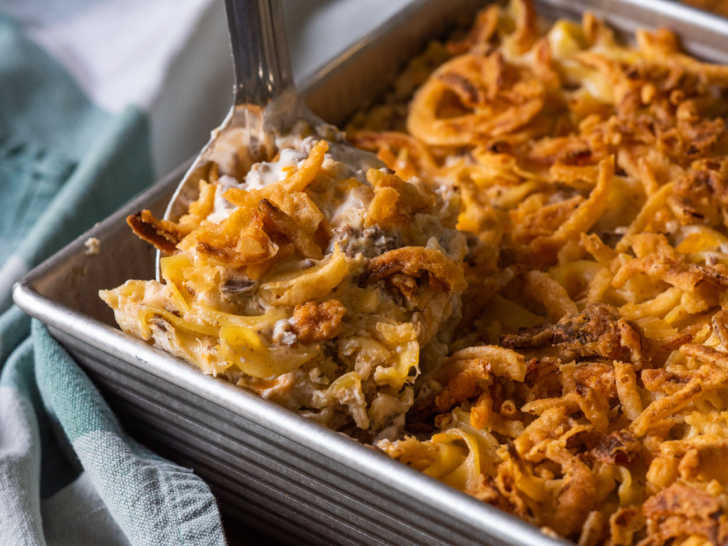 French onion noodle bake is comfort food in a casserole. It's easy, but deliciously creamy and full of flavor.
Our French Onion Noodle Bake is unapologetically indulgent. It's as simple as seven ingredients thrown into a dish to bake before feeding the masses.
Yummy!
7. Loaded Up Mashed Potato Beef Pie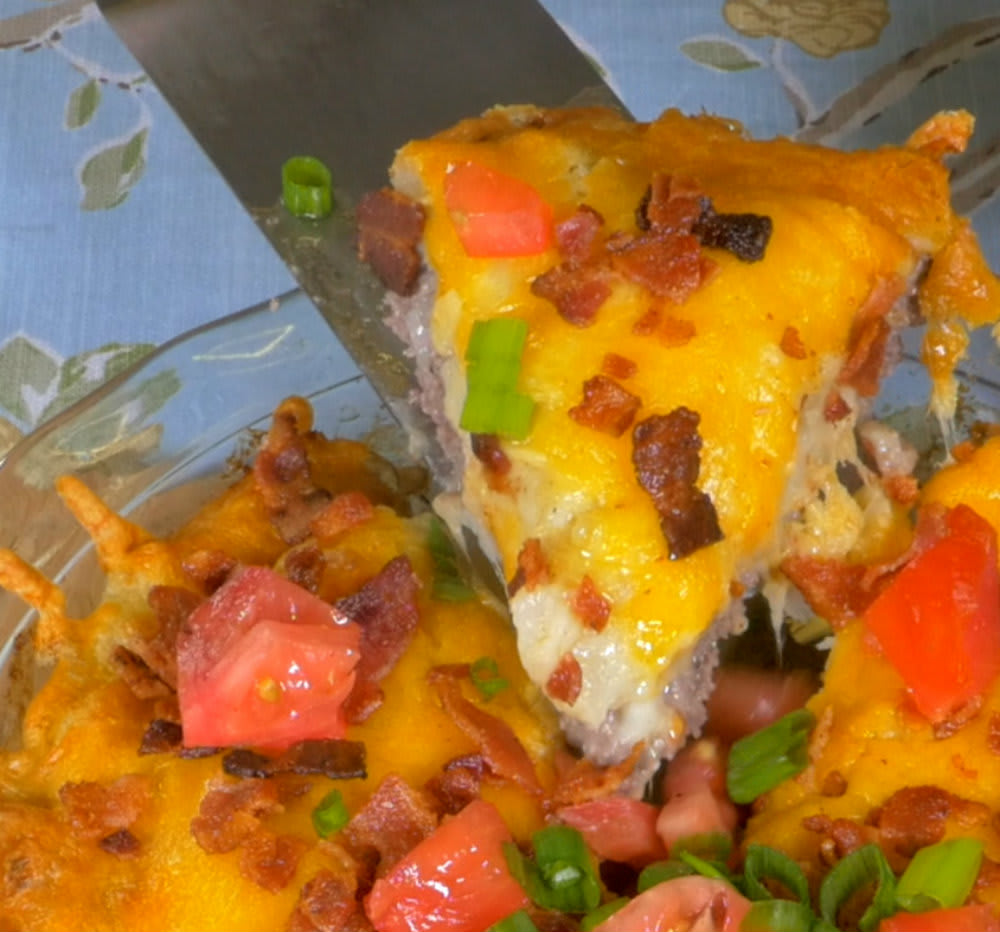 Yes, I would probably eat blackbirds baked into a pie, but instead, I chose this family pie recipe because it's interesting.
Mashed Potato Beef Pie is essentially a loaded baked potato, except the potato bit is mashed, and the whole lot is encased in ground beef.
It sounds a bit out there, but it works brilliantly and tastes fantastic.
8. Ground Beef Stroganoff Casserole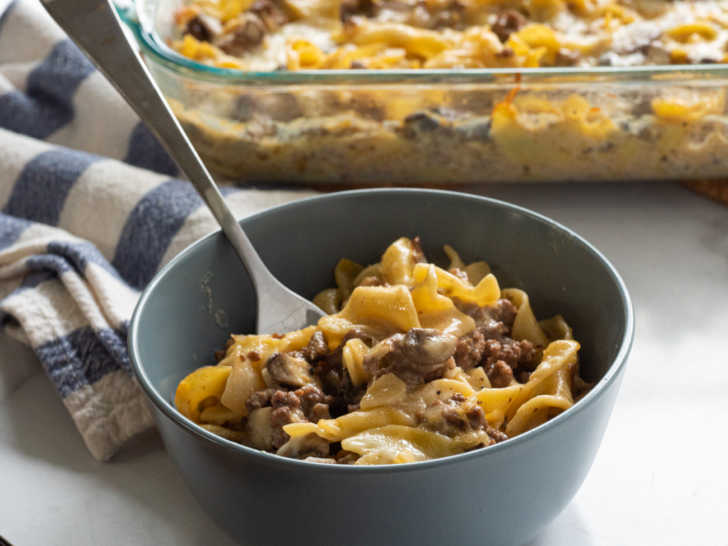 Traditional beef stroganoff is supposedly an easy dish, yet I tend to make a mess of it almost every time I cook it.
Not so for this Ground Beef Stroganoff, our version of the Russian classic, which I can put together easily and add cheese to.
My kids don't eat the regular stroganoff, but they are huge fans of the ground beef version, which can come in handy during a busy weekday when I'm refereeing the boys as they try to maim each other like medieval knights.
9. Mexican Ground Beef Casserole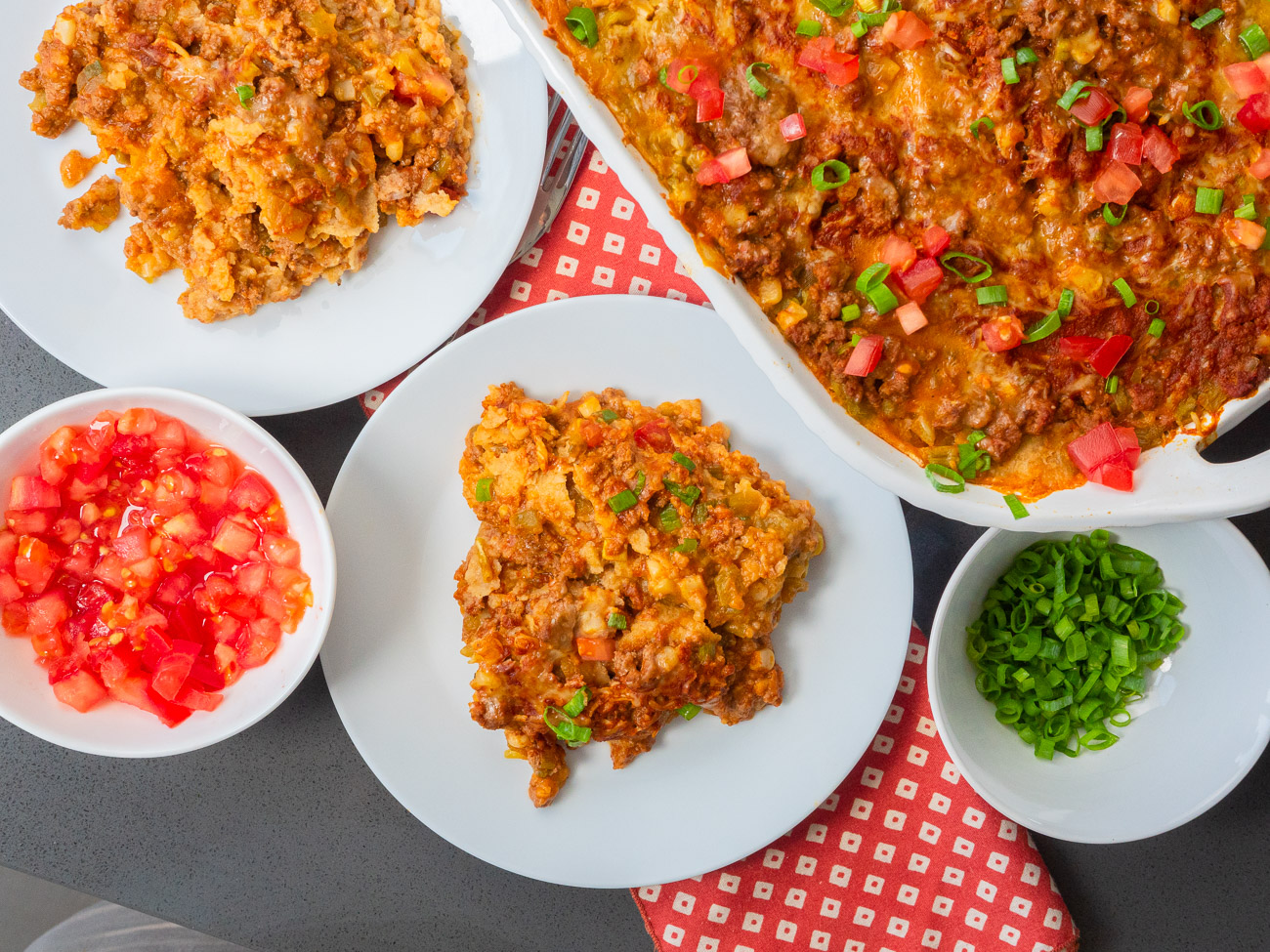 I could have put another four or five Mexican ground beef dishes on the list, but this particular Ground Beef Casserole has captured my heart (and stomach)!
Check out the short clip below for a breakdown, featuring all your favorite Mexican flavors in a simple, hearty dish that takes next to no time to put together and comes out brilliantly.
Conclusion
Having a raft of delicious ground beef meals that you can call upon is important for keeping your shopping costs down while providing options to keep the family excited for mealtime.
What are your family's favorite ground beef dishes?
SKM: below-content placeholder
Whizzco for 12T