We love those recipes that catch people by surprise, the, "you won't believe what this has in it," recipes. You know the kind. The following recipes start with a box of cornbread but transform into so much more! Casseroles, waffles, and even a trifle! Who knew that cornbread mix could be so versatile?! Go ahead and see all the different dishes we came up with, and let us know which one is your favorite!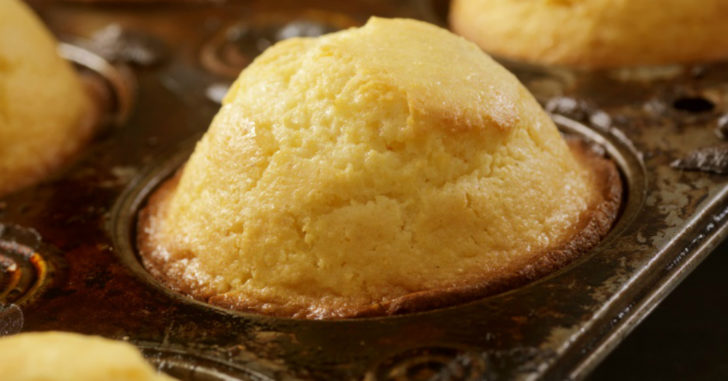 Sometimes a box mix can be a little boring, so this recipe really jazzes up the pre-made mix and gives us a flavorful, slightly sweet muffin that is moist and delicious. All you have to do is add the ingredients and bake until perfect. We made them last night as a side for chili, then warmed the leftovers this morning for a tasty breakfast. Get our tried and true recipe here!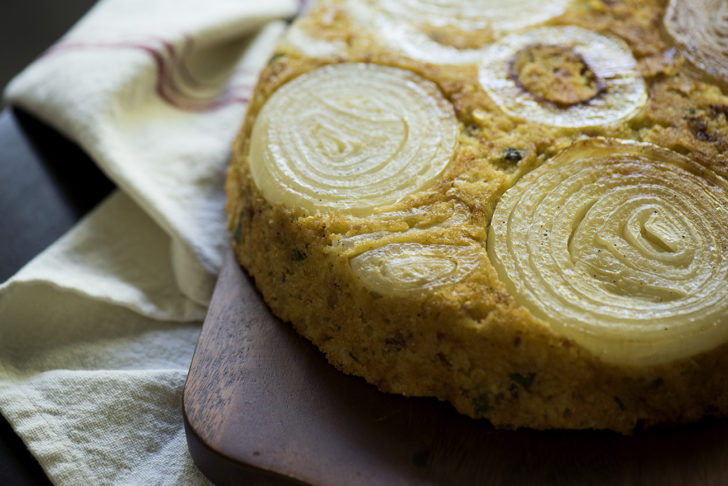 Topped with sweet onions and filled with corn, cheddar cheese, bacon and green onions (and cottage cheese!), this upside cornbread is truly amazing. The bread has the perfect touch of sweetness, plus, it's the best choice when you want a side dish that packs a little more punch than your typical cornbread, given all the fixings we threw in there. Seriously, you'll be so glad you made this…our family devoured it and yours will too! Get our decadent recipe here!
There aren't many things we like more than fresh, warm cornbread. And believe it or not, cooking up that golden, delicious dough is faster and easier in a waffle iron! These savory treasures are a fun twist on classically sweet waffles, and we had a ton of fun using our waffle iron for something other than breakfast. Get the family favorite recipe here!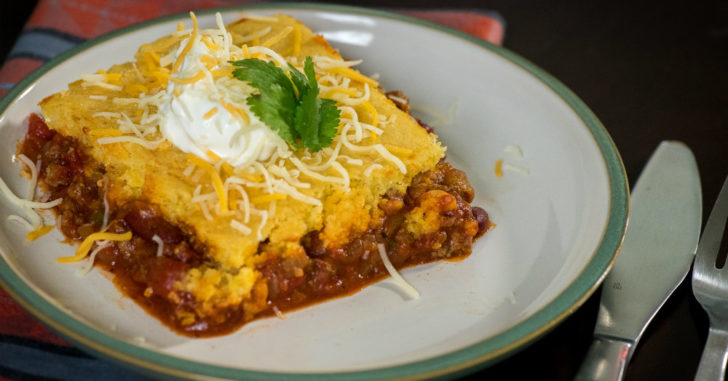 One of the many reasons we love making this casserole is because, while our cornbread normally crumbles and falls apart when we dip it in our chili, cooking it on top of the chili means we get the perfect ratio of cornbread to chili in every bite, without having to worry about crumbles! Our versatile chili cornbread casserole is perfect for weeknight dinners, family get-togethers, and next day leftovers – if it doesn't get polished off once we put it on the table! Get the addicting recipe here!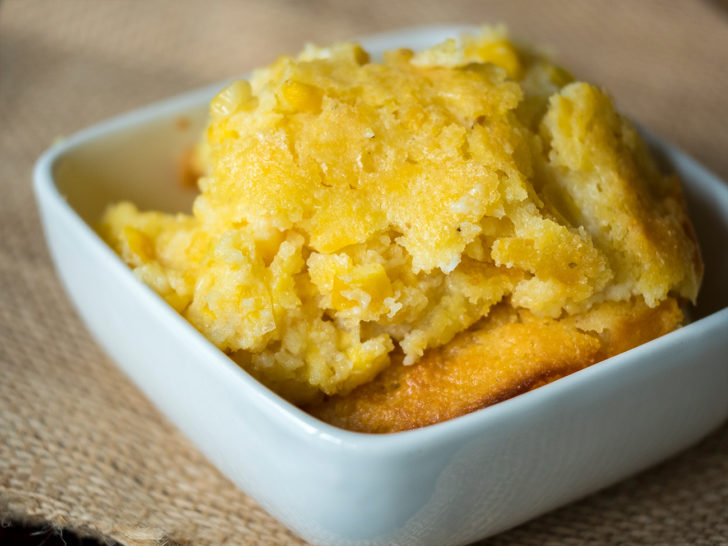 While the name might tip you off that it's a derivative of corn bread, this recipe is so much more than said classic. With corn muffin mix as the base, we added two different types of corn, plus a dash of sugar, and the result is an almost-cake-like bread that you can scoop up and dollop onto your plate! Get the delicious recipe here!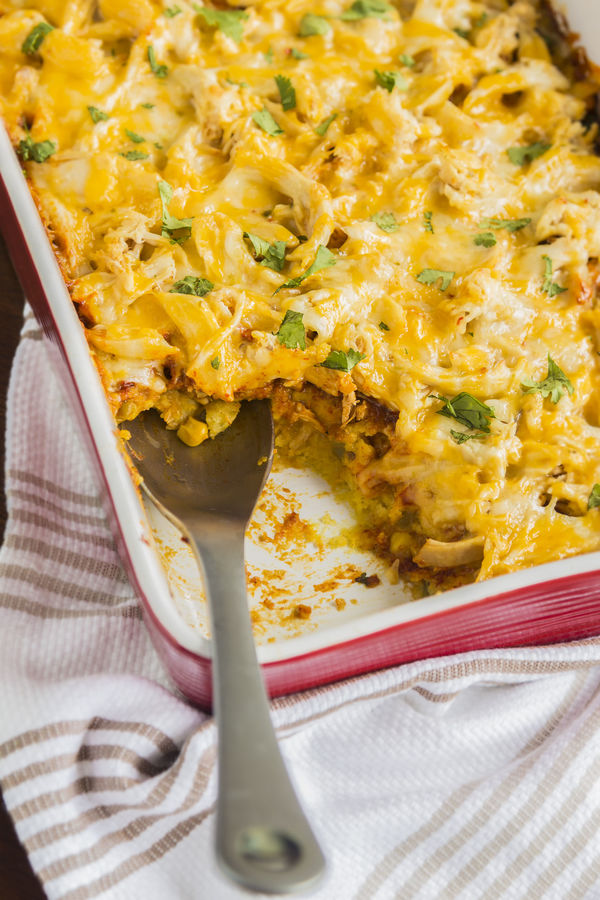 For a complete meal in one dish, this recipe is easy to make and full of flavor! We love Mexican and Mexican-inspired food. We love cornbread. It was a no-brainer for us to combine the two, our take on chicken enchiladas and cornbread, and make a casserole out of the whole thing. For this one, really all you have to do is raid your pantry and throw it all in the baking dish. See how we made ours here!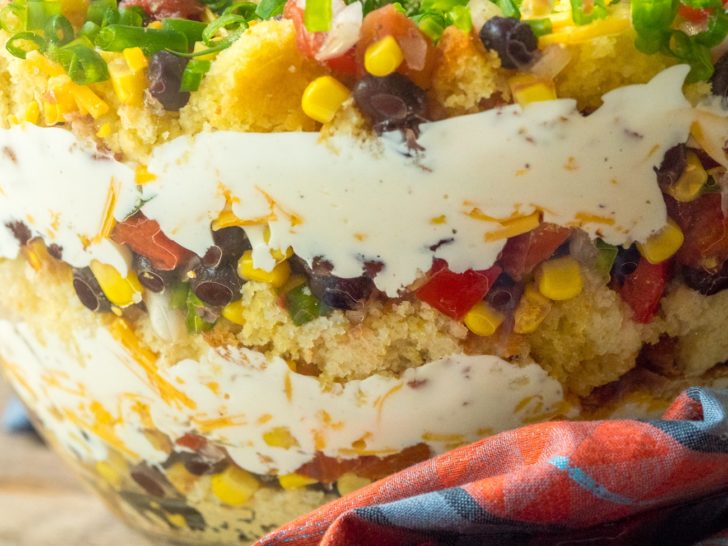 We love to make food that not only tastes good but also looks good. We've taken a version of our favorite dessert and a favorite dip and combined them into one delicious and visually tempting side dish. A trifle is typically a layered dessert with cake, fruit, and cream. It's served in a clear bowl or serving dish so that each layer is visible to the "audience" – and boy does it look pretty. We took the idea of this sweet dessert and turned it into a savory side dish that is just as pretty and oh-so-tasty. Get the scrumptious recipe here!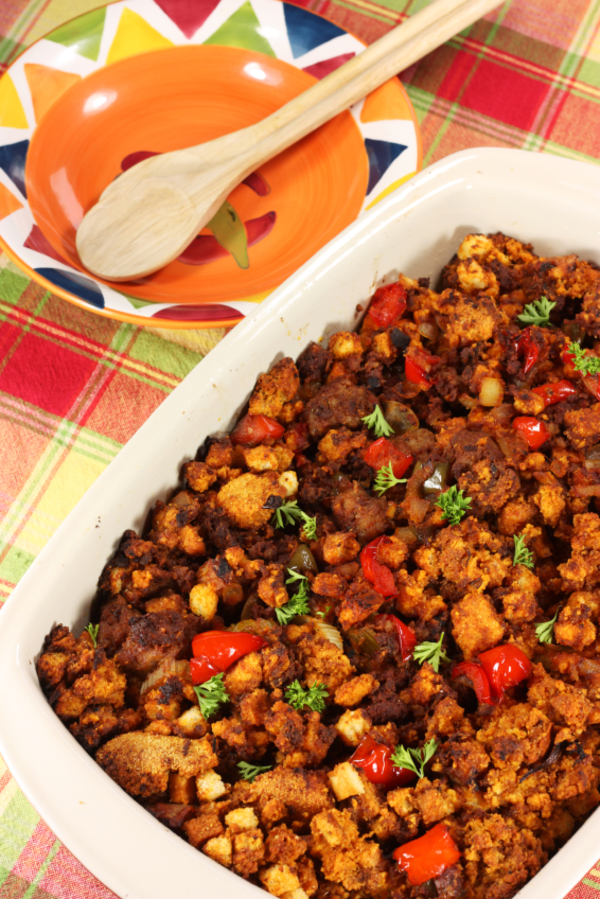 To all of you who aren't stuffing snobs, well done; to the rest of you, this dressing recipe is your ticket to winning the family meal game. You can make it as mild or as spicy as you like, but we promise: this blend of veggies and homemade cornbread will make everyone go wild! You'll definitely want to make two batches and you'll probably want to bring the recipe with you as well since so many people will be clamoring for it! Get the full recipe here!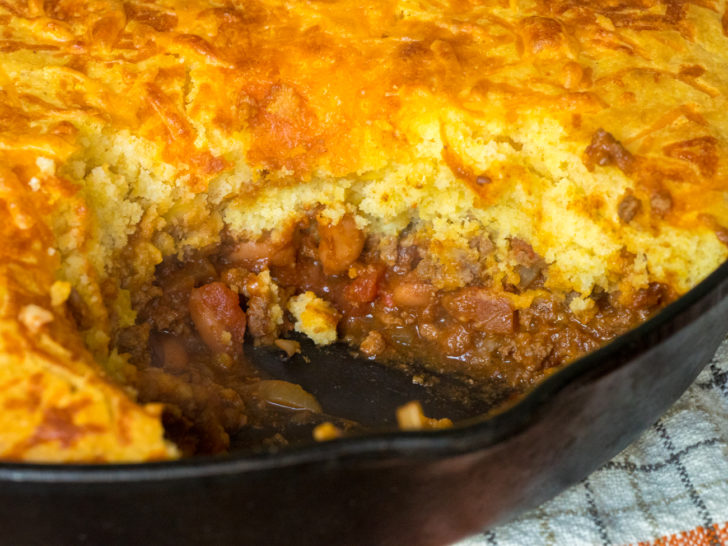 Inspired by the time-tested classic, chicken pot pie, we decided to take things in a southwestern, Tex-Mex direction and turn our meal into a chili pot pie. We swapped beef chili in for chicken and used a hearty cornbread topping instead of the traditional, flaky crust. This stuff is ridiculously good. Get our easy recipe here!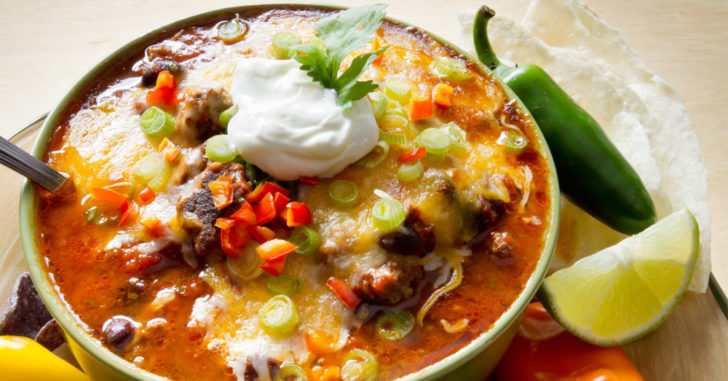 This slow cooker enchilada chili recipe is loaded with veggies, so you won't feel too bad about topping it with cheese and sour cream. With just a hint of lime juice and chili powder, this dish is flavorful enough for even the most adventurous of eaters, while still being mild and accessible enough for the picky eaters at the table. If your family is anything like ours, covering veggies in cheese is always a good idea! Get our recipe here!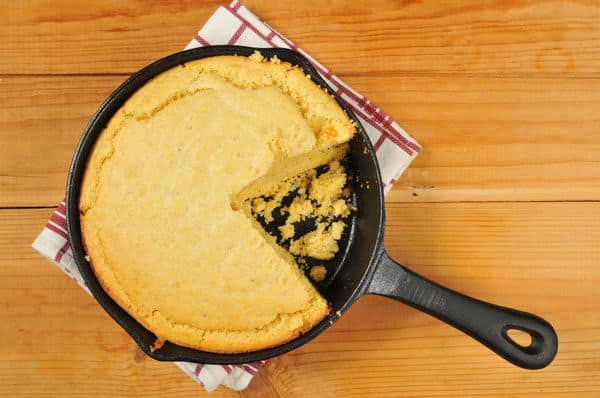 If you're in the mood to roll up your sleeves and make your own cornbread, give our skillet recipe a try! A good cornbread should be fluffy with a great, buttery crust to the top, and that great buttermilk flavor should really shine in every bite. Get our famous cornbread recipe here! The best part is, everything cooks up right in the skillet!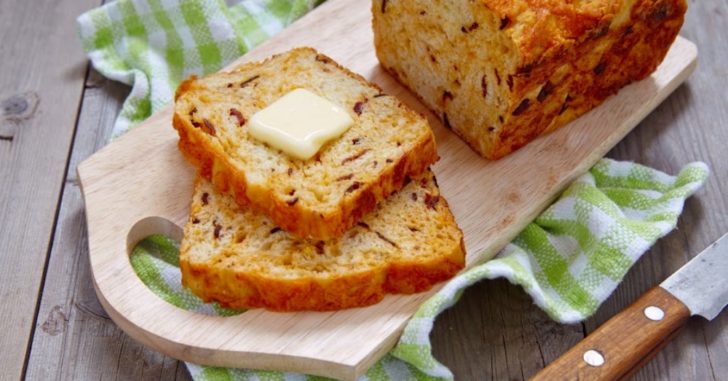 This recipe doesn't come from a box mix, but it's really easy to throw together and so worth it! Try this unique take cornbread that features savory bacon and creamy cheddar cheese. This moist, delectable bread is an easy-to-make and hearty side dish. You can make a batch of this bacon and cheddar cheese cornbread in the beginning of the week, and jazz up simple weeknight dinners such as chili, stew or baked beans. Get the delicious recipe right here!
SKM: below-content placeholder
Whizzco for 12T