It seems like I'm always making dessert for one reason or another – potluck, school function, grill-outs, and not to mention my favorite reason of all: I have a sweet tooth and I want dessert! While a homemade cake is nice, it's often more work than I'm willing to put in, especially if I need a dessert asap. Cookies and brownies are good go-to's when you're short on time and need something to feed a crowd, but there's nothing particularly unique about either of those options.
That's where no-bake bars come in. Not only are these desserts incredibly easy to make, but they are so easy to double and make enough to feed a crowd! Not to mention, they are a nice break from cookies and brownies. Go ahead and take a look at the recipes below and try one out for your next get-together!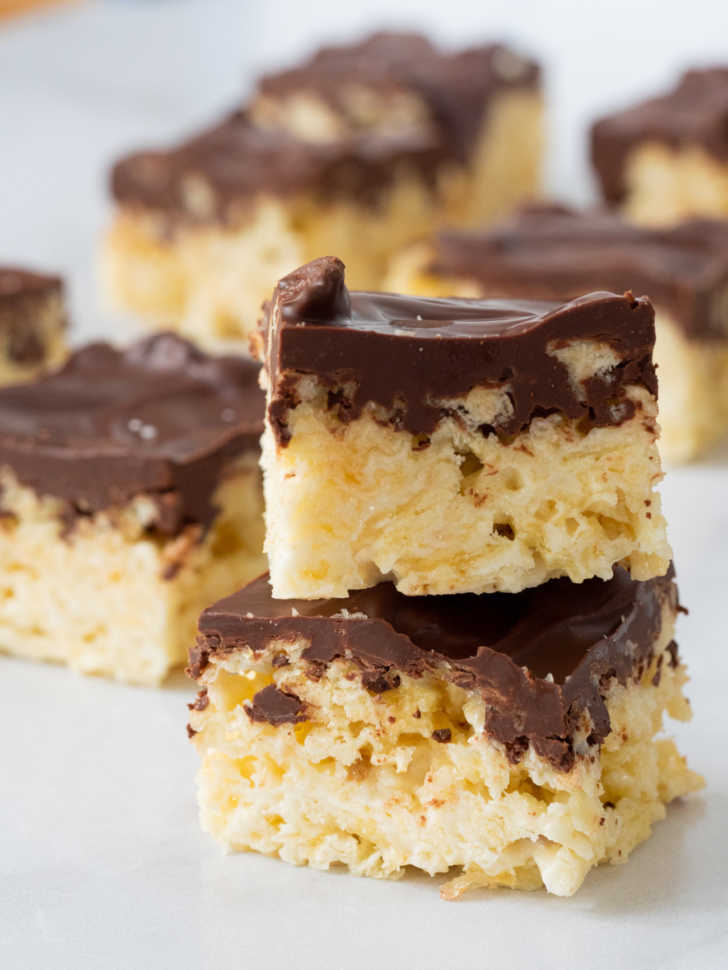 Everyone knows how good rice crispy treats are. Not only are they sweet and a bit savory, but they pack a satisfying crunch. Another benefit of rice crispy treats is that they are incredibly easy to make. However, sometimes they can get a bit boring and repetitive. So, we found a way to give these treats a unique twist, and I think you're going to like what we came up with.
These 4-Ingredient Potato Chip Bars have all the things we love about the original rice crispy treats, only the crunchy cereal is swapped with potato chips. Pour on a layer of melted chocolate chips, and you might not go back to regular rice crispy bars ever again! Get the recipe here!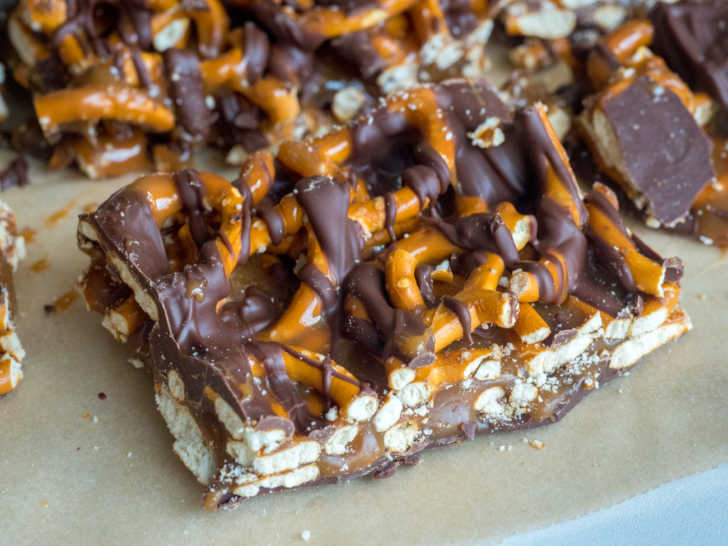 When a craving for something sweet hits, but you don't feel like diving into a baking project, this easy no-bake treat has got you covered. And they'll do more than just crush your craving for something sweet – they're salty and chewy and crunchy too even though they only use three ingredients. They've got it all and they take mere minutes to make! (And you need little more than your microwave and something to stir with.)
These simple bars use just three ingredients (seriously!) to create their layers. The first is chocolate chips, which you melt in the microwave before spreading them out on a parchment-lined cookie sheet. The second is salted mini pretzels, which you press quickly down into the chocolate before it has a chance to harden. The third is caramel bits, which you melt with a bit of water before drizzling all over the pretzels. A little more melted chocolate finishes things off. Get the recipe here!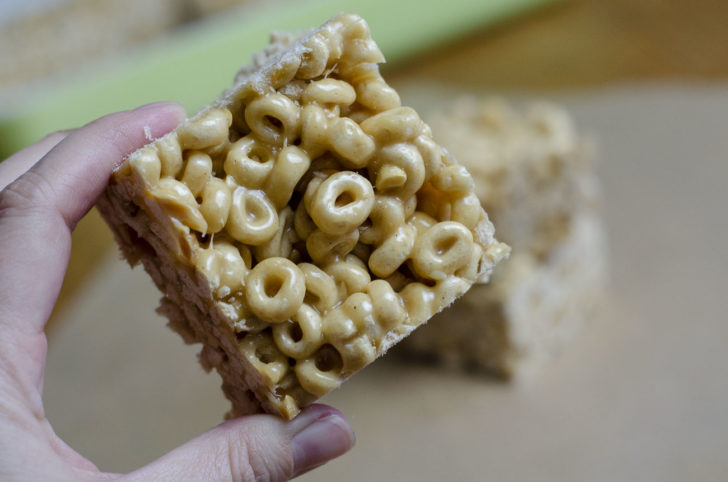 When it comes to tasty treats made from cereal, we all tend to automatically think of Rice Krispies, but we can promise that it's not the only kind of cereal that's deserving of that use. It turns out that Cheerios lend themselves to desserts just as well, and when combined with peanut butter and a few other ingredients, make a no-bake bar that's crispy, crunchy, sticky and sweet, and oh-so-satisfying.
These No-Bake Peanut Butter Cheerio Bars take just about five minutes to prep and are a crispy cereal bar with more of a substantial crunch and candy-like snap than you're used to. The center of the bars is chewy, while the outside has a hard crunch, and there's plenty of peanut butter flavor running throughout. Get the recipe here!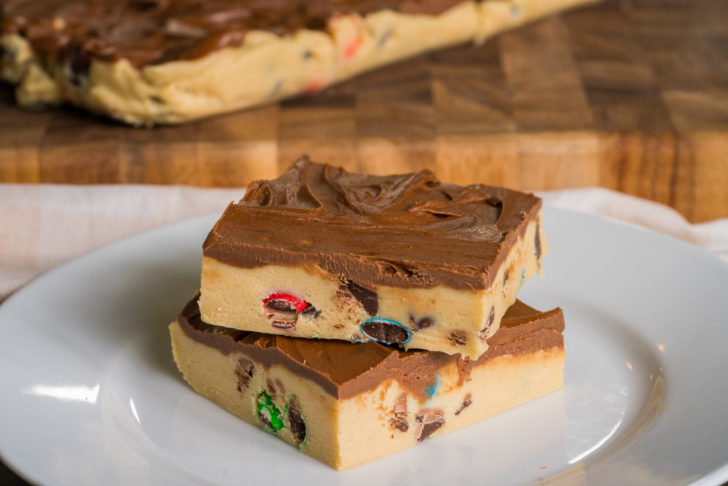 Do you also chuckle every time you hear you're not supposed to eat raw cookie dough? We understand the issue is with the uncooked eggs, but cookie dough is just so delicious – we can't help ourselves! What if we told you you could indulge in all the cookie dough you want with no raw eggs to contend with and without fear of being chastised? Now you can! We've got these no-bake cookie dough bars for you and my, oh my, are they delicious!
These aren't just any cookie dough bars; these bars have both semi-sweet chocolate chips and M&Ms in there, as well as a peanut butter chocolate ganache topping that is ridiculously yummy and makes the whole thing amazing. These bars come together in a snap, what with creaming together the butter and sugar – brown sugar for a deeper flavor – then mixing in flour and sweetened condensed milk. This is almost the same process as making cookies, but you get to skip the step of rolling the dough or forming the actual cookies. Win. Set that cookie dough in a 9×13 and pop it in the freezer to set, then you're good to go. Get the recipe here!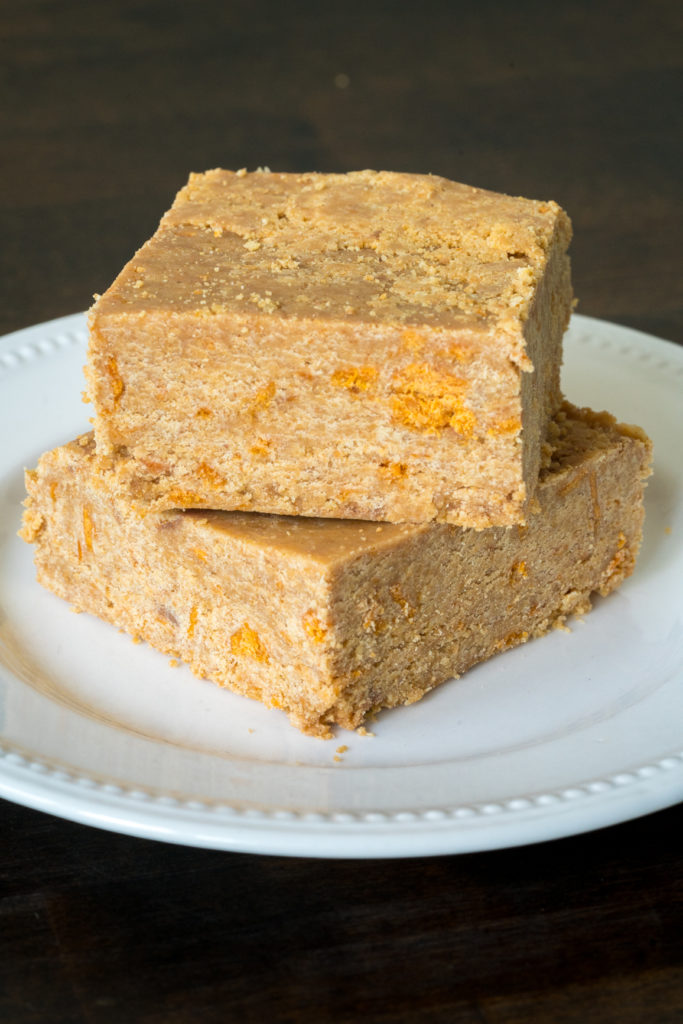 If you're a candy bar lover and can frequently be found with a Twix in your purse or a Snickers bar in the glove compartment for days when you really need a boost – although don't keep it in there on a hot day, or you'll be left with a mess – these are the bars for you. While we think these are great for anyone, these no-bake, nutter butter butterfinger candy bars are like a love letter to all the peanut butter aficionados in your life.
With a package of nutter butters, a bag of peanut butter chips and a healthy dose of chopped butterfinger bars (plus, mini nutter butters if you want to really go crazy at the end), these bars are about as peanut butter-y as you can get. Did we mention these are super easy to make and the fact that you don't even need to turn on the oven makes them one of our new favorites?? We thought you'd like that too. Get the recipe here!
SKM: below-content placeholder
Whizzco for 12T