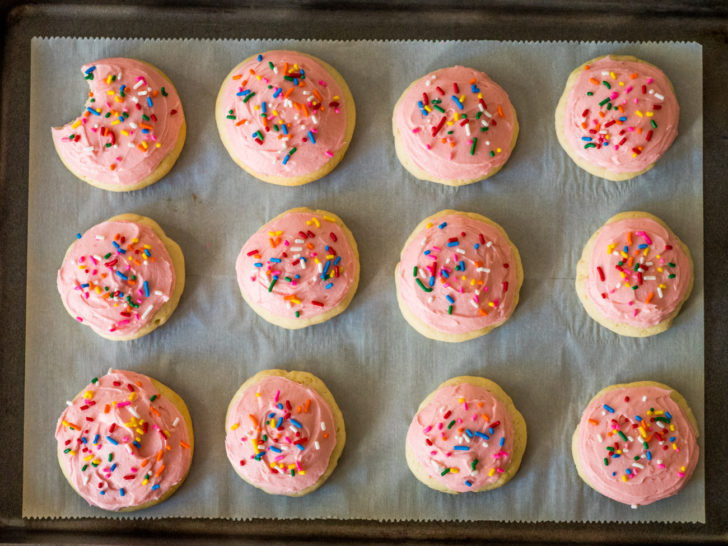 We're really not picky when it comes to cookies – we don't think we've ever encountered one we didn't at least like a little bit – but we go nuts for frosted cookies, they're our kryptonite; you know the feeling, once you have one there's basically no hope of stopping. So, given our obsession for frosted cookies, we thought it would only be natural to put together a list of our top four favorite frosted cookies. (Try saying that five times fast!) You guys, this list is so good and we're very happy to share it with you today. Enjoy!
---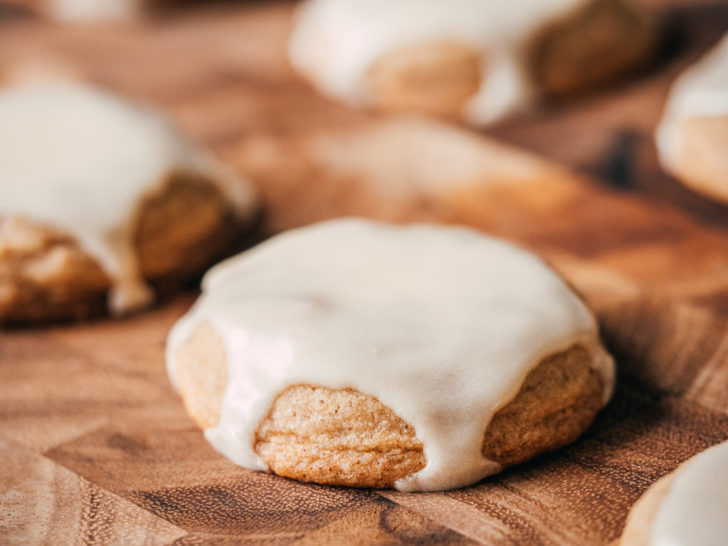 When you've made and tried as many as we have, you'll trust us when we say we've found a great cookie that can't be beat…and these Brown Sugar Amish Cookies are pure perfection. You may have heard of a version without brown sugar, but it's precisely the brown sugar that makes these ones so, so yummy. That, along with a hefty dose of cinnamon, turns these treats into a cookie version of your favorite spice cake: deliciously soft and never dry. Get your Amish cookies here!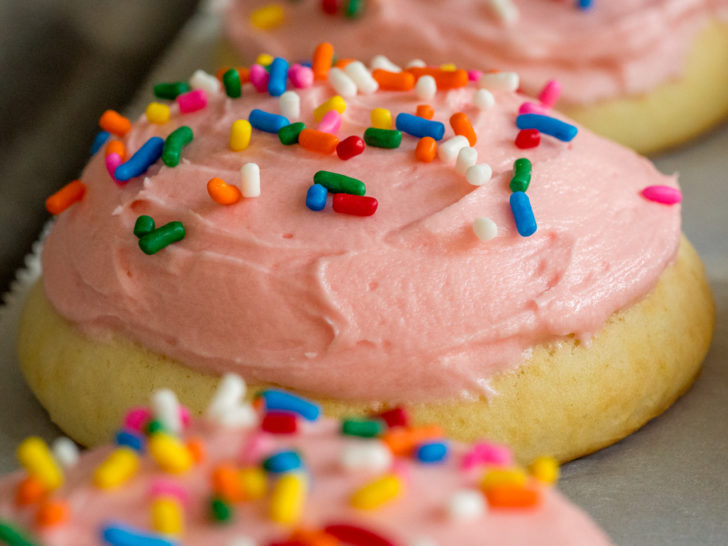 Do you remember those cookies from the grocery store that are covered in brightly-colored frosting and then topped with lots of fun sprinkles? Lofthouse Cookies is their official name, but if you've only referred to them as "those magical, frosted, grocery-store sugar cookies," that's totally fine too. Those cookies are not only adorable, but also insanely delicious and addictive, and for years we've debated about what makes them so special and whether or not we could make them at home. Is it the perfect cakey-cookie balance that we notice in every bite or the way the frosting sets to perfection? Is it the lofted nature of the cookie – no flat-as-a-pancake confections to be seen here – or the way the cookie basically just melts in your mouth as soon as you take a bite? Whatever it is, we're here to tell you that you can, in fact, make them yourself – grab the recipe here.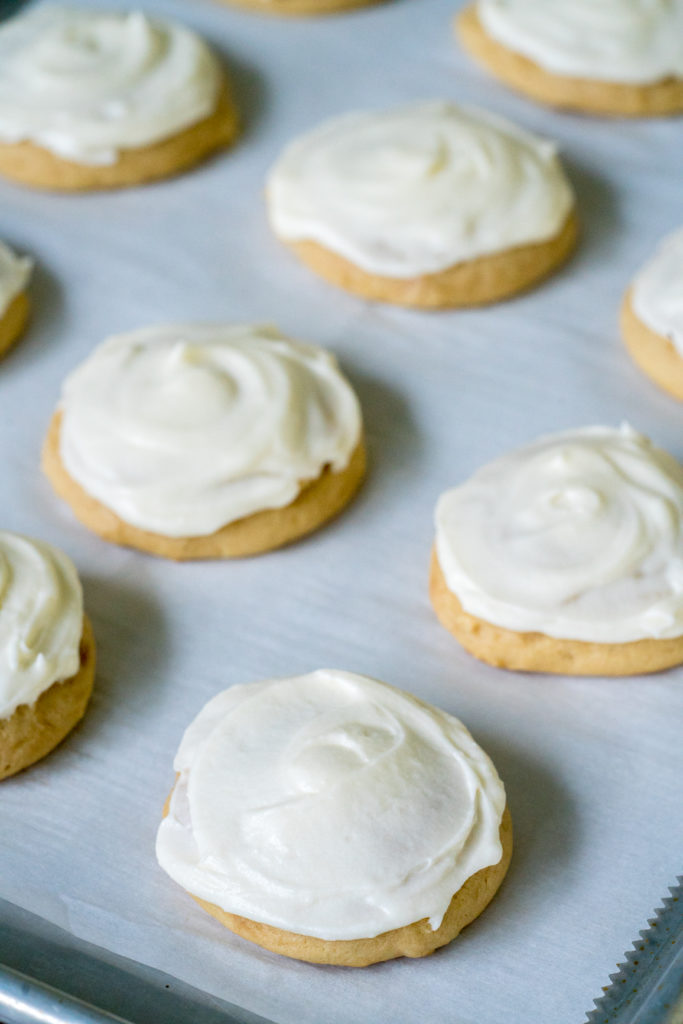 Our love for chocolate chip cookies will never die, but there are times when we turn away from our belovedly dense cookie and crave something a little cakier…since cakey cookies tend be a little lighter and airier. In this case, we took inspiration from one of our childhood favorites, the root beer float, and turned it into one of those frosted, cakey cookies that hits the spot at any time of day or night. We had to track down some root beer extract, but once we did that we were golden. It goes into both the batter and the frosting, and it really does make you feel like you're eating a solid root beer float – click here for the recipe!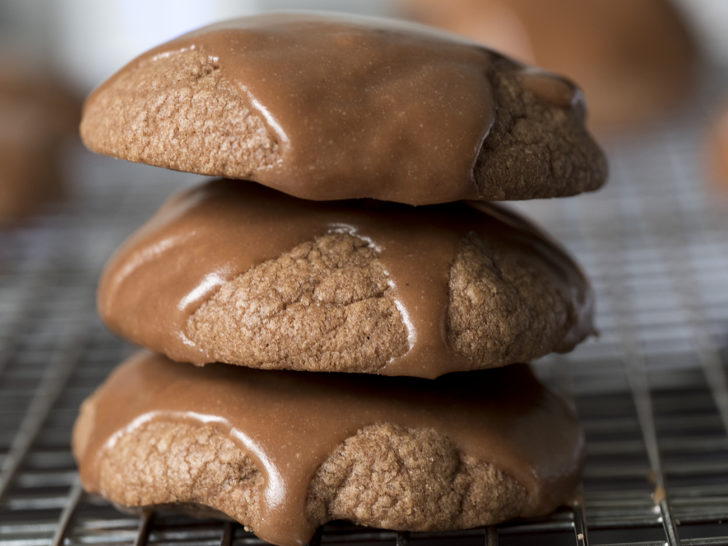 For those of you who've tried it, you'll understand when we say that Texas sheet cake is one of our absolute favorite desserts. For those of you who haven't come across it yet: prepare yourselves. The traditional chocolate cake is über rich and tasty, smothered in an icing that will sweep you off your feet it's so good. Given our love for this dessert, it's no wonder we were inspired enough by it to try to replicate its decadently delicious flavor in the form of…cookies! These Texas sheet cake cookies are unlike any you've had before. They're rich and chocolate-y, while still being light-as-air, and not too heavy to stop you from enjoying a couple. Then there's the glaze: it perfectly rounds out the Texas sheet cake flavor and takes the cookie to the next level. These things are ridiculously good – you have to try them and see for yourself! Here's the recipe!
SKM: below-content placeholder
Whizzco for 12T