How good is a great tasting burger? You never remember the regular ones, but the best, most delicious ones always live on in your memory. The following list features 15 of the world's best burgers. I'd rate these brilliant buns alongside any other you can name.
To make it simpler, and more inclusive, I've restricted the entrants to one per country. I know I've missed a couple here and there, but this gives me more options for future lists.
Please note that because they aren't my area of expertise, I've left veggie burgers out of the rankings.
1. Double Cheeseburger, Au Cheval (Chicago, Illinois)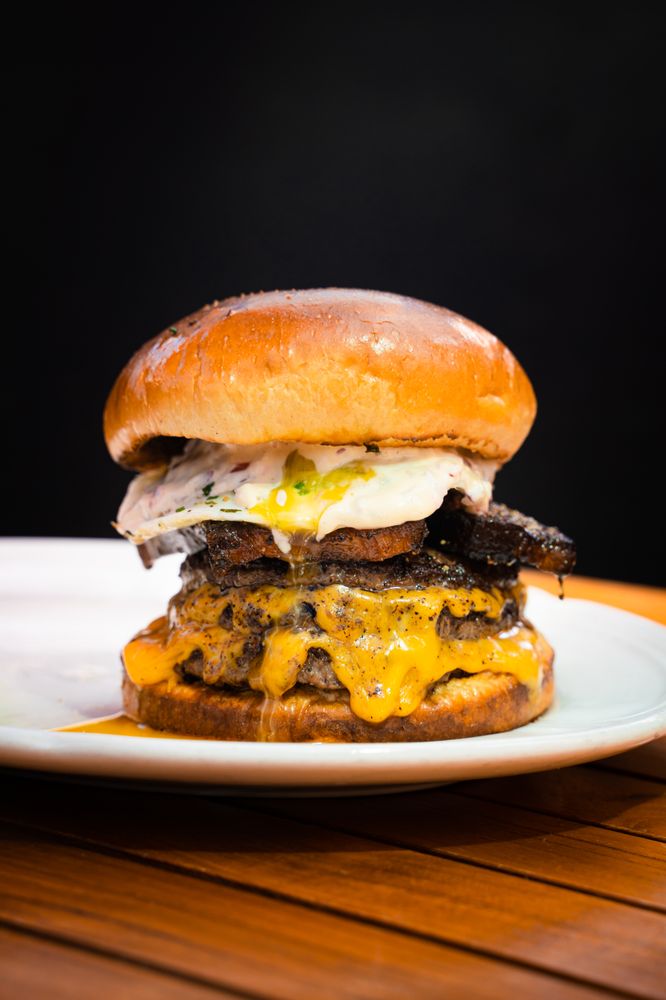 One of the few times I've ever described a burger as 'decadent' is after eating an Au Cheval cheeseburger. It's a simple, but brilliant old school burger that uses locally sourced ground beef, thick bacon, and a perfectly gooey egg.
Double Cheeseburger: Two premium beef patties, crispy bacon, free range egg, American Cheddar, house-made sauce.
2. Squealed With A Kiss, 127 Days (Adelaide, Australia)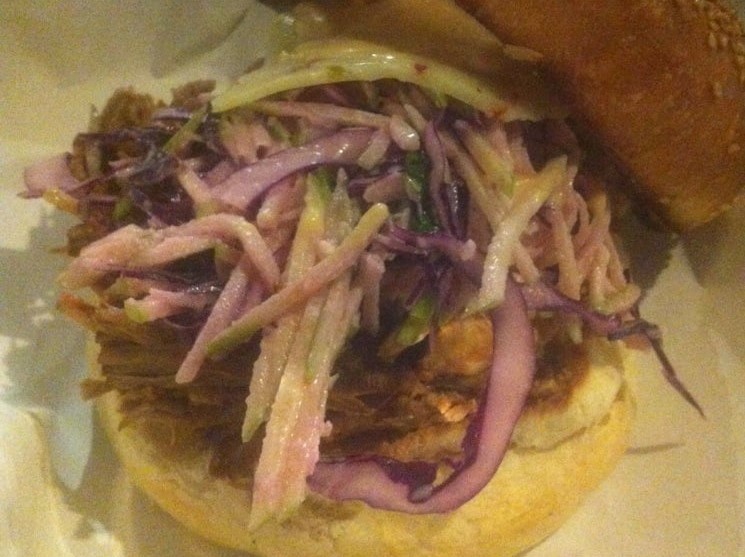 Adelaide is a serious food city. The burgers at 127 Days are renowned for their delicious taste, quality ingredients, and commitment to great flavor.
I'm always down for a burger featuring bbq pulled pork, but any of the 127 Days burgers are fantastic. They even have the Godzilla, which is the approximate size of a cow.
Squealed With A Kiss: Pulled Pork, Apple Slaw, Cheese, Chipotle Mayo
3. The Little Lamby Burger, Fergburger (Queenstown, New Zealand)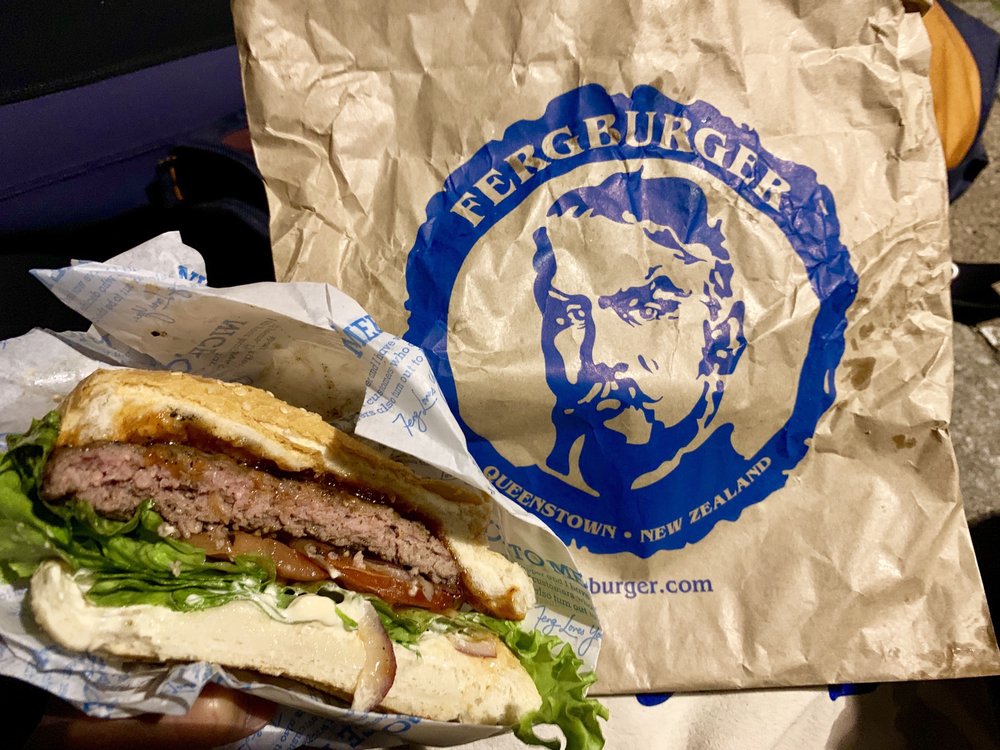 Queenstown, NZ, is one of the world's most underrated adventure and scenic holiday destinations. Fergburger is famous across the ditch for its tremendous burgers (lines often go up the street during peak serving time). When in doubt, get the Little Lamby – the mint jelly help make it the bomb!
Little Lamby: High country lamb, mint jelly, lettuce, tomato, red onion, aioli & tomato relish
4. Rowdy Chicken Burger, Mobster Diner (Paris, France)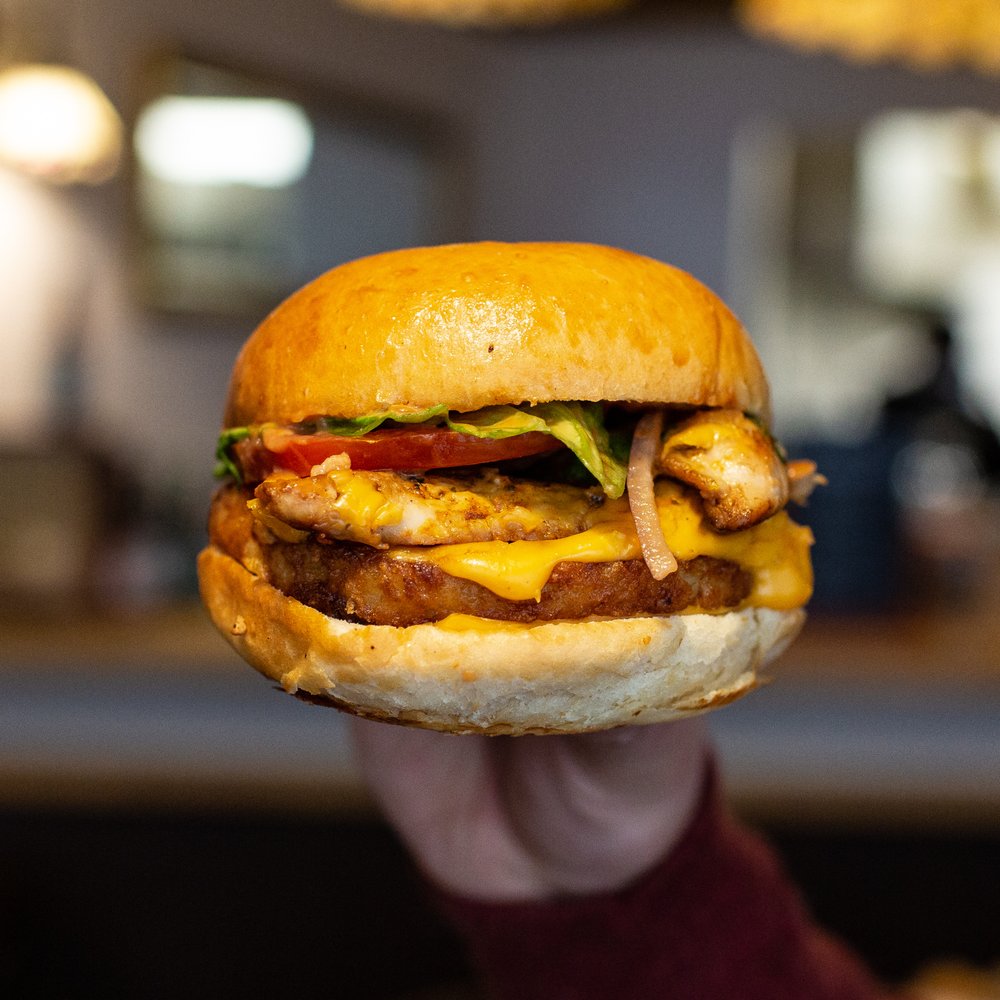 Turn up for the Prohibition atmosphere, come back for another burger. Paris is a city famed for rich food, art, and fashion – you can add burger culture to the list. Mobster Diner is just one joint that makes world class burgers, with the Rowdy chicken burger (or sandwich, in the US) a real standout.
Rowdy Chicken: Grilled chicken in Cajun spices, avocado, cheddar cheese, potato rosti, lettuce, tomato, and housemade red onion sauce.
5. Daddy Mac, Mamo Burger Bar (Windsor, Canada)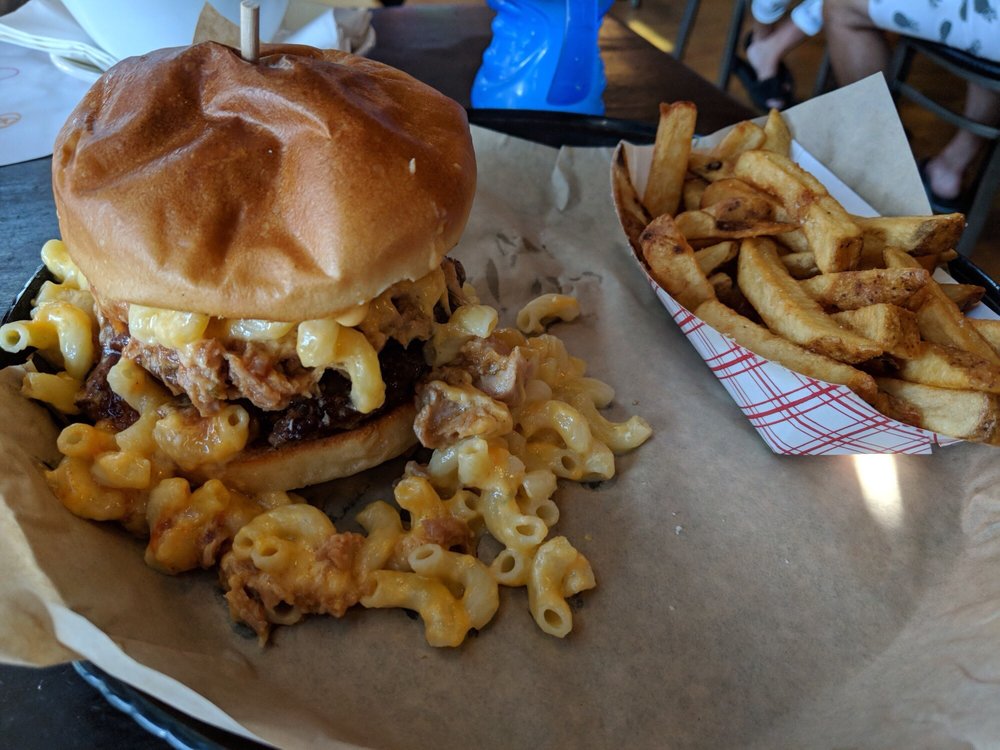 There are A LOT of great tasting burgers north of the border, but the Daddy Mac is one that stands out. I'm a huge fan of burgers utilizing pulled pork, and the mac and cheese is just a comfort bonus. Get it with a side of poutine for real Canada cred!
Daddy Mac: Housemade Mac n Cheese, smoked pulled pork, caramelized onions
6. The Hangover Burger, Lombardo's (Amsterdam, the Netherlands)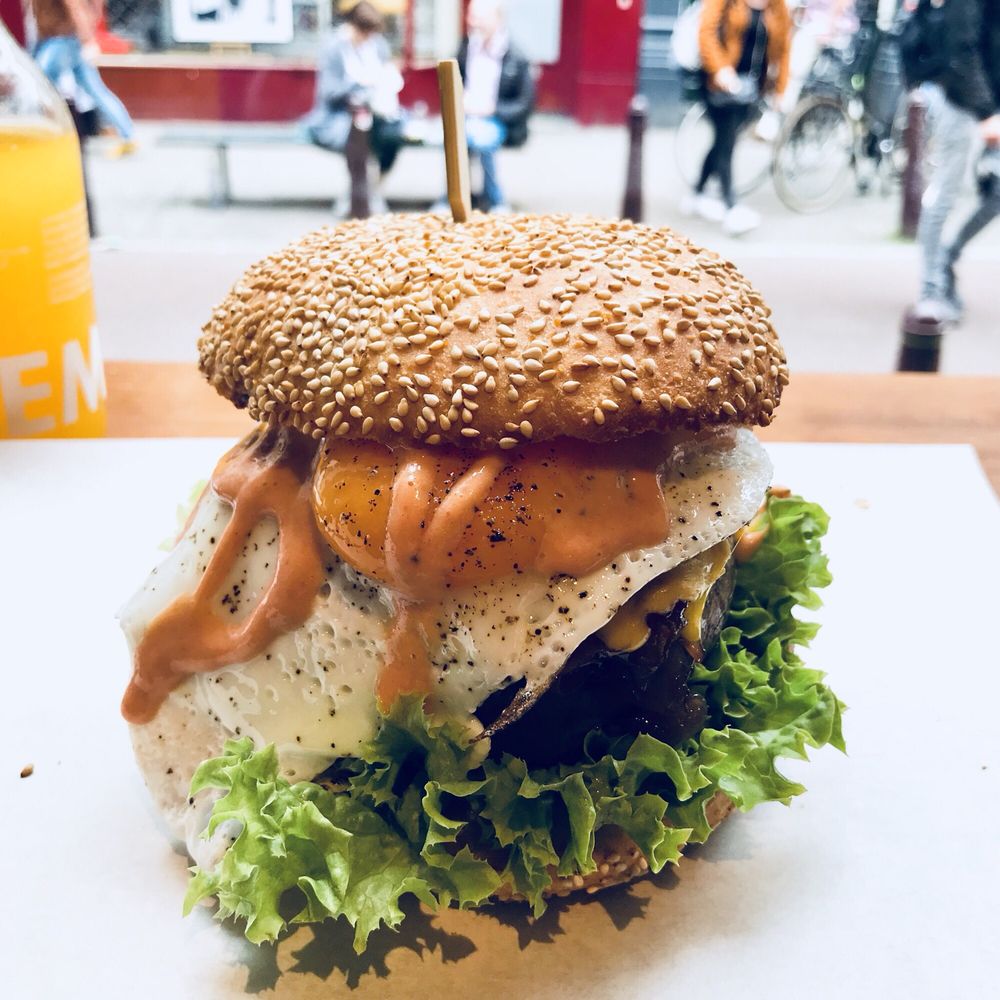 For many visitors to Amsterdam, taking the edge off your hunger or working off a big night on the town means the chance to enjoy a brilliant burger. Lombardo's is a friendly little eatery with great tasting burgers.
The Hangover Burger: Prime local beef, pan fried free range egg, melted English cheddar, pan fried pancetta, sweet red wine onion compote.
7. El Fabrikano, Hamborgarafabrikkan (Reykjavik, Iceland)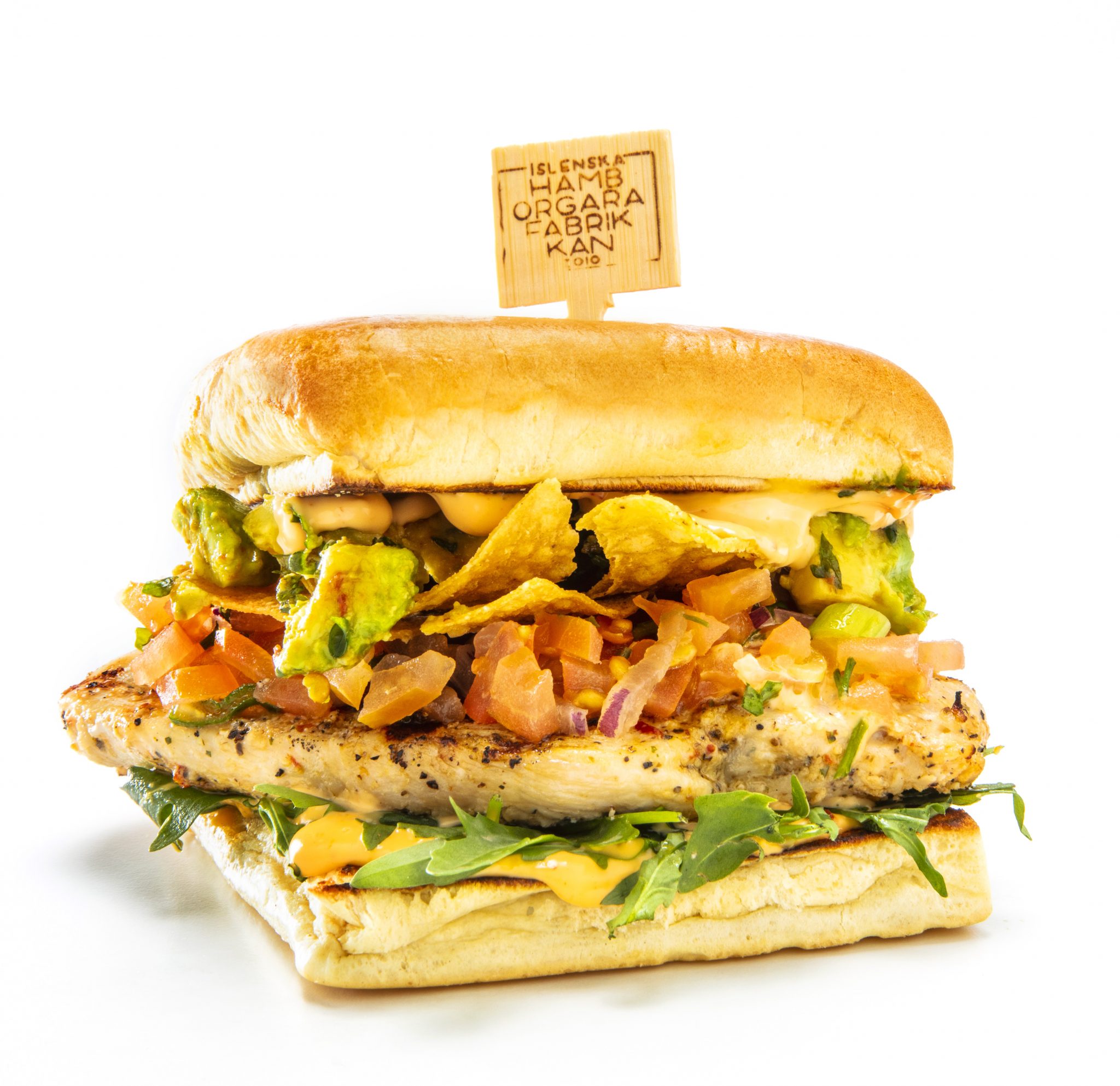 I used to hear tales of the famous Hamborgarafabrikkan from travellers who spent a few days in Reykjavik between London and New York stops on their round the world trips. These square burgers stack up against the best in the world.
El Fabrikano: Chicken burger, rock salad, Pico de gallo (tomato, coriander, red onion, lime), homemade avocado salad, nachos, and Chili mayo in potato bread.
8. Goatcheese Burger, Bobby's Burger (Hamburg Germany)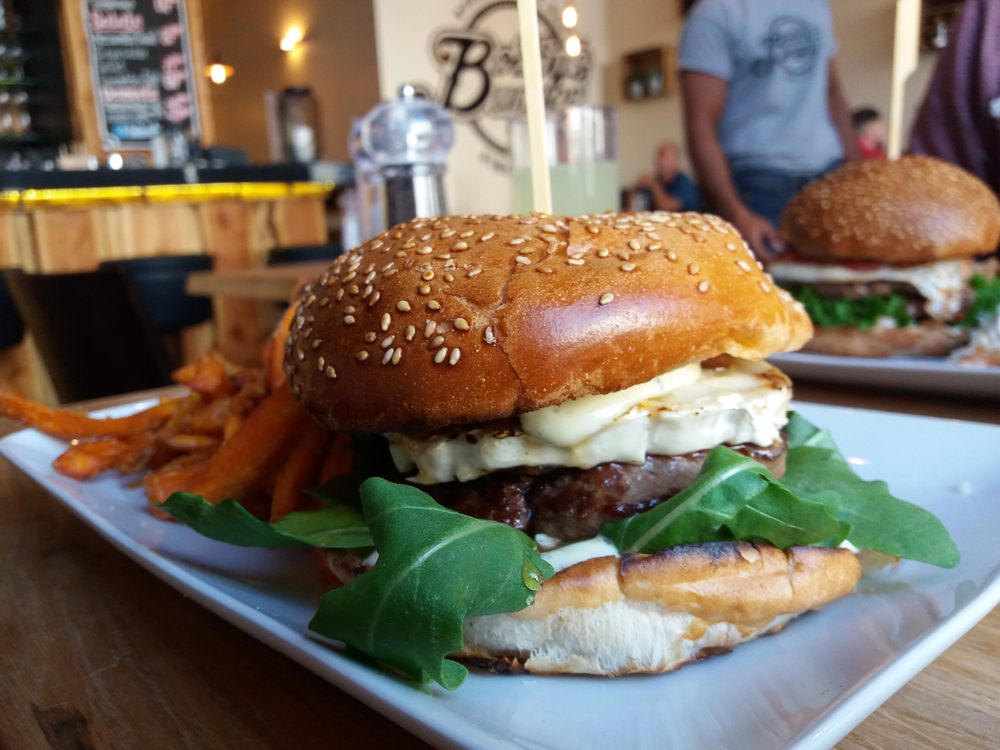 It would be remiss of me not to include a burger from the home of Hamburgers. Bobby's offers huge burgers with a range of cool and interesting ingredients, including a killer plant-based burger. But, I'll go for the goat's cheese – it goes brilliantly with a beef patty, especially one over 10 ounces.
Goatcheese Burger: Grilled goat's cheese, grilled eggplant, tomato, rocket, lollo bionda, roasted walnuts, homemade honey mustard mayonnaise
9. Bacon Cheeseburger, Ground Burger (Lisbon, Portugal)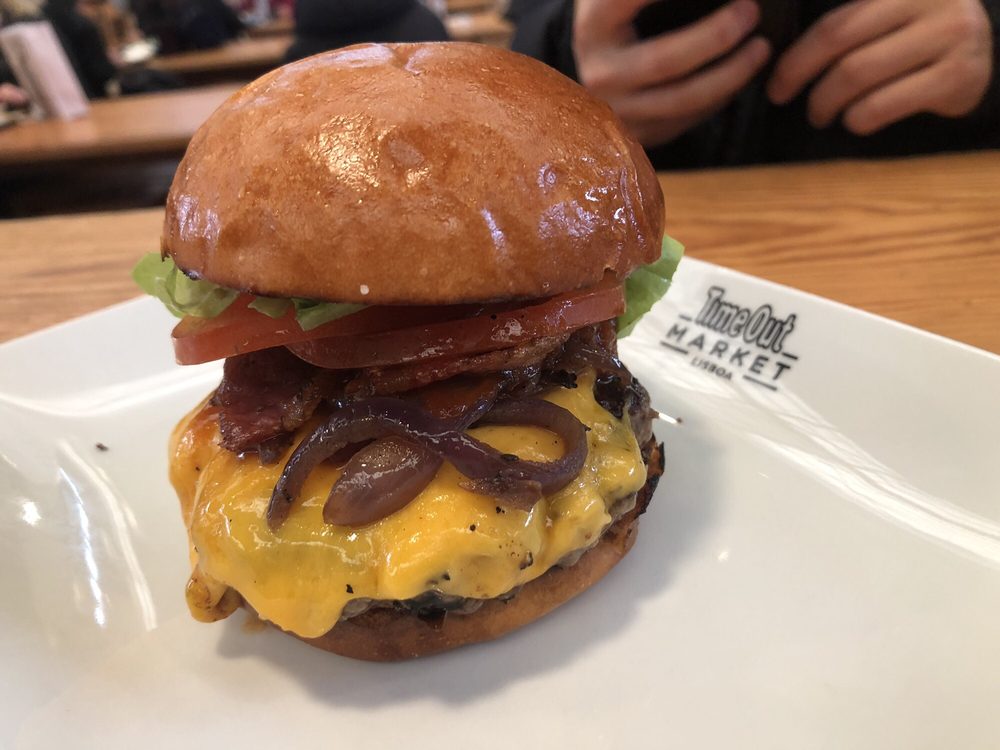 I once turned up 24 hours early for a short flight to Spain from Heathrow – I opted for a random trip to Lisbon instead. I fell in love with the city's friendly atmosphere and mix of modern and old school architecture and art. Ground Burger's food is much the same: old school food in a new school environment. If you want a donut, get there early.
Bacon Cheeseburger: Black Angus beef patty, cheddar cheese, smoked crispy bacon, lettuce, tomato, grilled red onion, BBQ sauce.
10. Captain Ahab Burger, The Butcher's Club Burger (Hong Kong)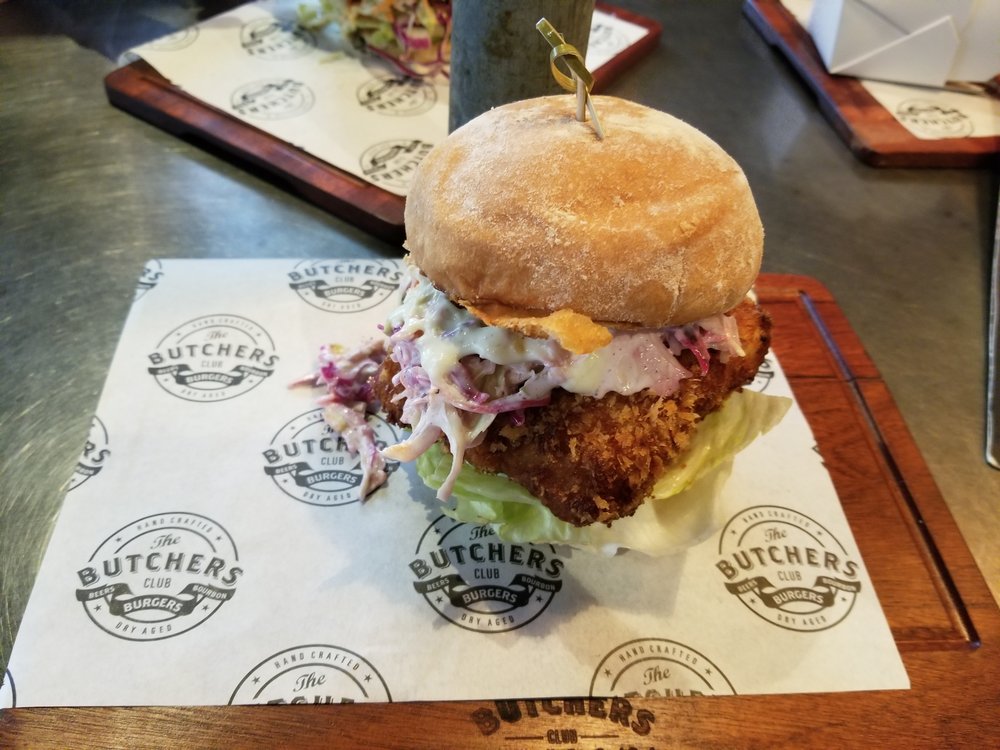 Another bustling city with a large ex-pat population, Hong Kong is not just a place for delectable Asian cuisine. The Butchers Club Burger does a great job making tremendous US-styled burgers, however, their Captain Ahab fish burger is a tasty alternative to cheeseburgers!
Captain Ahab: Panko breaded cod fillet, house-made tartare sauce, lettuce, tomato, spicy slaw
11. The Lafayette Burger, Franky's Burger (Stockholm, Sweden)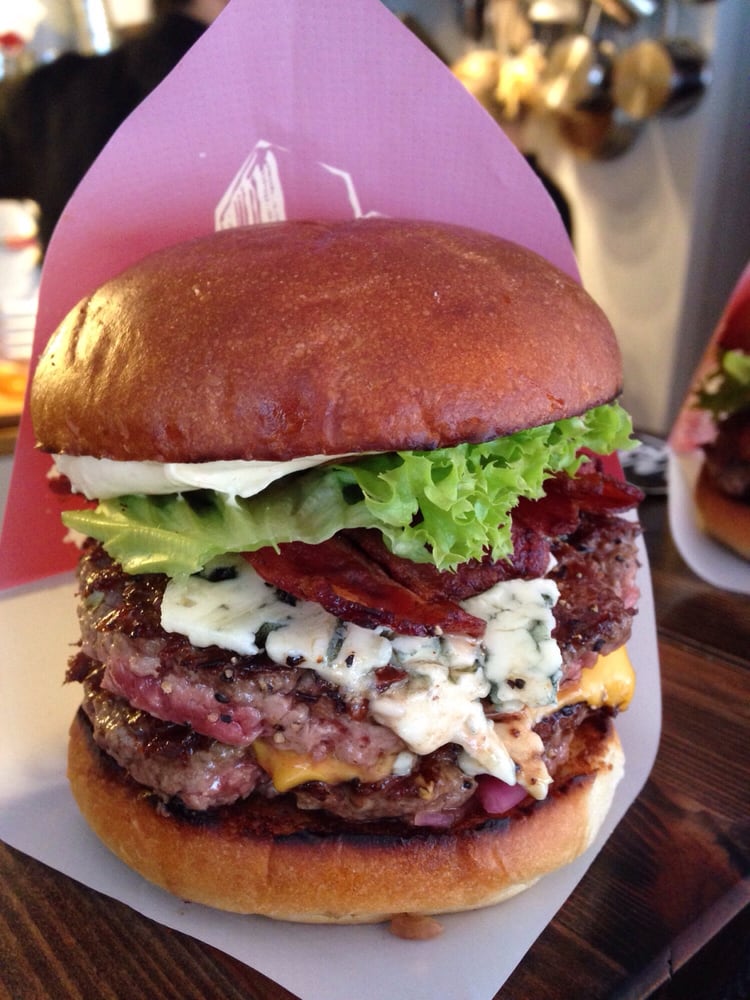 It was difficult to split Franky's Burger and Flippin' Burgers (the two famous burger houses in Stockholm), however, the Lafayette Burger was the perfect tie-breaker. It's nothing outlandish, just a perfectly cooked and seasoned burger with great complementary flavors.
The Lafayette: Beef Patty (solo or double), bacon, cheddar cheese, bleu cheese, bacon, pickled red onion, lettuce tomato, dressing
12. The Elvis Burger, Fat Boy's – The Burger Bar (Singapore)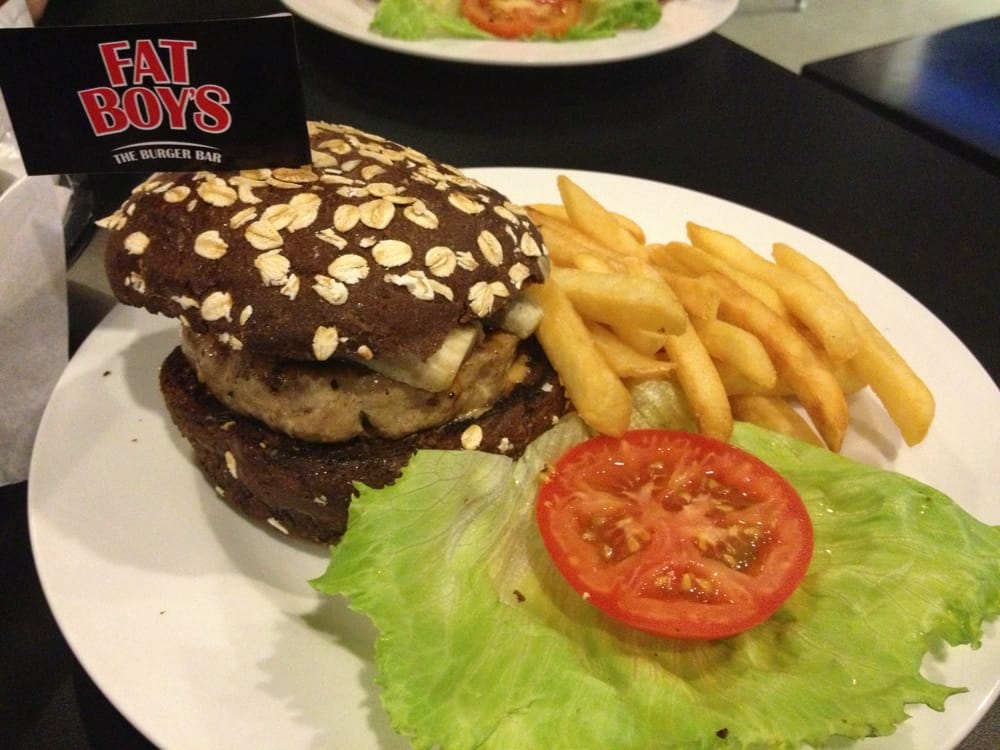 Fat Boy's is a favorite of the legion of ex-pats living in Singapore. Regular readers know my love for the heart-stopping weirdness of Elvis Presley's diet. This pork based burger is a variation on the King's favorite, The Elvis Sandwich.
The Elvis: Bacon stuffed pork patty with bacon, grilled bananas, and peanut butter on a honey crust bun.
13. Lambshank Redemption, Patty & Bun (London, England)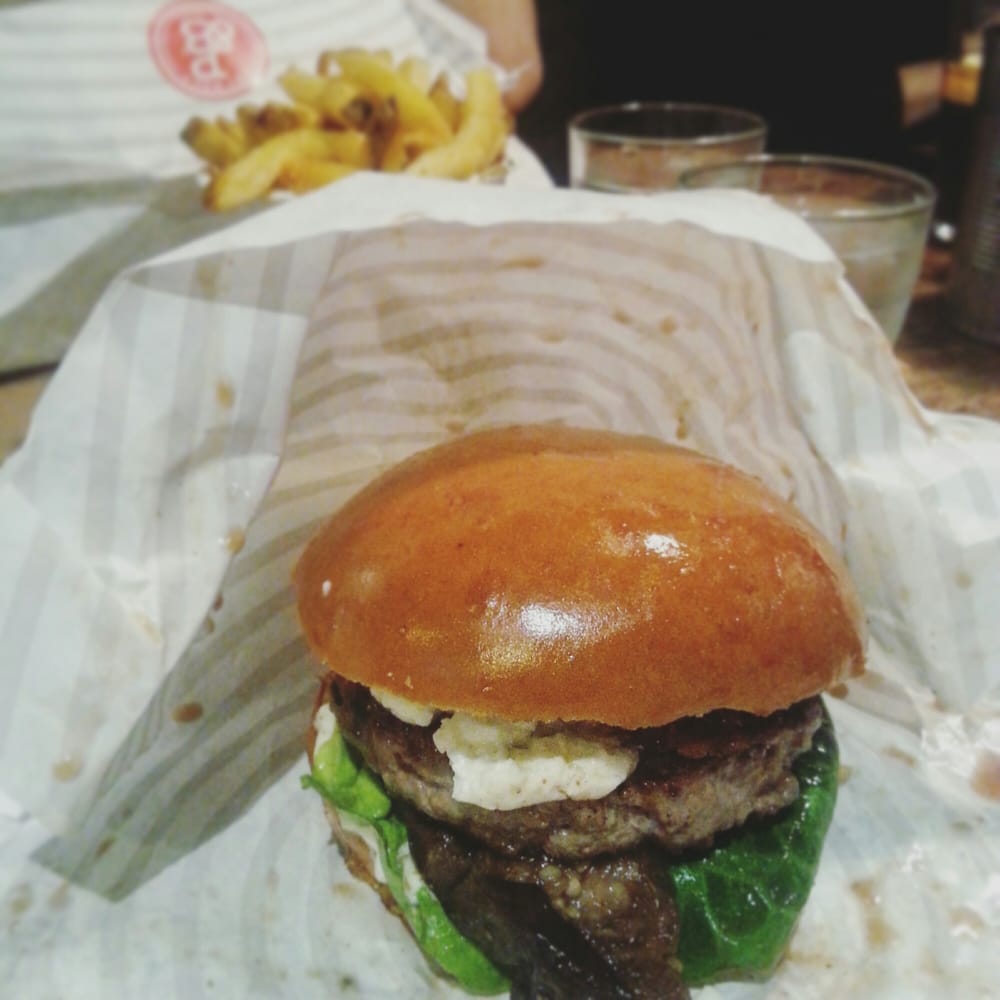 My favorite burger joint in the UK offers eclectic burgers made with flair and fantastic ingredients. The Lambshank Redemption name alone is good enough to put this burger on the list, but the mix of flavors squished in between the brioche bun is even more memorable.
The Lambshank Redemption: Lamb patty with cilantro and chili, buttermilk baby courgettes (zucchini), pickled eggplant, cumin aioli, feta, on broiche
14. La 420 Burger, The Burger Joint (Buenos Aires, Argentina)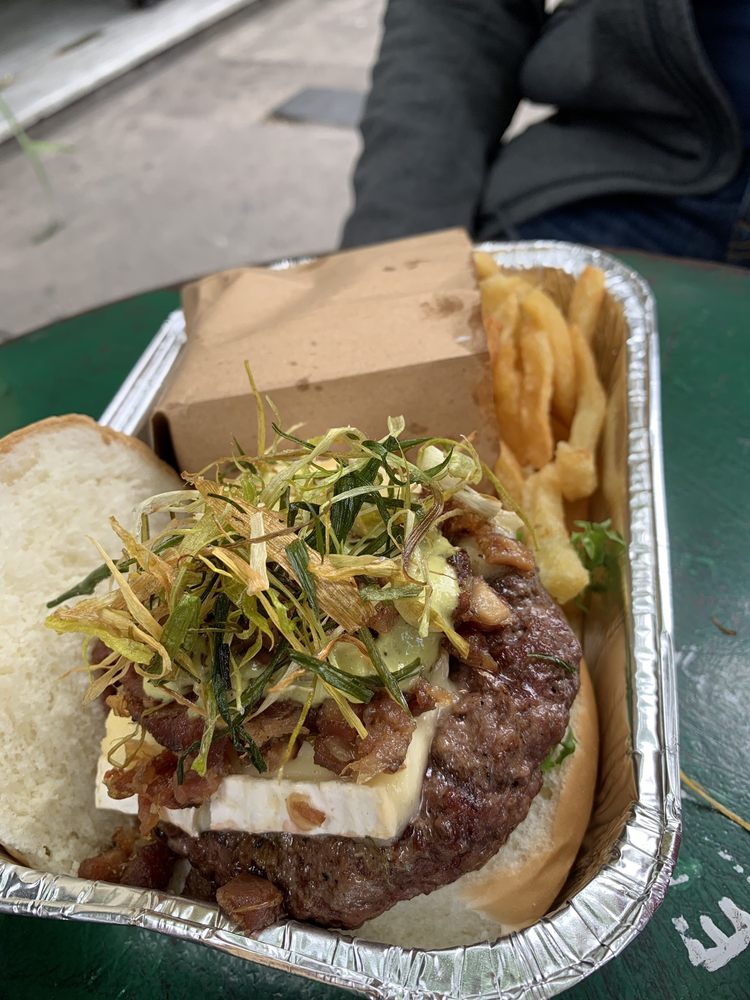 The interior of the Burger Joint looks like a 1970s street wall in NYC, yet the burgers (and the atmosphere) are electric. The most interesting burger on this list is the La 420 and it offers a mix of big flavor and texture, plus a massive chunk of Brie.
La 420: Beef patty, brie, caramelized pancetta, jalapeno lime and mango salsa, thin escarole, and crunchy leek.
15. Grilled Salmon Burger, The Craft Burger Co. (Osaka, Japan)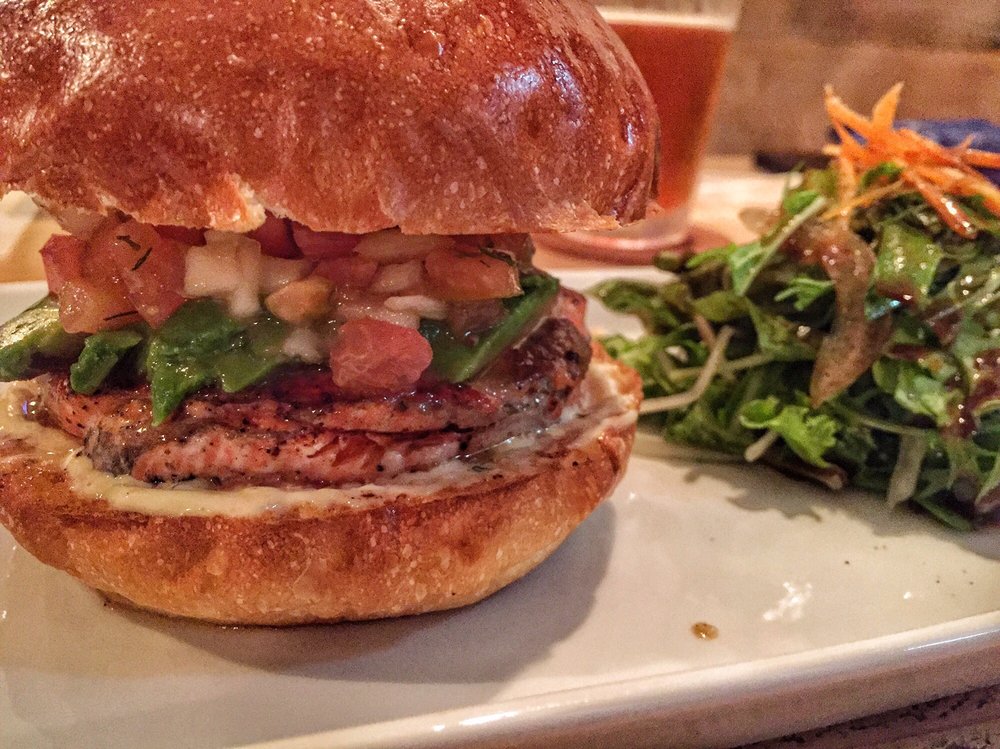 Japanese burgers are underrated. When I was teaching I loved nothing more than to take a train into the city for a genuine burger. But Japan also introduced me to a broader palate, with salmon being a strong flavor that I grew fond of. This grilled version from The Craft Burger Co looks outstanding.
Grilled Salmon Burger: Alaskan salmon, avocado, tomato and onion vinegar sauce, dill aioli
Conclusion
This is probably the most subjective list that I've ever written (so glad I set some rules), and I know that there are some burgers I've missed.
What (and where) was your most memorable burger experience?
SKM: below-content placeholder
Whizzco for 12T