It's easy to overlook store brands when you already have your favorite name brand items, but with Kroger, that would be a mistake! The store brand, which is sold not only in Kroger stores but at chain stores such as QFC and Fred Meyer, has quite a cult following. According to a press release the Kroger brand has expanded its inventory to include over 30,000 products!
Allrecipes.com tells us, "The company's Our Brands lineup of private-label products is made up of the following brands: Kroger, Private Selection, Simple Truth, Simple Truth Organic, and HemisFares." With so many different things to choose from, we thought we'd make it easier by showcasing some of our favorite Kroger brand items. Not only are you saving money by buying Kroger brand items, but you just might find that you like them far better than the competition. We certainly did!
Maple Pecan Baked Puffs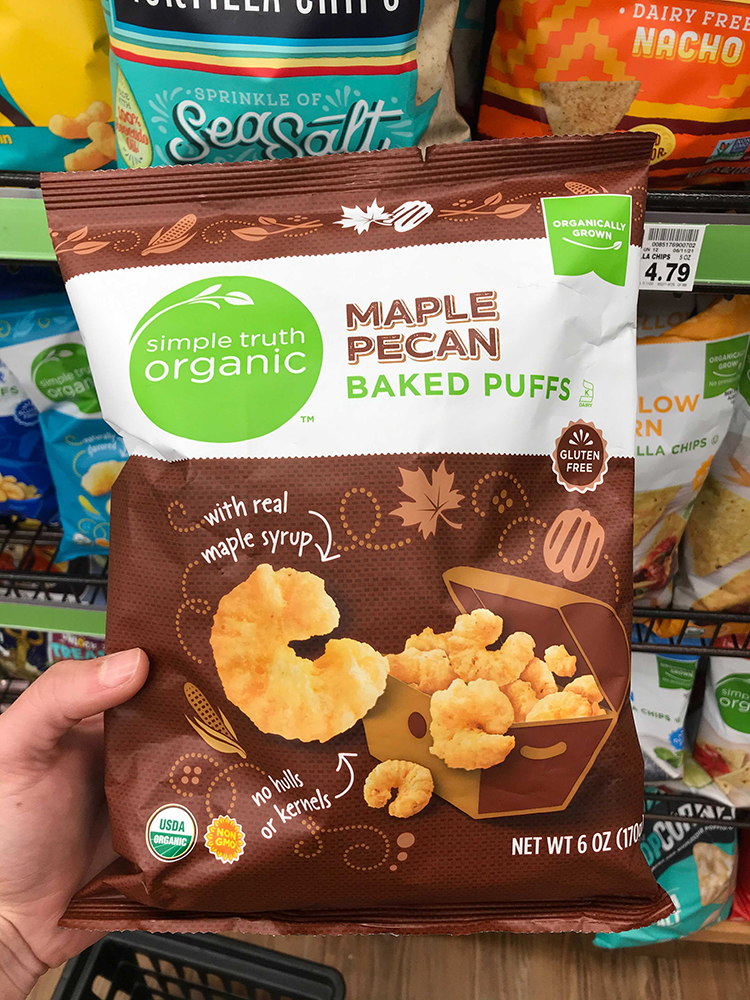 This snack is as delicious as it is addictive! These baked corn puffs have a satisfying crunch, a slightly salty seasoning, and a sweet maple coating. Plus, all the ingredients are organic and non-GMO, so you can rest assured you're getting the best. The best part though? A 6oz bag costs $1.99!
French Goat Cheese & Marinated Vegetables Thin Crust Pizza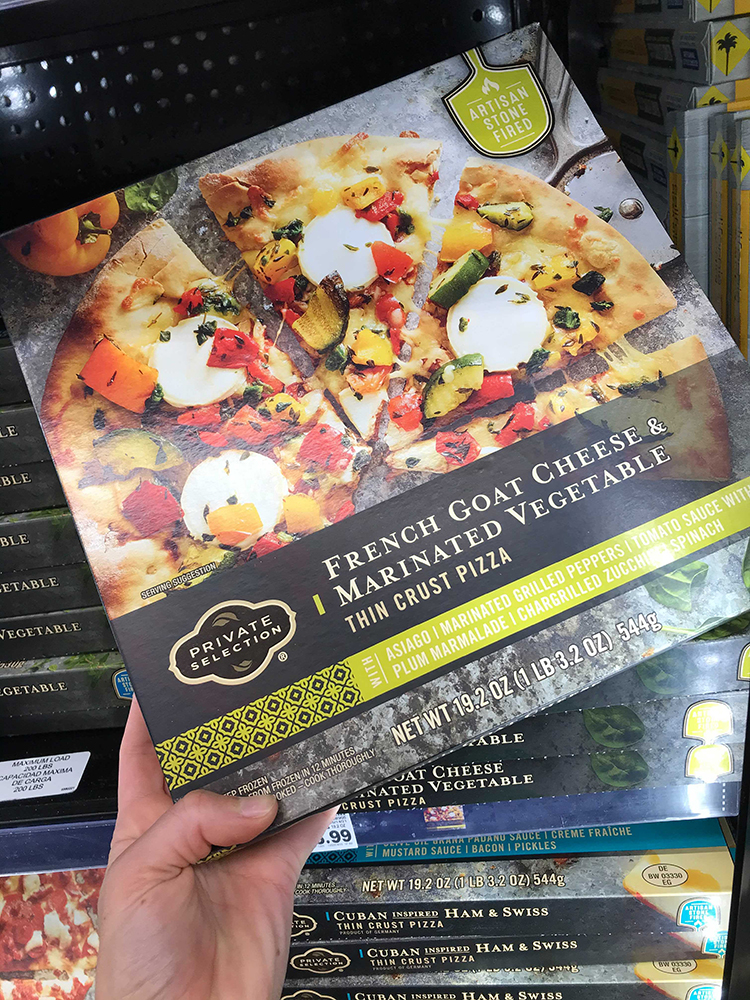 The name might sound a bit pretentious but stick with me here. It all starts with a sourdough bread crust that's proofed for 24 hours and then baked on hot, white granite stones. According to the Kroger website, "A rich olive oil Grana Padano sauce is topped with soft asiago cheese, rounds of French goat cheese, tender, marinated red and yellow peppers, chargrilled zucchini, spinach, and a flavorful tomato with plum marmalade sauce to create a mouthwatering pizza." I'm sold!
Seasoned Black Beans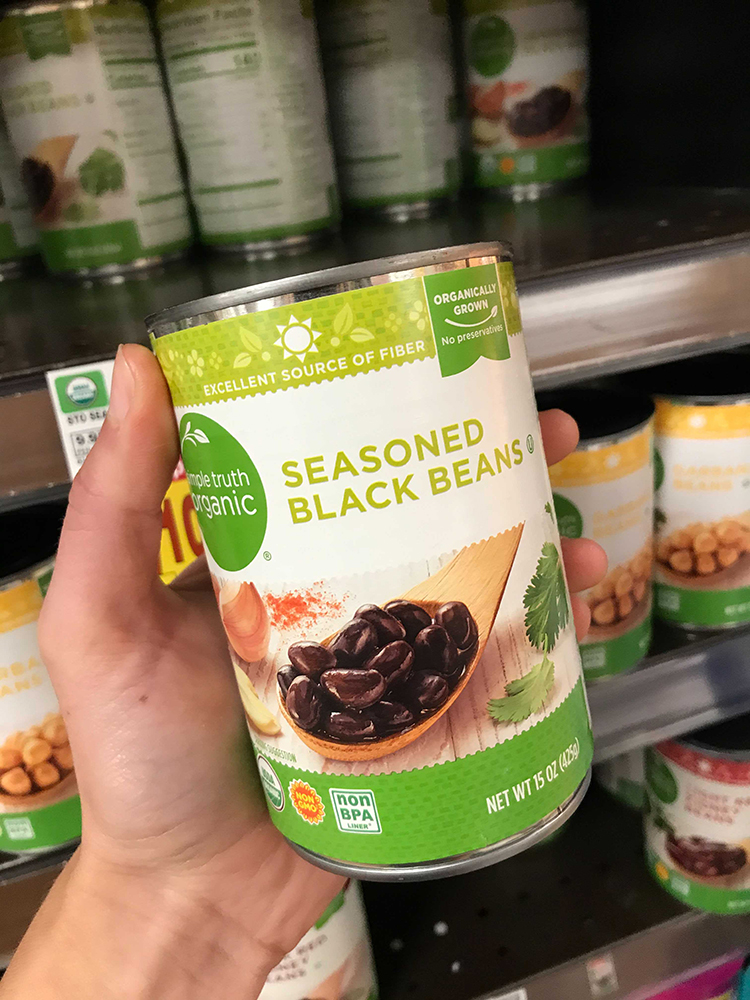 You might be thinking, "Canned beans? Really?" And let me answer with a resounding YES! These beans are harvested and canned at peak flavor and lightly seasoned for an extra boost of deliciousness. All beans are organically grown, non-GMO, non-BPA liner, and use zero preservatives. Plus, black beans are a great source of protein, so if you're looking for some healthy meat alternatives, definitely pick up a can of Seasoned Black Beans the next time you're at the store!
Sour Neon Gummy Worms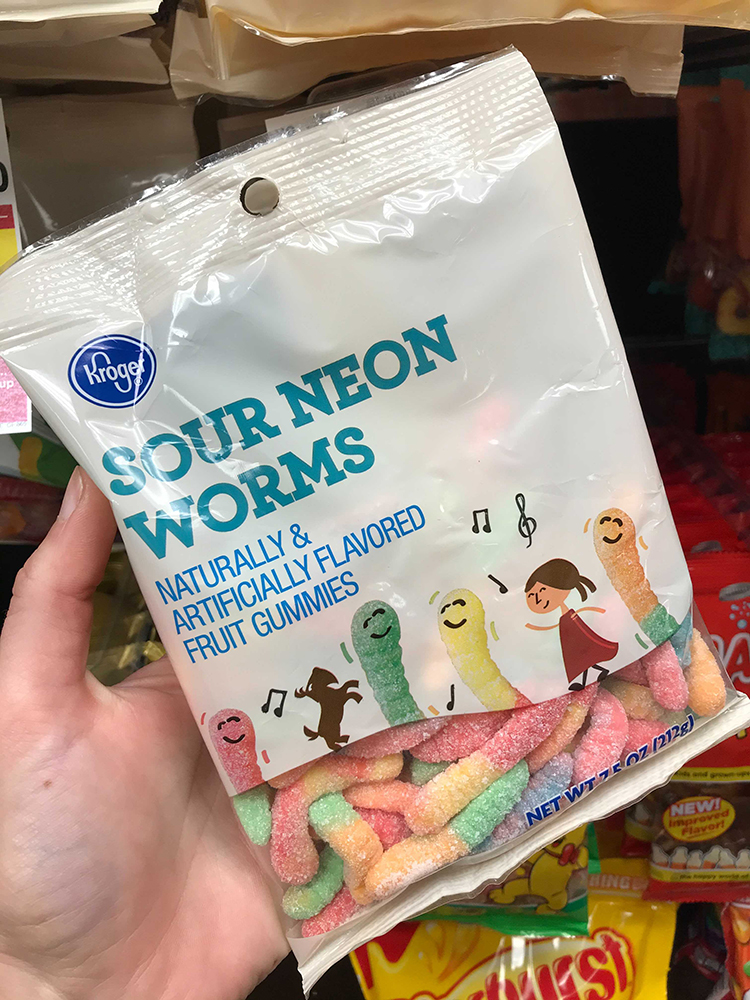 I feel like gummy worms really sell themselves, and these Sour Neon Gummy Worms are no different. Sure, it might not be the healthiest option, but everyone has to splurge every once in a while, right? If you like gummy candy, you'll for sure want to try these!
Chicken Tikka Masala Chips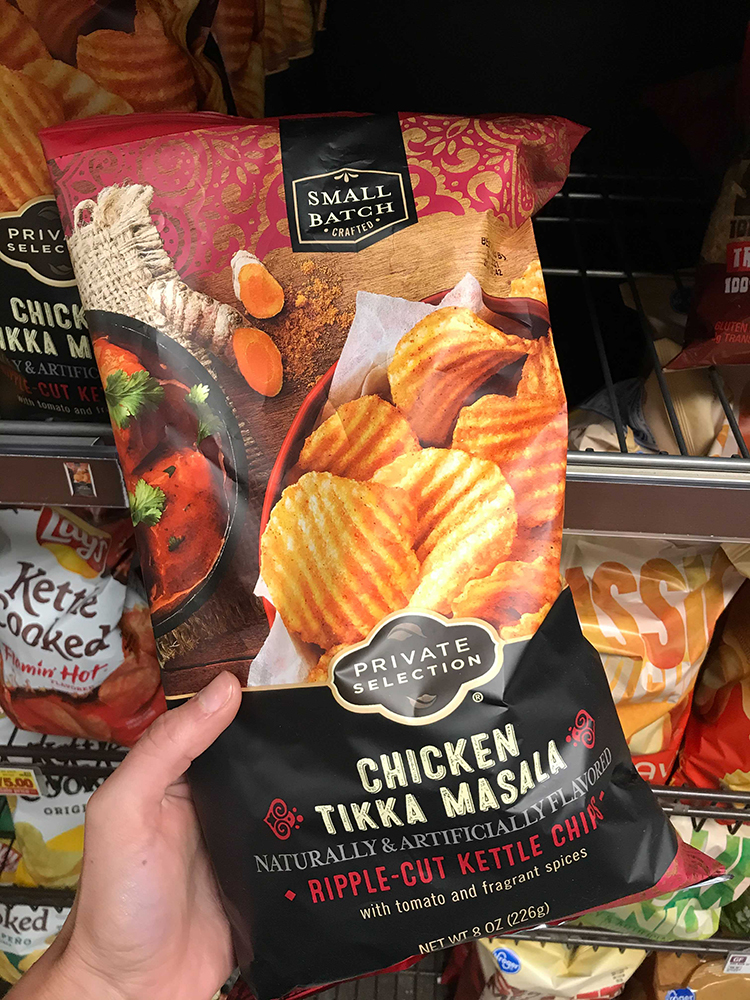 The name might throw you off a bit, but trust me, these chips are to die for! Fans of crunchy kettle chips will rejoice over these chips. Plus, there's the delicious seasoning which was inspired by the rich flavors of the classic curry dish. These chips are perfectly balanced with notes of tomato and fragrant spices.
Private Selection Aussie Style Yogurt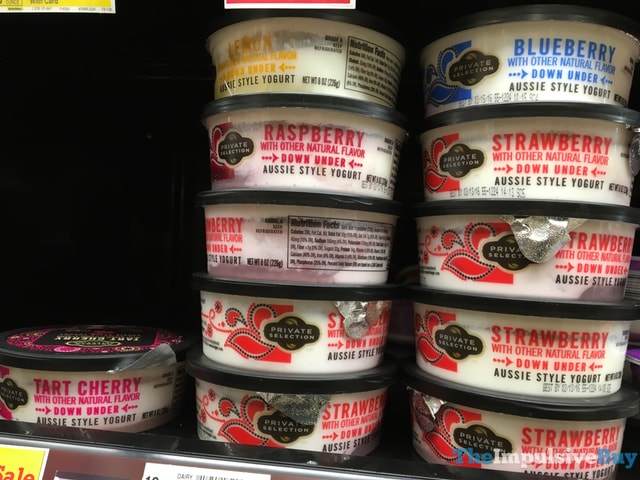 In the last few years, Aussie-style yogurt has grown in popularity. What is Aussie-style yogurt? It's actually Greek yogurt that's sweetened with honey or other flavors, giving it a sweet-tart tang and velvety texture. Similar brands like Noosa cost anywhere from $4-$6 per carton, but you'll find the price is much more agreeable with the Kroger brand!
Black Truffle and Olive Oil Chips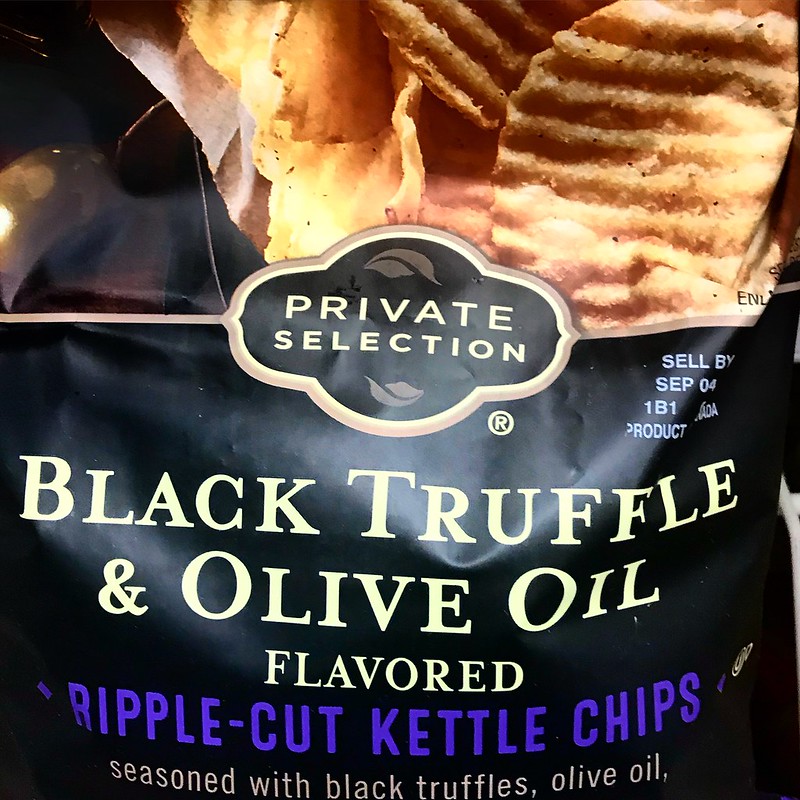 Here's another item that can pretty much sell itself. Crunchy kettle chips? Check. Small batch crafted? Check. Kosher? You bet! These chips are seasoned with black truffles, olive oil, cracked black pepper, and Basil. What's not to love?
Flavor Infused Honey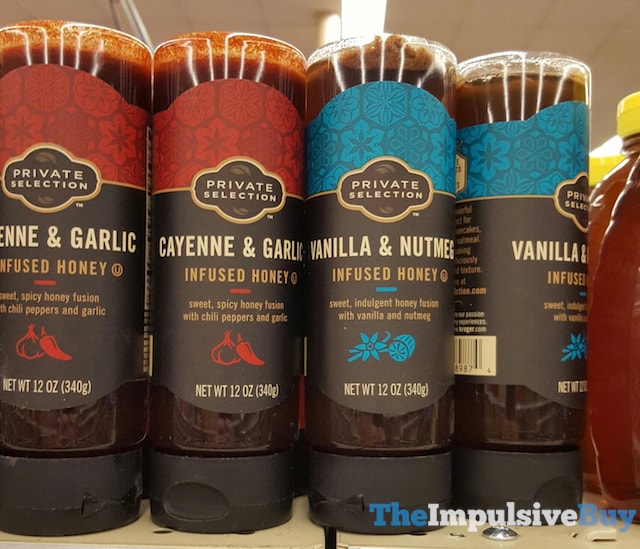 Want to kick things up a notch? This is the item for you! There are several sweet and savory options to choose from. I personally love vanilla & nutmeg honey, but my husband prefers cayenne and garlic honey. Use on toast, in your tea, in your cooking and baking…the sky is the limit!
Private Selection Cream Soda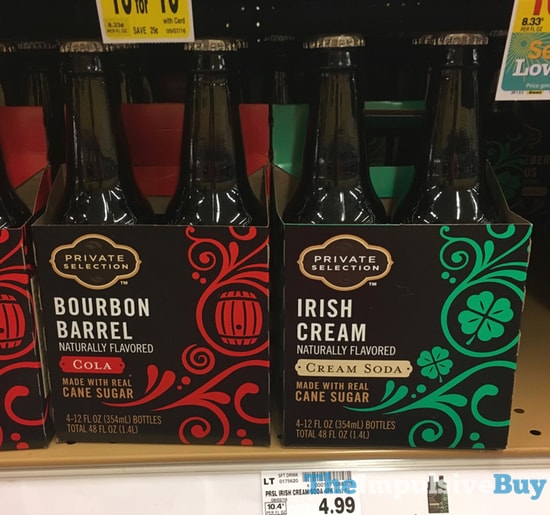 If you're going to get soda, you might as well get the best soda, right? The Private Selection Cream Soda is inspired by food artisans and crafted with authentic ingredients and tantalizing recipes. Plus, it's enhanced with sweet Irish cream flavor. Trust me, you'll want to grab this up before it's gone!
Michigan Cherry Cobbler Ice Cream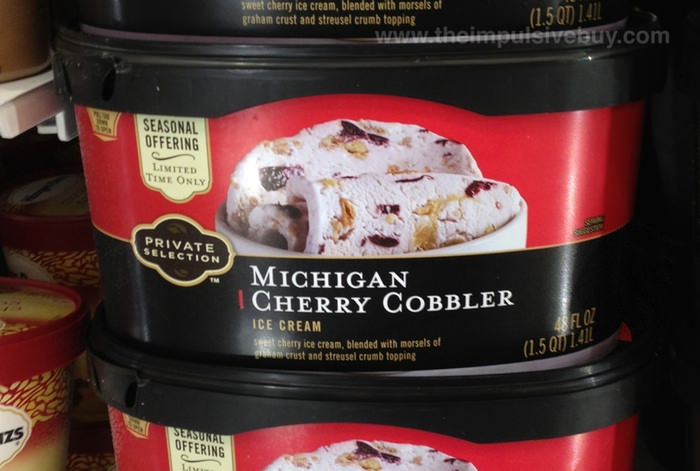 Now, I love pretty much any and every kind of ice cream, so choosing a favorite is nearly impossible. However, I will say that I have my go-to's, and this Michigan Cherry Cobbler Ice Cream is one of them! It consists of sweet cherry ice cream blended with a graham cracker crust and cobbler topping. Delish!
Click here to read about 10 Aldi foods with a cult following!
SKM: below-content placeholder
Whizzco for 12T