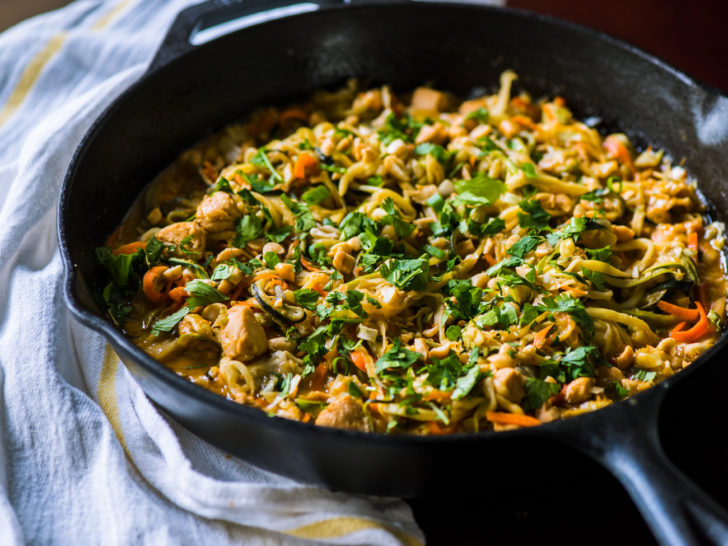 Do you ever have those moments when you're trying to watch your waistline and make healthy, nutritious choices for your body, but then the craving for something delicious and less-than-great for you hits and derails your whole plan? You're not alone. We love to have healthy, great-tasting recipes on hand that we can turn to when we want to make healthy choices while still getting tons of flavor, and this chicken "zoodle" pad thai is one of our faves.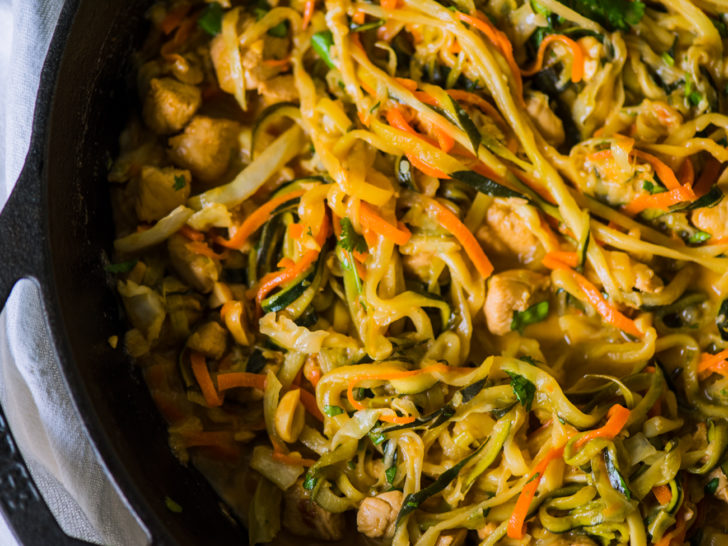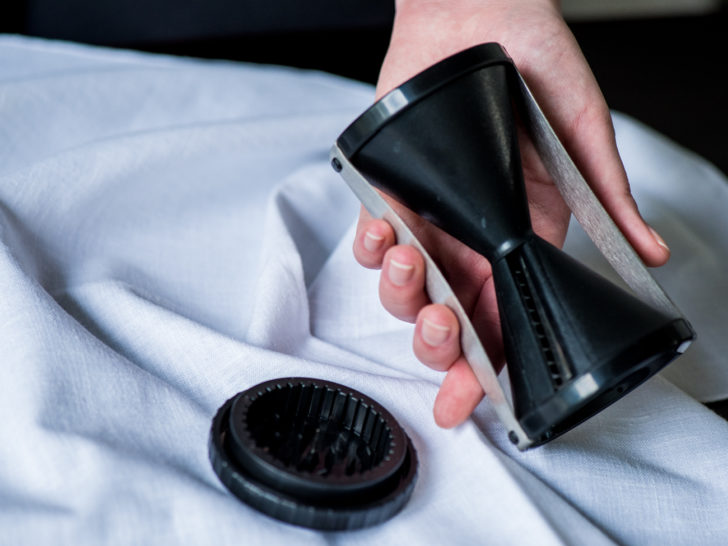 Have you heard of zoodles before? While noodles would be the standard choice for a pad thai recipe, zoodles are a noodle replacement made from…you guessed it, zucchini! We use a handy "zoodler" or veggie spiralizer to create noodles out of zucchini and carrots, and the result, once you sauté everything together, is amazing! Instead of eating empty carbs, you're getting a big serving of flavorful veggies that you can go back to for seconds and thirds, totally guilt-free! While some spiralizers are expensive and take up a ton of kitchen space, we love the one we used in this recipe, since it's small, portable and super easy to use; win-win-win!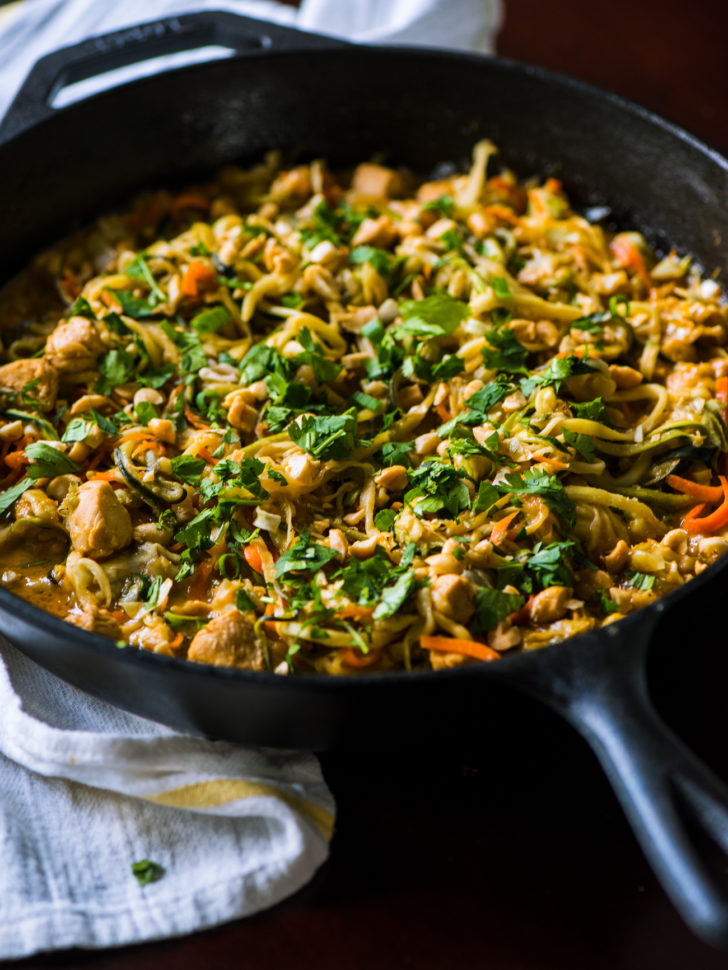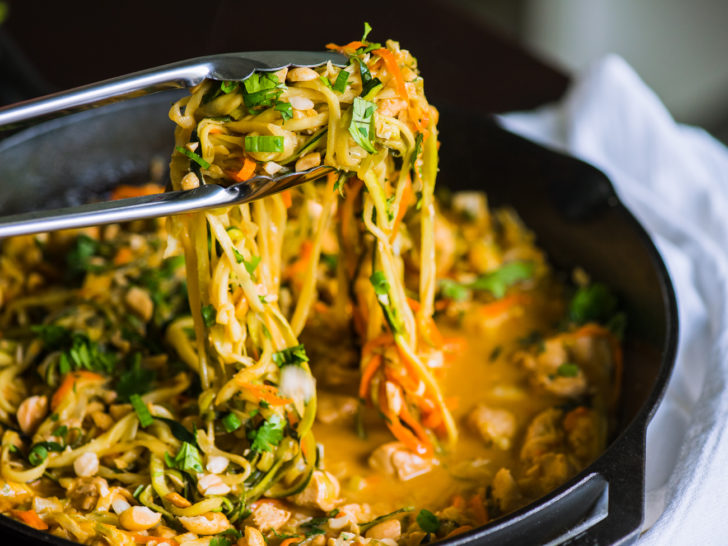 So, while chicken, cabbage, zucchini and carrots make up the heart of this dish, what gives it all the flavor? Rice vinegar, peanut butter, soy sauce and honey make up most of the flavor, helped along by lots of fresh ginger, garlic and lime juice for added freshness. Feel free to make it as spicy or mild as you like, but we do think we've struck the perfect balance. With nutrients from the veggies and protein from the chicken, this dish is a great choice for any meal and we love being able to make healthy noodles that we can throw into any typical pasta dish for a ligthened up, just-as-delicious alternative – enjoy!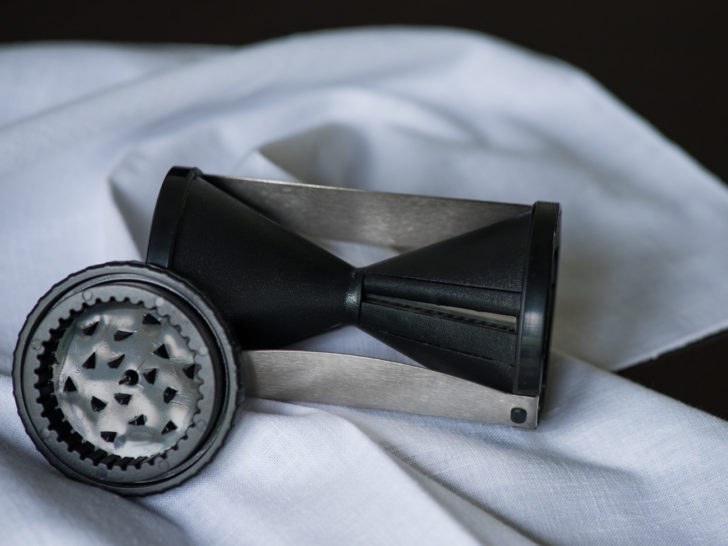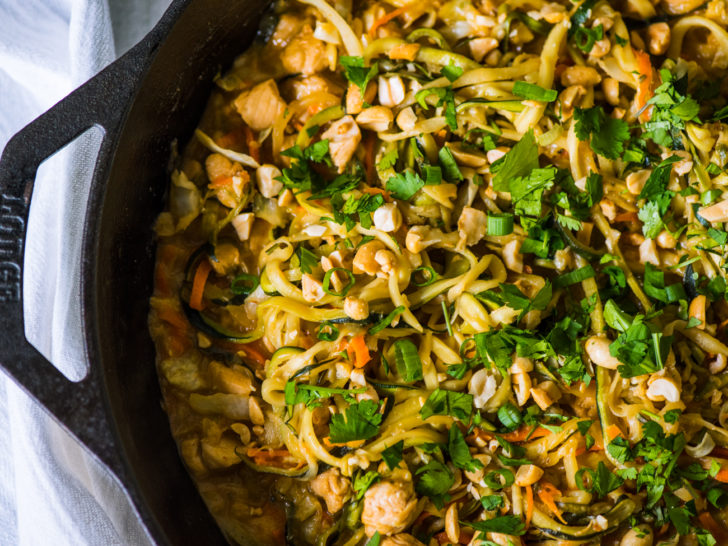 Chicken Zoodle Pad Thai Skillet
Serves: 4-6
Time to Prepare: 30 minutes
Ingredients
4 medium zucchini, ends removed
2 medium carrots, peeled and ends removed
3 boneless, skinless chicken breasts, cut into cubes
2 cups cabbage, shredded
1/3 cup olive oil, divided
1/4 cup green onions, finely chopped, plus extra for garnish
1/4 cup rice vinegar
1/4 cup creamy peanut butter
1/4 cup low-sodium soy sauce
1/4 cup honey
4 cloves garlic, minced
1-inch piece fresh ginger, peeled and grated
2 tablespoons lime juice
1/2 tablespoon sriracha or hot sauce
kosher salt and freshly ground pepper, to taste
fresh cilantro, to taste, garnish
1/2 cup peanuts, roughly chopped, garnish
fresh limes, garnish
Directions
Place cubed chicken in a large bowl and set aside.
Whisk together soy sauce, rice vinegar, 2 tablespoons olive oil, ginger and garlic in a medium bowl until incorporated.
Pour sauce over chicken, then refrigerate and let marinate for at least 30 minutes, or overnight.
When ready to cook, twist zucchini into veggie spiralizer to create zoodles.
Place a colander on a small bowl and place zucchini zoodles inside. Generously salt them and let sit for 15-20 minutes, or until excess moisture has been released into small bowl below.
Spiralize carrots.
Heat remaining olive oil in a large skillet over medium-high heat and sauté cubed chicken until browned on all sides and almost cooked through.
Add zucchini and carrot "noodles," along with cabbage and green onions, and cook for 4-6 minutes, or until softened slightly.
Stir in honey, peanut butter, lime juice and sriracha and cook for another 4-5 minutes, or until sauce has thickened.
Remove from heat and top with peanuts and fresh cilantro and extra lime juice, if desired. Serve hot and enjoy!
Recipe adapted from Almost Super Mom
SKM: below-content placeholder
Whizzco for 12T