My family loves this rustic, rich, and hearty dish.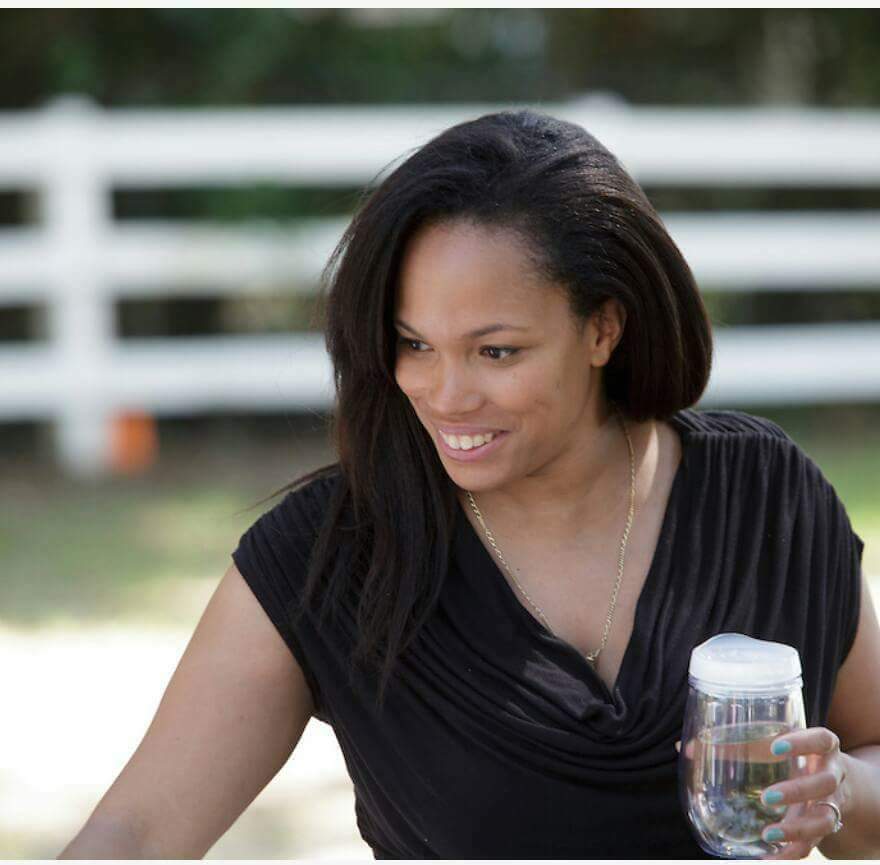 Ajza Case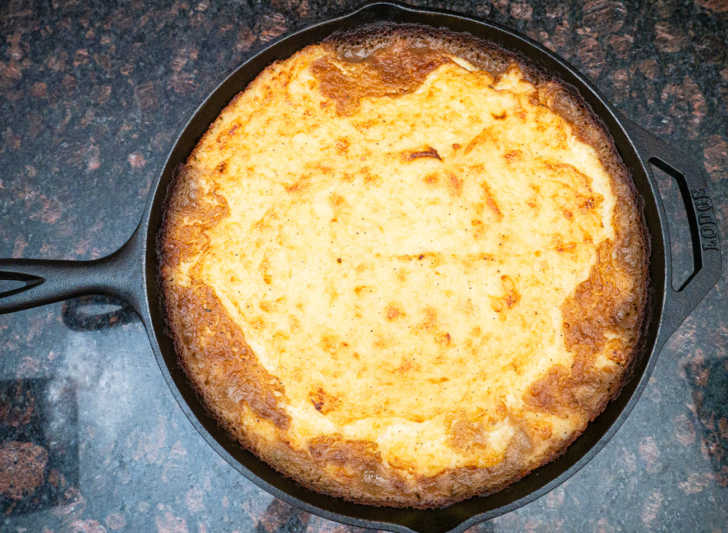 I feel a lot like a shepherd these days as I wrangle my very energetic boys on a daily basis. Playfulness aside, I typically stick to the essentials in this recipe because it's classic comfort food and I don't really need to reinvent the wheel. That's what I love about comfort food – as much as I love to be creative in the kitchen, some recipes are best left in their original form. It's their familiarity that's an essential part of what makes it taste so good.
What I like about this dish: while it isn't a 30-minute meal that might be preferable on a weeknight, it does have a rather simple formula so I can tackle each part while still helping kids with homework and taking care of a few emails before winding down for the day.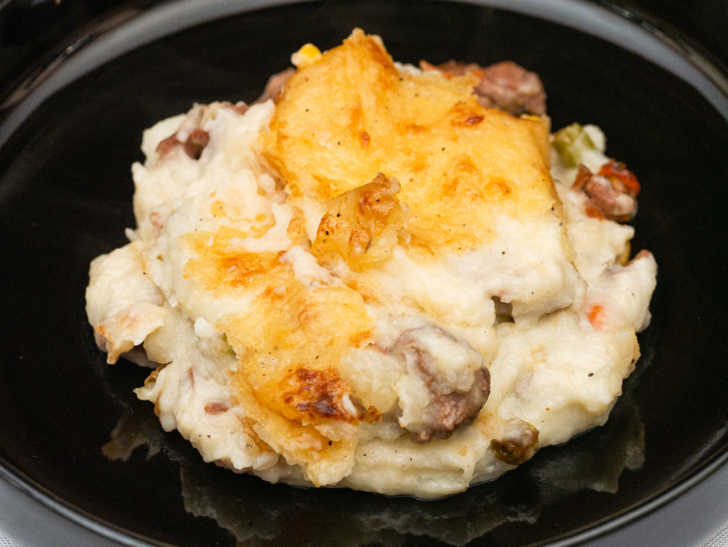 Shepherd's pie is one of those stick-to-your-ribs kinds of recipes and its humble richness is what makes it so mouth-wateringly good. I think a shepherd's pie is worthy of both formal and informal dining, perfectly appropriate for a dinner party as it is for my own dinner table. Its ingredients are simple, inexpensive, even. Chuck roast, beef broth, potatoes, herbs, and butter provide the formula for deliciousness. I'd say the two most essential elements of the dish are the meat and the potatoes. The meat needs to be cooked in a way that adds flavor and tenderness; the last thing I want are bits of chewy, overcooked meat.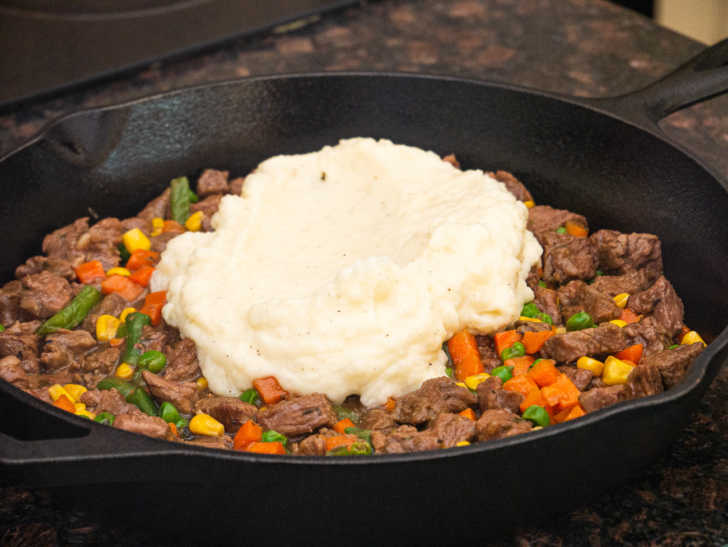 The same is true for my potatoes. I want them to be rich and creamy, too. After all, the potatoes are the crowning glory of the dish. I call it a "crown" because – well, look at the golden beauty! Color means flavor and that toasty golden color is both beautiful and tasty.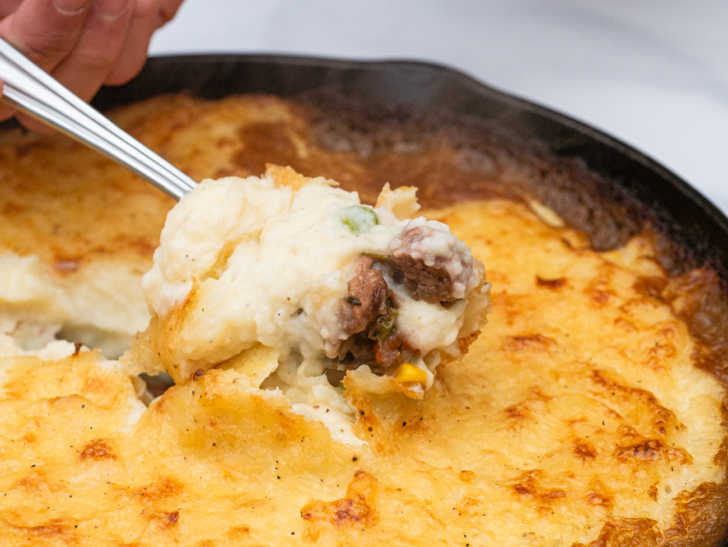 I bake this right in my trusty cast iron skillet which actually doubles as a beautiful serving dish. I grab a big spoon and take a deep dive into this savory pie. When I think of comfort food, of course, one of my first thoughts is of meat and potatoes. Slow-cooked meat, creamy mashed potatoes, and a healthy serving of vegetables make this rustic dish hearty and satisfying.
Weeknight Shepherd's Pie
Serves 6
20m prep time
1h 30m cook time
Weeknight Shepherd's Pie
2 – 2 ½ lb chuck pot roast
4 cups beef broth
3 teaspoons corn starch
1 teaspoon garlic powder
1 teaspoon dried minced onion
½ teaspoon dried thyme
½ teaspoon dried parsley
1 bay leaf
Pepper
Kosher salt
3 large Russet potatoes
1 cup heavy cream
1 stick of unsalted butter, room temperature and cubed
1 (12oz) bag of frozen mixed veggies
Preparation
Cube beef into one-inch pieces.
Heat olive oil in an oven-proof pan or cast iron skillet. Brown beef on all sides. Transfer to a plate and set aside.
Add 3 ½ cups beef broth, garlic powder, minced onion, thyme, parsley, and bay leaf into the pan. Bring to boil. Turn down to a simmer.
Return the meat to the pan, adding any juices left on the plate. Cover and simmer for 30-40 minutes or until meat is tender.
Meanwhile, peel and cut potatoes. Boil the potatoes until tender, 15-20 minutes. Drain and return to the pot. Add the butter and heavy cream. Mash the potatoes until smooth and creamy. Season with salt and pepper, to taste. Set aside.
Remove bay leaf from beef tips. With remaining broth, mix in corn starch and pour into beef tip mixture. Allow to thicken, about 10 minutes.
Preheat oven to 400°F.
Add the frozen veggies to the meat and sauce in the skillet and stir to combine.
Spread the mashed potatoes in an even layer over the top of the beef and veggies. Transfer to the preheated oven and bake for 50 minutes to 1 hour. Keep an eye on the potatoes and remove the dish from the oven when the potatoes are just golden brown.
Let the shepherd's pie rest for a few minutes to both cool and set. Grab a bowl and enjoy!
SKM: below-content placeholder
Whizzco for 12T