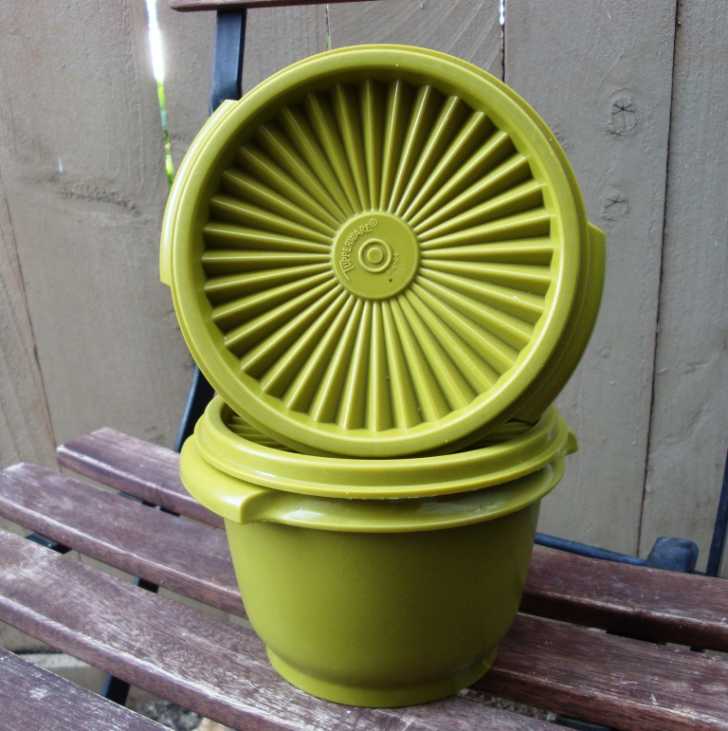 Roughly every 2 seconds there's a Tupperware party happening somewhere around the world. However, unbeknownst to many, Tupperware, initially, was a huge flop. Created by Earl Tupper in 1942 (Welcome Ware) before adding lids and its famous, patented seal later in 1946, he actually got his start, several years earlier, experimenting with polyethylene injection-molding while working for a company that crafted plastic pieces for WWII radars. Despite inventing the patented "burping seal" that worked as a vacuum to create an air-tight seal, Tupper had quite a bit of trouble marketing his unique and original products…that is, until he met Brownie Wise.
Leaving her job selling brooms, Wise began selling Tupperware products, eventually becoming a distributor and, later, the Vice President of Tupperware. Her secret sales technique? Tupperware parties. Once women started hosting Tupperware parties, business started booming and the rest was history. So, what are some of the classic products from those early years? We've rounded up eight of some of their most iconic products, so take a look below and see what they're worth today! If you've got any lightly-used Tupperware collecting dust in your basement, you might be able to turn a pretty penny….
---
8. Wonderlier Bowls – 1946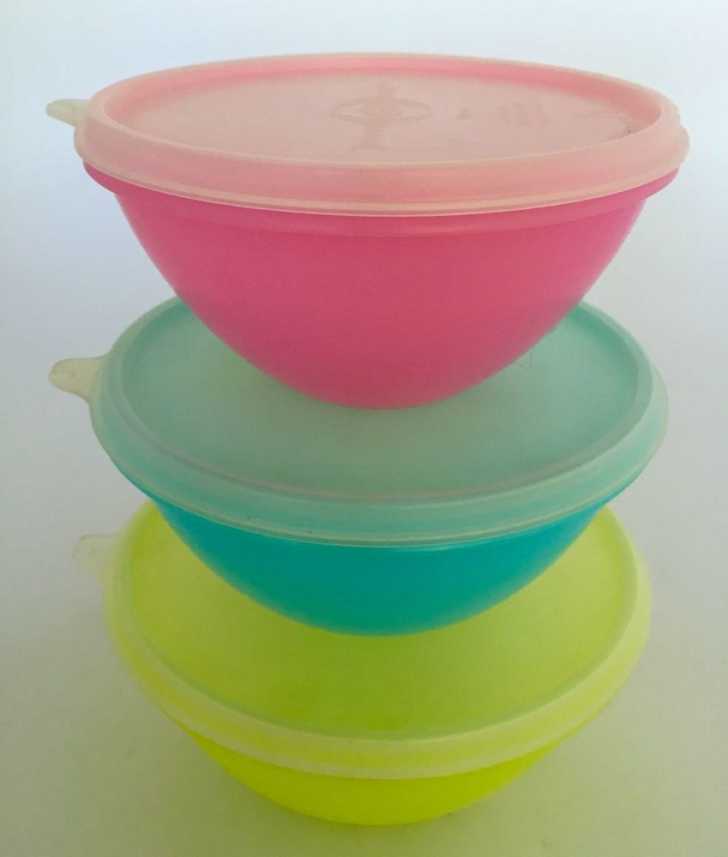 One of their most iconic products, original Wonderlier bowls came in lots of fun colors – ranging from fluorescent pinks and yellows to more muted olive greens and rusty reds – and that they were all sealable and came in nested sets made them perfect for modern households looking to maximize the freshness of their foods. Unused vintage sets of Wonderlier bowls can go for $45-60 these days, so keep that in mind if you come across any!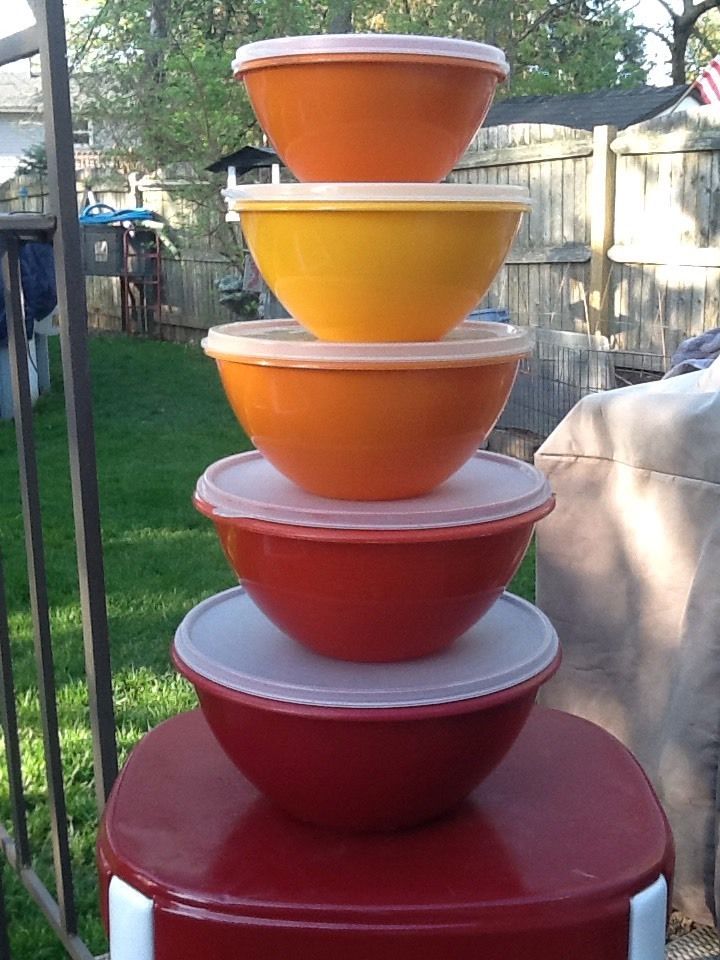 7. Bell Tumbler – 1946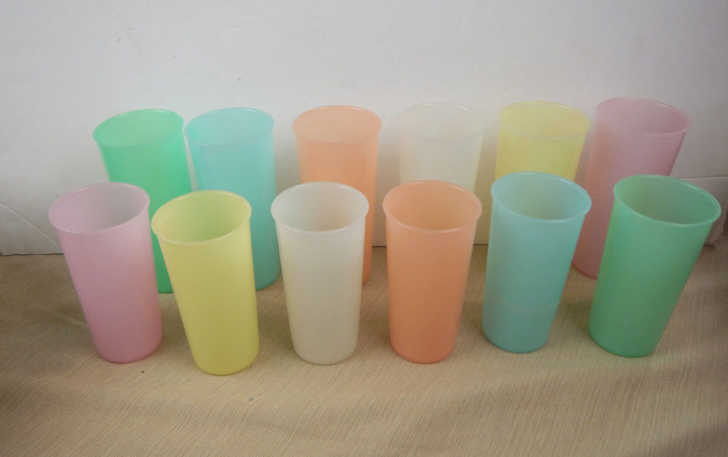 Released at the same time as the Wonderlier line, Tupperware's Bell Tumbler was actually a byproduct of creating plastics to be used in WWII radars. Looking for non-military uses, Earl Tupper used injection molding to craft these durable cups which became staples, lasting for decades to come.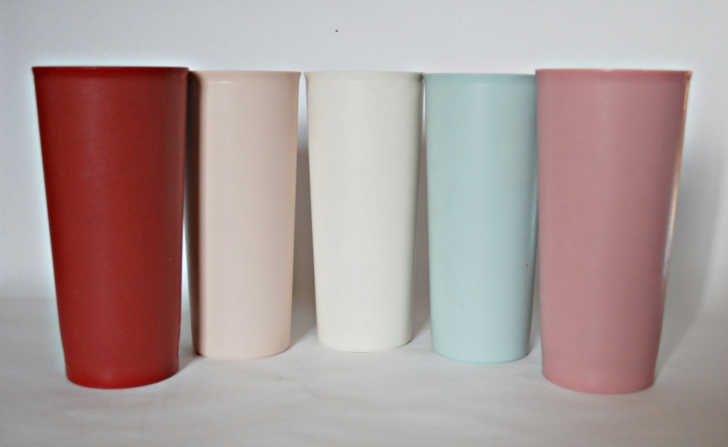 6. Millionaire Collections Salt and Pepper Shakers – 1960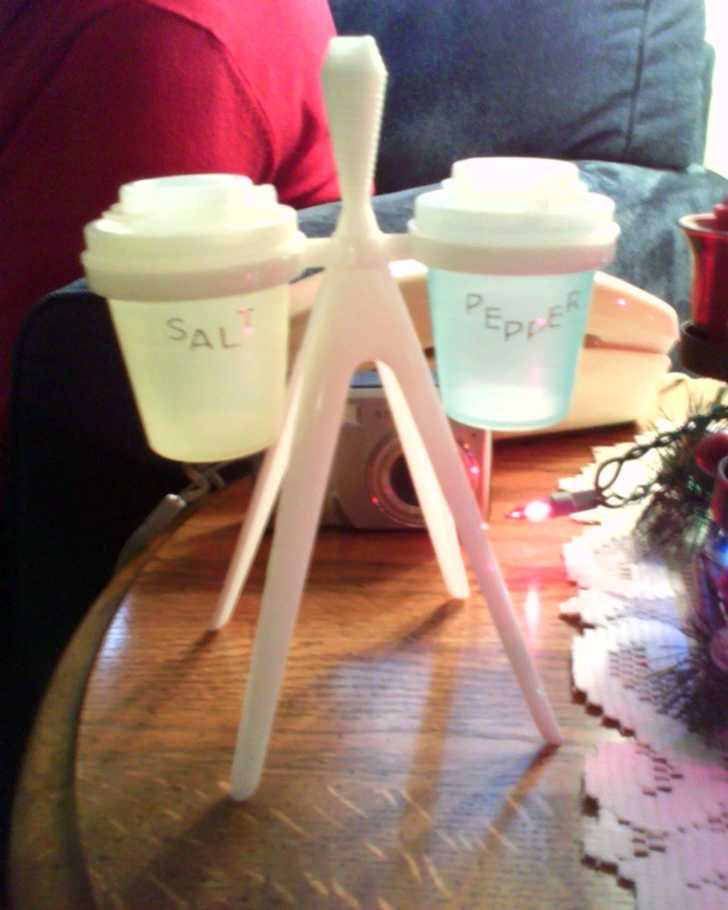 As part of the Millionaire Collection (which was geared towards those aiming to climb the social ladder), this salt and pepper shaker stand – and toothpick holder(!), with its design reminiscent of the Atomica-era, was a classic. If you find a lightly-used model with the lettering still on the salt and pepper shakers it can be sold for up to $45!
5. Carousel Caddy – 1961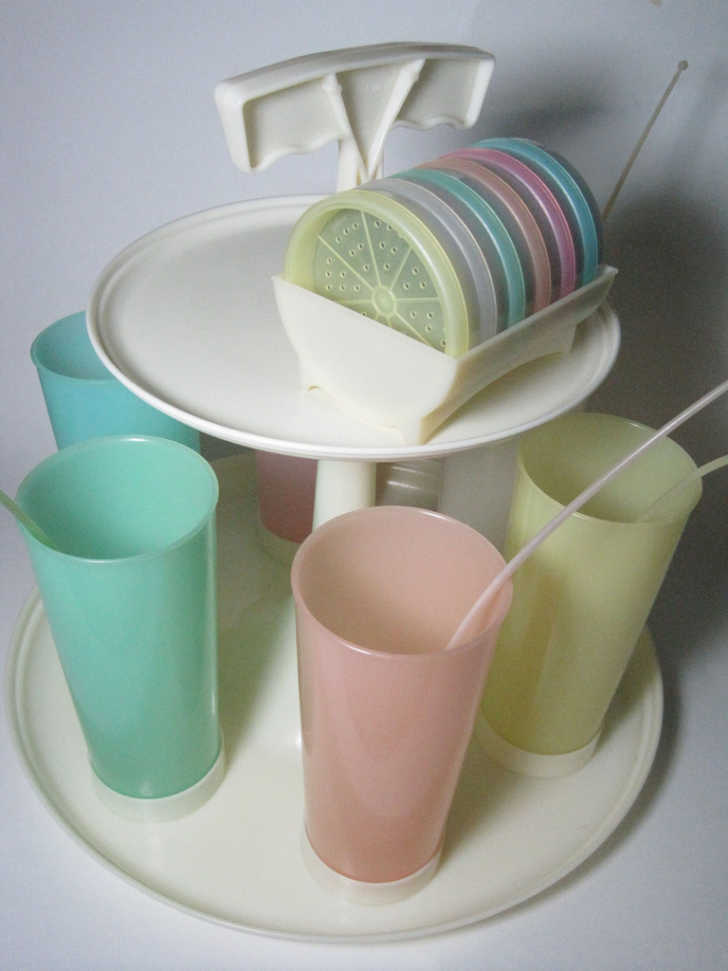 With the Bell Tumblers introduced in '46, it only made sense for Tupperware to come up with a caddy for them – after all, this was a time when people were entertaining constantly, so what better way to have people over than to have a convenient way to transport beverages from room to room?! A Tupperware carousel caddy with all the tumblers is valued at $50, so keep your eyes peeled!
4. Servalier Astro Bowls – 1972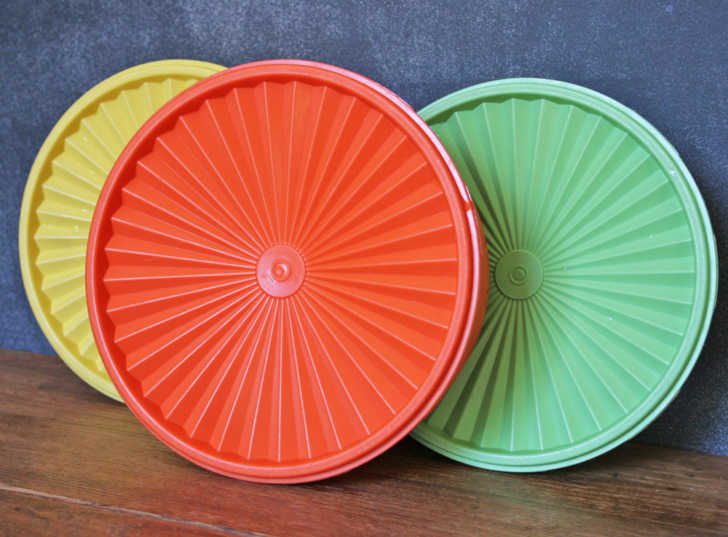 Originally introduced in the 1960s, the Servalier line came in all sort of fun colors and featured an "instant touch" seal that required you to use only one finger to get Tupperware's famous, air-tight seal. These days, a vintage set of four astro bowls sells for $15-20 – considering the great colors and fun design of the lid, we'd much rather use those to brighten up our kitchen instead of the standard, clear food storage options out there today.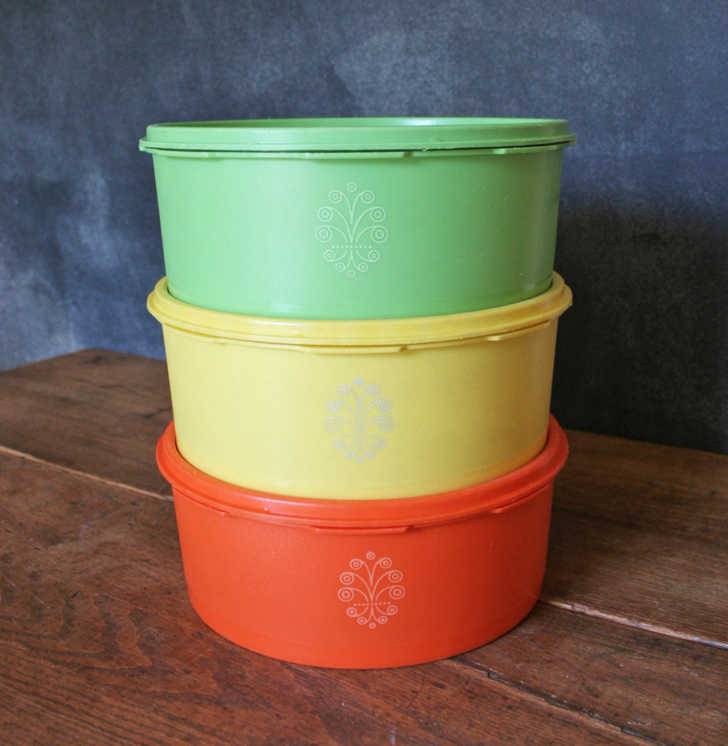 3. Cake Taker – 1970s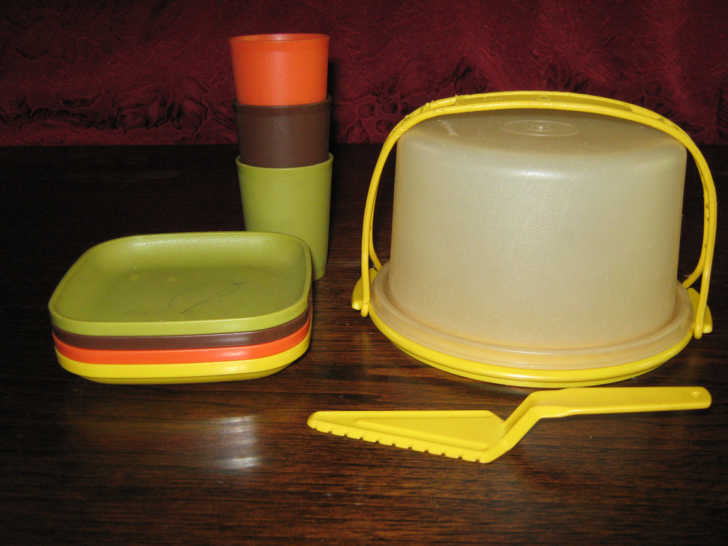 Based off of Tupperware's successful Pie Taker from the '50s, the Cake Taker is a similar storage and transport product that made it way easier for people to bring cakes to different parties and events. This one from the 1970s is worth $20-25 today and is still just as practical as ever! If someone showed up at our house with a homemade cake in that carrier, we'd be pleased as punch!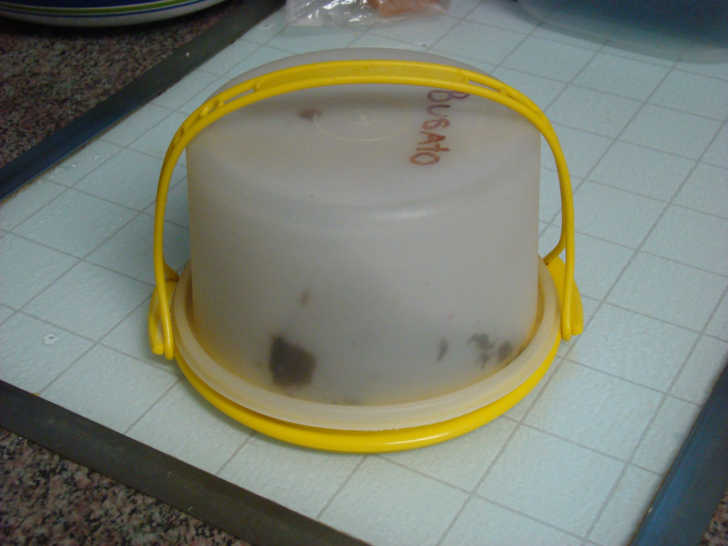 2. Condiment Relish Caddy and Salad Dressing Bottles – 1970s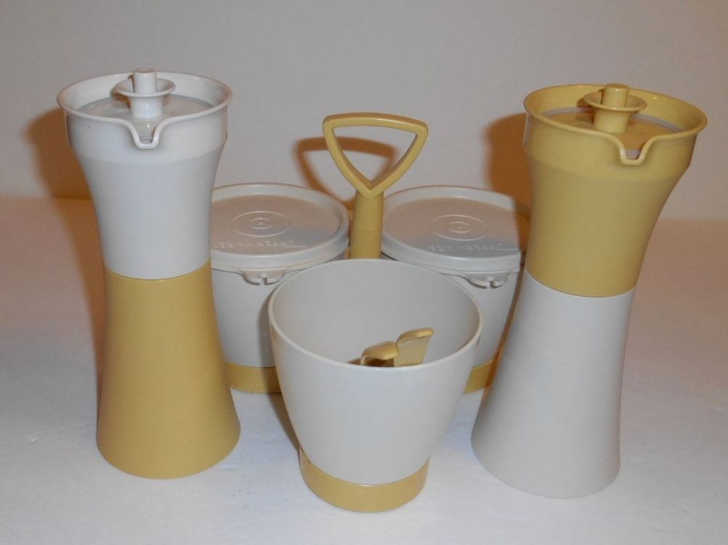 The Tupperware Condiment Caddy was introduced in the '50s, though these sets are from the 1970s as another way to conveniently carry your condiments from room to room as the party moves around. Vintage caddies with the lids and spoons in good condition go for $12-15 – such a steal! Similarly, these salad dressing bottles have push-button seals, making them great for just about any liquid you want to pour or keep sealed as needed. Given the seal the ensures they won't leak, their $10 value seems like a great bargain!
1. FlatOut!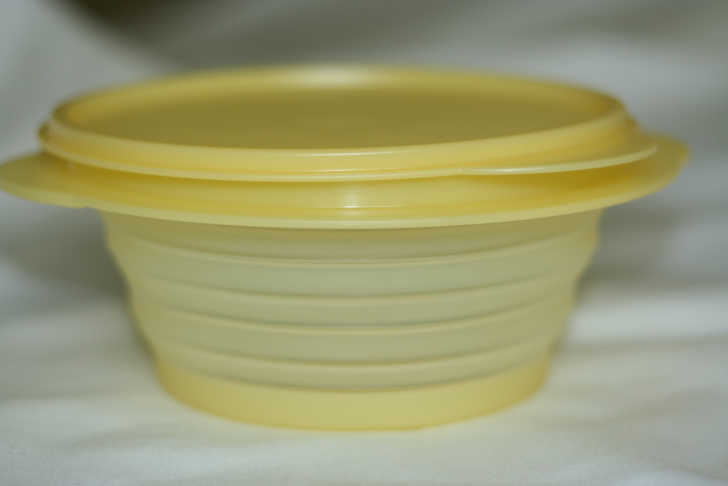 The FlatOut! Tupperware line was and continues to be a hit, considering that each product in the line flattens out to take up way less space in your kitchen when not in use. The older products have brighter colors which can be fun to collect, and a 4-piece, vintage set goes for $25, so you could add a nice pop of (functional!) color to your kitchen for a reasonable price.
---
Okay, so while there's definitely still a market for vintage Tupperware products, it's not quite like collecting other vintage kitchen items – which can get expensive really quickly. Tupperware has stood the test of time, and vintage products still perform just as well these days as modern creations. For a pop of color, think about starting a collection and breathe "new" life into your kitchen!
SKM: below-content placeholder
Whizzco for 12T