There are 3000 ft.² of living space in this interconnected, underground residence that consists of five dome homes.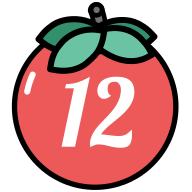 Timothy Roberts
Most people tend to showcase their home, perhaps even trying to impress the neighbors. Other people tend to be more private. For this home near Buffalo, TX, the desire for privacy is easy to see (or perhaps not see). After all, they built a home entirely underground.
According to Realtor.com, Terri Alexander, the listing agent, says the home is covered entirely by the earth. She isn't aware of any other home similar to this in Texas. In fact, she calls the home "different" and realizes that somebody very eclectic will need to be in the market for this hidden gem.
There are 3000 ft.² of living space in this interconnected, underground residence that consists of five dome homes. It is on the market for $1.9 million. There's plenty of room for a family with that much living space, three bedrooms, two bathrooms, and 40 acres.
Glenn Young is the man who built the home in 1999. He had a number of things in mind when taking on the project. It's obvious that he wanted privacy but he also had something to prove. It seems as if the people at Monolithic Domes were not in favor of putting dome homes underground.
Not only was Young able to put those domes underground, as Realtor.com reported, Alexander says that there has been essentially no maintenance put into the house after 20 years, but it is rock-solid!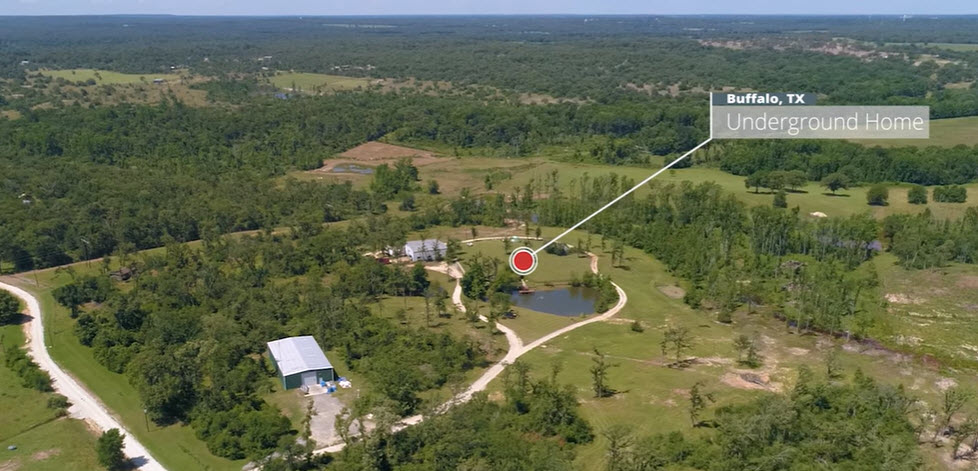 The entry to the home is described by Alexander as being somewhat like a hobbit hole. It isn't easy to find, despite the fact that it is a normal-sized door. The large size of the property is what makes it look smaller. After entering through the metal gate, you go into a tunnel and down to the house.
When you reach the front door of the house, things really open up.
Alexander describes the open area with the front door as being "really cool." Seeing the pictures shows you that there is plenty of space and lots of colors.
The decorations that are seen on the wall and ceiling inside the home were created by three different artists. The majority of the rooms tend to have a theme, with some being Egyptian, others Acapulco, a Mayan room, and even a space room. The bathroom is also themed to be an ancient temple.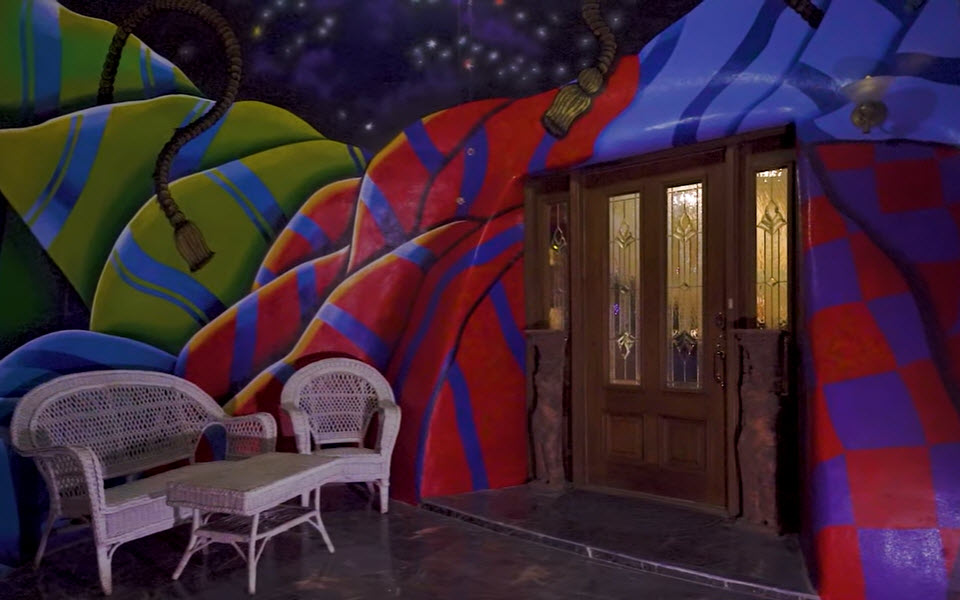 One of the things that Alexander appreciates about the home is the artwork. There were a lot of possessions on the inside of the home but the owner has taken many of them out to allow people to see the beauty of the murals and floors.
There are also other areas inside of the home, including an office area, meditation room, panic room, and dining area.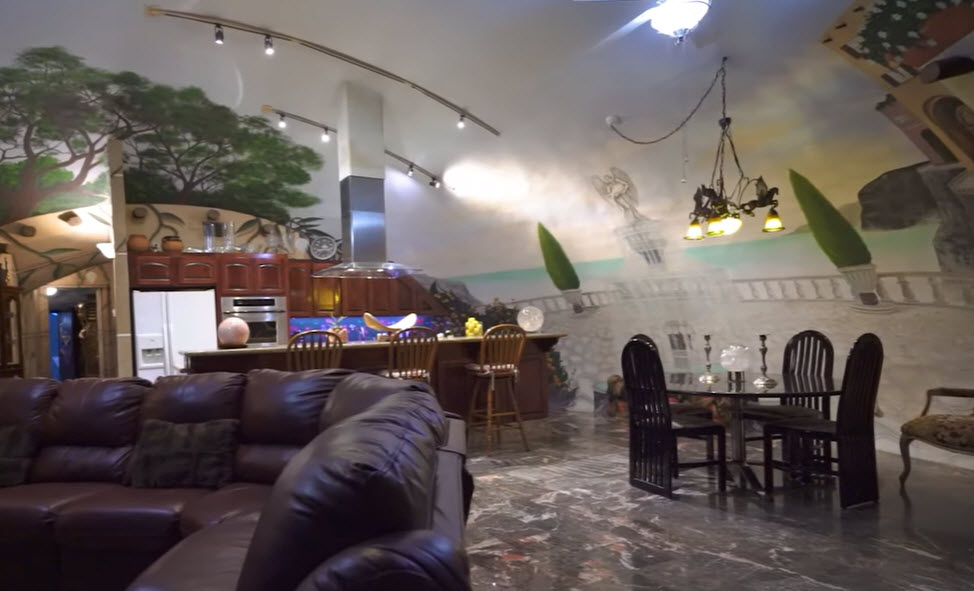 Since the entire home is located underground, natural light is not streaming in. That doesn't keep the home from feeling bright.
Alexander said that she was concerned that she would feel disconnected, but that wasn't the case. Even though she suffers from a degree of claustrophobia, she felt comfortable inside.
The temperature stays at about 72 degrees, thanks to air circulators. It is rare that any heating or air conditioning is needed. The machinery that operates the air circulation is above ground.
Although the home makes use of local utilities, it could be taken off-grid if desired. A generator can operate the home for up to two weeks and there is a well for water.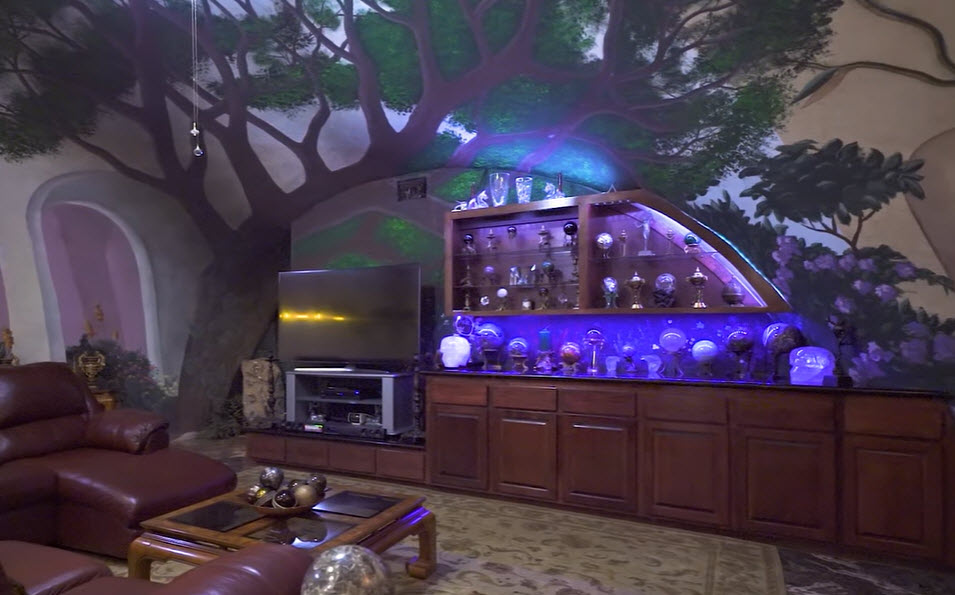 There also some things above ground that you may find handy, such as two workshops with over 7500 ft.² of space. One of those workshops even has a full bathroom and three interior rooms. An aboveground garage also adds to the space.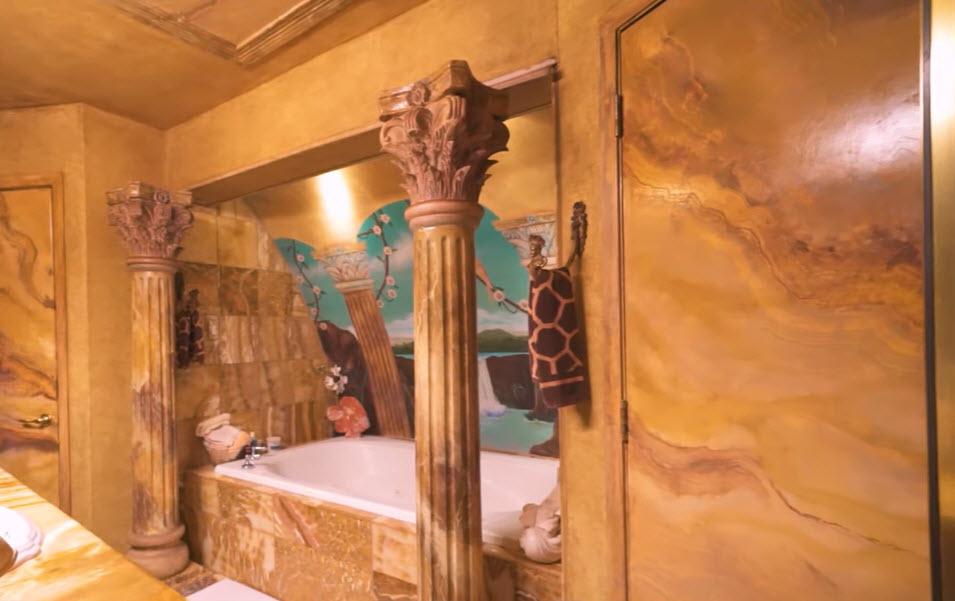 If you want to visit the home, you will have to travel about 90 minutes outside of Dallas to Corsicana, TX. According to Alexander, it's a hidden away treasure but close enough to civilization for comfort.
The real key is finding a buyer that is artistic and creative enough to appreciate what is available.
SKM: below-content placeholder
Whizzco for 12T