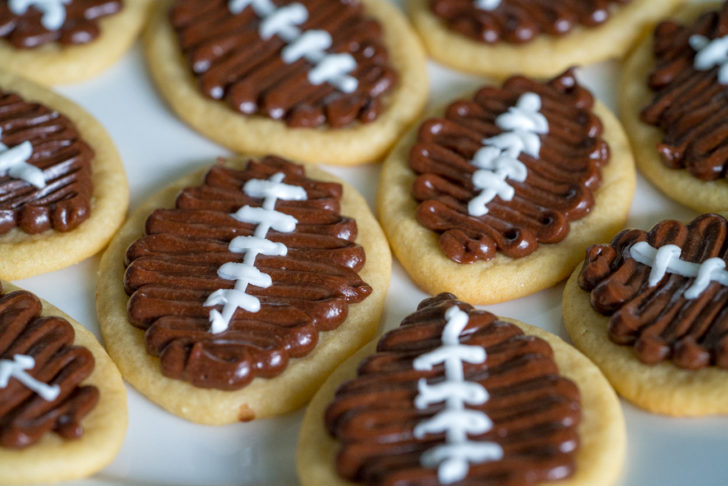 Whether you're obsessed with the sport or just the accompanying parties, football season is upon us! For said parties, of course you can always bring chips and dip or a good hot dish or slow cooker option, but there are times when you want to put in a little extra effort to pull out the stops and go above and beyond for a certain even…in this case, for game season and all the glorious tailgating that comes with it. We're ignoring savory options today and sticking with sweet treats, bringing you seven – yes, seven! – decorated desserts to really steal the show. People loves these dishes so much, they may even credit them for the win!
---
Football Brownies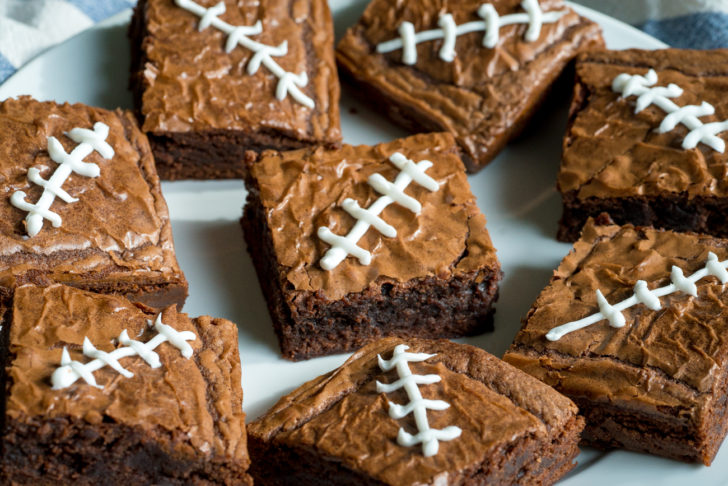 Are you ready for one of the easiest things you can do to celebrate football season?? There's a time and place for super involved decorating, but in a pinch, making these football brownies takes just 10 minutes once you've got them cooked and cooled! Uh, hello, of course we've got time for that! All you need is a bag of white icing you can pipe with (which is easy to make or buy) and your brownie squares. One long stripe of icing, plus 3-4 small stripes and you've got yourself some football stitching. Is that easy or what?!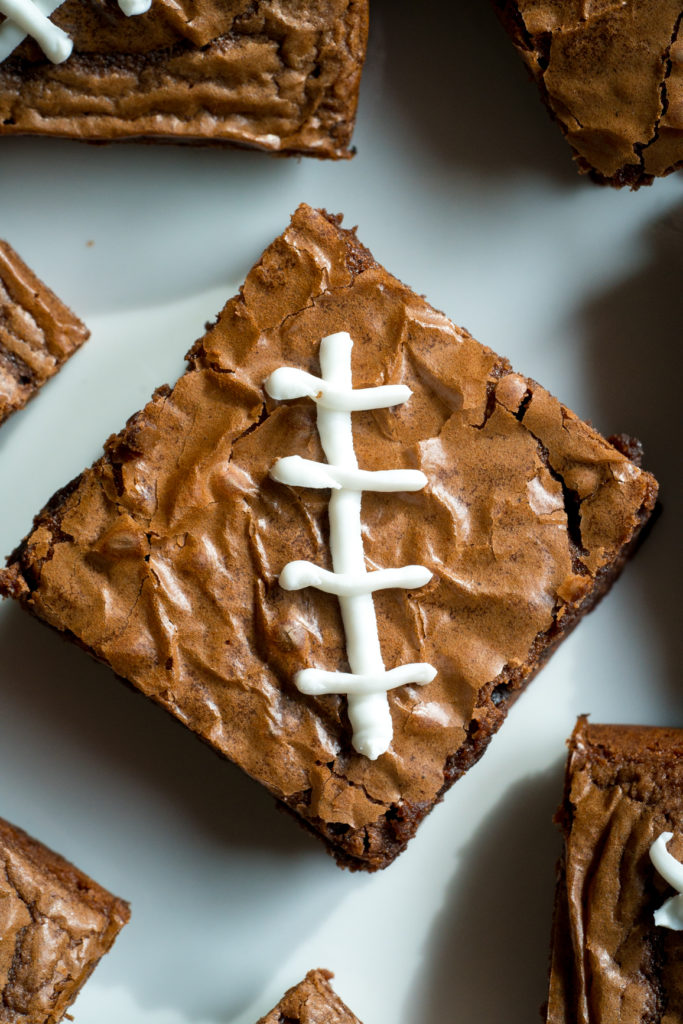 Fans and Field Cookies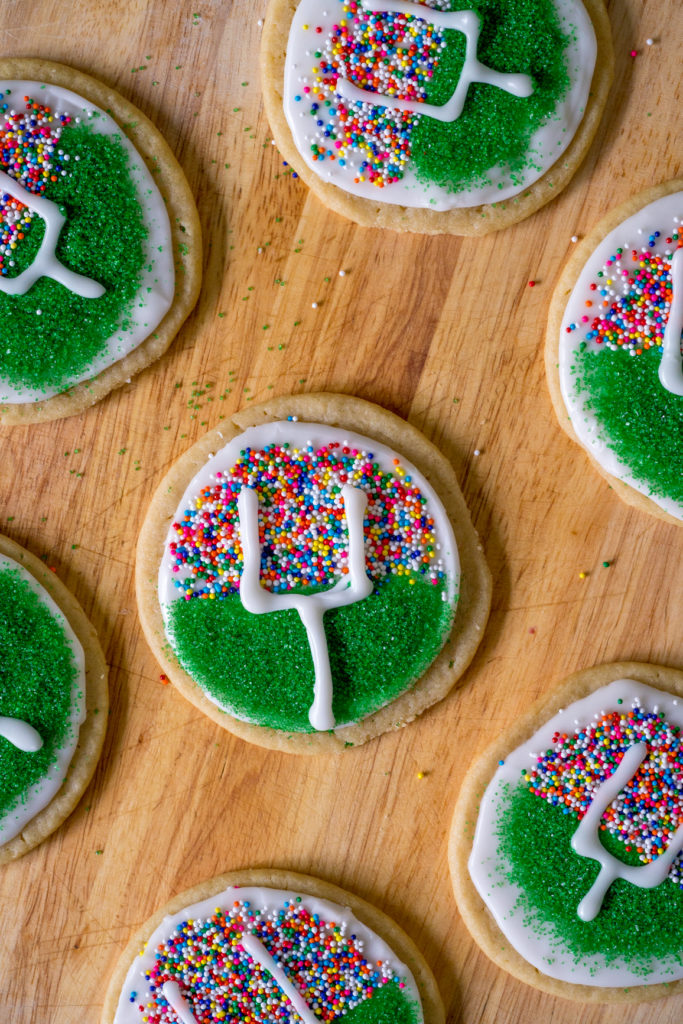 Alrighty, this one is for all you avid cookie decorators out there. It takes a bit more time than the football brownies, but the finished result is too cute (and delicious) to pass up! You'll need a batch of sturdy sugar cookies, an easy royal icing – skip the egg whites and just use a mix of powdered sugar with a dash of milk – and some rainbow nonpareils and green sanding sugar.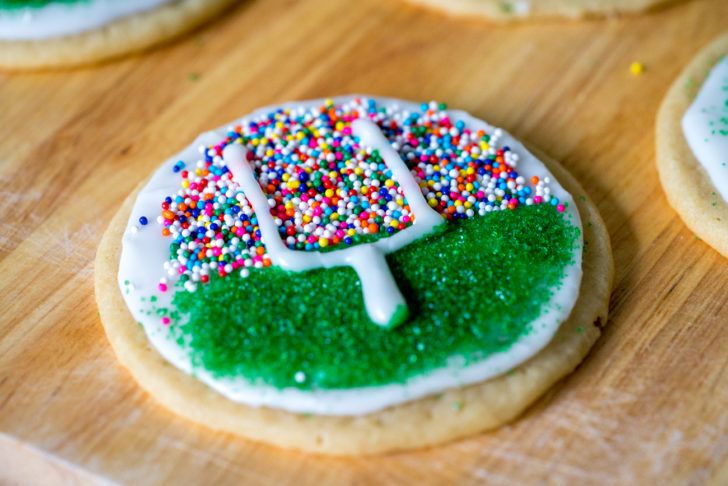 Whether you use a paper towel or a thick sheet of paper to divide your cookie in half so the sprinkles stay separate is up to you. Before you know it, the rainbow sprinkles become the fans and the green sugar is the field! Use that same royal icing to pipe on a field goal and you're all set! So, ridiculously cute, right??
Ice Cream Sandwich Footballs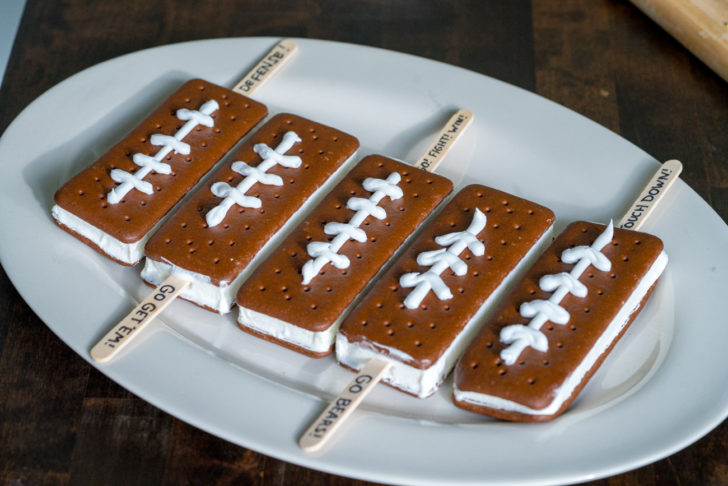 Okay, here's another super easy one for when you want to be festive, but don't have much time to spare on pulling out all the stops. You only need four things here: classic ice cream sandwiches, white icing, popsicle sticks and a marker. Use you marker to write phrases of support on your popsicle sticks – "Go Bears!" (or whatever your team may be) – stick the sticks in the bottom of the ice cream sandwich, then use your white icing to pipe on football stitching, as you did with the football brownies. They look adorable, are super easy to prep ahead of time and taste delicious…win-win-win!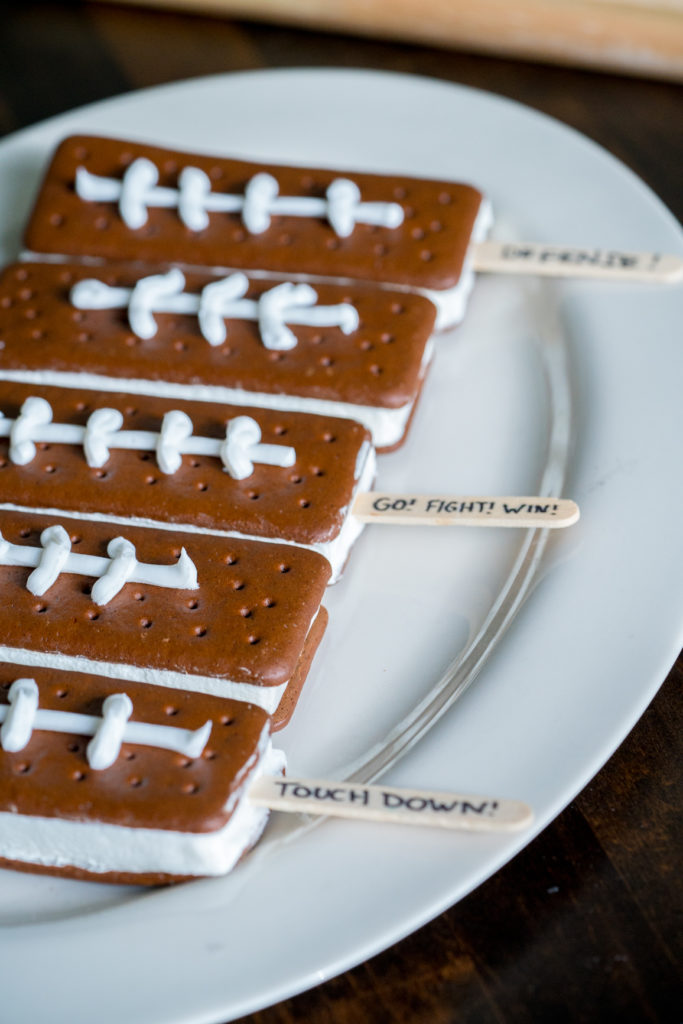 Football Team Pretzels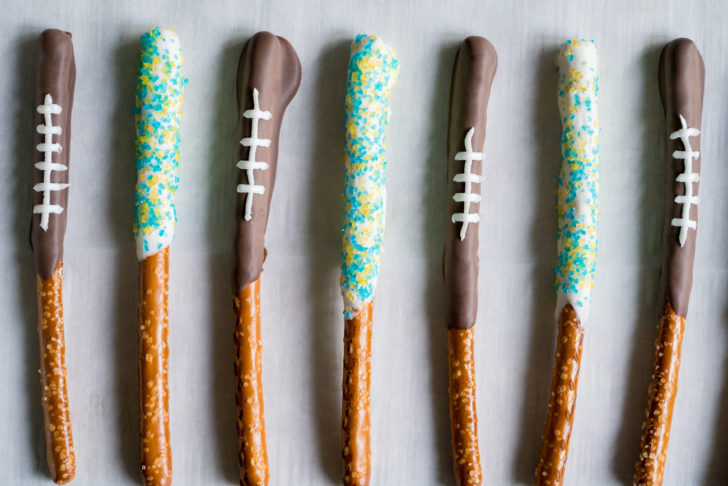 Here's a great treat that looks great, supports your favorite team(s) and is easy to get the kids involved in. Pretzel rods, melting chocolate, sprinkles or sanding sugar and white icing are all you need – and we bought our icing at the grocery store, so there's very little prep here. Starting with your football pretzels, melt the chocolate (using chocolate chips or melting chocolate, like we did), dip your pretzels and let them set. Once the chocolate is hardened, pipe some stitching on there and you're all set!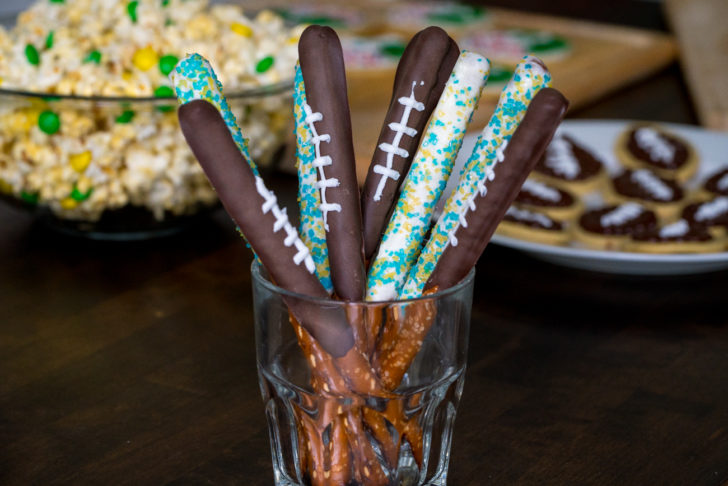 For the team colors, all you have to do is melt your white chocolate, dip your pretzels and sprinkle on whichever colors are your favorite team's. Once they're set, you've got a snack that people can walk around with and you're free to kickback and enjoy the party!
Team Popcorn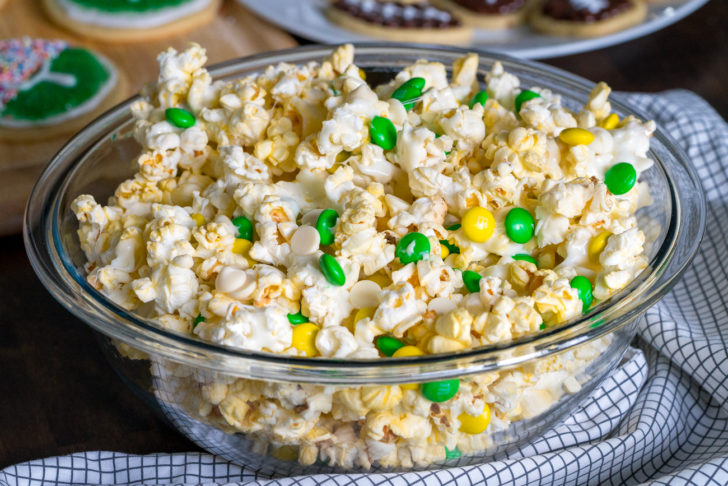 We all know and love rice krispie treats, right? Well this snack is a lot like that…but better. We said it, this sweet treat is saltier, thanks to the buttered popcorn, and chock full of chocolate chunks in the form of M&Ms (green and yellow for the Packers) and white chocolate chips. Guys, this stuff is addictively good. Butter and mini marshmallows get melted together into ooey gooey goodness, then poured over your popcorn. M&Ms and chocolate chips get sprinkled on top, then pressed in so they set a bit, then you can let it all set or mix it all together and put it in a big bowl when your friends are about to come over. For this one you'll need: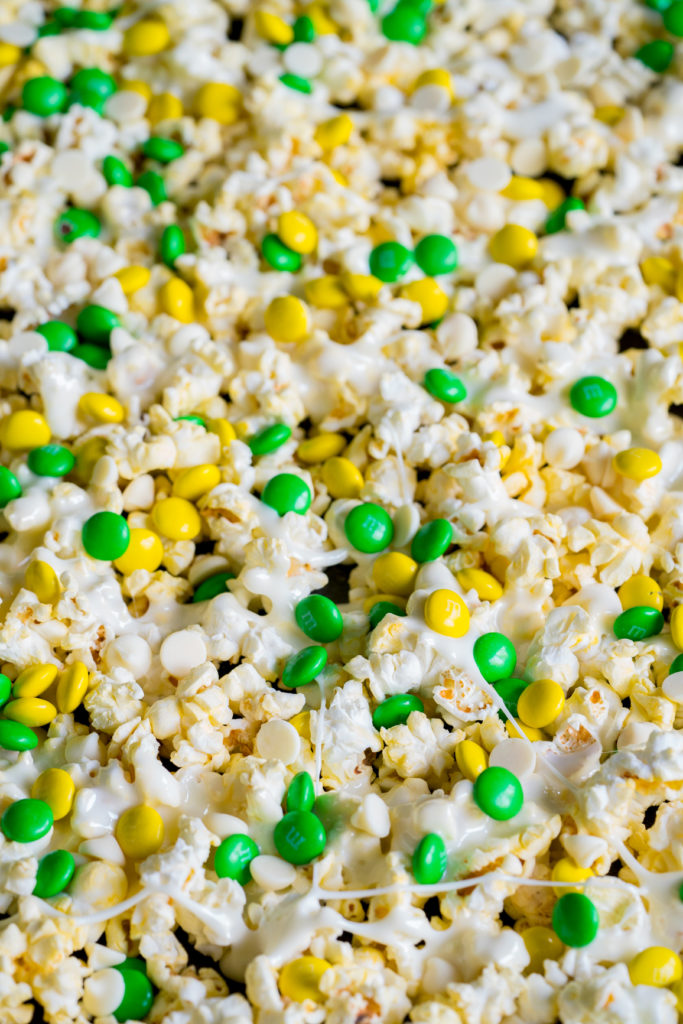 Ingredients
10 Cups of Popped Popcorn
3 tbsp. Butter (salted or unsalted)
3 cups Mini Marshmallows
M&Ms
White Chocolate Chips
Directions
Make popcorn and salt, if desired.
In a microwaveable bowl, melt butter and marshmallows together in 30-second increments, stirring in between, until melted.
Spread popcorn out over baking sheet and pour marshmallow mixture on top.
Sprinkle M&Ms and chocolate chips on top of popcorn mixture, pressing gently so chocolates adhere.
Let set, then break into pieces or mix together and transfer to serving bowl. Enjoy!

Football Cake

This tailgating treat is one of our absolute favorites, not only because we love chocolate cake, but because it's one of the easiest to throw together and has a huge impact when people see it! They'll think you baked a cake and then meticulously shaved off the edges to shape it into a football, but no, it's way easier than that. What you want to do is cut an even, two-inch strip from the center of the cake, roughly four inches from both the top and bottom. Get rid of that center slice (read: slather it with leftover frosting and peck at it all day), then push your top and bottom halves together to create a football! Very generously coat your cake in chocolate frosting, then use white icing to add the stitching – voilà! You've got a football!

Football Cookies

Are you ready to learn your favorite hack of the season? If you've misplaced all your cookie cutters (just us?) and desperately want to make football cookies, don't fret; just grab your nearest mason jar and use the lid! You can use the lid to cut out circles, obviously, but one more punch of the lid and you've got yourself a perfect football – and a crescent moon shape if you also want to decorate those!

Bake those up, then spoon some chocolate cake frosting into a plastic baggie, snip off the corner and pipe the frosting onto your football cookies. You could stop there, since they definitely still look like football cookies, but piping on the white stitching really takes them to the next level of cuteness. Look who's ready for kickoff now!

---

That's all seven of 'em! We know which ones are our favorites, the football cake for its ease and great payoff, plus the Fans and Field cookies since they're ADORABLE, but what about you? Any of these speaking out to you in particular? Whichever you go with, you're sure to have a great game day – may the best team win!
SKM: below-content placeholder
Whizzco for 12T