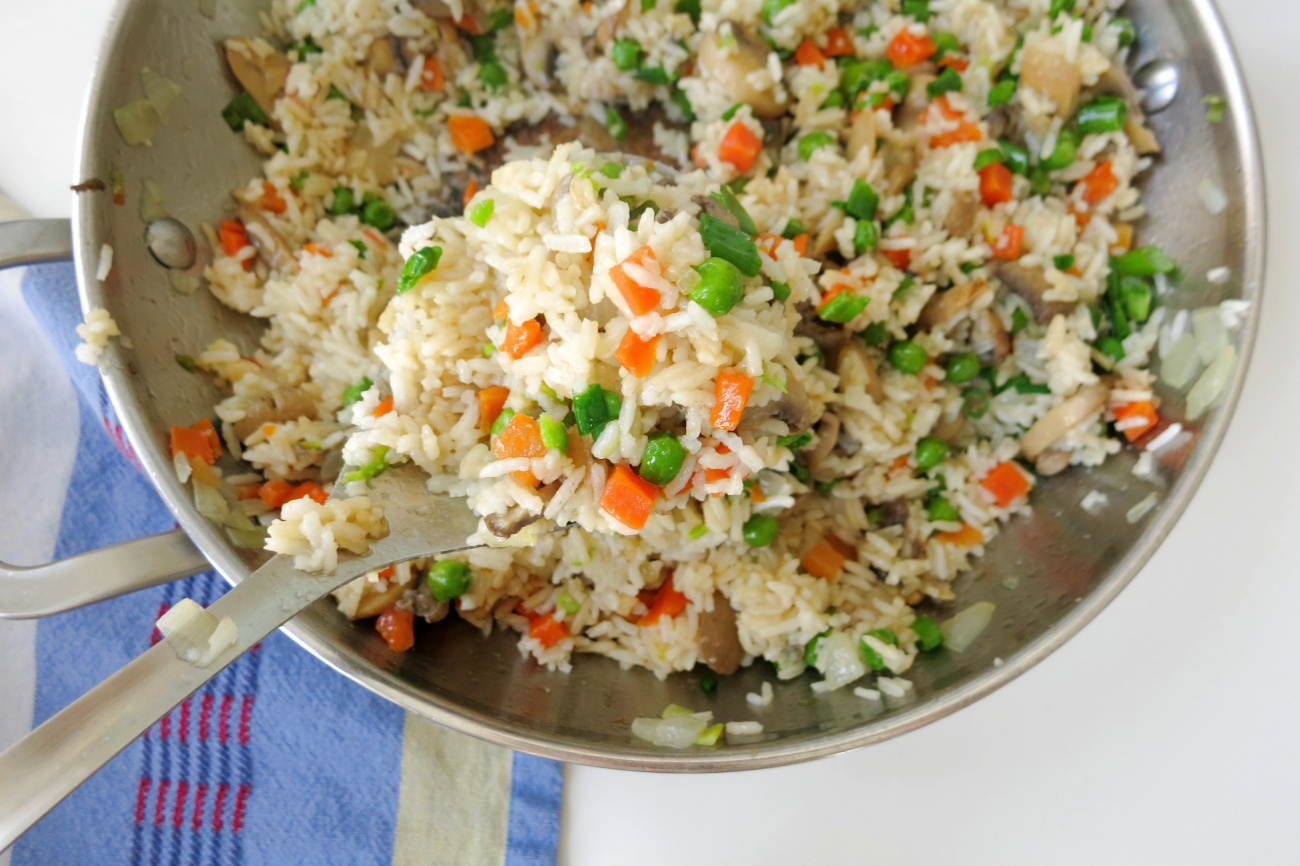 When it comes to take out, one of the most comforting dishes is fried rice. There are many different ways to make fried rice, but I'm partial to the Taiwanese tradition. The secret to making this at home is to have a really big, heavy skillet and to not over-crowd the ingredients.
For these photos I made a simple fried rice with carrots, peas, onions, and mushrooms. But you can add or omit the veggies you want to in order to make this how you like.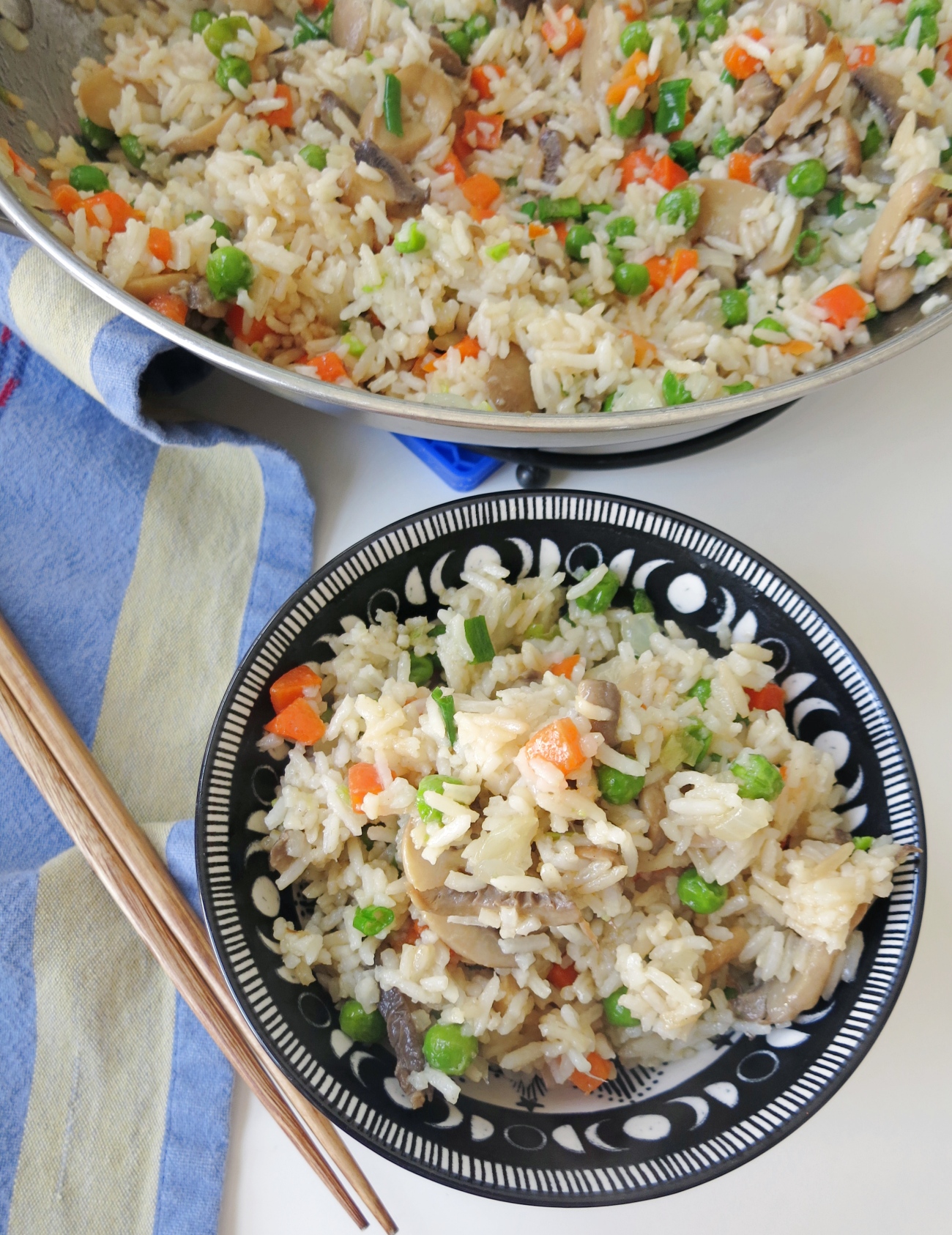 The kinds of vegetables you add can affect the cooking times, so just make sure what ever you add has enough time in the pan to become tender-cooked. Some ideal additions are string beans, edamame, or squash.
I opted for no eggs and no meat in this recipe to show how the base recipe is made. If you want to add eggs add a teaspoon of oil to your pan and heat over medium before any of the other ingredients have gone into the pan. Cook for just a few minutes, until soft but not runny, then remove from the pan and begin the rest of the process as written in the instructions below.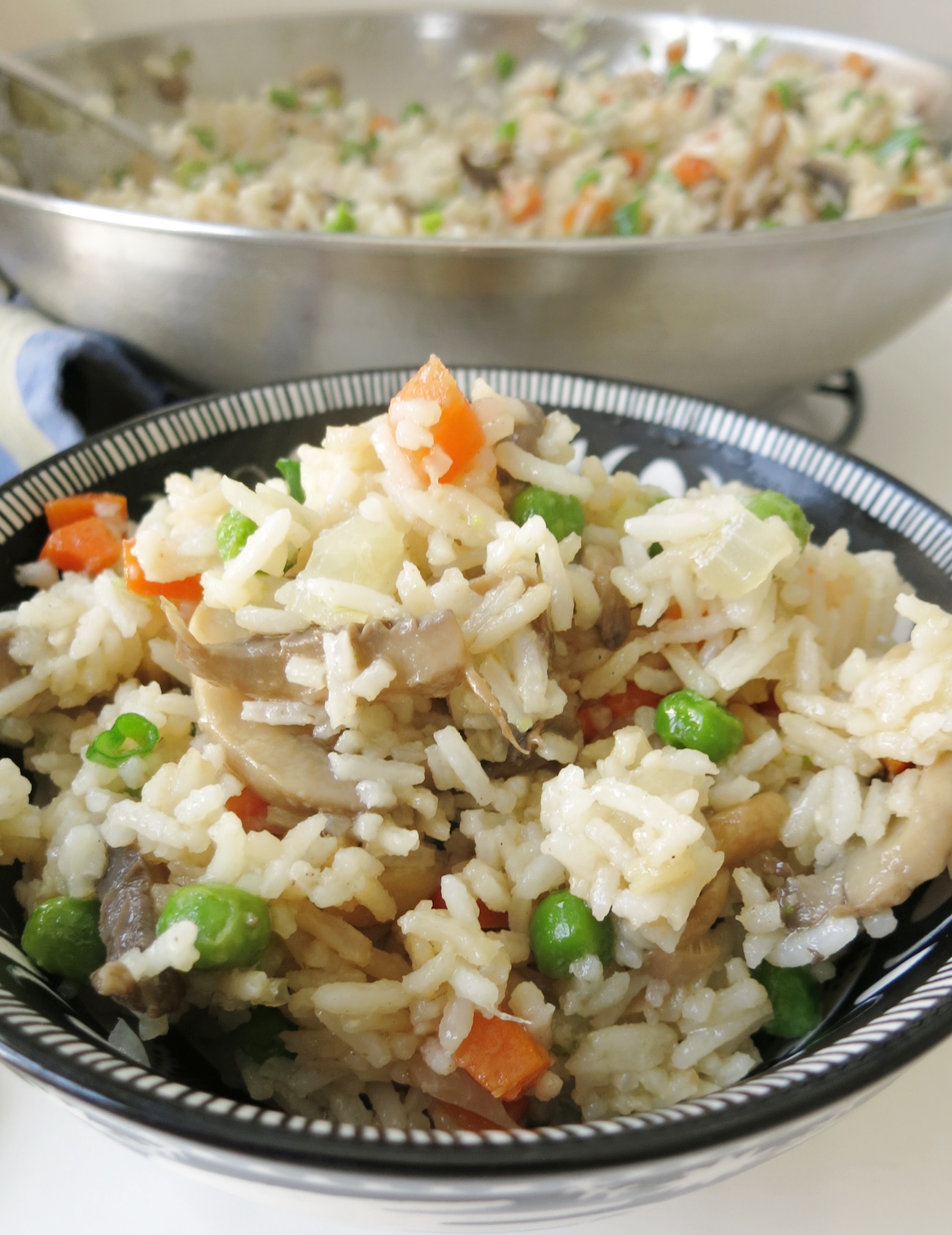 If you want to add protein, like ham, tofu, or chicken, use 1 cup for the volume of rice in this recipe. Make sure it's cooked beforehand and add along with the rice to the pan.
All the items except for the veggies need to be cooked before adding to the pan which makes this an ideal way to use up leftovers. In fact, many people believe that fried rice is much better using leftover rice instead of freshly made.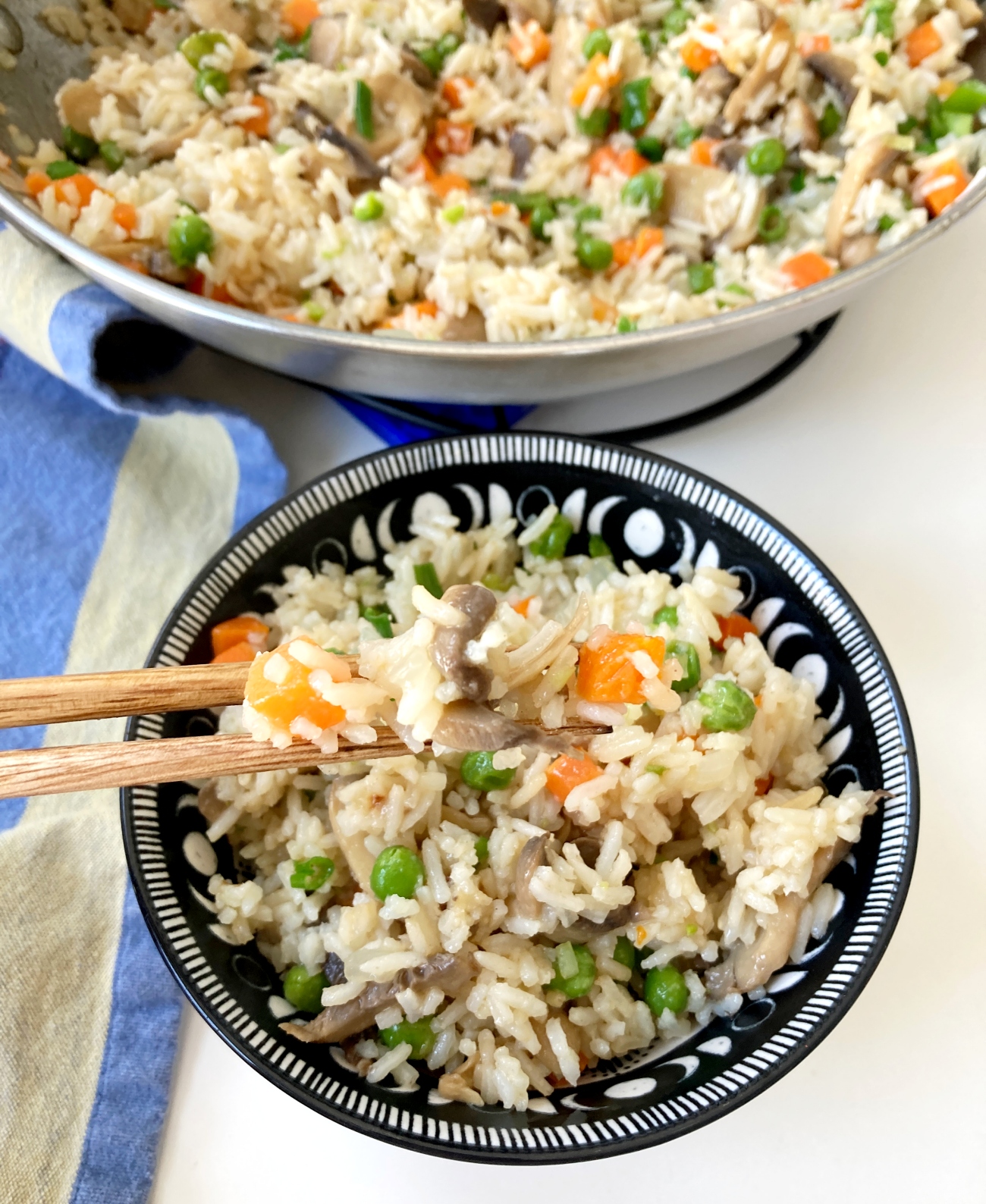 One final note is to make sure you taste the rice and add more salt if needed at the end. You might need more than you think you will since there are very few salty ingredients in the mix. There's only a small amount of soy sauce, which isn't enough to fully season this volume of food to most people's liking.
Whatever you decide to add to this classic dish it can be your dream fried rice made right at home.
Taiwanese Takeout Vegetable Fried Rice
Ingredients
3 cups cooked white rice
1 yellow onion, diced
1 bunch green onions, chopped and separated into white and green parts
2 tablespoons mirin (can use saki or vegetable stock instead)
1/2 cup frozen peas, defrosted
1/2 cup carrots, finely diced or grated
1 (8 oz) can sliced mushrooms, drained
2-3 tablespoons vegetable oil
salt and black pepper to taste
pinch dried powdered ginger
pinch white pepper
1/4 teaspoon onion powder
1 teaspoon sesame oil
2-3 teaspoons soy sauce
Preparation
Add 2 tablespoons oil to large skillet or wok. Heat over high and add yellow onion and white parts of green onions. Cook for 2 minutes, then add water. Add peas, carrots, and mushrooms to pan. Cook for 4 minutes, stirring often.

Add rice to pan, followed by salt, ginger, white pepper, and onion powder. Stir well. Cook until rice is crispy, 2-3 minutes.

Remove from heat and toss in sesame oil, green onions, and soy sauce. Taste and add more soy sauce and/or salt if needed. Serve piping hot.
Recipe adapted from Food 52.
SKM: below-content placeholder
Whizzco for 12T