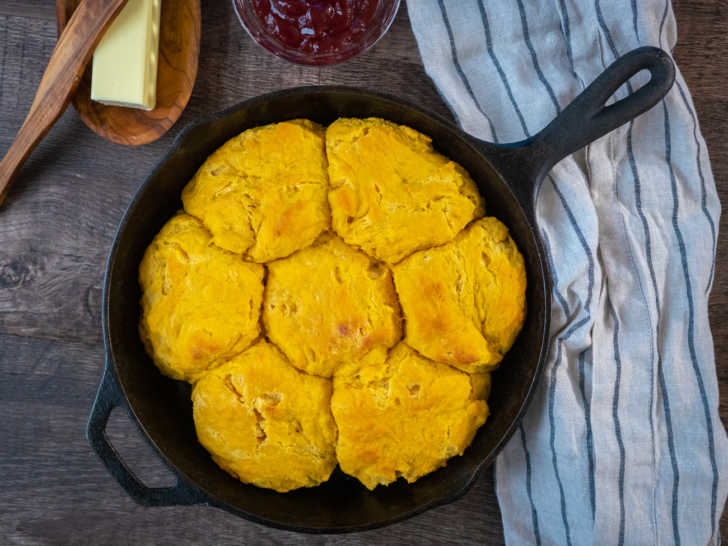 I wish I could tell you that this was my grandmother's recipe or that these Sweet Potato Biscuits were a long-standing tradition in my family, but no, they are just something that caught my eye as an interesting alternative to the basic biscuit. And that they are! With a golden hue and a smack of sweet potato flavor, they feel like a traditional side that's been gracing your table for years even if it's only your first time having them. They're as comforting and delicious as a plain, buttery biscuit but with a doughier bite and a fun new flavor. After all, it's always worth trying something new once in a while!
The point of the sweet potatoes here is flavor and texture. The flavor is relatively subtle – a little sweet, a little autumnal – while the texture change is more noticeable. These aren't mile-high flaky biscuits, but they are fluffy and light, just with a more substantial bite. They're not dense, but they are denser if that makes sense. I love their texture and I think they are delightful slathered with some salted butter and a drizzle of maple syrup.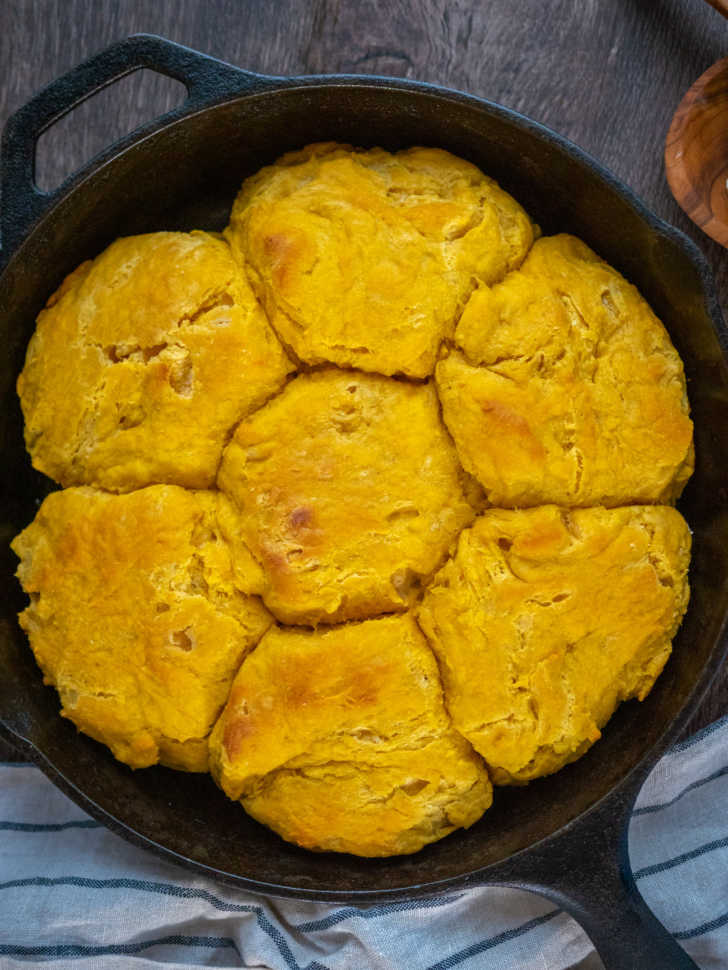 You make these much in the way you would a basic buttermilk biscuit – you mix together your dry ingredients, cut in some cold butter, and then add the liquid. It's just that in this case, the liquid is a mixture of mashed sweet potatoes and buttermilk. These are a great use for leftover sweet potatoes but if you need some just for this recipe there are a few ways to go about getting them.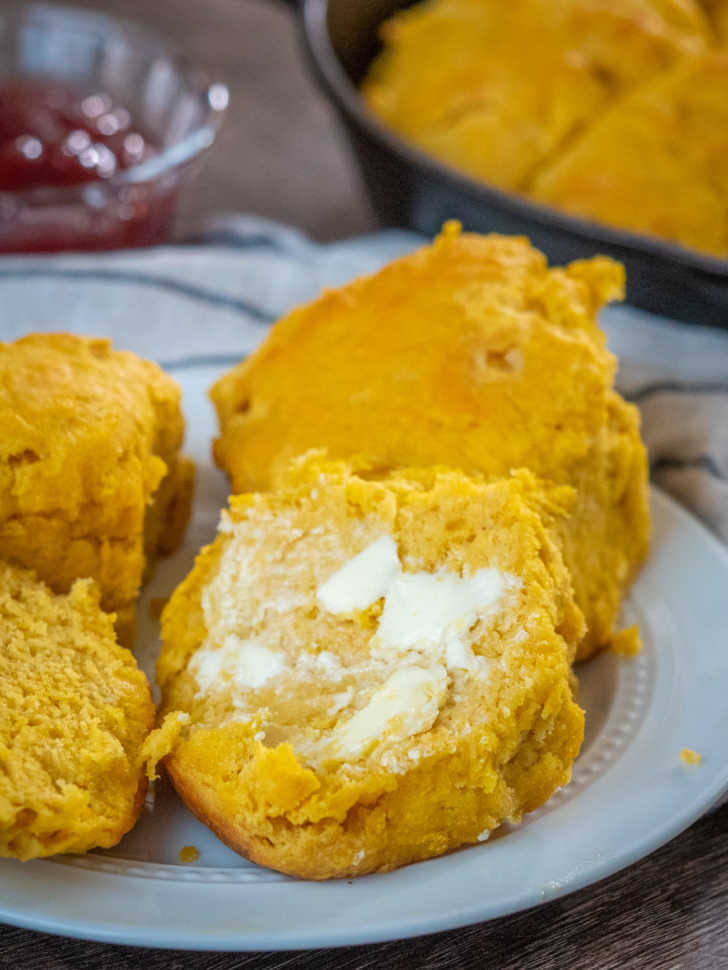 You can microwave a sweet potato or two until tender, scoop out the flesh, and then mash it up. (Just make sure to chill it before adding it to your biscuit dough!) Or, you can buy a can of yams and then drain and pat them dry before you mash them up, or maybe most simply, you can buy a can of sweet potato puree. Any of those methods works just fine, but you'll end up with the best texture if you chill the puree before you add it to the dough.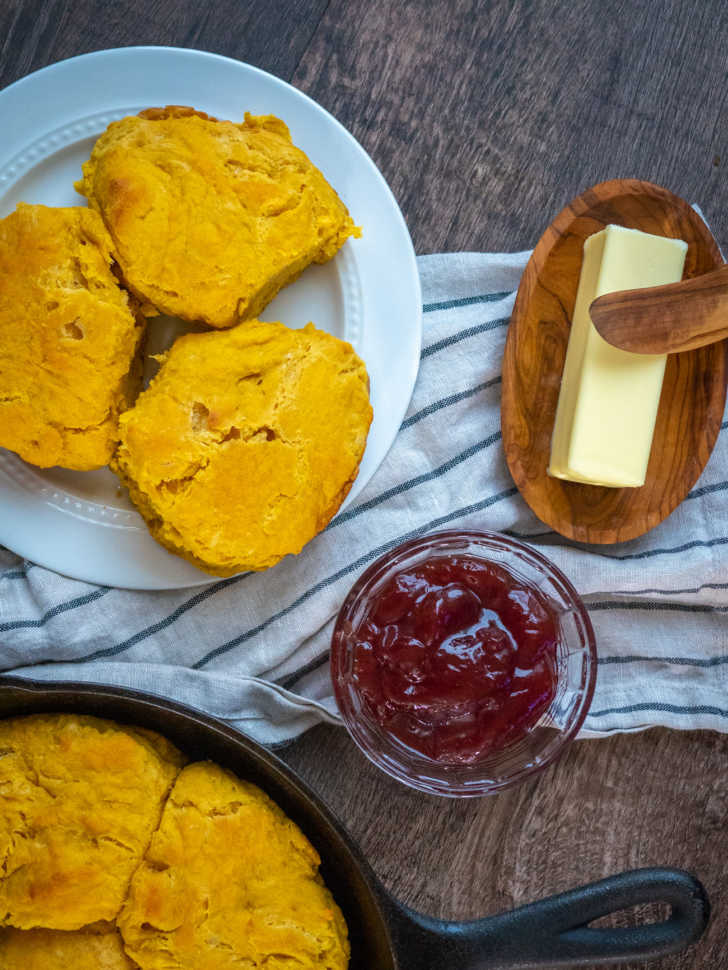 Sweet Potato Biscuits
Serves 10
15m prep time
20m cook time
Ingredients
3 cups all-purpose flour
5 teaspoons baking powder
1/2 teaspoon Kosher salt
2 tablespoons granulated sugar
1/2 cup (1 stick) butter, chilled and cubed
1 1/2 cups mashed sweet potatoes, chilled (see Notes)
3/4 cup buttermilk, chilled, plus more as needed
Preparation
Grease a 10-inch cast iron skillet with butter or nonstick spray and preheat oven to 450°F. Set aside.
In a large bowl, whisk together flour, baking powder, salt, and sugar.
Using a pastry blender or two forks, cut butter in until mixture is crumbly with pea-sized pieces of butter.
In a separate bowl, whisk together the sweet potatoes and buttermilk. Add to dry ingredients and stir until moistened. If needed, add a bit more buttermilk.
Turn dough out onto a floured surface and knead gently about times. Press out into a 1-inch thickness.
Using a round biscuit cutter, cut out biscuits and arrange in prepared skillet. Press cutter straight down but do not twist. Roll out scraps and cut out more biscuits, if desired.
Chill in freezer 15 minutes, then bake until golden brown 15-20 minutes. Enjoy!
Notes: For the sweet potatoes, you can use canned yams (drained, patted dry, and mashed) or canned sweet potato puree. You can also roast or microwave sweet potatoes until tender and then mash the flesh until smooth. Chill the puree before using.
Recipe adapted from The Seasoned Mom.
SKM: below-content placeholder
Whizzco for 12T