A comforting bake that has it all.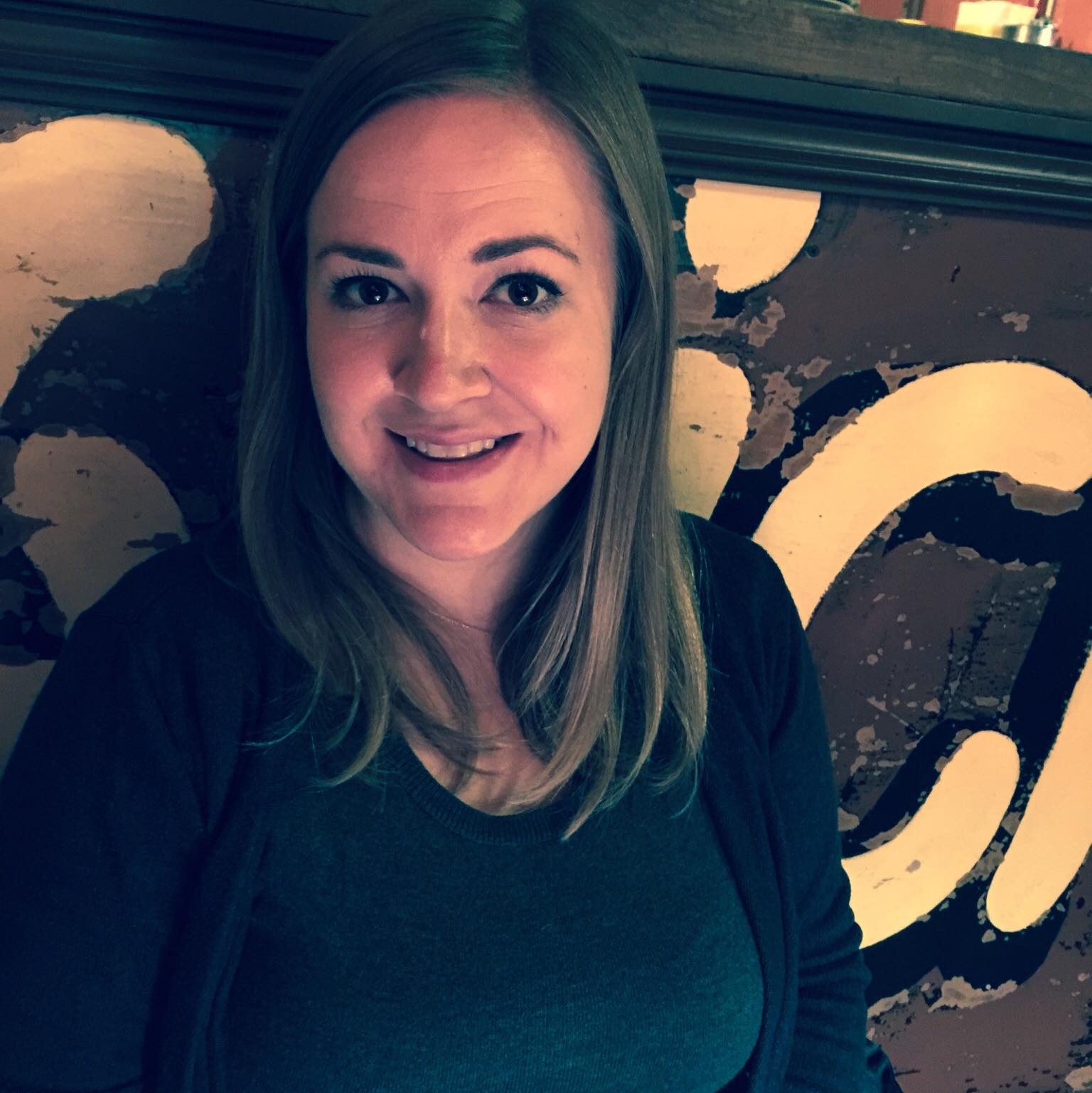 Kristy Norrell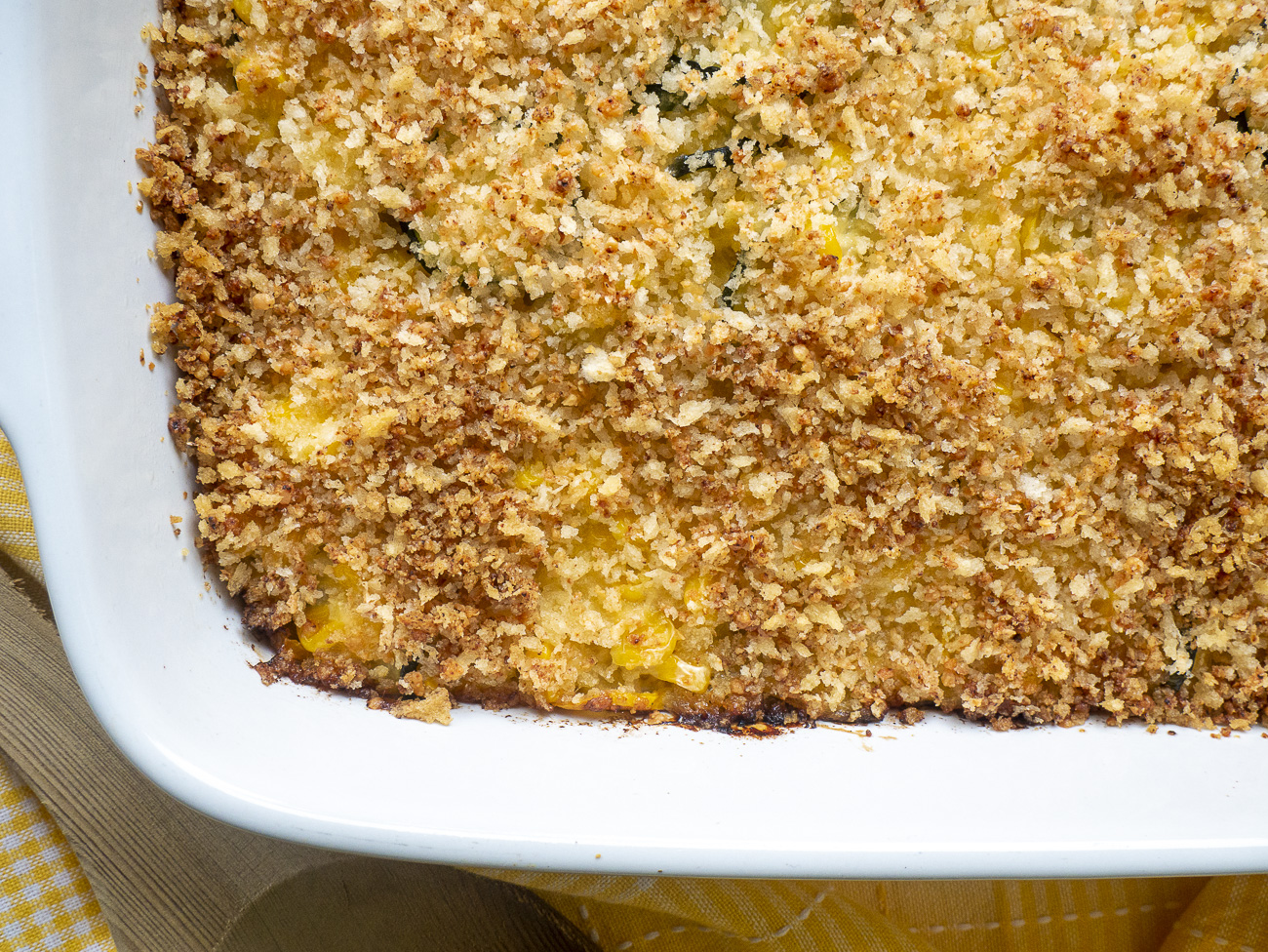 When the seasons change and new produce starts showing up at the farmers market or produce stand (or in my own garden!), it brings me a great deal of joy. To me, the appearance of summer squash, zucchini, and fresh corn shows that summer is really finally here and I take pretty much every chance I get to cook with them. While I usually keep it pretty simple (because what's better than grilled corn on the cob?), this casserole manages to include all three of those summer favorites. And with a little creamy, cheese, breadcrumby comfort to boot.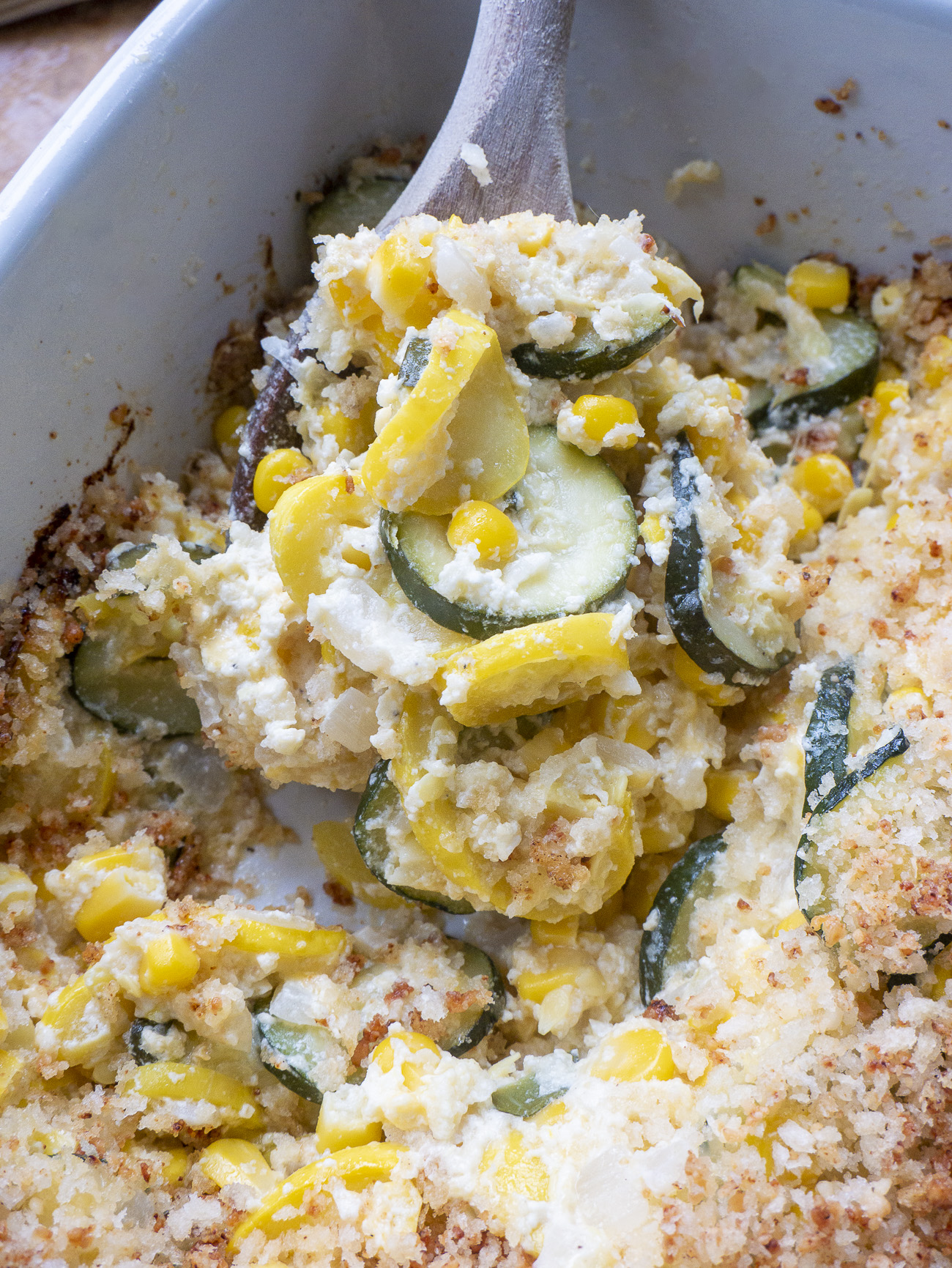 To start off, you need a lot of squash. About three pounds total, which you can divide equally between summer squash and zucchini or use more of one than the other, or even all of one if that's what you've got. That's about five small zucchini and five small yellow squash, but of course, if you're using patty pan or a round squash, those numbers will change a bit.
Slice 'em up along with some onion and garlic and get them in a pan. (A big one!)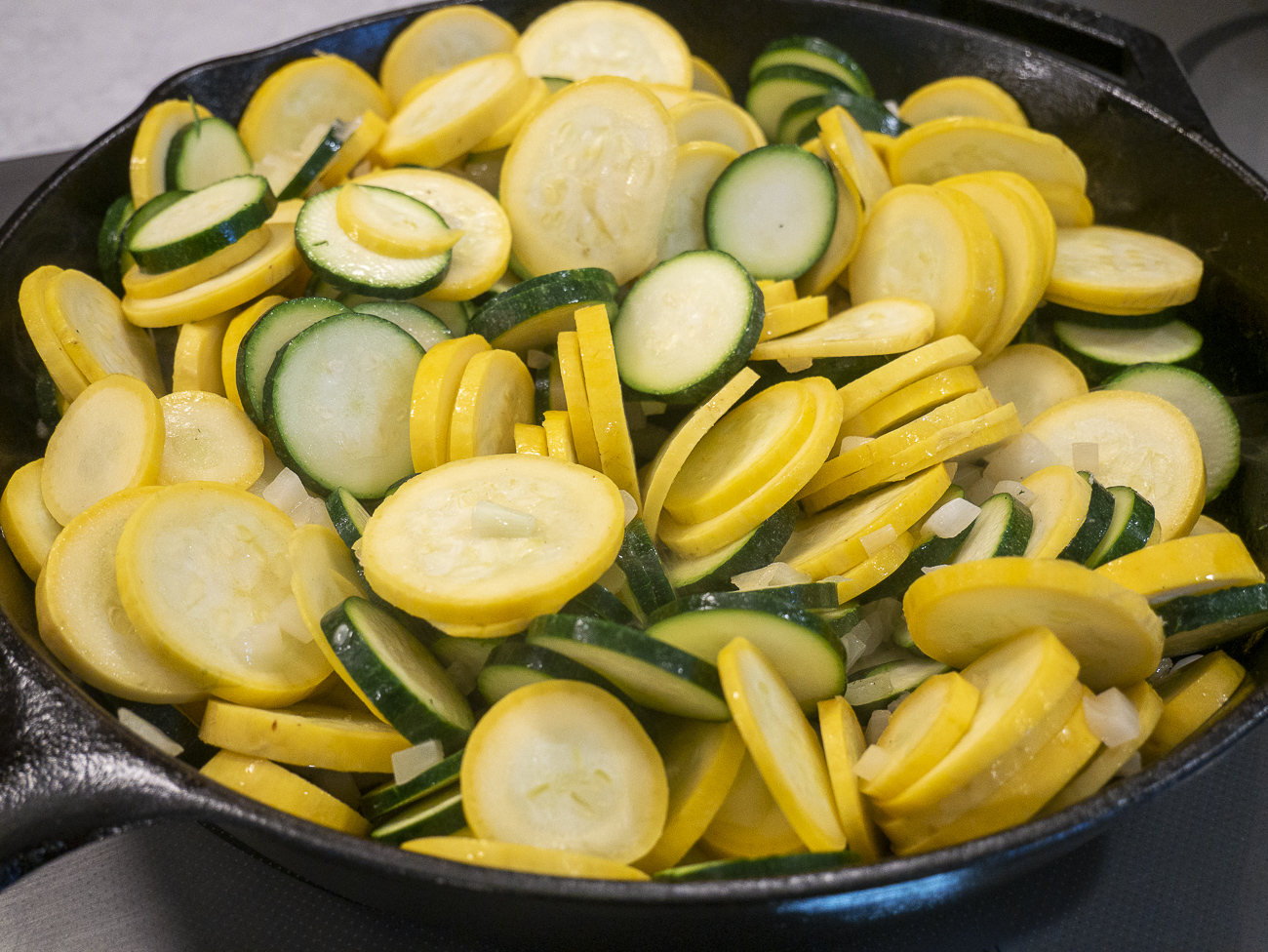 Let them work for ten minutes until the squash is soft and the onions are tender. They'll cook down a bit but you still want them to (mostly) hold their shape.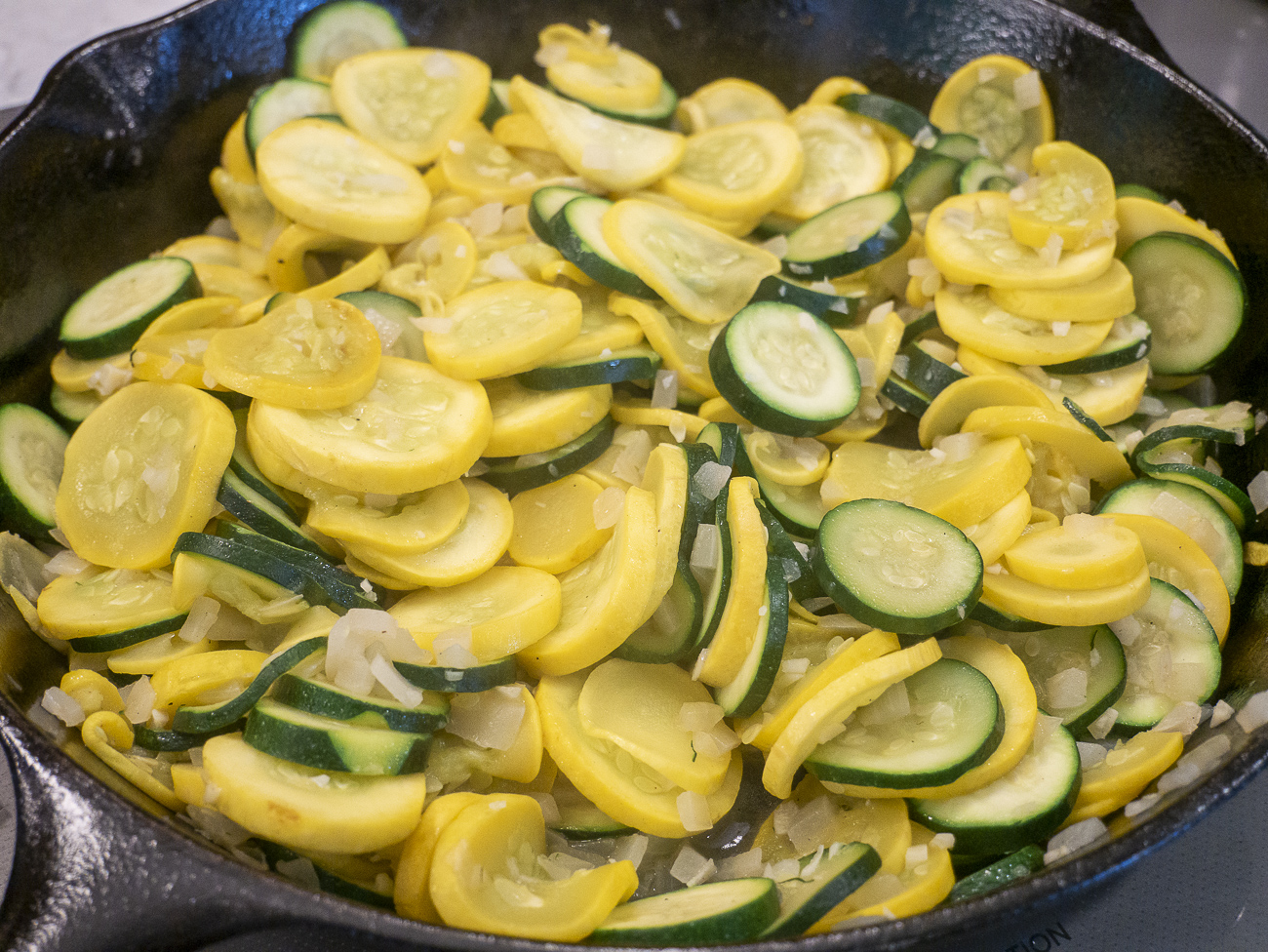 And then you stir it together with some mayo, some sour cream, some cheddar cheese, eggs, and of course, the corn. I like to add some thyme and garlic powder here as well, and a handful of the breadcrumbs acts as a nice binder. Now, for the corn: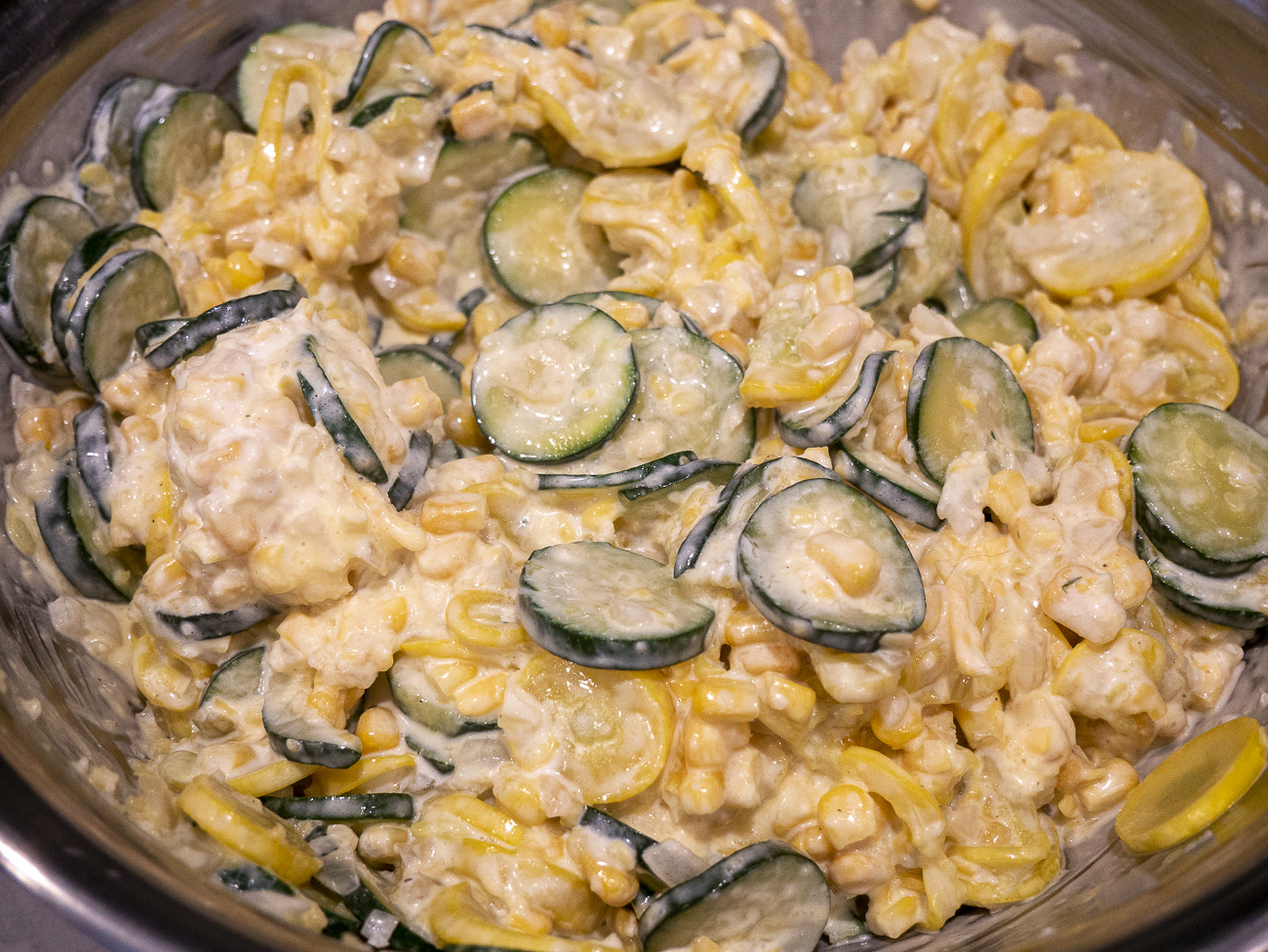 I'd suggest frozen or fresh, as I find they have superior flavor to canned. If using frozen, you don't even need to thaw the kernels, just mix 'em right in. If fresh, just cut those kernels right off the cob. Easy peasy.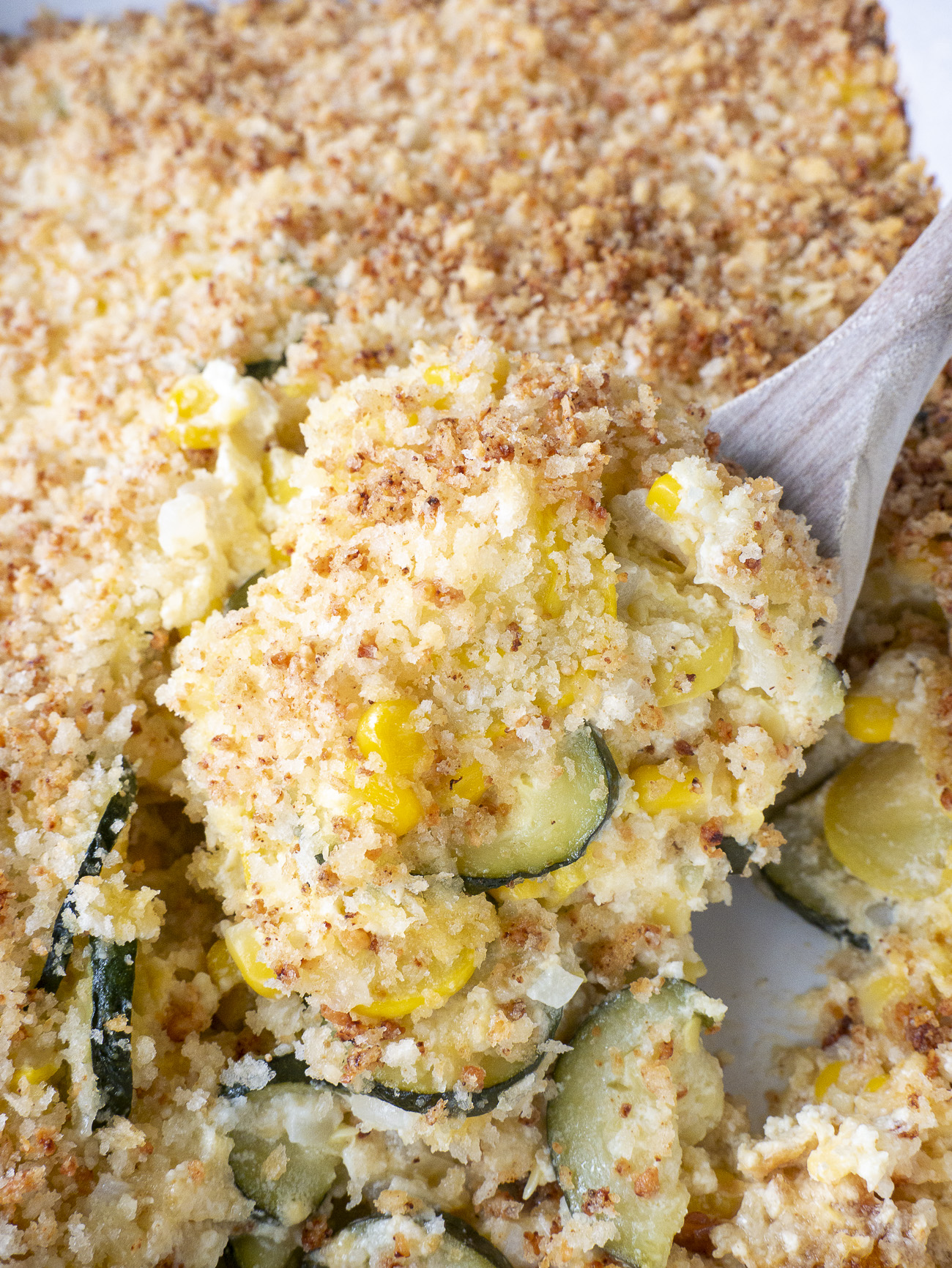 And then, of course, OF COURSE, there are breadcrumbs on top of the whole thing. You want some crispiness with that soft squash and the best way to get it is by mixing your breadcrumbs with some melted butter before you sprinkle them over the top so that they truly crisp up in the oven.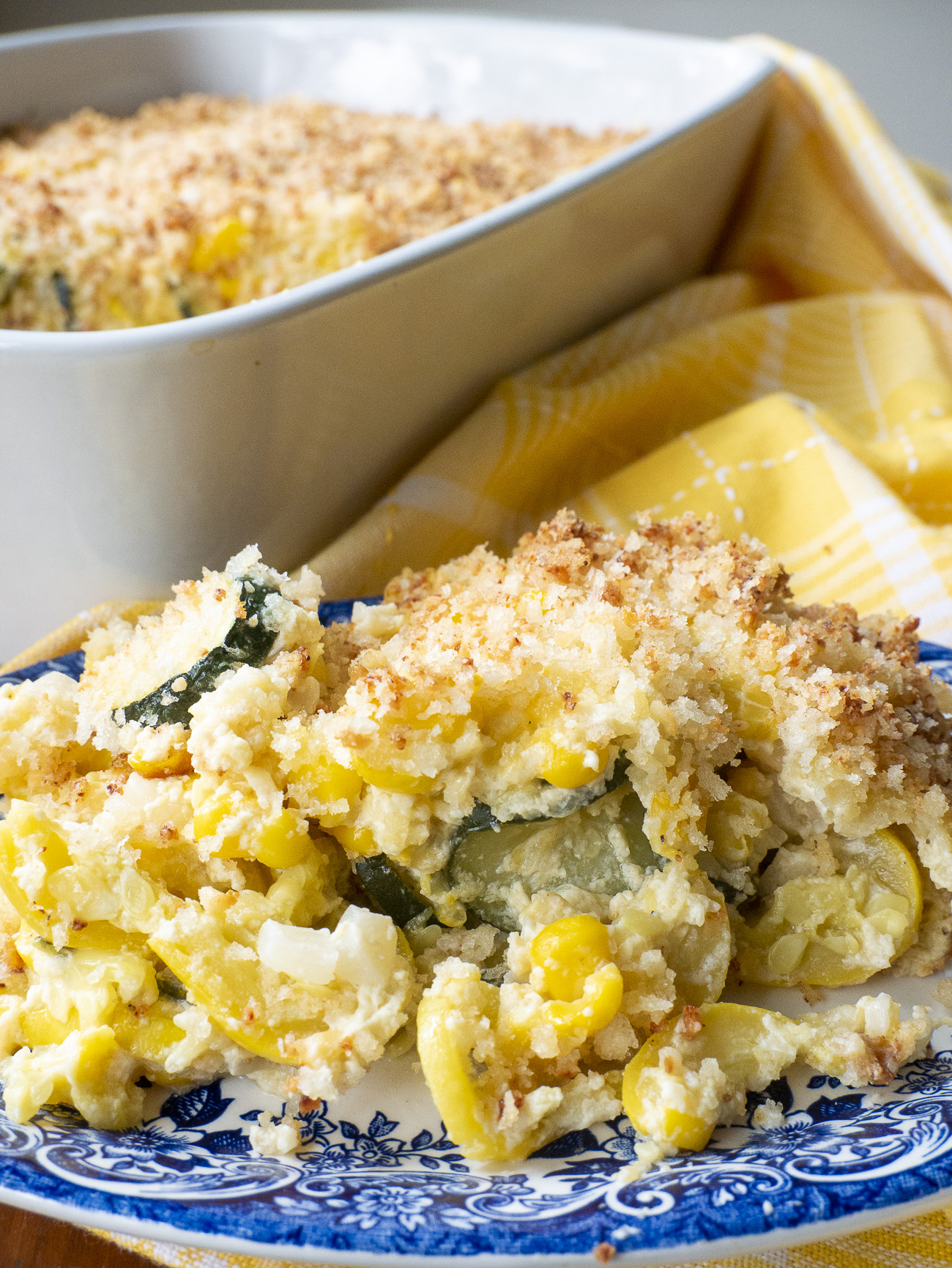 And they do just that. You get a golden brown crunchy topping with just a little hint of parm and that gives way to a creamy, tender filling that's full of all the beauty of summer. And of course some cheesiness too, but I'm certainly not going to complain about that.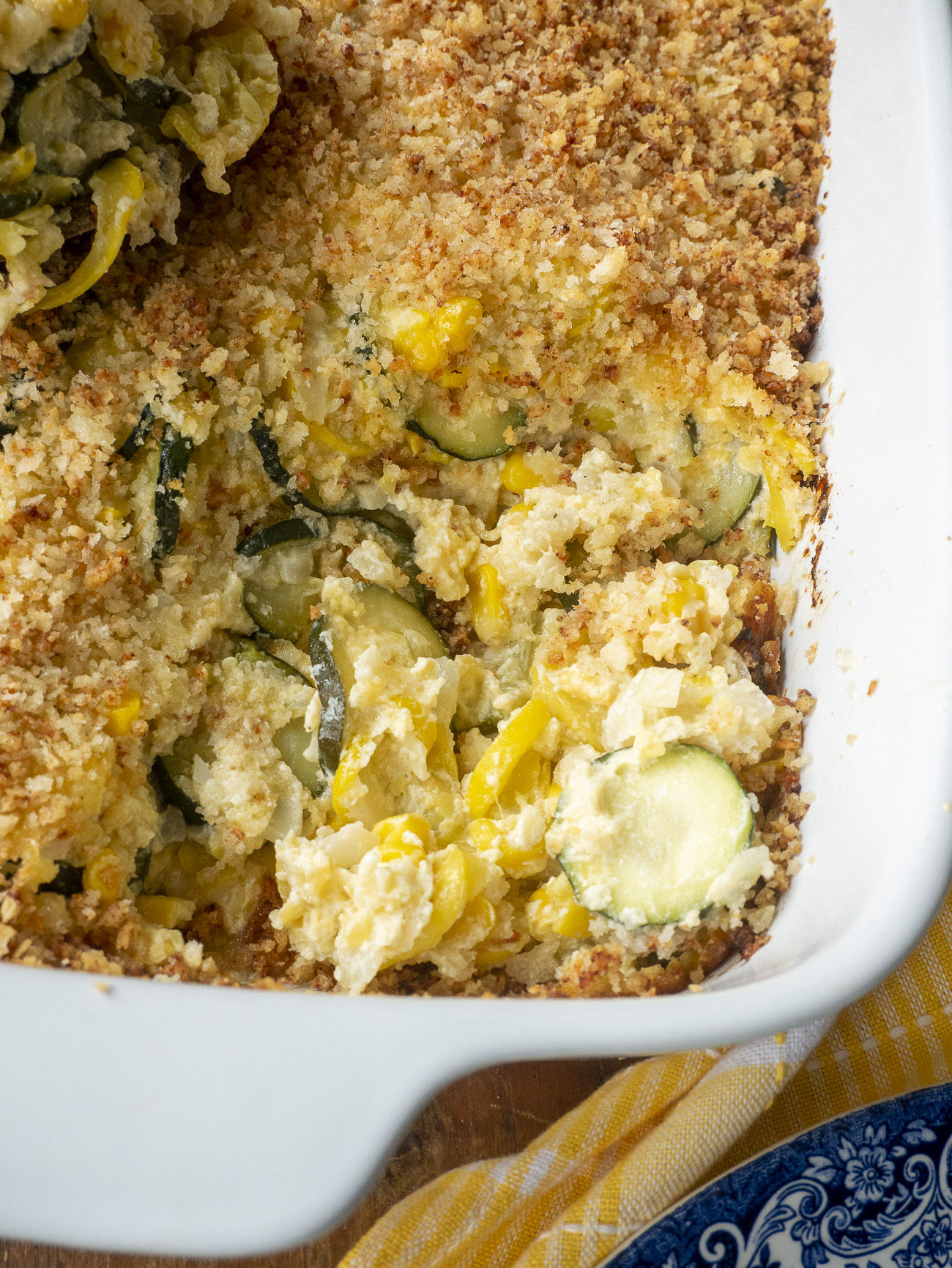 Summer Squash Zucchini Corn Casserole
Serves 8
15m prep time
45m cook time
Ingredients
1 1/2 lbs yellow squash, thinly sliced (4-5 small squash)
1 1/2 lbs zucchini, thinly sliced (4-5 small squash)
1/4 cup unsalted butter, divided
1 medium yellow onion, diced
3 cloves garlic, minced
3 cups corn kernels
1 1/2 cups sharp cheddar cheese, grated
1/2 cup sour cream
1/2 cup mayonnaise
1/2 teaspon dried thyme
1/2 teaspoon garlic powder
2 eggs, lightly beaten
1 1/2 cups breadcrumbs, divided
1 cup freshly grated parmesan cheese, divided
Kosher salt and freshly ground black pepper, to taste
Preparation
Preheat oven to 350°F and lightly grease a 9x13-inch baking pan with nonstick spray. Set aside.
Melt half of the butter in a skillet over medium-high heat. Add zucchini, squash, onion, and garlic and cook 10 minutes, stirring occasionally, until tender. Remove from heat.
Stir together squash mixture with corn, cheddar cheese, sour cream, mayo, and eggs. Season with thyme, garlic powder, and salt and pepper. Stir in 1/2 cup of the breadcrumbs and 1/2 cup of the parmesan cheese.
Transfer mixture to prepared pan.
Melt remaining butter and mix with breadcrumbs and remaining parmesan cheese. Sprinkle over casserole.
Bake until top is golden brown and mixture is bubbly, 45-50 minutes. Enjoy!
Recipe adapted from Plain Chicken.
SKM: below-content placeholder
Whizzco for 12T