We're in the midst of eggplant season, so why not take advantage? Many different types of cuisine use the eggplant as a great vessel for rolls, filled with everything from spinach and feta to Parmesan and tomato, but we've got our own little twist that'll use some of those other garden veggies, too! With melted cheese inside and out, you can't go wrong with these savory treats.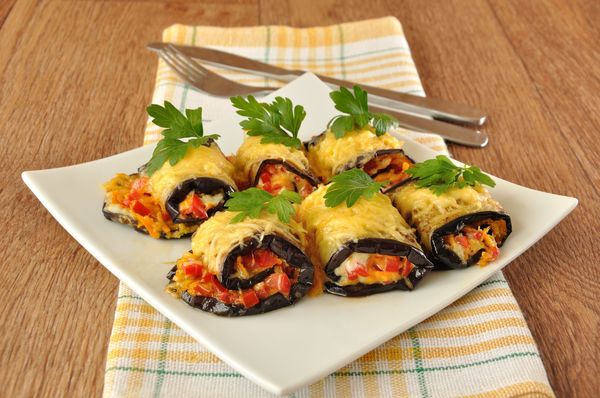 Baked Eggplant Rolls
Ingredients
1/4 tablespoons olive oil
2largeeggplants(cut lengthways into slices 1/4-inch thick)
8 ouncescheddar cheese, grated
4-5 carrots, shredded
2tablespoonsbreadcrumbs
1clovegarlic, minded
2tablespoonsParmesan cheese, grated
2 roma tomatoes, seeded and diced
1tablespoonfresh basil, chopped
1egg, beaten
Salt
Directions
Preheat the oven to 400 degrees F.
Prep the eggplant by sprinkling the slices with salt on both sides and letting them lay on paper towels for about 15 minutes.
Then, brush both sides with olive oil and cook each slice on a griddle or in a pan for about 3-5 minutes on each side. Let them drain on paper towels when they are done cooking.
As the eggplant slices cool, make the stuffing by mixing half the grated cheeses with the breadcrumbs, basil, tomatoes, and carrots. Season to taste and then bind everything with the egg.
Lightly grease a casserole dish with cooking spray.
Lay out the cooled eggplant slices and place 1-2 tablespoons of filling on the thinner end of each slice. Roll the eggplant slice so that it surrounds the filling, being careful to roll them fairly tightly. As you finish each roll, put it into the dish.
Sprinkle the rest of the grated cheese over the top of the rolls and bake them in the oven for about 10 minutes, until the cheese is melted and the rolls are tender.
Enjoy!
Recipe adapted from a Nigella Community Recipe
SKM: below-content placeholder
Whizzco for 12T