If you're used to black beans as a side dish, try them as the main event with a hearty bowl of black bean soup – made a little spicy with chipotle peppers for an added kick. It's perfect by itself or with some tortilla chips sprinkled on top (or even for dipping). It's still a bit chilly outside, so get in your soup fix while you can!
If you'd like to tone down the spice, simply nix the chipotle peppers. If you'd like to add meat, carnivores can try adding bacon or check out the original recipe, which calls for ham bone or smoked ham hock to add that smoky flavor.
Pick your favorite garnishes – we like pico de gallo and avocado, but sour cream and a sprinkling of cheese would also be great non-vegan options.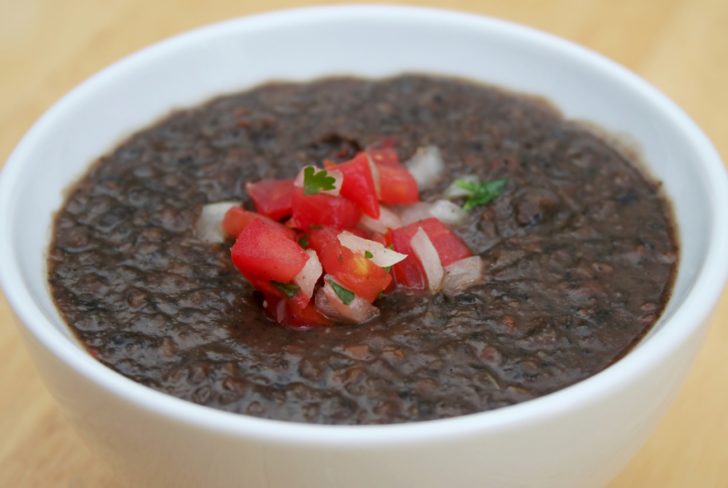 Spicy Black Bean Soup
(makes about 8 servings)
Ingredients
For the soup:
1 pound dried black beans
1 medium onion, finely chopped
1 green bell pepper, finely chopped
3 cloves garlic, minced
1/2 cup olive oil, divided
3 tablespoons white or cider vinegar
1 tablespoon chopped chipotle peppers in abodo from a can(omit if you don't want a spicy soup)
4 teaspoons ground cumin
Salt and pepper
For the pico de gallo garnish:
5 plum tomatoes, diced
2 jalapeño peppers, deseeded and deveined, diced
1/2 medium onion, diced
1 clove garlic, minced
2 tablespoons fresh cilantro, chopped
Zest and juice of 1 lime
Salt and pepper, to taste
Directions
The night before you make the soup, put the beans in a colander and wash them with cold running water. Take out any rocks, broken beans, or shriveled beans and then place the remaining beans in a large soup pot. Cover the beans with enough cold water so there is an extra inch of water on top of the beans, place the lid on, and let the beans soak overnight.
The following day, drain the water from the pot and refill it with fresh cold water ñ enough so that the water is about an inch above the beans, like the night before.
Then, in a skillet, sauté the onion and pepper in a tablespoon of olive oil until the onions look tender and translucent (6-8 minutes). Then, mix in the garlic and cumin and let them cook for about a minute. Add this mixture to the pot of beans, along with the rest of the olive oil, chipotles, and two teaspoons of salt and a generous amount of pepper.
Bring the water to a boil over high heat. Skim off any white foam and then reduce the heat to low and cover the pot. Let it simmer for four to five hours, or until the beans are very soft and the soup is creamy (not watery). Check the soup after two hours to see if it seems dry or stewy ñ if it does, add another cup of water.
To prepare the pico de gallo, simply add all the ingredients to a medium-size bowl and stir everything together until well-combined. Make the pico with enough time to let it refrigerate for at least 30 minutes before the soup is served.
After four or five hours, test the consistency of the soup with a spoon ñ if the soup coats and sticks to the back of a spoon, then it's not too watery (it should be velvety and thick by this point).
Stir in the vinegar and let it simmer for another 15 minutes, without the cover. If you'd like an even silkier soup, you can puree two cups of the mixture in a blender and return it back to the pot to simmer for a few more minutes.
Serve simply as soup or over rice, and garnish with pico de gallo (or your choice of garnishes).
Enjoy!
Black bean soup recipe adapted from The Kitchn
Pico de gallo recipe adapted from Add a Pinch
SKM: below-content placeholder
Whizzco for 12T