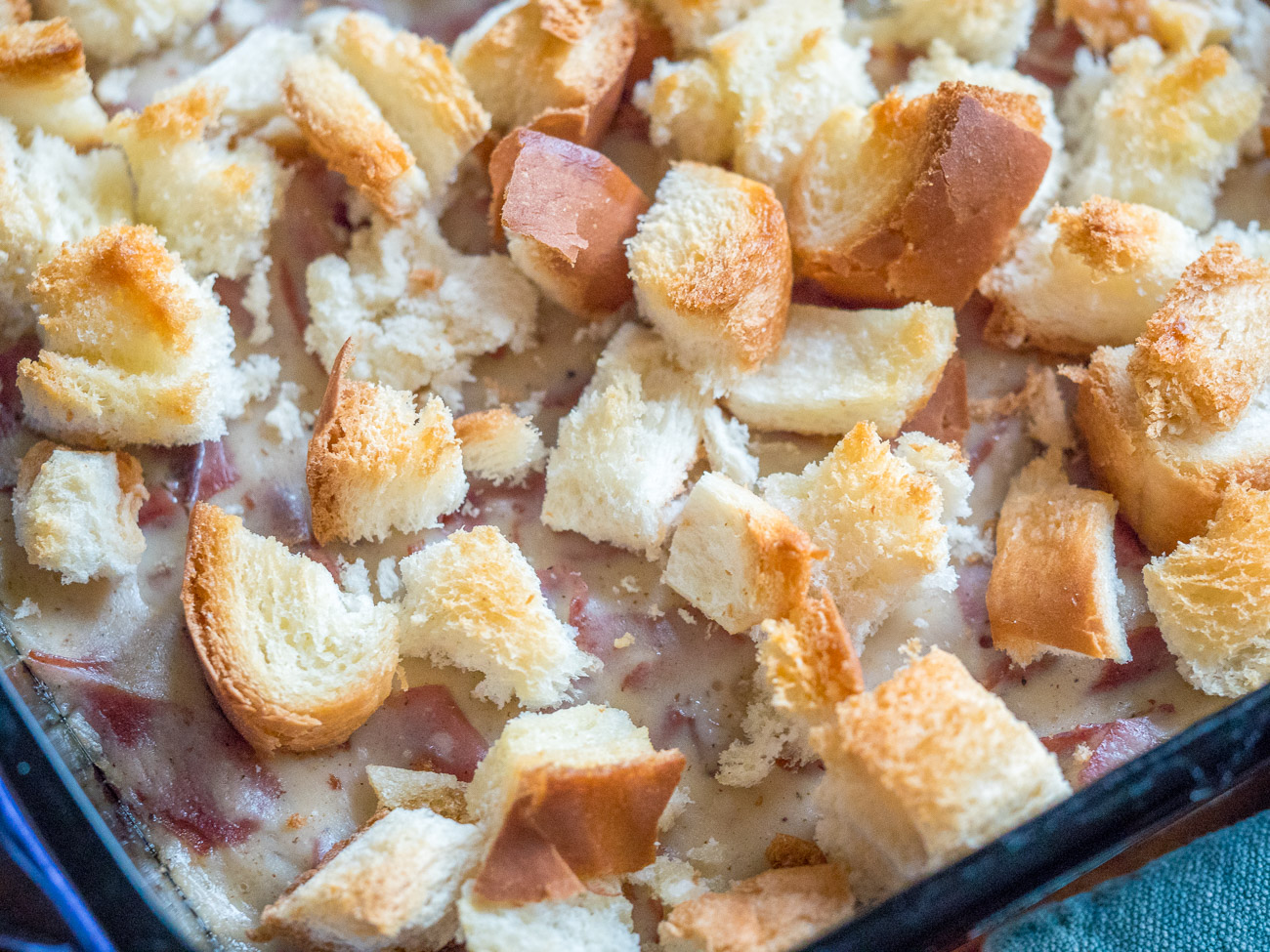 Creamed chipped beef is one of those old fashioned dishes that when you have it again just reminds you of simpler times. Technically any meat and cream sauce served over bread can be classified as S.O.S., but it was during the first half of the 20th century that U.S. servicemen came to know this dish well. Since dried beef keeps well for a long time it became a staple of mess halls in the military, perhaps even a bit over-served since the servicemen came to call this dish by its rather unflattering nickname of S.O.S. (which stands for sh** on a shingle).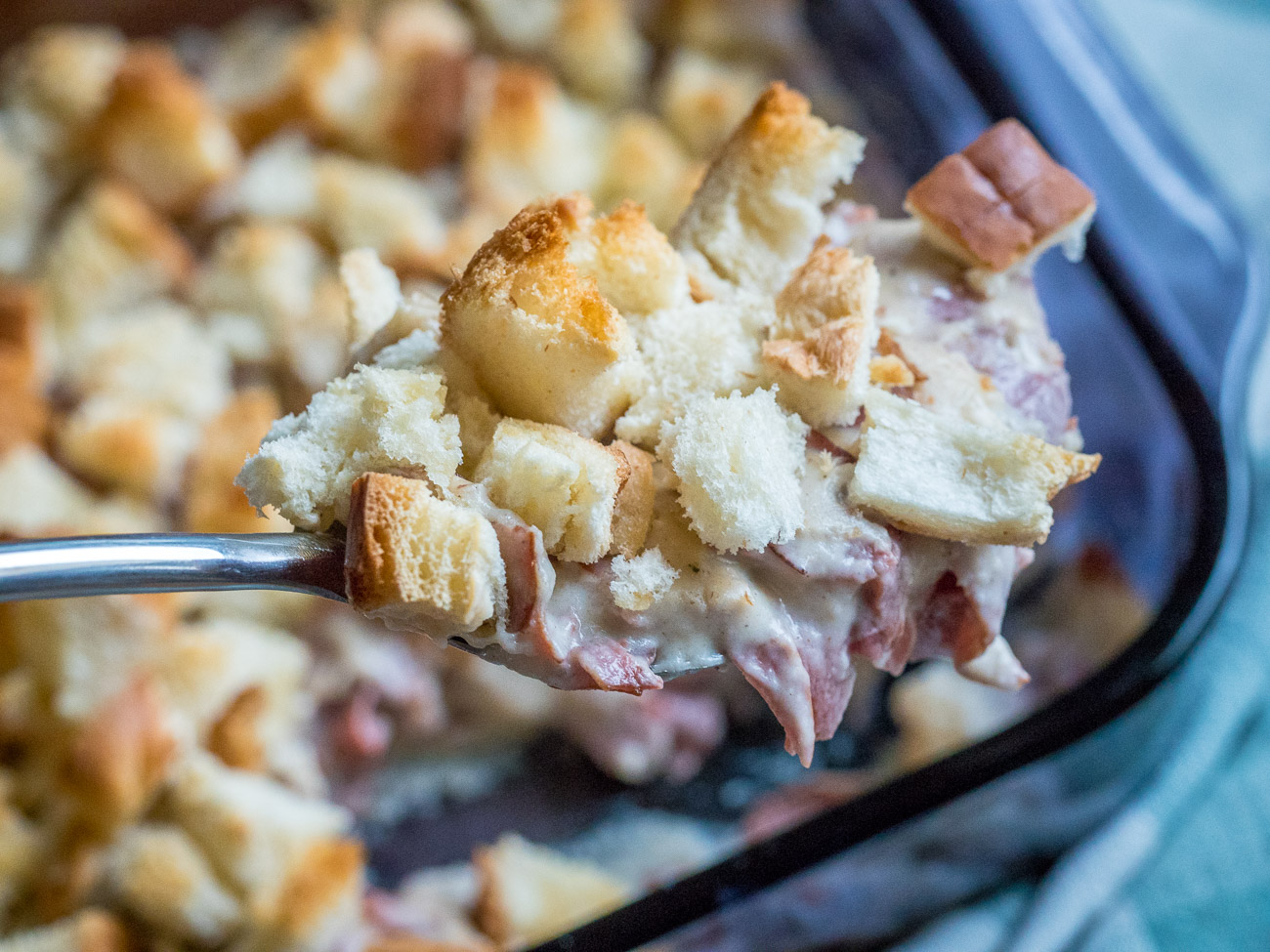 We'd never use the cruder name for this recipe, but we do love how it tastes and how it reminds us of the past. Both my grandfathers served in the army and I'm positive that they were all too familiar with this dish.
For an update to the classic, we now have the option of having S.O.S. as a casserole. We love this way of serving it because we don't have to make biscuits or toast a bunch of bread and we can serve it on the table in one dish which makes it so easy to serve up for the family.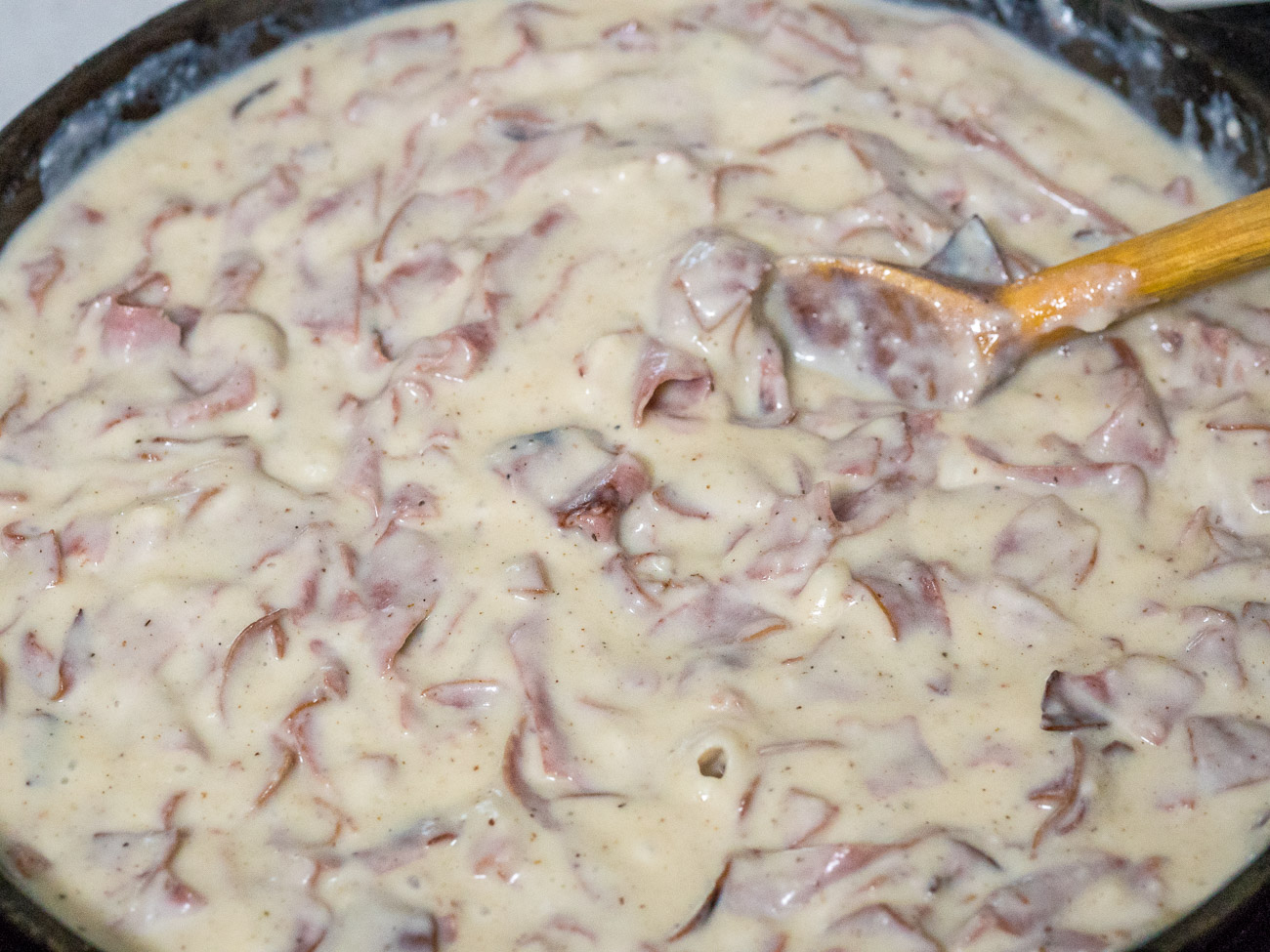 To begin making this recipe you'll need 2 5-ounce jars of dried beef (also called chipped beef). Slice the beef into strips and sauté in butter to really bring out the flavor. Be sure to use unsalted butter as the beef is already salted before its packaged.
After you set the beef aside, it 's time to make the cream sauce using butter, milk, and flour over medium heat. Keep stirring this until the sauce begins to thicken, otherwise it can easily get too hot or get a skin on top.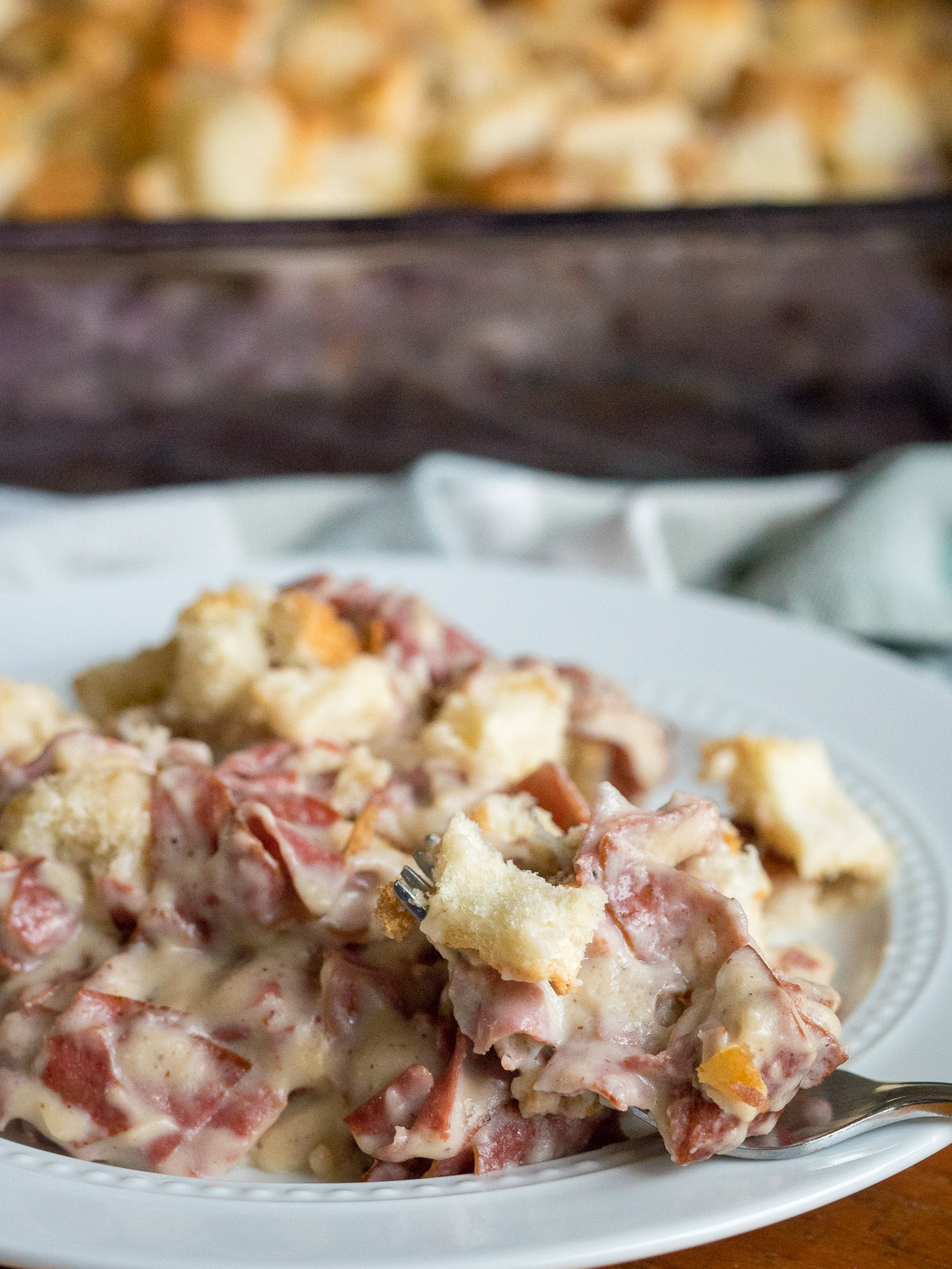 Unlike may S.O.S. recipes, this one has some garlic powder and onion powder. We also sometimes make this with a dash of spicy white pepper added in as well, but this is completely optional. Once the sauce is thickened and spiced, add the beef back to the pan and stir. Then pour it into a 9″x13″ baking dish and top with the cubed bread. Depending on the shape of the pan and the size of the bread pieces, you may need more or less that what we used, which was 5 pieces of white bread. It also depends on how much bread you like with your beef.
Drizzle melted butter over the bread cubes and then bake the casserole for 15-20 minutes or until the bread just begins to look toasty and golden.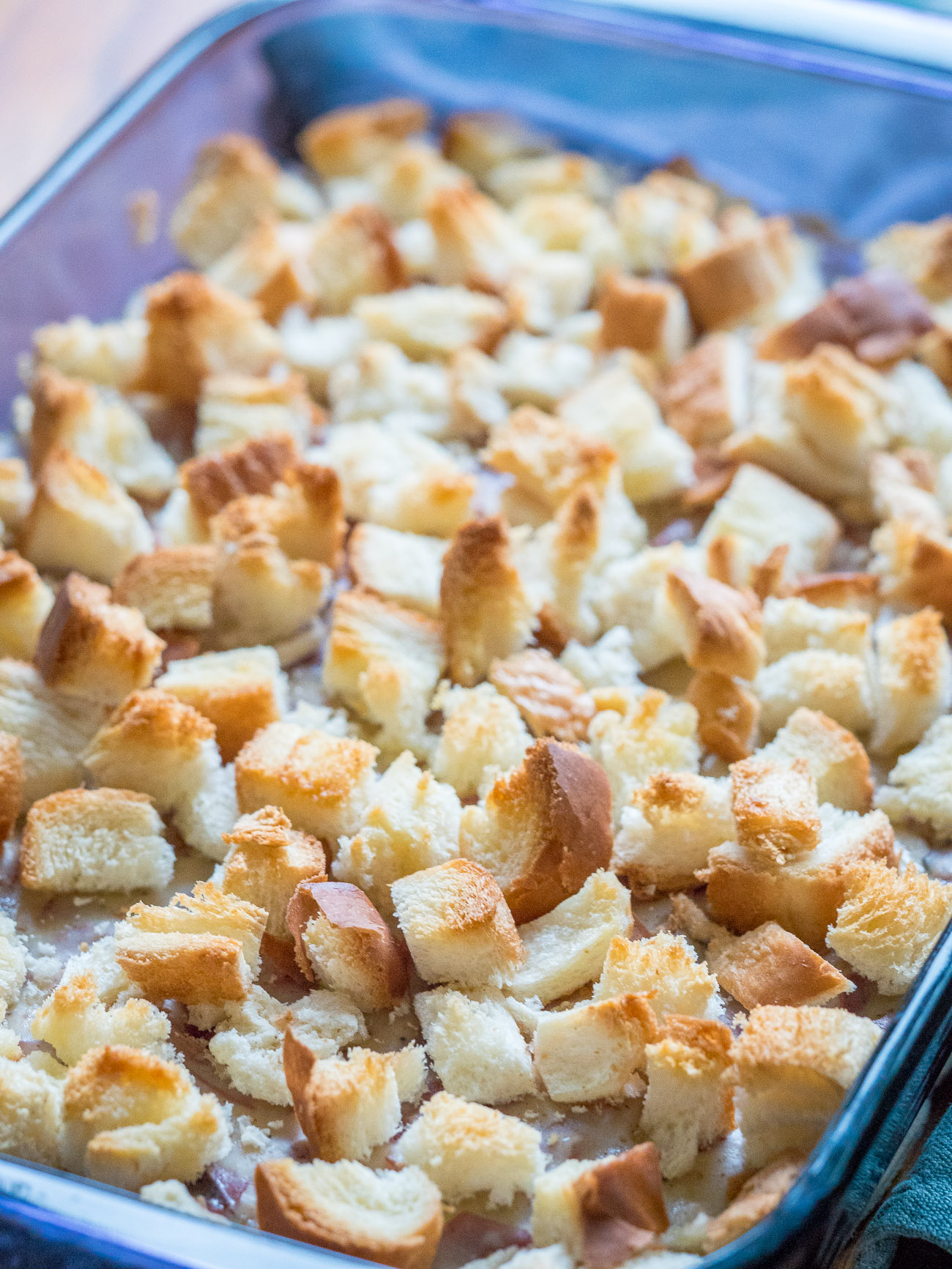 We love how nostalgic this dish makes us. It's like tasting a little piece of the past with each delicious, creamy, crunchy bite. What a way to savor tradition!
S.O.S. Casserole
Serves 6
10m prep time
38m cook time
Ingredients
2 5-ounce jars of dried chipped beef
1 cup unsalted butter, divided
1/2 cup all-purpose flour
4 cups milk, divided
1/2 teaspoon salt
1/2 teaspoon pepper
1/4 teaspoon onion powder
Dash of garlic powder
5-8 pieces white bread, chopped into 1"-2" cubes
Preparation
Preheat oven to 375F˚. Cut dried beef into slices. Cook beef on stovetop over medium-high heat in 1 tablespoon of butter for 10 minutes (or until edges of beef pieces just begin to curl up).
Remove beef from skillet and set aside. In same pan melt 7 tablespoons of butter over medium heat. Add flour and cook for 1 minute. Whisk in 2 cups of milk. Continue to whisk for 2-3 minutes as sauce begins to thicken.
Add in beef, remaining milk, salt, pepper, onion powder, and garlic powder and cook for 5 minutes, stirring often. Melt remaining butter in microwave while sauce cooks.
Pour sauce into 9"x13" baking dish. Place bread cubes on top of sauce. Drizzle melted butter over the bread cubes. Bake for 15-20 minutes or until bread cubes begin to brown.
Recipe adapted from South Your Mouth.
SKM: below-content placeholder
Whizzco for 12T