Don't skip step #3 – it's crucial.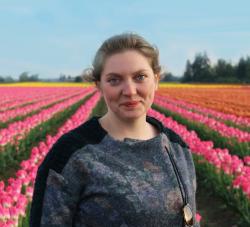 Decatur Macpherson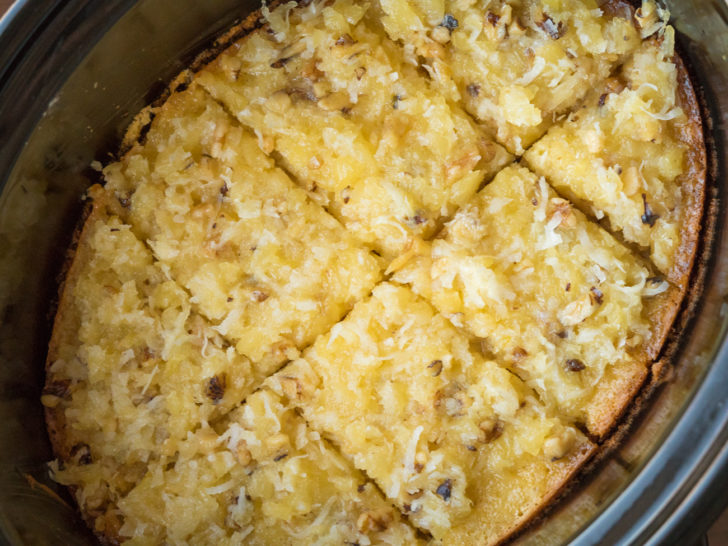 While we were skeptical at first about the success of baking a cake in a slow cooker, we saw and tasted how the first one turned out and were hooked – we never looked back! Seriously, does it get better than pouring your ingredients into your trusty slow cooker and then walking away to get some errands done or, if the stars are aligned, sitting down and relaxing for a bit. That's it! This pineapple spoon cake basically cooks itself, save for the glaze you need to pour on at the end, and it is so, unbelievably good!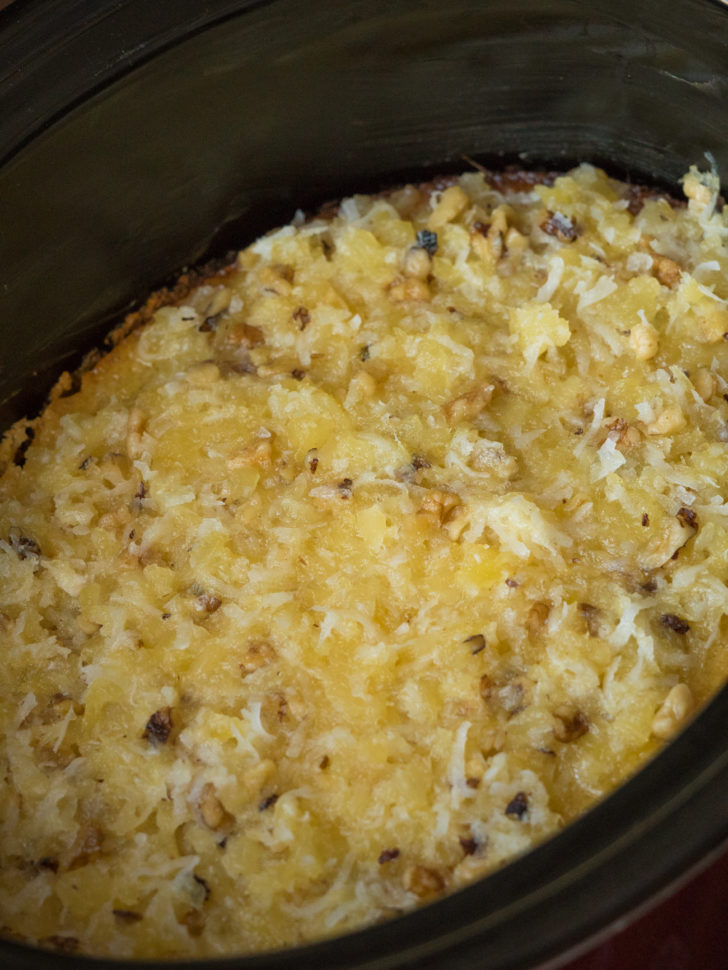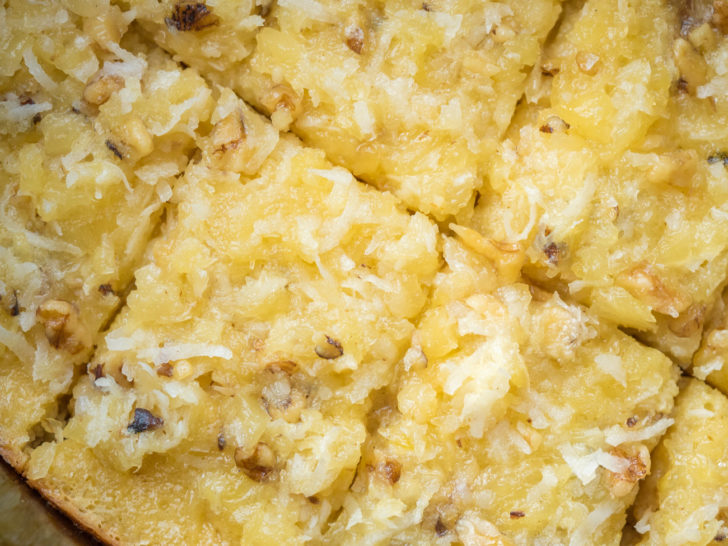 Okay, so are you wondering what exactly pineapple spoon cake is? You start with a regular, ol' store-bought yellow cake mix, and then to that you're going to add all the necessary fixings to really spruce it up. Crushed pineapple to start – and make sure to save all the juices, since you'll use those later – then shredded coconut and chopped pecans for a little tropical-flavored crunch.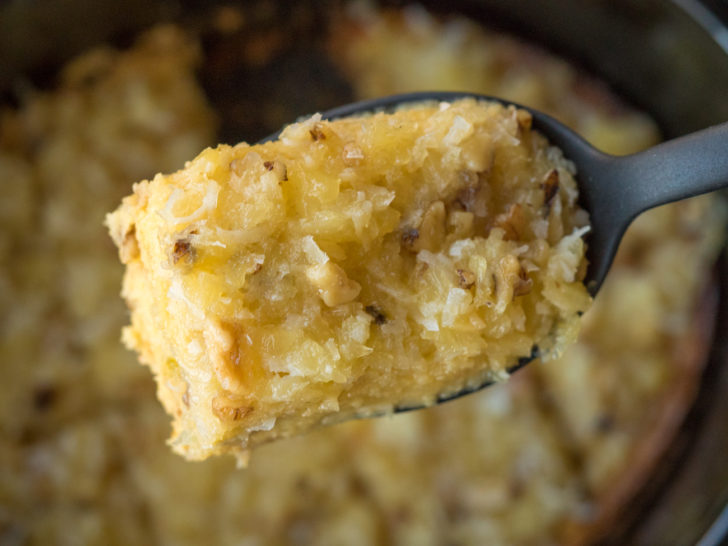 That'll all go into the slow cooker for two to four hours (depending on whether you cook it on low or high), but the important thing to know before it starts cooking is to place a couple layers of paper towels across the top of your slow cooker before putting the lid on and turning it on. The paper towels will catch any condensation that would otherwise fall onto the top of your cake, keeping it from forming a nice, golden top layer. And anyone who knows anything about cake knows you gotta have that golden top layer.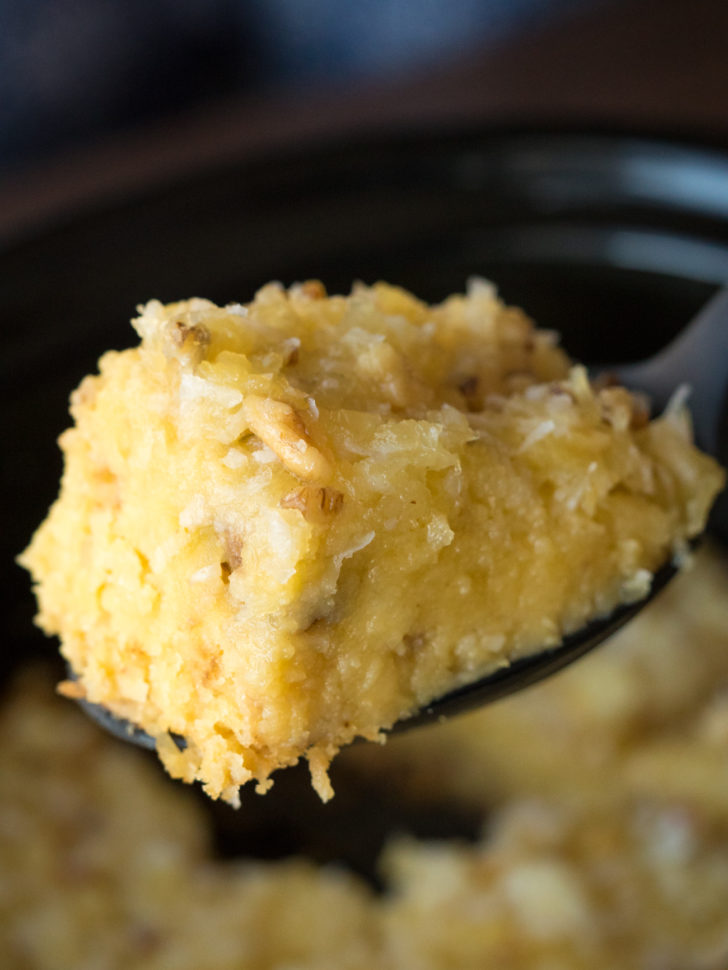 All right, so the cake is cooking away nicely and almost done – let it do its thing and don't open the lid until the two hours are up – so it's time for you to make the glaze. More of the same yummy ingredients that went into the cake, the glaze is comprised of any remaining pineapple and pineapple juice, powdered sugar, shredded coconut and pecans.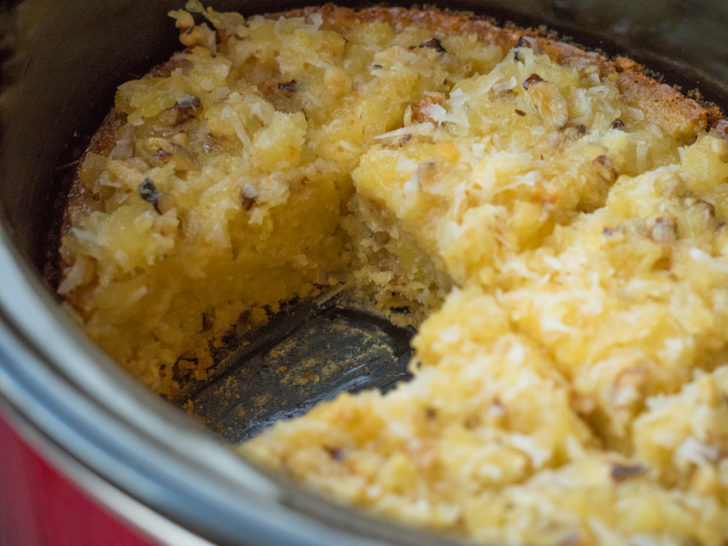 The pineapple juice gets this to the right consistency and all the flavors end up blending together perfectly. Pour it over your cake, then cover the slow cooker again for a couple minutes, giving the glaze a bit of time to sink into the cake. Trust us, these five minutes are worth it and you'll be glad you didn't rush things when you bite into this and see how good it is!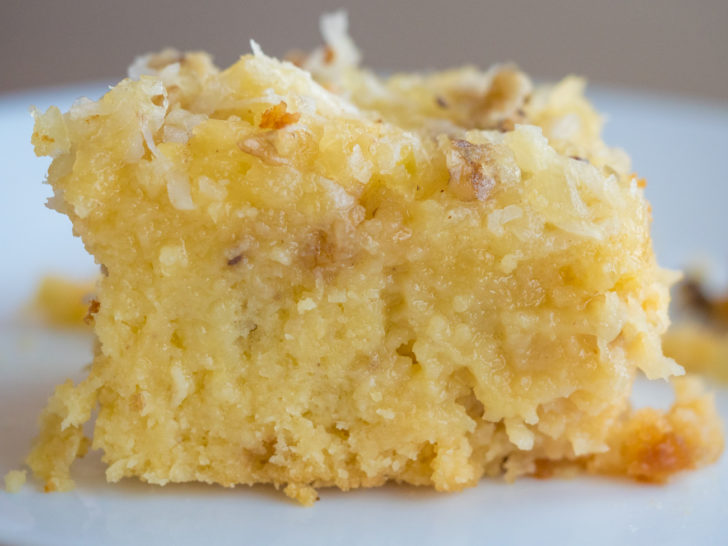 Pineapple Spoon Cake
Serves 10-12
15 minutes active; 2+ hours inactive
Ingredients
Cake:
1 (15.25 oz.) package yellow cake mix
1 cup water
3 large eggs
1/2 cup (1 stick) unsalted butter, melted
1 cup crushed pineapple, of 1 (20 oz.) can, juices reserved
1 cup shredded coconut
1/4 cup pecans, roughly chopped
Glaze:
1 1/2 cups powdered sugar
remaining pineapple and pineapple juice
1/4 cup (1/2 stick) unsalted butter, melted
1/2 cup shredded coconut
1/4 cup pecans, roughly chopped
whipped cream, optional, garnish
Preparation
In a large bowl or mixer, mix cake mix, water, eggs and melted butter together, then stir in 1 cup crushed pineapple, coconut and pecans until incorporated.
Liberally grease a slow cooker with non-stick spray, then pour batter into cooker and smooth top layer with a rubber spatula.
Take two layers of paper towels and place over slow cooker with ends extending out over the sides, then place lid on top of slow cooker. (This ensures that the paper towels absorb all condensation, instead of dripping down onto the cake.)
Cook on high for 2 hours or on low for 4, leaving lid on the whole time.
In a medium bowl, whisk together glaze ingredients (powdered sugar, pineapple and pineapple juice, butter, coconut and pecans) until smooth.
Uncover slow cooker (making sure cake is cooked through), remove paper towels, then pour glaze over the cake, cover again and let set for 5-10 minutes.
Scoop, serve and enjoy.
Recipe adapted from The Magical Slow Cooker
SKM: below-content placeholder
Whizzco for 12T