The Vietnamese favorite is popular as a snack or an appetizer, matching shrimp with the brightness of fresh mint and cilantro.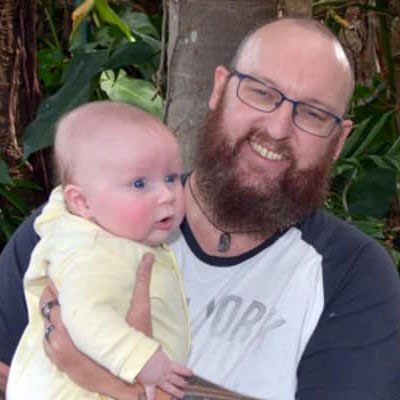 Jono Elderton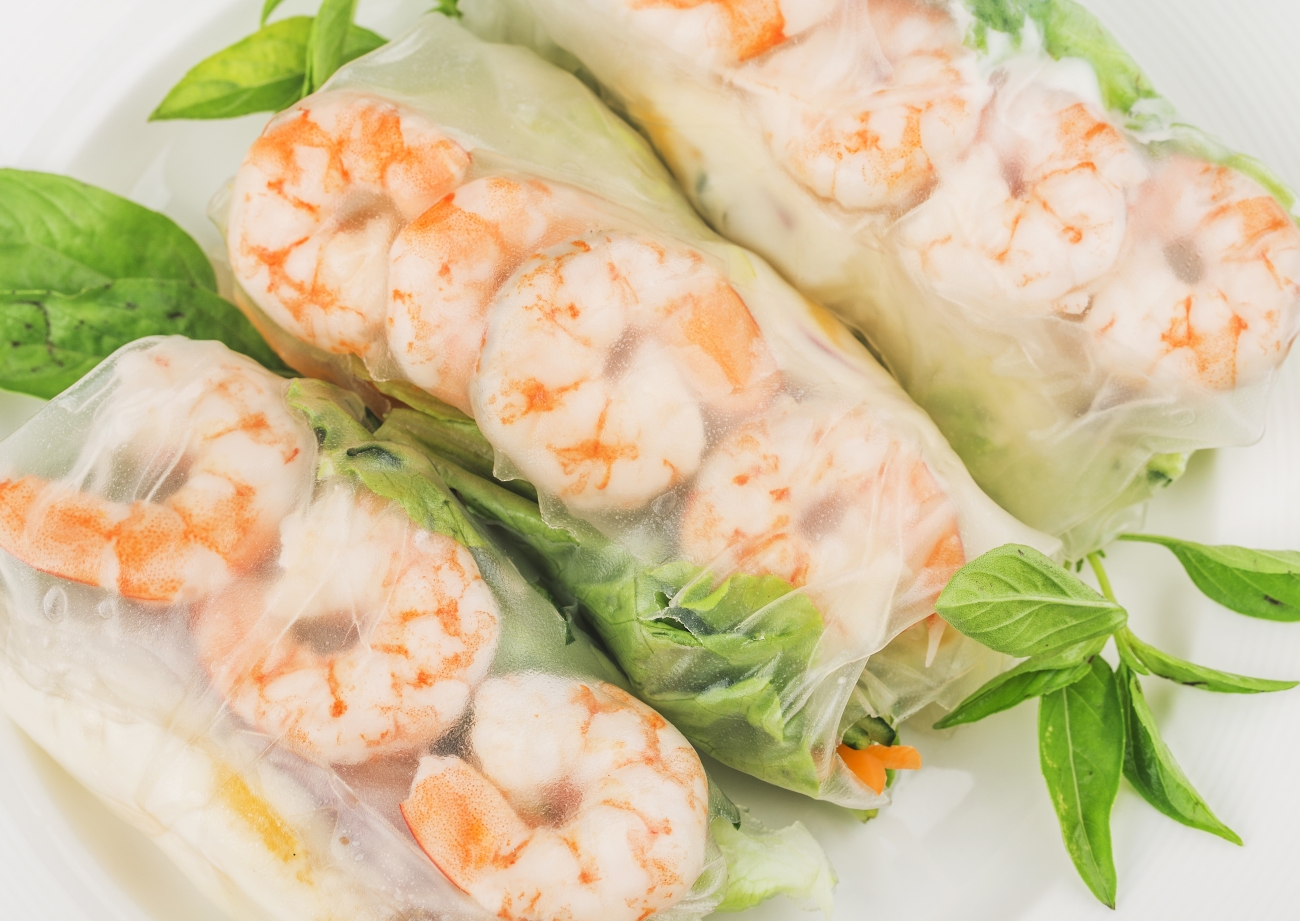 Shrimp rice paper rolls are synonymous with Vietnamese cuisine. They are hugely popular as a palate cleansing appetizer, quickfire standalone lunch wrap, or as light but filling sides for shared meals. The recipe below is the ideal way to familiarize yourself with making these delicious spring rolls at home and wowing your friends and family.
There are many sensational choices for filling Vietnamese rice paper rolls. Beef, pork, and vegetarian options work well with vermicelli noodles and fresh veggies wrapped up in translucent rice paper. It is the shrimp version, however, that is often the most enticing, for the visual appeal of orange stripes amidst bright salad, and the meat's ability to pair with fresh herbs, and your preferred dipping sauce.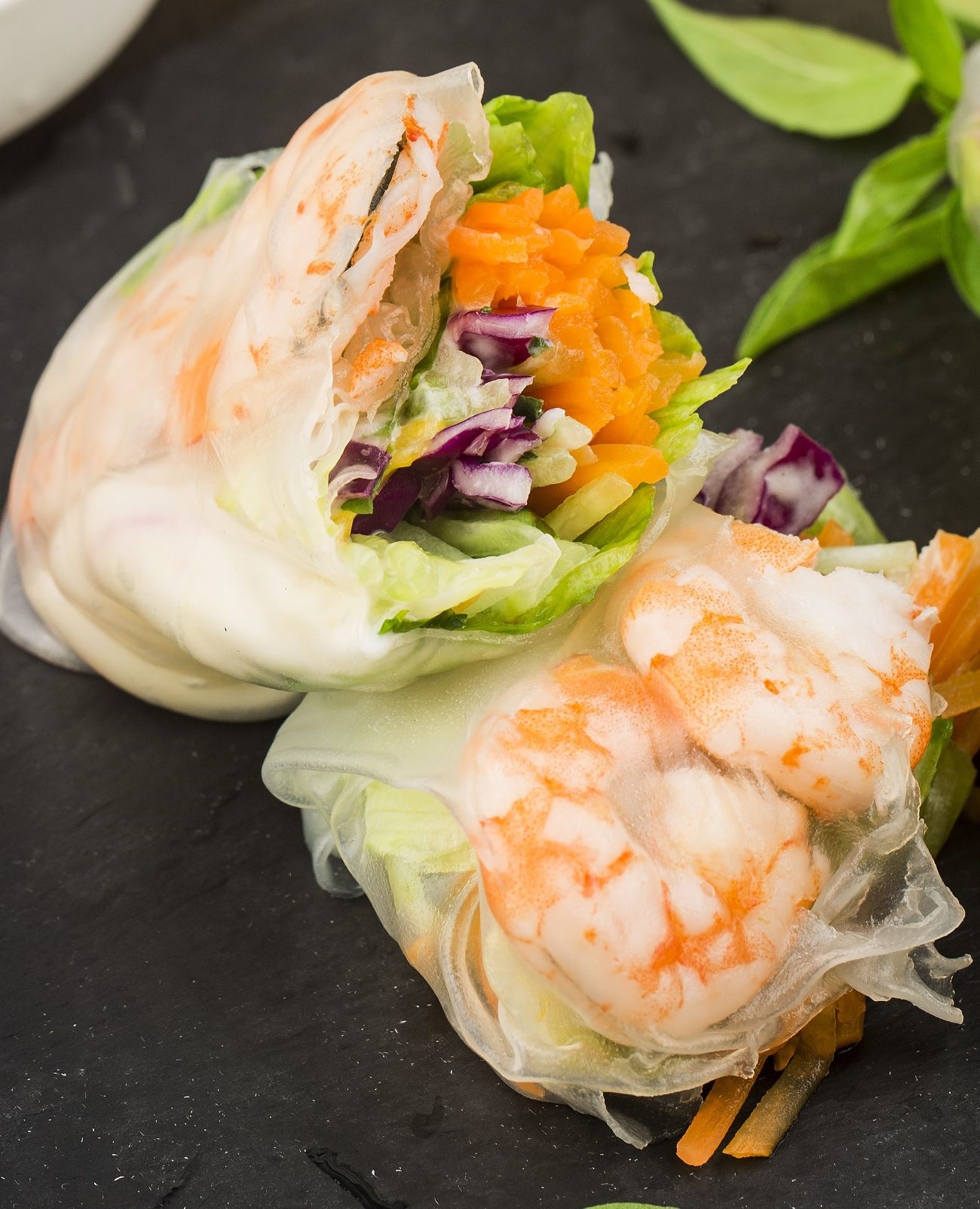 The key ingredient to match with shrimp is mint, I've found that it's the most notable flavor every time I've eaten or made rice paper rolls. The refreshing, clean bite of the herb works in tandem with briny seafood, giving it an amazingly fresh mouthfeel. I always make sure there's plenty of mint in each roll, even when I'm using basil or cilantro as well. Aside from the mint, you can chop and change the vegetable and herb fillings, but I like the textural differences and color contrast of fresh lettuce leaves, carrots, and red cabbage.
One area that may be daunting for the inexperienced is choosing the right shrimp. If the shrimp are a medium-large size, you should be able to fit three whole ones into each rice paper roll without being cramped for room. However, if they fit the description of 'colossal' or 'giant' shrimp, you may need to cut them in half to get them to the right size for rolls. If you regularly use a seafood market, they can advise you on getting the perfect shrimp for the right price, otherwise I found this breakdown to be useful for size and weight comparisons.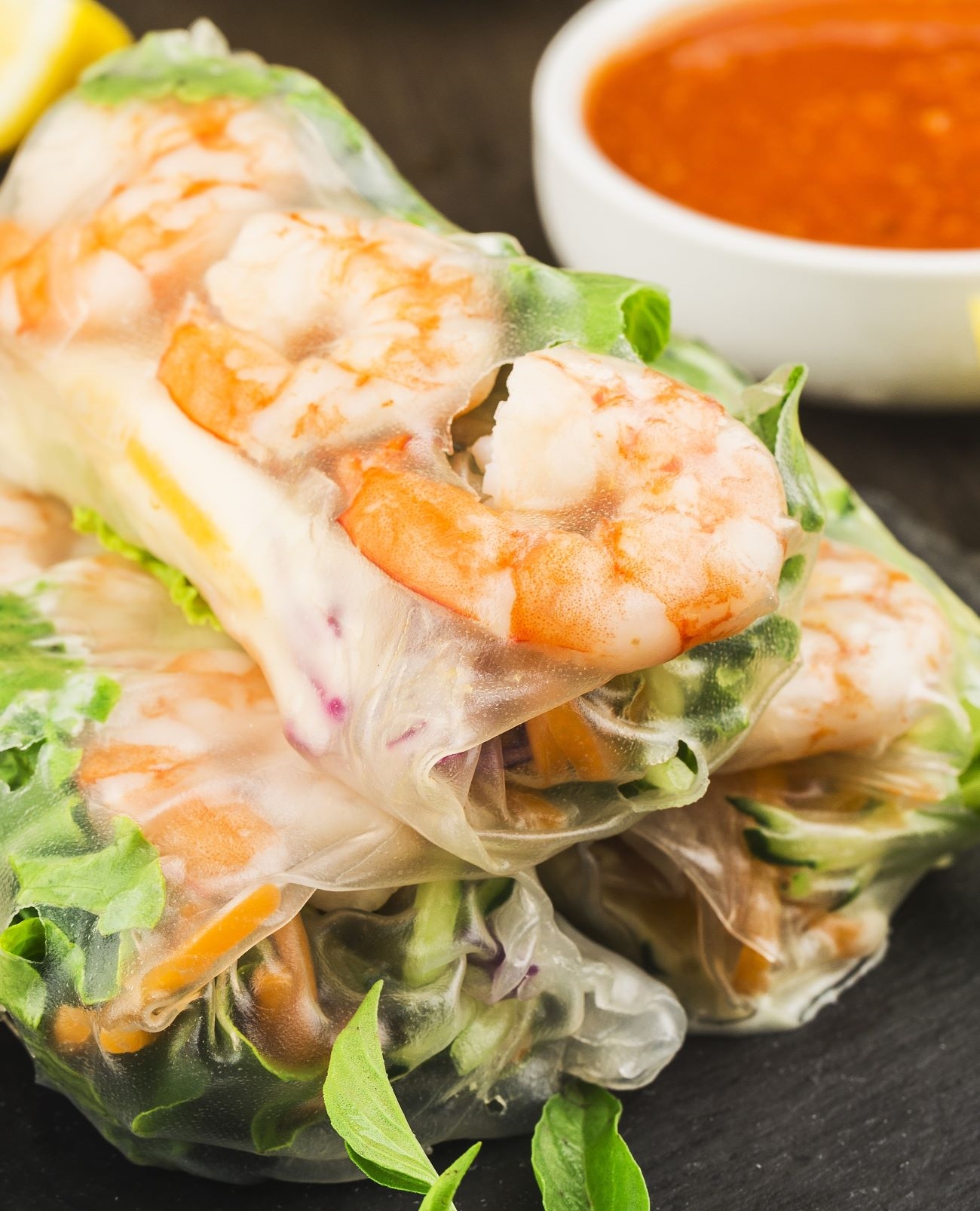 I love the portability and adaptability of these fresh and flavorful rice paper wraps. I'll often make double batches for my wife to take to work, if they make it that far! They are welcome at every dinner table and never last long when we have guests. Once you've got the hang of wrapping them up, it won't be long until shrimp rice paper rolls become one of your signature dishes!
Shrimp Rice Paper Rolls
Makes 8 rolls
20m prep time
Ingredients
4 oz vermicelli noodles
8 sheets rice paper wrappers (10 inch)
1/2 lb cooked shrimp, shelled and deveined (3 per roll)
1/2 cup fresh mint leaves, chopped roughly
1/3 cup cilantro leaves, chopped roughly
1/3 cup red cabbage, chopped finely
1 carrot, peeled and grated
1 small cos lettuce, cored and separated into 8 leaves
1/3 cup chili sauce, for serving
Kosher salt and black pepper, to taste
Preparation
Place vermicelli noodles into a large bowl and soak them in boiling water for 5 minutes. At the same time, take a deep bowl with plenty of room, and soften the rice paper wraps in lukewarm water for 5 minutes.
If shrimp are too large, cut them in half. Make sure they're deveined. Ideally, 3-4 whole shrimp can be used to make each rice paper roll.
Drain the vermicelli thoroughly, and arrange the ingredients to create an assembly line. Take a rice paper wrapper and put it on a plate or chopping board. Make sure it has been soaked enough in the water to be covered all over.
Layer the roll with ingredients in the following order: lettuce, mint and cilantro, cabbage, carrots, and vermicelli noodles on the closest edge, and shrimp near the top edge about an inch.
Take the bottom of the rice paper and roll it over the vegetables, then tuck in both sides and continue rolling. The shrimp should be clearly visible on one side through the wrapper.
Repeat rolling process for each wrapper until all 8 are filled. Serve immediately with a smattering of salt and pepper, chili sauce, or the dipping sauce of your choice.
Recipe adapted from Taste
SKM: below-content placeholder
Whizzco for 12T